South African veteran Mark Boucher will have to wait until the England series, starting in July, to become the first wicketkeeper to achieve 1 000 international dismissals.
Boucher currently has 999 international scalps to his name after completion of the three-Test series against New Zealand in Wellington on Tuesday, which the Proteas won 1-0, Sports24 reported.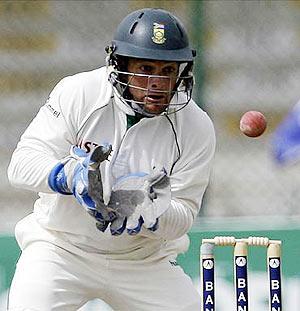 Boucher was close to achieving the landmark during the Kiwi second innings, when he caught Daniel Flynn off Morne Morkel in the third over for his 999th victim, but could not manage another during the innings that lasted 80.4 overs before the match ended in a draw.
His magnificent achievement is now expected to be reached at Lords this year, or probably at The Oval where South Africa play the first Test against England from July 19.
Boucher's 999 dismissals include 555 Test dismissals, 425 in One-Day Internationals and 19 in Twenty20 internationals.
Retired Australian Adam Gilchrist is next for most dismissals with a total career tally of 905.
Of wicketkeepers still playing, Kumar Sangakkara of Sri Lanka is closest with just over 600 dismissals across all formats.
Photograph: Zahid Hussein / Reuters