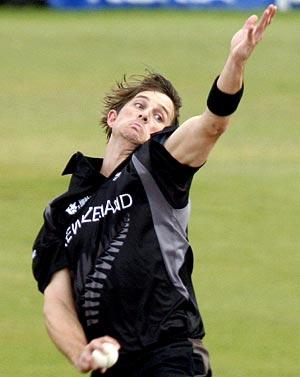 On the expected lines, New Zealand on Thursday named former Indian Cricket League (ICL) recruits Shane Bond and Daryl Tuffey in their 30-member squad for this year's ICC Champions Trophy in South Africa.
After they snapped their ties with the 'rebel' ICL, Bond and Tuffey were recalled in the New Zealand One-Day International and Twenty20 team for next month's tour of Sri Lanka and their Champions Trophy selection was also pretty much on the cards.
Pacer Chris Martin, who was dropped last year after the home series against England, returns to the side as does James Marshall.
Except Peter Ingram, Shanan Stewart and Brent Arnel, all other players picked in the Champions Trophy squad, to be pruned to 15 by August 23, have current or recent international experience with the Blackcaps or New Zealand A sides.
"The majority of these players will be in action over the next six weeks with the Blackcaps in Sri Lanka, or the New Zealand A side going to India," chief selector Glenn Turner said.
"This means that the players who make the final Champions Trophy squad will have had some cricket under their belts going in to the tournament," he added.
Squad: Daniel Vettori, Brent Arnel, Shane Bond, Neil Broom, Ian Butler, Craig Cumming, Brendon Diamanti, Grant Elliott, James Franklin, Peter Fulton, Martin Guptill, Gareth Hopkins, Jamie How, Peter Ingram, Brendon McCullum, Nathan McCullum, Peter McGlashan, James Marshall, Chris Martin, Kyle Mills, Iain O'Brien, Jacob Oram, Jeetan Patel, Aaron Redmond, Jesse Ryder, Shanan Stewart, Tim Southee, Scott Styris, Ross Taylor and Daryl Tuffey.
Photograph: Reuters