England batsman Ian Bell has been left "gutted" ahead of the third Test against India due to the death of his mentor, Neal Abberley, in whose honour the flags will be lowered to half mast during the match starting in Birmingham on Wednesday.
The 67-year-old, who died on Monday, played an important role in shaping Bell's career and was also instrumental in the batsman's come back to the national team after he was dropped from the England squad in the West Indies two years ago.
"I am gutted by the news," Bell said.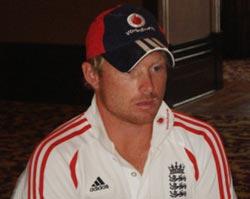 "He helped me to grow up. He could be quite tough and there were a few bollockings along the way but all he wanted me to do was to get better and better as a cricketer.
"When I got dropped by England in the West Indies two years ago I spent a lot of time with Neal at Edgbaston. We sat down, had a chat about my game, went back to basics and sorted a few technical issues out.
"So any success I have enjoyed since I got back into the England side is thanks to the work that Neal did with me during that period," Bell told The Daily Telegraph.
Bell, who turned out to be India's nemesis during the second Test match at Trent Bridge, will wear a black armband during the third Test as a mark of respect his mentor.
"The Test Match will be an emotional occasion. I shall wear a black armband but Neal has done so much for me that just to dedicate a performance in one match would not be enough to repay him. He was always a giver and very generous with his time," Bell revealed.