The BCCI has said it will not jump the gun and "execute" Rahul Sharma without conducting a proper investigation after the cricketer tested positive for drugs at a rave party in Mumbai in May.
- Mumbai rave party: Rahul Sharma, Parnell test positive
The Mumbai Police, on Friday, confirmed that Rahul along with South African cricketer Wayne Parnell, who were arrested at a rave party in Juhu on May 20, tested positive for drugs. They are among the 100-odd people who were detained by the police that day.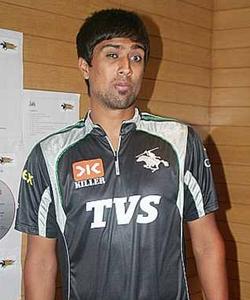 When BCCI president N Srinivasan was questioned, on Friday, over the Board's stand on the issue, he shot back angrily, saying, "I don't know why everyone is in a mood to execute Rahul Sharma without even going into the details. The BCCI will first procure each and every bit of relevant information and then study them before deciding on the course of action."
The Mumbai Police, on Friday, received the reports of blood samples of 44 of the 90 people, out of which 42 tested positive for cannabis and MDMA (better known as Ecstasy).
Earlier, Parnell had claimed that he and fellow Pune Warriors teammate Rahul were innocent and that they were "at the wrong place at the wrong time".
Rahul had also said that he was innocent and of found guilty he would quit cricket.
Interestingly, Rahul is a part of the Indian squad which is presently touring Sri Lanka and it remains to be seen whether the BCCI calls him back after the recent development.