Pakistan Cricket Board chief Ejaz Butt had suggested that Pakistan would play in India in a bid to resume bilateral cricketing ties but want a share of the revenues from the series, a proposal that India has straightaway rejected.
"We told them we are ready to play in India but we should have media rights and it could be a 50-50 affair. But they didn't accept the proposal," Butt said.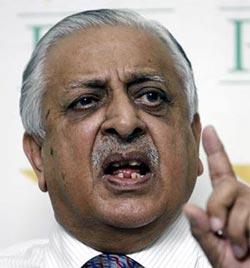 Butt, in a television interview on Thursday, said that the PCB had also suggested to the BCCI to split the revenues for scheduled series in March-April 2012 so that Pakistan could make some financial gains.
India had called off a scheduled Future Tour Program to Pakistan in early 2009 due to the Mumbai terror attacks and this led to the PCB losing anticipated revenues.
Butt said PCB had suggested splitting series or sharing revenues to not only get some compensation for the cancelled series but to also push forward resumption of bilateral ties with India.
He admitted that playing India meant a financial boost for Pakistan.
"Compared to what we earn when we play any other top country we earn many times more if we play India," he said.
Butt said after the World Cup semi-final in Mohali even Pakistan's Prime Minister had advised that we should play in India if necessary but also suggested to the Indians to come and play a few games in Pakistan.
"But what they say is basically a one-sided affair," he added.
The PCB confirmed that during meetings held on the sidelines of the recent ICC meet in Hong Kong, Indian board officials had also expressed a desire to resume bilateral ties but needed to first get some clarity from their government and then they would soon get back to the PCB.