N Srinivasan will step aside but not resign.
If reports are to be believed the BCCI president has agreed to stepped aside till the investigation in the spot-fixing case, involving his son-in-law Gurunath Meiyappan, is over.
There are reports that a steering committee will be proposed to run the body in the interim. However, there's been no consesus on Srinivasan so far.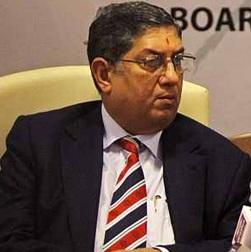 Further reports suggest former president Jagmohan Dalmiya is being seen as a possible replacement/successor. However, in both the cases the decision needn't be made today.
Dalmiya though is being seen as the kingmaker in the meeting that is underway.
Earlier, as the BCCI geared up for its Emergent Working Committee meeting to decide the fate of N Srinivasan, the embattled Board president had a word with some of the members in a last-ditch effort to resign on his own terms in Chennai on Sunday.
There were reports that senior BCCI officials had threatened to quit if Srinivasan put forth conditions, went on leave or named a candidate to replace him.
BCCI joint-secretary Anurag Thakur, however, said that there was nothing wrong in Srinivasan having separate meetings with the WC members.
"It's a natural process. As a Board president he is entitled to meet the state unit heads and other Working Committee members. I have no objections in that," Thakur told reporters before on arrival for the meeting.
Asked he was still stuck to his view that Srinivasan should resign from his post, Thakur said, "In the interest of cricket and to have a fair and transparent probe, it will be better if Srinivasan does that."
"No individual is bigger and more important than an organisation. As a former cricketer, I want to appeal that everybody should perform their duties for the betterment of the game," said Thakur who was one of three BCCI office bearers who have applied strong pressure on Srinivasan to call the meeting.
The dice seemed to be heavily loaded against Srininvasan after he was forced to call the Emergent Working Committee following resignations by Board treasurer Ajay Shirke and secretary Sanjay Jagdale as well as the IPL Chairman Rajeev Shukla.