Senior BCCI functionary Jyotiraditya Scindia has called for N Srinivasan's resgination as President in the wake of the arrest of his son-in-law on charges of betting, saying he should step down to avoid a conflict of interest in the investigation. Scindia, the Madhya Pradesh Cricket Association President and Chairman of BCCI's Finance Committee, said that propriety demands that Srinivasan steps down till the case of his son-in-law Gurunath Meiyappan is finally decided.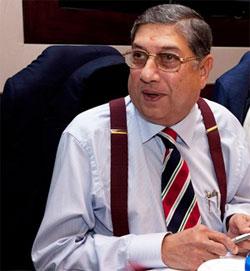 "From my point of view, not for a second am I assuming that anybody is guilty. Having said that, in the interest of propriety and in interest of the game at this point of time when there is a question mark surrounding an individual, surrounding the team (CSK) and surrounding the manager of that team who happens to be a family member, I believe in all sense of the word propriety that Mr Srinivasan must step aside," Scindia said.
"If you consider the conflict of interest he is in as one of his family members is alleged of wrongdoing, then propriety demands that he should step aside. I would have done the same had I been in his place. Willy-nilly we are responsible for the wrongdoing of our family members to some extent. Example has to be set from the top," he told reporters.
He said Srinivasan can be re-instated if Gurunath is absolved of the charges of betting in the IPL after investigation.
"Let the inquiry take place and in the event that he is completely clear, certainly be reinstated. But at this time when cricket needs to be cleansed and when there is a question mark at the top, it would be in the interest of the game that Srinivasan steps aside.
"I don't feel somebody is responsible or not. But if there is a question mark or question raised against a family member of an individual. Till the time that individual's name is not cleared, he should step aside," said Scindia.
"It's my personal view. For the temporary period until his and his team and family member's name is not cleared it is in the interest of the game (that he resigns). It is the game which stands for sportsmanship. This is a standard we all should have in public life in terms of probity," Scindia said.
Asked if he would buy the argument that Gurunath was just a cricket enthusiast as claimed by Srinivasan and not CSK owner or team principal, Scindia said, "I don't want to go into nitty-gritty of that. A Commission is looking into that.
"What I am saying is that propriety is very important and from propriety point of view he (Srinivasan) should step down not only for the sake of himself or for the sake of Chennai Super Kings but for the sake of the spirit of cricket."
Scindia said nobody from the BCCI had asked for his opinion and he had not spoken yet to anybody in the Board on the raging spot-fixing issue.
"Nobody from BCCI had asked for my opinion and I have not spoken to anybody. With regard to meeting of BCCI, I am not a part of Working Committee and not invited there. I am chairman of finance committee and part of disciplinary committee. Whatever responsibilities are entrusted to me I have discharged them with commitment," he said.
Asked about Jammu and Kashmir Cricket Association President Farooq Abdullah backing Srinivasan, Scindia simply said, "I have given my personal opinion." Scindia, also a member of the Disciplinary Committee probing into the alleged financial irregularities by former IPL Chairman Lalit Modi, felt that the Board should take responsibility of the whole mess cricket is in today in the wake of spot-fixing scandal and take corrective steps.
"Cricket has suffered because of this spot-fixing scandal. This is a sport which is followed by every single individual in the length and breadth of the country. It (the scandal) has hit the core of the sporting spirit.
"As administrators of the game, the BCCI should take responsibility of this (spot-fixing scandal). Cricket needs to be cleansed and it can be done with a set of rules. Rules which can not only be imposed but strictly enforced."
Meanwhile, Cricketer-turned-politician Kirti Azad attacked the current dispensation in BCCI, on Tuesday, saying people in the board are not going after its President N Srinivasan because "somebody wants to be the next president" of the high-profile sports body.
"They (BCCI) do not want to take on Srinivasan because somebody wants to be next BCCI president. They think, if they go against him, they will not get 10-15 votes from his loyalists in the next AGM," Azad said.
"They are acting like Gandhiji's three monkeys. They all are involved. You scratch my back I'll scratch yours. Such is the current scenario," he said.
Asked if Srinivasan should step down as the BCCI chief, Azad said, "Why should I say Srinivasan should resign or not? I would first like to know what people in BCCI, who talk of high morality and probity in public life, think. What they think about Srinivasan?"