Already battling poor form, middle order batsman Yuvraj Singh [ Images ] on Thursday suffered another jolt with the Board of Control for Cricket in India [ Images ] dropping him from the top grade of the central contracts which will carry substantial hikes in retainership fees.
Talented left-hander Suresh Raina [ Images ], who has been in good nick, has been upgraded to the top grade which has nine players, including captain Mahendra Singh Dhoni [ Images ], Sachin Tendulkar [ Images ] and Rahul Dravid [ Images ] among others.
The Grade-A players will now be entitled to a revised retainership fee of Rs one crore, a substantial hike of Rs 40 lakh from last year's contract.
In another interesting move, the BCCI's Gradation Committee, which met in Chennai, also got rid of Grade D where some players got an annual retainership of Rs 15 lakh last year.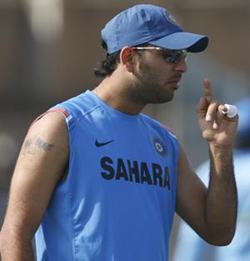 Only 24 players have been offered annual retainership fees against 41 who were offered last season. If anyone from non-contracted player plays for India next season, he will be upgraded to C category, according to a BCCI release.
The BCCI also hiked the retainership fees of the players as the Grade A players will now receive Rs 1 crore from the Rs 60 lakh they received last year. The Grade B players will now get Rs 50 lakh instead of Rs 40 lakh while those in Grade C will continue getting Rs 25 lakh.
The Indian players who will be in the playing XI will be now getting Rs 7 lakh per Test match, Rs 4 lakh for an ODI and Rs 2 lakh for a T20 match.
For Yuvraj, the demotion to grade-B will be another blow after being dropped from the Test squad in the two recent series.
Delhi [ Images ] batsman Virat Kohli [ Images ], who has had a prolific ODI season, has been rewarded with a Grade B retainership improving upon his earlier Grade D category. Similarly, Rohit Sharma [ Images ] who was earlier in Grade B has been demoted to Grade C.
Cheteshwar Pujara [ Images ] who scored a half-century on his Test debut against Australia [ Images ] has moved to Grade C along with Karnataka [ Images ] pacers Vinay Kumar and Abhimanyu Mithun [ Images ] and Tamil Nadu off-spinner Ravi Ashwin.
Murali Vijay [ Images ] and Pragyan Ojha [ Images ] also made significant strides as they were included in the Grade B category.
However, the Pathan brothers Irfan and Yusuf, UP pacers Rudra Pratap Singh, Sudeep Tyagi [ Images ], Tamil Nadu captain Dinesh Karthik [ Images ], Gujarat skipper Parthiv Patel [ Images ], Bengal's Manoj Tiwary, Wriddhiman Saha and Ashok Dinda [ Images ], Delhi batsman Shikhar Dhawan [ Images ], Mumbai [ Images ] players Ajinkya Rahane [ Images ], Wasim Jaffer [ Images ] and Abhishek Nayar [ Images ] are without any central contracts.
Following are the players offered central contracts:
Grade A: Sachin Tendulkar, M S Dhoni, Gautam Gambhir [ Images ], Virender Sehwag [ Images ], Rahul Dravid, V V S Laxman [ Images ], Suresh Raina, Harbhajan Singh [ Images ], Zaheer Khan [ Images ].
Grade B: Yuvraj Singh, Ishant Sharma [ Images ], Ashish Nehra [ Images ], Praveen Kumar [ Images ], Virat Kohli, M Vijay, Pragyan Ojha.
Grade C: S Sreesanth [ Images ], Amit Mishra [ Images ], R Ashwin, Rohit Sharma, Cheteshwar Pujara, Ravindra Jadeja [ Images ], Abhimanyu Mithun, Vinay Kumar.