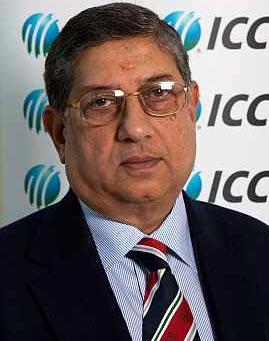 Seeking to capitalise on its financial clout, the BCCI is set to demand a greater share of the profit from the revenues generated by the International Cricket Council (ICC).

According to sources, Board of Control for Cricket in president N Srinivasan met Cricket Australia chairman Walter Edwards in Singapore last week to discuss about the profit-sharing model between the member nations of the ICC.

The meeting took place at the same time when the eight franchises of the Indian Premier League were engaged in a brain-storming two-day workshop in Singapore.

"Srinivasan met the CA top boss and discussed India's concerns about what he thought should be the profit-sharing model. The moot point of discussion was that India generates close to 75 percent of the income for the parent body. Therefore, we are well within our rights to demand a greater share of profit," a BCCI official in the know of things said on Monday.

ICC's profit-sharing model is as follows: 75 percent of the profits is equally divided among full member nations like India, Australia, Sri Lanka, England, Pakistan, New Zealand, West Indies, South Africa and Zimbabwe while the remaining 25 percent is distributed among the associate members.

It is learnt that members of BCCI's affiliated units are unanimous in their stand with the president on this issue.

"Srinivasan
is not demanding a greater share for himself. The bulk of our earnings from the ICC will then be pooled back into development of cricket. If earnings increase, the BCCI state units will stand to gain more as annual grant," the official added.
In fact, at the ICC's Financial and Commercial Affairs Committee meeting, the revenue-sharing model will come up for discussion and BCCI is likely to get more than equal share of the profit generated when the new commercial model is put in place for the five years between 2015-2020.
But for that the BCCI will need to wait till the end of the 2015 ICC World Cup in Australia and New Zealand when the existing commercial contracts expire.
Meanwhile, it has been decided that all IPL franchises will pay their players (including foreign players) in Indian Rupees (INR) instead of US dollars which has been the norm during the six previous editions.
The cap for 'Player Retention' is likely to increase from four to five while the highest amount for retaining a player would be around Rs 12 crore.
A concept called "right to match" is also going to be introduced during this year's auction where an existing franchise can veto the sale of a player currently in their squad.
The franchises will be given a specific number of cards known as 'Joker Cards' which will be used to veto the sale of a player to other franchise provided the old franchise has enough money after retention.