The temperamental India discard Praveen Kumar's suspension has been revoked by the Indian cricket board and the swing bowler will be playing for Uttar Pradesh in the Central Zone leg of the Syed Mushtaq Ali T20 Championship from March 17-22.
The BCCI had earlier suspended Praveen from domestic tournaments after he hurled abuses at an opponent player during a Corporate Trophy match during last month. The match referee had then reported that Praveen was "mentally unfit" to play.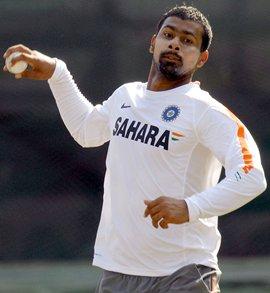 Following the match referee's report that stated that Praveen had pleaded guilty for a Level 4 offence after abusing opposition batsman Ajitesh Argal while representing his employer ONGC, Praveen was suspended on February 10 and was issued a show-cause notice by the BCCI secretary, Sanjay Jagdale.
However the BCCI top brass decided to revoke the ban as the controversial cricketer has tendered an unconditional apology and has promised not to indulge into any unsporting behaviour in near future.
The BCCI disciplinary committee -- comprising president N Srinivasan, vice-president Arun Jaitley and Niranjan Shah - then decided to revoke his suspension following a stern warning.
"A couple of members of the disciplinary committee had a teleconference with Praveen and have decided to put the matter to rest after issuing him one last warning," a board insider was quoted as saying by the ESPN Cricinfo.