A day after he was denied an Indian visa, Australian cricketer Usman Khawaja was issued one to compete in the Champions League Twenty20 next month with the Indian Consulate in Melbourne insisting that the initial rejection had nothing to do with him being born in Pakistan.
"Mr Khawaja's visa application was originally submitted with incomplete and incorrect documentation. This has since been rectified by Mr Khawaja, and his visa application is now under process," a statement from the consulate said.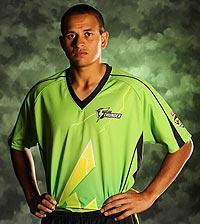 Khawaja had on Tuesday tweeted that the denial of visa was because he was born in Pakistan.
Cricket New South Wales, the team for which Khwaja will compete in CL T20, completed the process following intervention from Indian-born chairman Dr Harry Harinath.
"We are delighted that this has been settled and we thank the Indian Consul-General, Mr Amit Dasgupta for his prompt attention in resolving the matter," Harinath was quoted as saying by The Daily Telegraph.