Embattled batsman VVS Laxman has quashed talks of his impending retirement following his dismal performance in the ongoing Test series against Australia, saying that such reports were untrue.
Emerging out of the one-on-one technical session with coach Duncan Fletcher in the team training session, Laxman dismissed speculations that he is on the verge of retirement.
"When Laxman was approached by an Indian television journalist after the session, the 37-year-old insisted reports of his impending retirement were untrue," a report in The Age said.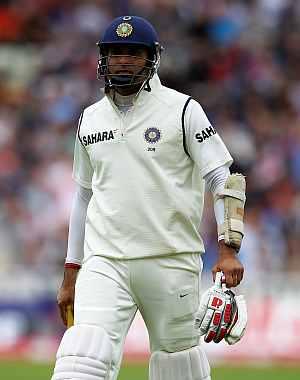 Laxman is not alone among the Indian batsmen who have had little impact on the series, but the elegant stroke player has lacked freedom, failing to find other ways to score when the Australians blocked off his boundary areas.
He has scored just 102 runs from the six innings he has played so far at an average of 17. His languid fielding and ongoing back problems, combined with his poor form, have prompted reports that he would be the first of India's ageing champions to retire, perhaps even before the Adelaide Test, starting January 24.
Fletcher spent a significant amount of time in Laxman's net working on technical aspects of his batting, suggesting his tour is not finished.
Opening batsman Gautam Gambhir has also defended Laxman, saying that no individual batsman should be blamed for the Indian team's debacle in Australia as it was a collective failure.