Australia's journey back up the Test world rankings is not going to happen overnight but the upcoming series in Sri Lanka will be an indication of their current status, captain Michael Clarke said on Thursday.
Australia are fifth in the rankings after the humiliating Ashes defeat at the turn of the year and take on the fourth-placed Sri Lankans in three Tests starting at the end of the month after a one-day series.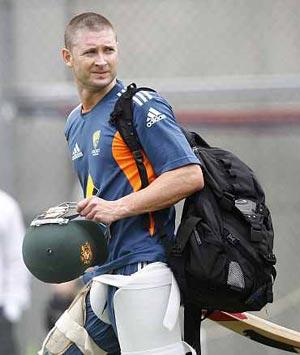 Clarke, speaking before boarding the plane for his first tour in charge of the side, said he would like to promise Australian cricket fans no more pain but conceded that any improvement would be hard-earned.
"I really hope we can turn things around straight away (but) I think it is going to take time for us to work our way back up the rankings," Clarke told reporters at Sydney airport.
"I'm confident with the talent we have, not just in our squad but around domestic cricket, if we keep the same attitude as we've had over the last few months with our training and our dedication, I can see us having some success."
The 30-year-old faces a difficult introduction to Test captaincy with tours of Sri Lanka and South Africa followed by a home series against New Zealand and then India, who are battling it out for number one status with England.
"We're certainly not blinded by the fact we have two of the best teams in the world in their own conditions coming up in Sri Lanka and South Africa, so it's going to be a tough start for us," he said.
"But it's a good Test for us to see where we're at, and if we can have some success against both these teams, playing away from home, I think that will give us some real confidence coming to the summer to play against India."
Four uncapped players boarded the plane for Colombo on Thursday and Clarke admitted he had never met off-spinner Nathan Lyon, although he had received "great reports" about the 23-year-old's bowling on an Australia A tour of Zimbabwe.
"He's got an opportunity to grab it with both hands and, by all reports, I'm pretty confident he'll do that, so he's certainly got a lot of talent," Clarke said.
"Now it's about giving him a go and seeing how he handles playing cricket for Australia."
Clarke said he was confident of the security measures in place for the tour and was certain the team would be treated "like gold" in Sri Lanka.
Batsman Shaun Marsh and quick bowlers James Pattinson and Trent Copeland are the other uncapped players in the party and were desperate to take their chance at the top level, Clarke said.
"I love the fact we've got some new fresh faces that are excited and itching for their opportunity. I think that's a great thing to have around the group," Clarke concluded.
"But the facts are we have to have some success, we have to play good cricket, we have to improve from our recent results throughout the last Australian summer.
"We need to get better, and we know that as players, and I can guarantee we're working as hard as I've ever worked in my career, so hopefully we can turn that around sooner rather than later."