Team India got off to a slow start on the third morning, adding only 14 runs to their overnight total (182-3) in the first 11 overs of the day.
To make things worse, they lost Sachin Tendulkar (81) early on.
The first bowling change affected by Michael Clarke, with Nathan Lyon replacing Peter Siddle, had ensured Australia their first success of the morning, with the spinner getting past the Master Blaster's defence.
Had India lost another wicket at that juncture, it would have allowed the visitors to come back into the game.
However, the incoming batsman, captain MS Dhoni, along with the batsman at the crease (Virat Kohli), ensured that didn't happen.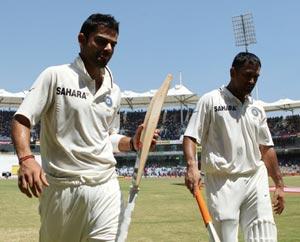 In fact they combined supremely well for the fifth wicket, adding 128 runs in quick time (only 26.1 overs) to ensure the home team consolidate upon the foundation laid by Tendulkar.
While in the morning session they applied caution, in the second they were at their aggressive best. And in the day's final session it became a one man show.
By not allowing Australia many wickets in that crucial opening session, Team India had got it right.
Photograph: BCCI