As India's disastrous performance in the ongoing Test series against Australia has drawn flak from all quarters, the Board of Control for Cricket in India president N Srinivasan came out with a bizarre defence of the team saying all top teams would lose when they play on Indian soil.
"England won 5-0 in England. They came here within a month or two and lost 5-0. Last time, after our loss to England, I had said that we will beat them when they visit India," Srinivasan said, trying to defend the team's dismal overseas performance in the past one year which has seen Dhoni and Co. lose seven consecutive Tests.
- I am the main culprit, says MS Dhoni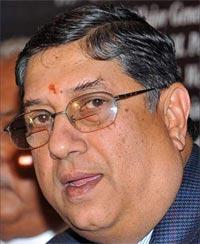 Srinivasan reasoned that Australia did well as they used home conditions to good effect.
"It is a case of Australians played better in their home conditions," he added.
The BCCI president who is also the owner of IPL team Chennai Super Kings feels that once India plays and beats teams like New Zealand, England and Australia in the coming months, everyone will "feel very happy."
"Next New Zealand is coming to India and it will be followed by England and Australia. We will beat these three teams on our own soil. They cannot beat us here and we will feel very happy."