Cricket Australia has drawn up a three-year plan to ease the workload on teen pace sensation Pat Cummins and protect him from injuries.
Click here for Rediff Realtime News!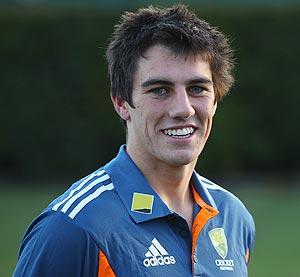 Australia's team performance manager Pat Howard has taken the help of fitness and medical experts to come with a three-year-plan.
Howard has drawn up a plan that will ease the workload on the young pacer and nurse him through the initial years.
According to Howards, young pacers like Cummins and James Pattinson, who is also nursing an injury after an impressive show in the first two Tests against India, should not be playing every match and their workload should be properly managed.
"We can't expect Pat to play all the time. It's about getting Pat from the age he is now to the age of James Pattinson. These guys are very, very young. We expect some injuries over time, but we're going to try to minimise them to the best of our ability by managing the workload," Howard was quoted as saying by the Daily Telegraph.
Cummins, who is sidelined with a stress-related heel injury, is hopeful of touring the West Indies in March.
"The West Indies is a massive tour for us and obviously I want to make that my No.1 goal," Cummins said.
Cummins decimated the South African batting line-up in his debut Test match, claiming 6-79 in Johannesburg.