Racing against time to be fit for the Test series against India, Australian opener Shaun Marsh says he might have to undergo a surgery on his troublesome back to prevent his career from ending prematurely.
Marsh is in doubt for the opening Test starting December 26 due to the back problem that has been bothering him since the very beginning of his career and might need an operation sooner or later.
"If I don't do it (surgery), I won't be playing cricket for much longer," Marsh told Fairfax Radio.
"If I ever have to get an operation done on my back if it goes again within the next three to four months, I'd probably look to get it done over the IPL. I would do anything to extend my Test career for as long as possible," he added.
Australian team physiotherapist Alex Kountouris said Marsh will have to be handled with utmost care.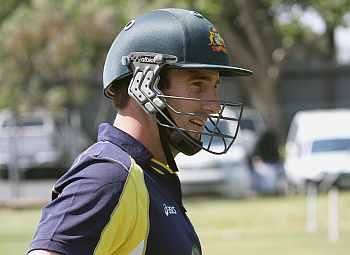 "Shaun has had this back injury two or three times now, so we are obviously conscious of trying to minimise the risk, but when you're in the game, things happen, and it's hard to control sometimes," Kountouris told The Age.
"It has to be managed, but that is like anything. If you have a hamstring strain, you have got to manage that forever because the biggest predictor of getting an injury is having had one before.
"Once you've had something there is obviously a particular reason why you've had it or a weakness. (Marsh) has got a fairly common back problem for batsmen and obviously it's a concern because he's injured at the moment and it's taking a bit of time to get better," he added.
Kountouris said efforts are on to get Marsh in shape for the Boxing Day Test.
"Boxing Day is still two weeks away and we want to get him up at the right time. If he can make it for that, great; if not, we'll have to get him up for the next game ... but we have to go through a process so that when he gets back we minimise the risk of it happening again," he said.