Let down by injuries on his previous two trips Down Under, Indian pace spearhead Zaheer Khan said this time he wants to be the factor that decides the Test series against Australia, starting Monday in Melbourne.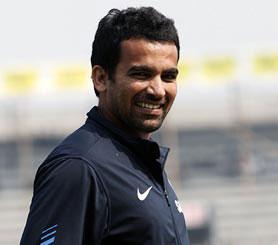 Zaheer, who picked up 10 wickets in three Tests at an average of 40 on his last two visits to Australia, said he is desperate to make up for the past.
"This tour is very important for me," Zaheer, who bowled five overs on the final day of a practice match, said.
"I want to be the factor which makes the difference as there are so many expectations on me. The way I see it, it all worked out perfectly fine, because I had a four-month break so I could prepare well for this series," he added.
Zaheer said he would ensure that his injury-prone body holds up this time.
"In the past, it used to be at the end of the season that I would go to Australia and breakdown. I am really looking forward to joining the team and to playing my part. Also looking forward to helping the youngsters and guiding them in whatever way I can," he was quoted as saying by Fox Sports.
The 33-year-old pacer has taken taken 273 wickets from 79 Tests at 31.78 said.