India [ Images ] paid the price for leaving too much for the end, as their triangular series match against Sri Lanka [ Images ], in Adelaide on Tuesday, ended in a nerve-wrecking tie despite captain Mahendra Singh Dhoni's [ Images ] last-ditch charge to overhaul the target.
India did well to restrict Sri Lanka to 236 for 9, but their tense run-chase got difficult with the pitch getting a little slower at the end. They were stopped at the same score after fortunes fluctuated from one team to the other till the very end.
Gautam Gambhir [ Images ] (91) and Dhoni (58 not out) were India's top performers. Sachin Tendulkar [ Images ] (15), Rohit Sharma [ Images ] (15) and Suresh Raina [ Images ] (15) got good starts but couldn't turn them into big scores.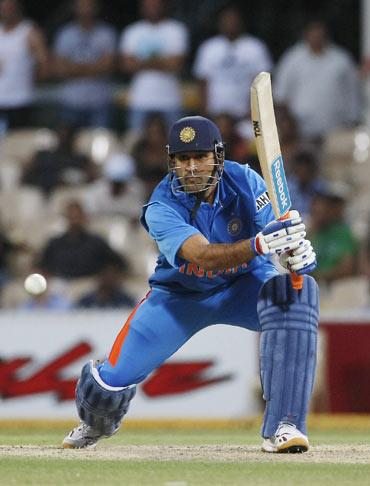 Needing nine runs off the final over, bowled by Lasith Malinga [ Images ], India got two runs off the first, two singles off the next two before Dhoni survived a run-out chance. 
However, Vinay Kumar was run-out off the fifth ball and it boiled down to four required from the final delivery. 
Dhoni lobbed the final delivery towards extra cover. It headed for a four, but Upul Tharanga pulled the ball back just away from the rope, giving India's captain three runs which were enough to tie the match.
Earlier, for the second game running, Gambhir missed out on a century, but played substantially enough to ensure India got something out of his effort.
On Sunday, India beat Australia [ Images ] by four wickets to gain full four points. Two from Tuesday's game takes them top of the heap with 10 points from four matches.
Australia have nine points from three matches while Sri Lanka two from three.
Gambhir and Dhoni came together at a critical time, when India were 118 for four in the 28th over. Another wicket could have put the skates under their feet. But they batted with the calm they are known for and did not allow the scoring to drop, as 50 between the two came off 58 balls.
However, disaster struck in the 41st over when Dhoni pushed Malinga to mid-on and took off only to hold his steps back. Gambhir, by then, was down the track a fair distance and Kulasekara's [ Images ] throw was right on the mark. 
Gambhir scored his 91 off 106 balls, inclusive of six fours.
The pressure now built on the Indians and they were reduced to 184 for 6 in the 44th over when Ravinder Jadeja [ Images ] (3) lofted a catch into the covers. India were left to score 46 runs off the final five overs. 
The 46th over turned out to be a big one for India as Dhoni slammed Thisara Perera for a six and Ashwin drove him over extra cover for a four. In all 13 runs came from this over and the equation came down to 33 from the final four overs. 
The 47th over, bowled by Kulasekara, produced five runs and India's equation was now down to 28 from the final three overs. 
Malinga bowled the 48th over and it was as dramatic as it gets. Ravi Ashwin lofted a high catch, but Sangakkara couldn't latch on to it. Two deliveries later, Ashwin lobbed a catch to short cover.
India needed 24 runs from the final two overs. 
The 49th over, bowled by Angelo Matthews, was a bonanza for India. Irfan Pathan [ Images ] hit a six off a no-ball, but then was run-out off the free hit.
It helped India as Dhoni also hit a four off the penultimate delivery to make the calculation nine from the final over.
Earlier, having lost the toss, the Indian bowlers stifled Sri Lanka's batting in the death overs to restrict them to a modest 236 for 9.
The Lankans, cruising at 168 for 3 in the 35th over, completely lost the plot after losing wickets in a clutch and raising a rather inadequate total.
Medium-pacer Vinay Kumar (3 for 46) and off-spinner R Ashwin (2 for 30) were most impressive though Irfan Pathan (one for 38), in his first match of the series, looked the part as well. 
Young Dinesh Chandimal (81 off 91 balls) had perfectly anchored the innings and shared important stands of 51 and 94 with batting heavyweights Kumar Sangakkara [ Images ] (31) and Mahela Jayawardene [ Images ] (43) respectively before the Lankans lost wickets against the run of play. 
The batting powerplay, claimed in the 36th over, turned the game on its head, as only 18 runs accrued from five overs and three wickets were lost. 
Much hope was pinned on Angelo Matthews (17) to strike late blows, but he departed in the 47th over, running for the non-striker's end when the ball was nestling in the gloves of Dhoni. 
Matthews was earlier guilty of running out Chandimal by calling him for a single after pushing straight into the hands of the short-cover fielder.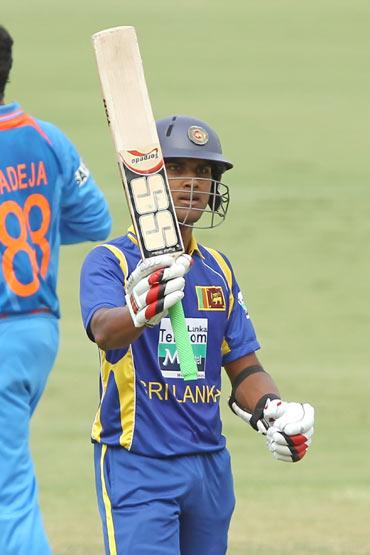 Chandimal, till he was around, appeared Sri Lanka's saviour after they were stuttering following the loss of openers Upul Tharanga (0) and Tillakaratne Dilshan [ Images ] (16) at 28 for 2 in the eighth over.
Chandimal, who has a penchant for Indian bowling as his two previous innings against the major neighbours were worth 111 and 64 runs, was into his stride early and picked up gaps at will to quell the Indian attack.
The right-hander maneuvered the ball with deft hands and didn't allow the departures of his batting partners to affect his style or concentration. 
The sparse crowd had barely settled themselves in their seat when Tharanga (0) departed to a catch behind the wicket off Vinay Kumar.
His partner, Dilshan, struggled to get the timing right and fell to Pathan after scoring 16 off 23 balls, inclusive of a four and a six. 
Chandimal then stabilised the innings in the company of Sangakkara, first by seeing off a disciplined Vinay and Pathan, and later when spin was introduced in the form of Ashwin in the 16th over. 
Sangakkara had laid the base for a long innings before he uncharacteristically tried to heave Ashwin out of the ground but could only lift it for Gautam Gambhir at point. 
He scored 31 off 56 balls, with two fours. 
The innings then had its best stand of 94, between Chandimal and skipper Jayawardene. The two were in no trouble and nicely poised when the batting powerplay was taken at 168 for 3 after the 35th over. 
It proved a disastrous spell for the Lankans as they lost three wickets in the next five overs, including Chandimal and Jayawardene. 
Jayawardene left first, trying to flick Vinay Kumar on the on-side and missing a delivery headed on to his middle stumps. 
New man Angelo Matthews then pushed a delivery straight to short cover and called Chandimal for a non-existent single. Chandimal's bat was still on the line when Dhoni broke the stumps. 
Jayawardene scored 43 off 49 balls, with two fours, and Chandimal's 81 came off 91 balls, with six fours and a six. 
The batting powerplay was still not through when Thisara Perera (5) went for a mindless heave and lofted a catch for the long-on fielder.