It was a trip down memory lane for new Australian opener Ed Cowan when he visited his family home in Sydney after 11 years and found the poster of his childhood idol Ricky Ponting still adorning the wall of his room there.
Cowan visited his Sydney house on Thursday where he was pleasantly surprised to find Ponting's poster still in place.
"I loved Ricky Ponting. I walked into my mum and dad's house today, which is still in Sydney, and went up to my old room and there's still a poster of Ricky Ponting on the wall," the 29-year-old said.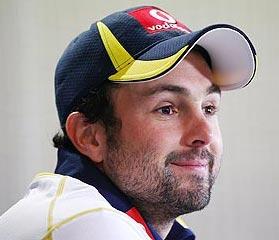 "The room has sort of been vacant for 10 years.
"This is a guy that I grew up watching and idolising and all of a sudden I look around and he's got me in a headlock in the dressing room," Cowan was quoted as saying by The Age.
Talking about his contrasting batting style with fellow attacking opener David Warner, Cowan said he would not change his composed style of batting. 
"I do sometimes feel like a poorer cousin of the way David bats but at the same time … you do have to be yourself," he said.
Australia can be No.1 in 12 months: Nielsen
Meanwhile, impressed by the Australian team's dominance of India in the ongoing Test series, former national coach Tim Nielsen said the side could regain the top spot in world cricket within 12 months. 
Nielsen had to step down after England crushed Australia 3-1 in the last Ashes series and South African Mickey Arthur replaced him. Australia have bounced back strongly after that and currently lead a four-match Test series against India 3-0. 
Nielsen said Arthur has brought some positive changes in the side and the selectors too have done a good job by blooding youngsters in the side. 
"I am sure a change of voice has been positive, a different perspective. Mickey has had the challenge of having new players come into the side," said Nielsen, referring to openers David Warner and Ed Cowan and pacers James Pattinson, and Pat Cummins. 
"There is a genuine enthusiasm and want from some blokes to make their mark. Change is never a negative thing and the selectors have done a good job to pick the young players who have been on the horizon," Nielsen said. 
He also said the top-team tag is well within Australia's reach. 
"We were never that far away. We got beaten by a England who were an excellent cricket side last year. It didn't mean we are crap. Australia could be the No.1 Test side in 12 months," Nielsen was quoted as saying by Daily Telegraph. 
"We knock over West Indies, then South Africa and have every reason to go to the Ashes as contenders to the throne," he said.
Nielsen had a very successful stint as Australia coach as he presided over nine Test series wins in 15 and 19 triumphs out of 25 one-day series after replacing John Buchanan in 2007 before being forced to resign.