Australian skipper Michael Clarke [ Images ] has been rendered doubtful for Sunday's crucial tri-series ODI match against India [ Images ], a media report said on Saturday.
-India aim to stay afloat, battle Oz in crucial tie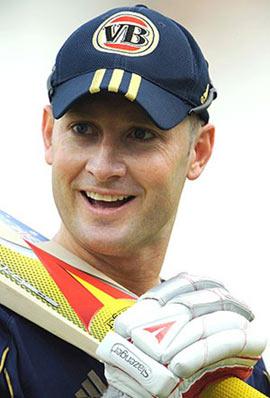 A report in the Australian said, Clarke has not recovered properly from his hamstring injury although he scored a half-century in Friday's defeat against Sri Lanka [ Images ].
"Australian selectors may come to regret the axing of Ricky Ponting [ Images ] with news that Michael Clarke is in doubt for Sunday's critical ODI match against India," the newspaper reported.
"No decision will be made on the Australian captain's fitness until tomorrow but he has not pulled up well after his return from a hamstring injury in last night loss to Sri Lanka in Hobart," it added.
Ponting had led the side when Clarke missed the two previous matches due to injury not now has been sacked by the selectors.
If Clarke misses the game then selectors will be in a dilemma about who will lead the side. Shane Watson [ Images ] is the vice-captain but has not played a game for Australia [ Images ] since breaking down in South Africa [ Images ] before the summer.
David Warner has been acting captain but his place was in doubt after a string of low scores.