Sachin Tendulkar's dismal showing with the bat in the ongoing tri-series in Australia, and the long wait for his 100th international century, may have left his legion of fans frustrated, but it has certainly not affected his market value.
World Sport Group, which manages Tendulkar's brand endorsements since the last five-six years, say the maestro is beyond the game for his value to be affected by temporary loss of form.
"Tendulkar's commercial contracts are doing reasonably well. I do believe he is a little beyond the game today. Yes, there is a specific set of discussions happening in the public, but from the commercial point of view he is beyond that," said Harish Krishnamachar, WSG Country Head and Senior Vice-President, in Mumbai, on Monday.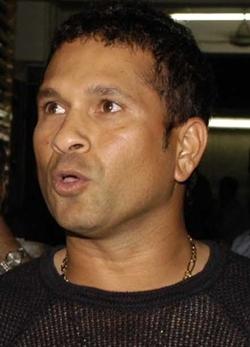 Tendulkar has struggled to get going in the tri-series, his first ODI series since the World Cup triumph last year, aggregating just 104 runs from six matches, at a lowly average of 17.33 and a best of 48.
He along with seniors Virender Sehwag and Gautam Gambhir were branded as "being slow fielders" by captain Mahendra Singh Dhoni recently.
Krishnamachar said Tendulkar has signed all-term associations with the brands he endorses and there is no question of his bad form affecting them.
"I have been working with him for the last six years and I know that immediacy in the terms of value is something that we tend to draw in the media, but it is not something that does not happen overnight. In general, the marketeers view this as a long-term investment and they tend not to look at it as something short time.
"We also felt that every time we work with clients and organisations we have tended to take a longer term perspective. We tend not to take sign stuff on the short term for any of our players," he said.
With calls for Tendulkar's retirement from ODIs growing over the last few days, since he has already achieved everything possible in the shorter format of the game, Krishnamachar assured that WSG has already made plans if the highest run-getter in Tests and ODIs decides to quit.
"Like a lot of people, at that point in time [in 2006] nobody knew how long he would play. So the entire perspective was what we could to do for Brand Tendulkar and not cricketer Tendulkar, and keep it logically alive. I think that was really the crux of the issue. We certainly didn't look at it at that point of time and say he is going to play for the next six years. So we had factored that in for sure and we worked accordingly," he said.