Indian paceman Ishant Sharma may be dropped for the Adelaide Test as the side may opt for two spinners,  Ravichandran Ashwin and Pragyan Ojha and two seamers.
Sharma's position in the squad has come under fire after he could claim only four wickets at the cost of 81 runs each in the current tour.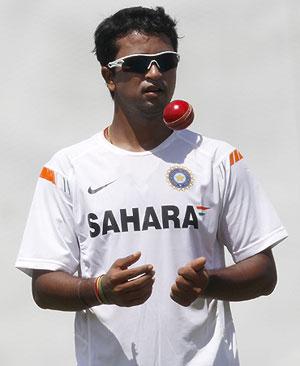 Though the WACA pitch in Perth helped pacers, Umesh Yadav outshone Sharma because the latter struggled for direction and bowled too short, The Sydney Morning Herald reports.
Former Indian batsman Sanjay Manjrekar had earlier termed Sharma's performance in the ongoing series as a disappointment, saying that he failed to lead the pace attack in the current tour.
"This is where Ishant has proved a disappointment so far; for all his talent and commitment he just does not take enough wickets," Manjrekar wrote in a column before the Perth Test.
"To give you a very rough estimate of Ishant's bowling average in batting parlance: an average of 36 runs per wicket is about equal to averaging just under 35 per innings for a batsman," he added.
"Would India be tolerant of a batsman who averaged around 35 after 43 Tests? Ishant's strike rate of 64.8 is also below par. This means he needs to bowl nearly 11 overs to get one wicket," Manjrekar had said.
Sharma has played 44 Tests, taking 132 wickets at 37.19.