Australian Cricketers' Association (ACA) chief Paul Marsh believes a crackdown on sledging and on-field aggression has resulted in the team's poor performances of late in Test matches.
Since the notorious India series of 2007-08, Australia's on-field behaviour has been under extra scrutiny, and for the past two years the Aussies have toned down their aggression on the field fearing a backlash from Cricket Australia.
"I think there's no doubt the team's performance has been affected. Hard, aggressive cricket is in the Australian team's DNA and unfortunately the players started second-guessing their natural instincts in the heat of battle for fear of reprisal from Cricket Australia or public backlash from the vocal minority," Marsh told the Sydney Morning Herald.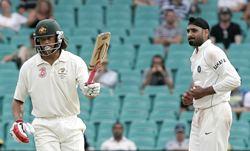 "I know for a fact that many of the opposition teams were seeking to exploit what they now saw as a weakness in the Australian team," he added.
However, in Perth last week a new-found aggression was on display when Australia produced one of its finest performances since July, crushing England 267 runs in the third Ashes Test.
Marsh said after the 2008 Sydney Test against India -- during which alleged racial insults from both the sides made headlines, CA came out with a directive that Australian players need to curb their on-field banter.
"After the Indian Test in Sydney, CA called a meeting of all players, CA senior management, some board directors and myself to discuss the way the Australian team was playing the game and being perceived by the public.
"There was a directive given by CA that the team needed to change its on-field behaviour. At the time many of the players disagreed with this directive; however, they took the feedback they were receiving on board and there was an immediate noticeable change in the way the team played the game," he said.
"Unfortunately, the Australian cricket team was a victim of its own success. They were winning everything there was to win and all of a sudden this success wasn't enough for some people.
"The team had to not only win but win in a manner that was different from how the Australian cricket team had played over several decades. In my view it was a classic tall poppy syndrome story and I said so at the time," Marsh said.
CA spokesman Peter Young added: "After Sydney there was significant public backlash which surprised Cricket Australia and surprised the players, and I think it's fair to say that we went through a period of introspection.
"But the public has consistently told us since then, through three years of research, that they are totally comfortable with on-field aggression as long as it is hard but fair cricket," he said.
"What the public saw in Perth, from my understanding of the public mood, was completely acceptable."