Australian cricketers' relationship with national talent manager and full time selector Greg Chappell has broken down to such an extent that he has been banned from their dressing room, especially when the team goes out to bat.
According to the Daily Telegraph, so bad are the vibes, that Chappell is in danger of becoming the most high profile casualty of Cricket Australia's far-reaching review following scathing reports from the players.
One of Australia's greatest batsmen and captains, Chappell has been described as a "caustic" influence around the team.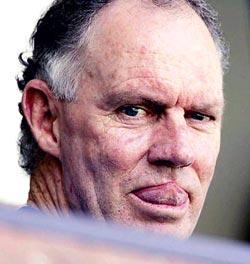 "He drove us all mad," one player said.
There were claims he undermined the coaching staff by becoming involved when he should have been merely a passive observer.
At least one player complained that Chappell told him he was in the team when in fact he had been overlooked.
It maybe recalled that Chappell also had an acrimonious two-year term as coach of India from 2005.
The criticism of Chappell was part of damning critiques about the four-man selection panel to the review chaired by former mining and bank boss Don Argus, which was tabled at a Cricket Australia board meeting yesterday.
Chairman of selectors Andrew Hilditch is expected to be restructured out of a job as CA finally appoints a full time chairman of selectors as part of a wider revamping of the panel.
He was widely criticised for his poor communication skills and he became a public relations disaster for CA after refusing to take any responsibility for last summer's Ashes debacle.
There was also criticism of part-time selectors Jamie Cox and David Boon because of their conflicts of interest with full time jobs at state level.
Cox is South Australia's high performance manager and Boon was in charge of Tasmania's cricket operations before resigning to become an International Cricket Council match referee.
There is also pressure on CA's second most powerful administrator, general manager of cricket operations Michael Brown.