Australian fast bowler Pat Cummins will miss most of the rest of the season with a back injury, Cricket Australia said on Friday.
The 19-year-old is one of the most exciting talents in Australian cricket and it had been hoped that he might be in contention for selection for the third Test against South Africa later this month.
"Pat Cummins returned from Champions League Twenty20 duties with the Sydney Sixers with some back soreness," team physiotherapist Alex Kountouris said in a news release.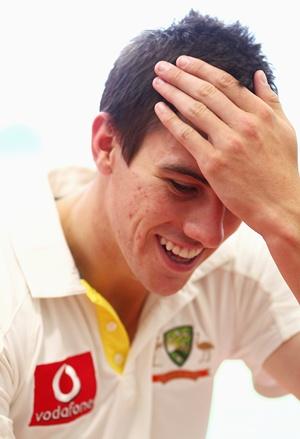 "Because of his age and past history we decided to investigate the source of the pain and unfortunately he has an early stage stress fracture of his spine, confirmed by scans today."
"Pat had a spine bone stress injury a few years ago but the current injury is new and in an entirely different part of the spine."
"We expect he will recover fully from this injury and will be closely monitored to determine his return to the playing field, but expect that he will miss most of the 2012-13 domestic cricket season."
Cummins burst onto the international scene in sensational fashion when he took seven wickets on his debut to help Australia to victory against the Proteas in South Africa last year.
That remains his only Test outing, however, and his appearances in other formats have also been restricted by what looks to be a worrying fragility in his physique.
There was more bad news for the Australians on Friday when former captain Ricky Ponting, the second most prolific run scorer in Test cricket, was pulled out of a Sheffield Shield match in Hobart because of a sore hamstring.
Australia team official Pat Howard said Ponting, who has been named in the 12-man squad for next week's first test against South Africa in Brisbane, had been withdrawn as a precaution.
"If this wasn't a week out from the first Test then Ricky would continue with the match," he said.
"But we don't want to take that risk. We expect Ricky to be fit for the first Test against South Africa."
Photograph: Ryan Pierse/Getty Images