John Buchanan's latest leaked letter scandal, termed "Baggygate" in local media, has set tongues wagging whether the Australian coach himself is behind letting his secret whip be seen in public.
It is not the first time when Buchanan's letter has been leaked. on the contrary, it is the fifth such incident in six years.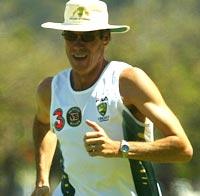 A rundown of such instances:
PERTH, March 1997: The Queensland team is due to face Western Australia in the Sheffield Shield final. Coach Buchanan's plan for opposition players is leaked almost immediately. Channel Nine did a spoof, featuring a McDonald worker asking a customer, "Would you like a Queensland plan with your French fries."
WELLINGTON (New Zealand), February 2000: A guest at the James Cook Centra Hotel contacts a producer of Wellington radio station 91ZM and claims he has a secret dossier accidentally slipped under his hotel door containing details of Australia's game plans for the one-day series against New Zealand.
The plans say Australia must "intimidate" New Zealand with "controlled aggression" and that captain Stephen Fleming is "a bit lazy early" and all-rounder Chris Cairns is "fragile".
Cairns said he has known that (about him being fragile) for ages. Fleming said he did not read it.
NORTHAMPTON (England), August 2001: A Buchanan memo quoting the deeds of 5th century BC Chinese warlord Sun Tzu is circulated among the players but again one copy falls under the wrong door and is given to a local journalist who quotes it in full.
Tabloid paper The Mirror printed a poster of Tzu wearing a baggy green cap and Ian Botham wrote in his column, "Shoving 10-page memos under the door of Test cricketers never made anyone bowl faster or score more runs."
MELBOURNE, December 2001: An Australian game plan for South African fast bowler Allan Donald was accidentally slipped under the hotel door of a wire service journalist when a hotel worker mistook the number for Ricky Ponting's room. The plan said to "wear him down" and that Donald "can over-attack at times, which can give us plenty of scoring opportunities."
ADELAIDE, December 2003: A Buchanan letter expressing disappointment at Australia's second innings batting effort in Adelaide is leaked. The letter claims Australia's batting was "soul-less." Buchanan said the letter was private and should have stayed that way.