Yet another series defeat in India.
Yet again, a time to reassess what went wrong.
Ricky Ponting must be getting used to it by now.
Having suffered his fifth Test defeat in seven Tests as captain on Indian soil, Ponting was busy doing some introspection soon after the match.
"That's three Tests lost in a row -- we can't forget the loss against Pakistan either," he explained, adding, "But we are getting to understand that to win you need to play five days of good Test match cricket.
"Playing well for four, or for that matter four-and-a-half days, is not good enough."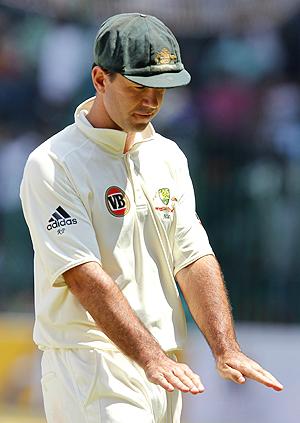 Australia's captain was quick to point of what he felt were the two reasons that led to their defeat at Bangalore.
"The [Murali] Vijay-Sachin [Tendulkar] partnership (308 runs for the third wicket) on day three was critical. We needed to get one of them out early but we couldn't," said Ponting, adding, "Secondly, we didn't bat well in the second innings."
Many felt that the Australian bowling was below par throughout the series. Ponting, however, defended his bowlers.
"I would say our bowlers did a pretty good job," he said, before going on to explain the main reason behind the failure.
"The only reason we have lost the series is because of our batting in the second innings of both the matches," he reasoned.
"Had we batted even an hour more on the two occasions, things would have been different.
"We certainly wouldn't have lost both he Tests."
He admitted that the defeat in Bangalore was difficult considering it came close on the heels of a similar result in Mohali.
"Little bit harsh, probably," observed Ponting, adding, "We played pretty well for a majority of this match.
"In fact, we served up quite well for nine of the 10 days we played here."
The 35-year-old was also critical of his own effort, despite that fact that he registered three fifties in his four innings.
"I don't feel I did my bit either," he admitted, before giving an elaborate explanation.
"When, as a No 3 batsman, you get 60 or 70, you are expected to make it count and convert it into a hundred," he said, adding, "Sachin did it.
"When you get those starts, you need to convert. So I am disappointed. I let my team down when they needed me to stand up."
Ponting, however, didn't buy the argument that his team was less competitive than it was a few years back.
"I don't think there are many gaping holes in our team," he explained, defending a side which he had earlier described as a "work in progress".
"We just need to take the opportunities that come our way a lot more than we have been doing recently," he concluded.