Only 10 people have done it thus far.
And three of them happen to be Australians.
We are talking about the bowlers who have had the privilege of claiming Sachin Tendulkar as their first Test wicket.
And on Tuesday -- the fourth day of the second Test, when the Master Blaster, having scored a superlative 214, dragged the ball onto his stumps, Peter George became the latest member of that exclusive coterie -- that includes compatriots Peter Siddle and Cameron White.
The 23-year-old from Adelaide, who is just four days away from his 24th birthday, was palpably excited.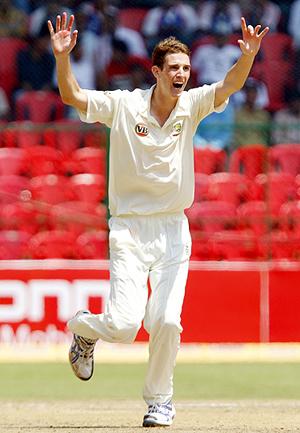 "Getting Sachin out as my first Test wicket was great," he said.
"It was a relief to get his wicket having seen him bat for that long," he added. The youngster added Zaheer Khan's scalp to his kitty as well to finish with figures of two for 48 in his first ever innings.
The figures made for a decent read. They were certainly in sharp contrast to his lackluster effort on the second day and his comme ci comme ca show on the third.
"I was definitely a nervous starter on Day 2 (having done nothing on the first day as we were batting)," admitted George, whose figures on Sunday read thus: 5-1-18-0.
"I calmed down after that and then felt a lot comfortable yesterday," he continued, explaining his second day in international cricket that saw him end with figures of 15-1-38-0.
However, things changed for the better on Tuesday. And George felt the fact that he kept trying helped him considerably.
"I definitely didn't give up hope," he reasoned, adding, "Instead, I just tried to do things a bit differently.
"It eventually came down to being patient."
Having made it to the Australian squad owing to an injury to Doug Bollinger, George said he will always cherish the ongoing Bangalore Test -- one in which he first wore the Baggy Green and got himself a debut wicket to cherish.
"This huge crowd was something I had never experienced before, especially they way they cheered after Sachin reached his 14, 000 Test runs," explained George.
"So this is something I will always remember," he added.