Former cricket captain Shoaib Malik reacted angrily to reports that his presence at the Guangzhou Asian Games athletes' village has surprised Pakistan officials there as he was not part of their contingent.
"I think if anyone should be concerned about my presence in the village it should be the Indian delegation. I don't know what problem the Pakistani delegation had with my being in the village," Malik said.
Pakistan contingent members had on Sunday said that Malik was not issued any visitor's card by them nor had he applied for any accreditation on their behalf.
Malik said he had gone to China to join his wife, Sania Mirza during Eid holidays as he got a week long break in the ongoing Quaid-e-Azam Trophy domestic tournament.
"I got proper access and entry into the village through my wife and was given accreditation. I stayed with her in the village.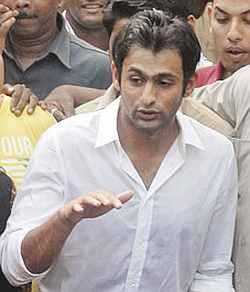 "I came back immediately after the holidays and playing again for my department. Obviously spending time with my wife and concentrating on my cricket career are both important for me," the cricketer said.
Malik said he himself was a former cricket captain and national player and the members of the Pakistan delegation should be careful while making statements about him.
"I take offence to what has been reported in the press. It looked as if I was there without permission and had no business being there."
Since getting married to Sania earlier this year, Malik has spent lot of time travelling to India to be with his wife and in-laws and has also frequently joined her in other countries where she has been playing in the international events.
"We are both professional athletes and obviously want to spend some quality time together. I like to be with her when she is playing in any event abroad," he said.