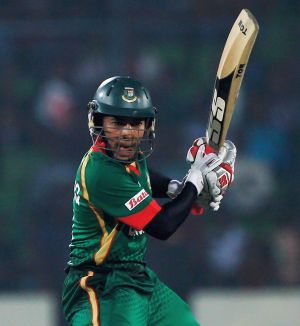 Bangladesh skipper Mushfiqur Rahim was rushed to a hospital in Dhaka after injuring his shoulder while fielding during their match against India in the Asia Cup on Wednesday.
"He has gone for a check up to hospital. We are yet to get the doctor's report. We don't have any news of him yet. We will get know later," left-arm spinner Abdur Razzak told reporters.
Fielding on the boundary in the extra cover region, Rahim landed awkwardly on the shoulder as he dived to haul it back to his right to stop Rahane's four in the fifth ball of the 44th over.
For Rahim it was a double blow as the skipper was hit on his rib cage while batting by a nasty beamer from India pacer Varun Aaron who was barred from bowling after a second waist height bowling.
The Bangladeshi left-arm spinner said, "Nobody would do that deliberately to injure somebody."
Image: Mushfiqur Rahim
Photograph: Daniel Berehulak/Getty Images