India paid the price for costly blunders at crucial junctures and suffered a nerve-wracking one-wicket defeat to Pakistan in the Asia Cup, in Mirpur, on Sunday.
The arch-rivals rode on Shahid Afridi's brilliant late cameo to virtually assure themselves a berth in the final.
In a tense encounter, where fortunes fluctuated till the end, Afridi turned the game Pakistan's way by hitting successive sixes in Ravichandran Ashwin's last over to overhaul India's modest total of 245.
Inconsistent with the bat in the last two matches, he hit the first six over deep extra cover and the next over long-on, scoring 34 not out off only 18 balls, including two fours and three sixes.
Dinesh Karthik's woeful work behind the stumps again cost India dearly. He missed the easiest of stumpings when Ashwin fired one down leg side as Sohaib Maqsood (38) -- then batting on 21 -- came out charging. The keeper failed to gather the ball and missed the chance. Pakistan were 167 for four then.
Mohammed Hafeez (75) and Maqsood had scored 87 runs for the fifth wicket, and after the IPL's new million dollar man fluffed his lines, they added another 37 runs which proved vital in the context of the game.
From 200 for four, Pakistan slumped to 203 for six, but they then had a couple of profitable couple of overs --- 45th and 46th -- when Ravindra Jadeja and Bhuvneshwar Kumar went for 13 runs each.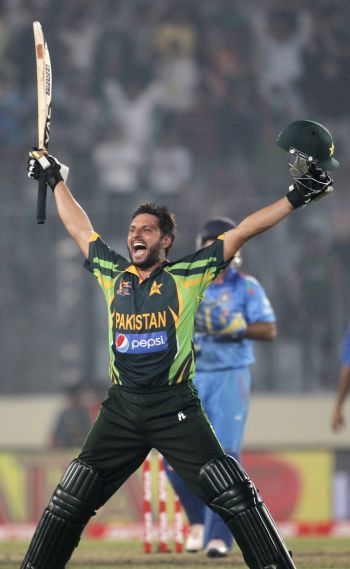 Hafeez's innings had three fours and two nicely hit sixes, including a pulled one off Mohammed Shami's bowling.
India's chances of making it to the final now hang by a thread, while a Pakistan-Sri Lanka summit clash looks imminent.
For India, leg-spinner Amit Mishra (2-28 in 10 overs) bowled a brilliant spell after making it to the playing eleven after a long time while Ashwin was also pretty good even though his figures got spoiled in the end due to those two sixes hit by Afridi.
It can now be safely concluded that Karthik has blown away the golden opportunity he got in Dhoni's absence with two absolutely shoddy performances with the big gloves.
In the last game, he missed Kumar Sangakkara's stumping chance and it cost India the match.
Maqsood's missed stumping helped Pakistan score an extra 30 runs. Who knows, a wicket at the stage could have helped India.
Earlier, Ravindra Jadeja (52) hit a timely unbeaten half-century as India recovered from a mid-innings collapse to post a modest total.
Opener Rohit Sharma (56), who finally found his touch after a lean patch, and Ambati Rayudu (58) also did their bit but none of the batsman could make it big.
Rayudu scored 58 from 62 balls, while Jadeja was unbeaten on 52 from 42.
Experienced spinner Saeed Ajmal (3-40) bowled nicely in the death overs to dismiss three batsmen, while debutant pacer Mohammad Talha (2-22) and off-spinner Mohammed Hafeez (2-38) took two wickets each.
Jadeja made full use of a reprieve on 12, when Hafeez dropped a sitter, to post his ninth half-century.
It was Hafeez, who trapped Dhawan to give Pakistan their first breakthrough, but India had the match in control with Sharma and Kohli in the middle.
Sharma's approach was different from his poor outings in South Africa and New Zealand.
He pulled Gul over square leg to break free and showed no mercy against pacer Junaid Khan, punching the left arm pacer for a consecutive six and four.
A victim of Sharma's assault, Khan conceded 25 runs from his three overs before being taken off.
The duo mostly scored in boundaries and added a quick 38 runs from 36 balls before Gul gave Pakistan the biggest breakthrough in Kohli.
It turned out to be a soft dismissal, as the in-form Indian skipper, looking to work it away towards the third man, was done in by an away-going delivery, edging it to the wicketkeeper .
Sharma cruised to his 22nd half-century off just 44 balls, with seven fours and two sixes, but got out on a rash shot.
When India needed to play sensibly, Kohli did not show any patience. Sharma was no different.
When the situation demanded him to carry his innings forward, he offered a loose pull shot, top-edging a short pitched ball, to hand debutant Talha his first ODI wicket.
Hafeez took a running catch, almost colliding with Pakistan opener Sharjeel Khan, who had to leave the field after hurting his knee.
Talha was impressive with his pace and bowled to a steady line as he dried up the boundaries.
Looking to improvise and work the ball over mid-wicket, Rahane sent the ball to Hafeez, who took a sharp, rising catch to give Talha his second wicket.
Talha had an impressive first spell of 7-1-22-2 that plummeted India's run-rate.
With the spin duo of Hafeez and Ajmal, Pakistan gave away only 21 runs in the batting powerplay that also yielded the wicket of Karthik.
Image: Shahid Afridi
Photograph: Andrew Biraj/Reuters