Australia's Channel Nine TV on Friday defended its reporting of the use of silicone tape on cricket bats to confuse Hotspot technology during the Ashes series, saying they had not made allegations about players cheating.
Amid increasing controversy during the five-Test Ashes series over the inconsistency of the Decision Review System (DRS), the network reported on Wednesday that the International Cricket Council (ICC) was investigating the matter.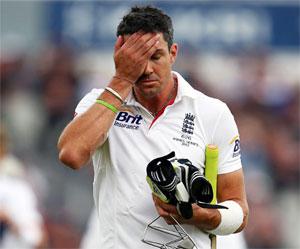 The ICC, cricket's governing body, issued an immediate denial and said the report was "totally incorrect".
England captain Alastair Cook on Thursday described the claims as a "blatant fabrication" and demanded an apology from the network.
"We have been reporting on the story and have never made any allegations about players cheating," a Network Nine spokeswoman said by E-mail on Friday.
"Concerns about the use of tape on bats reducing the effectiveness of Hotspot have come from the creator of the technology, Warren Brennan.
"He raised these concerns with the ICC. As a result, extensive resting has been carried out by Brennan and the ICC has conceded that there may be an issue worth further investigation."
The Ashes series has been dogged by controversial umpiring decisions and there have been several occasions when Hotspot has failed to pick up edges.
England's leading batsman Kevin Pietersen was involved in one such incident during the third Test in Manchester when he was given out caught behind, even though nothing appeared on the Hotspot review.
Cook called the Channel Nine report "absurd" and "blatantly untrue", although he added that the prevailing emotion in both the England and Australian dressing room had been one of amusement.
"Both sides have kind of laughed at it," he said.
"Certainly we've been laughing at it in our dressing room because of how strange the story is.
"The mileage it's been given has been a bit strange and it's not great when you've been called a cheat as a side and have been accused of something you haven't done."
Photograph: Michael Steele/Getty Images