A 33-year-old Australian has been charged with animal cruelty after he smuggled a live pig into the Gabba, the venue of the first Ashes cricket Test.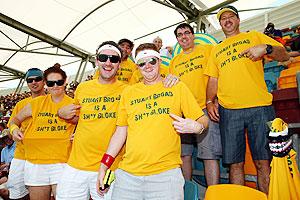 According to Sport24, security guards spotted the animal wrapped in a towel and transported in a baby harness during the first day's play between England and Australia on Thursday. The pig's snout was taped shut so it couldn't squeal, the report said.
The RSPCA animal charity was handed custody of the distressed pig, called Ash and weighing 10-12 kilograms (22-26 pounds), the report added.
Police would not speculate on whether the pig was destined for release onto the playing field, the report further said.
Ash was destined to run onto the Gabba field, three decades after a pig was famously smuggled in and freed with the names Botham and Eddie painted on its sides, according to the report.
The newspaper speculated if Ash had Stuart Broad's name written on it as the English fast bowler has been vilified in Australia for not walking during the recent Ashes series in England, the report mentioned.
Image: Australian fans enjoy the atmosphere on Day 1 of the First Ashes Test at The Gabba on in Brisbane on Thursday
Photograph: Cameron Spencer/Getty Images