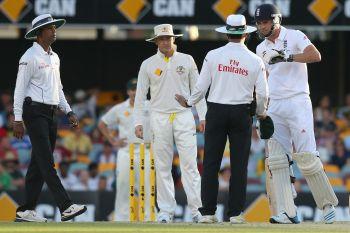 Former Australian wicket-keeper Ian Healy has criticised the match officials in the ongoing Ashes series, branding them as ''insipid'' and saying that they do not take on their responsibilities seriously.
Following Australian captain Michael Clarke being fined for using an obscenity while warning James Anderson to expect a broken arm in the Ashes opener, Healy believes that the umpires need to ''stiffen up their act'' and take a more active part in calming potential spats.
According to the BBC, Healy, who played 119 Tests for Australia between 1988 and 1999, said that although he likes to see an aggressive spirit in the game, he however, feels that a situation needs to be looked at if it gets to violent and personal in its intentions.
Stating that the ''line in the sand'' present in the preamble for the laws of cricket needs to be followed, Healy also said that umpires need to step in if they are of the opinion that the line is not being adhered to, adding that the umpires heard all of the discussion between Clarke and Anderson, yet they failed to prevent it.
Neutral umpires are used for Test matches but only four of the 12-man elite panel are not Australian or English - Aleem Dar and Kumar Dharmasena, who stood in the first Test, Marias Erasmus and Tony Hill, the report added.
Photograph: Mark Kolbe/Getty Images