Australia coach Darren Lehmann has been fined 20 percent of his match fee for "inappropriate comments" about England's Stuart Broad made ahead of the fifth Ashes Test, the International Cricket Council (ICC) said on Thursday.
Lehmann, who had accused Broad of "blatant cheating" and called on Australia's fans to send the fast bowler home from the return Ashes series in tears, admitted the offence and accepted the sanction, the ICC said in a statement.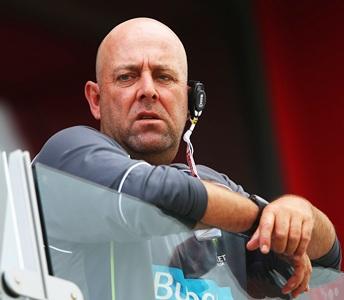 Broad edged a ball from spinner Ashton Agar that was caught by Michael Clarke, via wicketkeeper Brad Haddin's gloves, during the first test at Trent Bridge but did not walk after umpire Aleem Dar gave him not out. He later admitted edging the ball.
Australia had already used up all their reviews so were unable to challenge.
"Certainly our players haven't forgotten, they're calling him (Broad) everything under the sun as they go past," Lehmann told Australia's Triple M radio station on Wednesday.
"I hope the Australian public are the same because that was just blatant cheating. I don't advocate walking but when you hit it to first slip it's pretty hard.
"From my point of view I just hope the Australian public give it to him right from the word go for the whole summer and I hope he cries and he goes home."
England have already wrapped up the Ashes series, which they lead 3-0, ahead of the return starting in Brisbane on November 21. The fifth Test is currently being played at The Oval.
Lehmann's comments breached Article 2.1.7 of the ICC Code of Conduct relating to public criticism or inappropriate comment.
"Whilst noting the context and nature of the comments made, showing mutual respect for one's fellow professionals -- including for coaches, players and match officials - is a cornerstone of how we play the game," ICC chief executive David Richardson said on the ICC website.
Image: Darren Lehmann
Photograph: Michael Steele/Getty Images