Ashes aspirant Fawad Ahmed is to join Australia 'A' on their tour of England after legislation designed to fast-track immigration applications passed through Australia's parliament on Wednesday.
Pakistan-born Ahmed arrived in Australia in 2010 before claiming asylum as a refugee on the grounds he had received death threats from Islamic extremists for being involved with an NGO promoting women's rights.
The 31-year-old legspinner, who had been earmarked for inclusion in Australia's Ashes squad, had applied for citizenship but would not have been eligible until the fifth and final match of the series on August 18.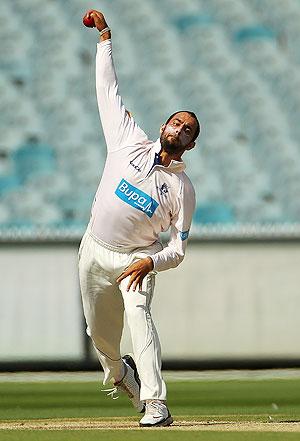 The proposed legislation allows Australia's immigration minister to fast-track citizenship applications in special circumstances, though it still needs to be approved by Australia's upper-house senate later this month.
"Should the Bill to amend the Citizenship Act become law and he (Ahmed) obtains Australian citizenship and an Australian passport before that date, he will become immediately eligible for national selection at that time," Cricket Australia (CA) said in a statement.
The first Test in the Ashes series begins at Nottingham's TrentBridge on July 10.
Born in Swabi, a rural district fringed by the Hindu Kush mountains and the Indus river, Ahmed has taken 39 first class wickets at an average of 32.20 since making his debut for Abbottabad in 2005.
Australia included just one spinner, right-arm orthodox Nathan Lyon, in the squad for the series, despite chairman of selectors John Inverarity strongly hinting before the team was announced that there would be two.
"We are pleased to be able to provide emerging cricketers with an opportunity to show their abilities," Inverarity said on Thursday.
"Fawad is a spin bowler of interest and we look forward to seeing how he performs for Australia A."
Ahmed, described by several former Australian players as the best legspinner they had seen since Shane Warne, will join the Australia 'A' team this weekend and would be available for selection for their match against Ireland starting on June 14.
'A' team selections are not subject to International Cricket Council eligibility rules, CA said.
Image: Fawad Ahmed
Photograph: Graham Denholm/Getty Images