England march into the second battle of their Ashes campaign at another bastion of Australian cricket on Friday buoyed by the knowledge they have already spiked one of the enemy's big guns.
While Mitchell Johnson's replacement could hardly prove less effective than the paceman was in the first Test, Australia's decision to drop the 2009 ICC Cricketer of the Year can only count as another major blow from the tourists.
Their first blow was delivered at the Gabba earlier this week, when England's top order batted for two days to steer the side to the safety of a draw at a ground where Australians have long taken Ashes victories, and England collapses, for granted.
The hosts have almost as good a record at the Adelaide Oval where they secured one of the great Ashes victories four years ago, crushing the spirit of an England team who were subsequently routed 5-0.
England declared after making a first-innings total of 551 on the usually batting-friendly Adelaide pitch only to be skittled out for 129 in the second innings.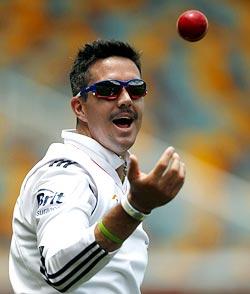 Andrew Strauss believes this is a very different England team, one that learns its lessons and exhibits none of the fragility that characterised previous touring sides since their last series victory in Australia 24 years ago.
"What it proved to us is that anything is possible in the game of cricket," the England captain recalled of the Adelaide collapse on Thursday.
"Australia sniffed that chance and took that chance. We conspired in our own downfall. You need to learn from those experiences and I think we have.
"To expect the match to go the same way would be wrong. It's a very different set of players and once you've been through that you make sure you never go through it again.
"It was a long time ago, it was obviously a big kick in the teeth then but a lot of things have moved on since then."
PACE PROBLEMS
Australia captain Ricky Ponting was Man of the Match in the 2006 Test and could be forgiven for wishing not so much had "moved on" with his side since that famous day.
"The last Ashes series here was probably the best Test win I've been involved with, it was an amazing game of cricket," he said. "We just managed to grab the initiative late in the game and were just good enough to get over the line.
"There's a few of our guys who were in that team so hopefully some of those good memories will work for us this week."
Shane Warne and Glenn McGrath were instrumental in Australia's victory in 2006 and replacing the pair continues to be at the heart of the hosts' problems.
Before the first Test it was which of the nine spin-bowlers who have tried to replace Warne would play which caused the controversy.
This week, after their bowlers managed just one wicket in England's second innings in Brisbane, it is McGrath's inheritors in the pace unit who have been under scrutiny.
With Johnson out of the equation, Doug Bollinger is likely to partner Peter Siddle and Ben Hilfenhaus on Friday, although the latter's place is also under threat from Ryan Harris.
The under-fire Australia captain made it clear he has no vote on the selection panel, and perhaps a diminishing influence.
"When it's big decisions like this one that are to be made it's wholly and solely made by the selection panel," he said.
"Of course they ask for my input and the coach's input but they're the ones that make the decisions.
"Sometimes it doesn't matter what I think," he added.
Both teams will make their final team announcements on Friday morning before the second Test gets underway at 0530 IST on Friday.
Teams: 
Australia (probable) - Shane Watson, Simon Katich, Ricky Ponting (captain), Michael Clarke, Mike Hussey, Marcus North, Brad Haddin, Doug Bollinger, Ben Hilfenhaus, Peter Siddle, Xavier Doherty.
England (probable) - Andrew Strauss (captain), Alastair Cook, Jonathan Trott, Kevin Pietersen, Paul Collingwood, Ian Bell, Matt Prior, Stuart Broad, James Anderson, Steve Finn, Graeme Swann.