The umpire referral system is proving effective despite controversial decisions in the fifth Ashes Test but it should be used in all Test cricket or not at all, Australia captain Michael Clarke said on Wednesday.
Allegations of cheating were levelled by media pundits at Australia's Phillip Hughes and England batsman Ian Bell on the third day of the final Test of the Ashes series, the first where technology has been used.
Alastair Cook, who went on to make 189 to help England to a commanding lead, was on 99 when Australia appealed for a Hughes catch at short leg but the English batsman stood his ground and the TV replays showed it had not carried to the fielder's hands.
"Phillip Hughes is not a cheat," said Clarke, who is standing in as captain for the injured Ricky Ponting.
"Hughsey wasn't su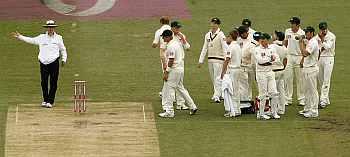 re, (wicketkeeper Brad) Haddin wasn't sure and we made that clear to the umpire.
"It's tough and that's why we have the technology and I think it worked in that particular situation."
Bell was given out on 67 when the Australians appealed for an inside from a delivery from Shane Watson but also stood his ground and successfully appealed umpire Aleem Dar's decision.
Clarke said as a batsman, it was sometimes difficult to know whether you had got a feint edge on the ball.
"We thought there was an inside edge, the technology said there wasn't. I don't think he's a cheat," Clarke added.
"I don't think anyone would refer a decision if they thought they had hit it," he added. "I think Ian wasn't sure."
Bell was booed by some sections of the crowd when he reached his century, and again when he was finally dismissed for 115.
Clarke, however, rebutted suggestions that some of his players had not applauded when the Englishmen reached his milestone.
"I can guarantee that I clapped and I'm sure that the guys did to," he said.
Some countries, most notably top ranked test side India, have refused to use the new technology while others cannot afford it.
Clarke said he personally was in favour of it but thought it had to be used in all Tests.
"I'd like it to be 100 percent right but not many things in the world are," he said. "I think it should be 100 percent used or not used at all."