England cricket team director Andy Flower has made it clear that there is no place for Kevin Pietersen in the national squad until deep and serious issues of trust and respect are sorted out.
Flower has reflected Test captain Andrew Strauss' sentiments that several issues needed to be addressed before Pietersen can return to the dressing room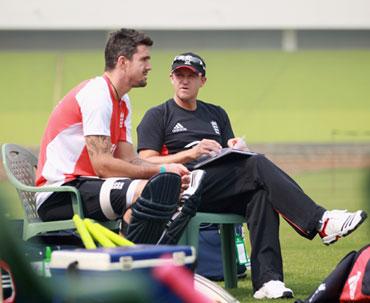 "It's a very sad situation for everyone involve. He played superbly in our last Twenty20 World Cup but the circumstances that exist at the moment mean that he can't be selected for us," The Telegraph quoted Flower, as saying.
"There are unresolved issues of trust and respect that we have to get to the bottom of before we have a chance of moving forward," he added.
"This is not just an issue between the player and the captain, there are bigger issues at heart. Also the text issues do have to be investigated so that we know what situation we are dealing with. We are aware of some of the content but we have to understand the content to move on in a proper, healthy fashion," he said.
Flower further said: "Let me just be clear, this is not just an issue between the captain and Kevin. There are deeper issues. Certainly the issues of trust and mutual respect need to be addressed, there are unresolved issues that have reared their heads in the last few weeks. And those issues have to be resolved before there is any way forward."
"You resolve these issues face-to-face with people, not through agents or PR agencies, and if this issue is going to be resolved that's how it is going to have to be," he added.
"There are always issues coming up, it's part of what makes the job very interesting and Andrew Strauss and I have worked very closely and very well together over the years and we'll continue to do so over this issue," he concluded.