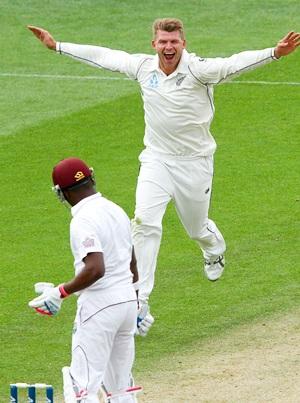 New Zealand all-rounder Corey Anderson was confirmed in his team's playing side for their series-deciding third and final Test against West Indies in Hamilton starting on Thursday.
The 23-year-old Anderson had been troubled by a shin injury that prompted coach Mike Hesson to call Jimmy Neesham into the squad as a stand-by player.
New Zealand captain Brendon McCullum, however, told reporters in Hamilton that Anderson, who has made an impressive start to his Test career, would play at SeddonPark.
"We're going to play the same team and I've told Neesh he's unfortunately missed out so it will give the guys the opportunity to build on what we've done that last two Test matches," McCullum said.
New Zealand hold a 1-0 lead in the series having last week won the second Test at Wellington's Basin Reserve by an innings and 73 runs.
It was McCullum's first Test victory since he took the captaincy in late 2012 in his 11th Test in charge and the 32-year-old captain is on the cusp of taking his side to their first Test series victory against a major nation since 2006.
All of New Zealand's Test series victories since then have been against either Bangladesh or Zimbabwe and McCullum said the team was aware of their poor record since they beat the West Indies 2-0 at home in 2006.
"It's something we're aware of," McCullum told TVNZ.
"We want to win more games of cricket for New Zealand, and we know our results in the past haven't been good enough.
"This team is developing but we need to put wins in the column."
West Indies coach Ottis Gibson was not surprised McCullum's side were so competitive at home.
"It was mentioned to the guys before they got here the way New Zealand played against England (in March), who were No 1 or 2 team in the world and New Zealand gave them a great fight and should have won that series," Gibson said.
"You have the top four teams that are pretty much way ahead of everyone else then at the back end you've got us, New Zealand, Pakistan and those teams, I don't think anybody is better than anybody else in the bottom half.
"When you play away from home you expect it to be tough.
"It's just at the moment we're not showing the application that is needed to battle with New Zealand and now we have to win."
The pitch at Hamilton was looking green and McCullum said he was likely to bowl first if he won the toss, which he is yet to do in the series, but expected it to flatten out pretty quickly.
"I'm expecting it to be a good test wicket," he said.
"The important thing in Hamilton is the overhead conditions and the mugginess which is around, if there is some cloud cover then the ball can swing quite a lot.
"If the pitch does have anything in it, in terms of seam both Tim (Southee) and Trent (Boult) are more than capable and it does dry out a bit then Neil (Wagner) and Ish (Sodhi) are both good options for us later on.
"We've seen in previous Test matches here that a lot of wickets can fall in one session.
"We've got be mindful of that with bat and ball."
Image: Corey Anderson
Photograph: Hagen Hopkins/Getty Images