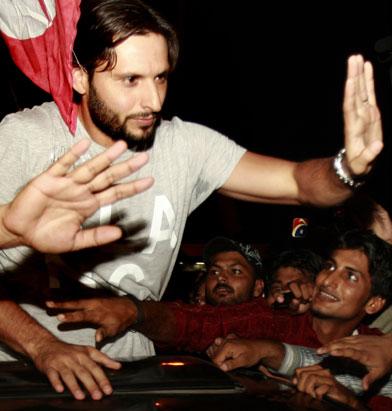 Pakistan all-rounder Shahid Afridi dedicated his inspiring performances in the World Twenty20 triumph to victims of the conflict in his troubled nation.
"Throughout the World Cup I only thought about winning this for those people who have been affected by terrorism in our country," Afridi told reporters on Wednesday.
Afridi, named the player of the semi-final and final, was hoisted by ecstatic fans on their shoulders and garlanded with hundreds of them turning up at the airport to welcome him.
Pakistan beat Sri Lanka by eight wickets in the final at Lord's on Sunday.
It was a splendid achievement after the team went without Test cricket in 2008 and The International Cricket Council moved the 2011 World Cup matches out of Pakistan due to security concerns.
"The troubled conditions back home, the way Pakistan is being isolated as a cricket nation, all this spurred the team to win the Cup," he said.
Afridi was disappointed the next World Twenty20 in West Indies was just nine months away, leaving Pakistani fans very little time to savour the triumph.
"You don't win the World Cup everyday," he said. "I think cricket is now being treated more like a business. It is hard on the players as well."
Afridi attributed his success with both bat and ball to the motivation to deliver for his country.
"The captain reposed confidence in me by promoting me up the order, I could not let him down," he said, referring to batting at number three in the final stages of the tournament.
"I kept talking to myself while batting, restraining myself from playing big shots and it worked."
However, he was edged out for the player of the tournament accolade by Sri Lanka's in-form batsman Tillekaratne Dilshan.
"I had runs and wickets and I was a bit disappointed at missing out on the award," he said.
- Afridi gets a rousing welcome from fans after arriving at Karachi's Jinnah International airport on Wednesday
Photograph: Reuters