Out-of-favour off-spinner Harbhajan Singh feels that he still has another 5-6 years of cricket left in him.
Although he praised the young spinners Ravichandran Ashwin and Pragyan Ojha who are doing well currently, the fiesty off-spinner said he never shies away from competition.
"I do have another 5-6 years of cricket in me. Picture abhi baaki hai (The movie is yet to get over). I think I can still contribute to the side for some time," Harbhajan insisted.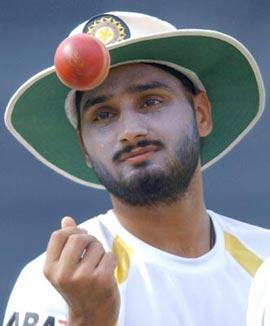 "Competition is good for the side, I am not afraid of competition. If I was afraid of competition, I wouldn't have played international cricket for 13 years. If there is no competition, the level of the game will not rise," he said.
Following his dismal performance in the West Indies and the Lord's Test in England earlier this summer, Harbhajan has been out of the Indian team since the ODI series at home against the Englishmen.
However, Harbhajan was optimistic about his selection for the upcoming tour Down Under and hinted that his record against Australia would be hard for the selectors to ignore.
"My job is to play cricket and perform and not worry about selection, it's the selectors' job," he said to television channel News24.
"I enjoy playing against Australia. They are very aggressive and we need to be aggressive to counter them or they will start dominating you. I still remember the famous series in 2001 where I took 32 wickets in 3 Tests and the Australian media gave me the name turbanator."