He is the first thing you notice at the picture-perfect cricket stadium in Mohali. Sitting in one of the super-soppers or guiding his men around, his stern eyes and extensive knowledge miss nothing while trying to better what is already the best ground in India.
Daljit Singh is an icon in Indian cricket in his own right. A former Ranji Trophy player and qualified coach, the 69-year-old is the backbone of the Punjab Cricket Association stadium that rose rubble. His expertise, coupled with I S Bindra's vision, has made Mohali a benchmark for the other stadiums.
Daljit was entrusted another responsibility last week when he was appointed coach of the Punjab cricket team, a job he took up reluctantly but hopeful of doing full justice to it.
Cricket Correspondent Deepti Patwardhan caught up with the man on his home turf. Excerpts from the conversation:
How are you looking at your second stint as Punjab coach?
I am a reluctant bridegroom. When the PCA first asked me I said no; I realized I was not ready or in touch with coaching. But, all the same, I am not bigger than the game or the federation. If my being available would help the Punjab team I was ready to do the job. Whatever I am and have come to learn is because of the Punjab Association; I will try and do what I can within my limitations.
What led to the decision to appoint you?
Intikhab Alam [former Pakistan captain and coach] was supposed to be here but could not come because of problems with clearance from the government. There was confusion since he wasn't coming and the time was too short to look for a new coach; everyone else was involved with other teams.
Bhupinder Singh had done a marvelous job earlier but now that he is an India selector he can't be coaching a state team.
My dilemma was if Daljit Singh is involved in everything he's not helping anything. I am a management student and my job is to prepare people next to me; when I go out I should be remembered, but should not be missed. If they are so much dependent upon me as an individual I would've left the system in shambles. In your lifetime you prepare the next generation, hand over and walk.
How did your association with the PCA begin?
I had managed Karnataka and Bihar earlier. When I came here I was an assistant to Mr Bishen Bedi in '93-94. I was made the chief coach in '95-96, after Bedi shifted to Delhi, and we managed to reach in final… lost to Bombay in Bombay.
After that I devoted time to coaching and technical matters. The PCA stadium came up in that period. We built up this equipment. I used to play golf so I borrowed some ideas from there. Cricket never used modern equipments; we were stuck with old watering and rolling techniques. At the PCA we started using aeration, scarifying, new irrigation methods, fertilizers and the uses of clay.
You are seen as the best curator in India; do you believe that the wickets during the Champions Trophy were not up to the mark?
It is a fair criticism. But during the Champions Trophy the ICC took responsibility; they sent their pitch consultant around. Though the consultants interacted with the groundsmen, everyone was left to do his own thing.
I am sure if the BCCI was to do conduct the event they would've done it differently. There were a lot of factors: we were coming right after the monsoon, two of the wickets -- Jaipur and Ahmedabad were re-laid, the CCI hadn't hosted international cricket for so many years. So with all these concerns we had to sit down and plan ahead. If I was asked I would have told the curators to prepare pitches with a lot of grass.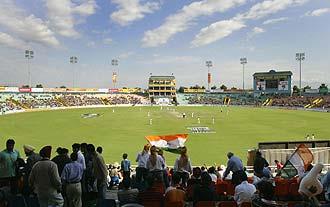 What was the difference between the pitch at Mohali and other venues?
I prepared the match wickets four times and dismantled it. We would set the wicket as if we are going to play a match on it and dismantle it after four-five days; this set the wickets and the bounce well. If I had prepared for just one game it will be a sluggish pitch.
When you prepare a pitch there's a certain method to it; if you don't have grass the hardness will not come.
The head [the tip of the blade of grass] is the factory. That's where the photosynthesis happens; from here the nutrition and food is passed through to the nodes and stems and to the roots. If you don't have it on top the root is gone; it's not getting food. The longer you leave it the stronger the root is going to be. So even if you shave the grass later on, the pitch is hard.
Whatever roller you use, it's scientifically proven you can only dry a pitch with it.
Has the playing strip become an easy excuse for batsmen to blame?
The batsmen today are a pampered lot. I come from an era of uncovered wickets. If people can't bat for ten overs on the Mohali wicket, that's their problem. You cannot expect to make a score of 250-260 if you have lost six batsmen in the first 20 overs.
The batsmen need to be cautious for the first 10 overs; the SG ball gets soft after that and can easily be maneuvered. But you have to stay that long. I cannot accept that the pitch is to blame every time a team fails to reach a good score.
The wickets in domestic cricket are better than what they were in the past 5-6 years. Has that forced captains to play more attacking cricket, look for a win rather than just a first-innings lead?
Absolutely. If you see, every team will come with three seamers. At the end of the season, 18 out of 20 best bowlers will be pacemen. Every team is now looking to win; the overall standard has become so high that no team can take it for granted.
What reasons would you attribute to a lot of non-conventional cricket centres doing well in domestic cricket?
Only last year, teams like Assam and Jharkhand and Bengal were traveling with an entourage of almost 21 people.
There has been explosion of cricket in various age groups. Indian cricket is very well-orgranised; there are five age groups at the national level. It's a lot of cricket and what has happened is that to organize that kind of cricket, infrastructure has increased, grounds have become better. The NCA [National Cricket Academy] is a big help. This has led to a whole set of new players; there has been multiplication of coaches trainers, and physios.
Lots of things have happened in domestic cricket in the last 3-4 years. What was earlier available only to Test cricketers is now available everywhere.
How big is the Punjab support staff?
We have two bowling coaches: Bharti Vij is the spin coach and Sukhwinder Tinku is the fast bowling coach. Apart from that we have Dr.Pawan Kumar and Kailash Chander to look after the team. We don't have a designated dietician, but there's someone to look after the players' fitness levels.
Just last week we had the fitness test and some players have lost out on that. I have a big support staff and am dependant on them if the team has to do well.
How is the team shaping up for the coming season?
The Punjab boys are a disciplined, obedient lot. They are very hard-working also. Where they suffer is our domestic competitions; they are not as extensive. There is a lack of regular competition; whatever's happening is only because of the PCA. There are no jobs for the players; the offices are not involved.
We have a good crop of fast bowlers and Rajesh Sharma, who is playing for the North Zone, gets good spin and bounce. Our main worry is batting.
Right now, in Indian cricket there is an emphasis on youth. Players are going straight from under-19 into the Indian team.
What is happening here is that under-19, under-22 and the Ranji seasons clash; the three groups overlap. If we try to strengthen one team the other teams become weaker. If we try to play under-19s in Ranji it's difficult for them; pulling them out of their age groups is unfair. The Board should look to space out the season so that these three teams don't overlap.