Tamil Nadu captain and star batsman Subramaniam Badrinath has at last found a place in Team India. He comes in for the injured Gautam Gambhir, for the fifth One-Day International against Australia, in Baroda, on October 11.
The prolific right-hander is in terrific form this season. Only recently he scored a magnificent double century in the four-day match against South Africa 'A' in Delhi and followed it up with a brilliant hundred (besides taking four wickets) in the third and final one-dayer against the same opposition in Rajkot.
Haresh Pandya caught up with Badrinath at the Madhavrao Scindia Cricket Ground, in Rajkot, immediately after the announcement of the Indian squad for the fifth ODI on Monday, where he was playing in the Irani Cup tie for the Rest of India against Ranji Trophy champion Mumbai.
Excepts from a candid conversation with the rapidly- progressing batsman:
How does it feel on being selected to Team India for the fifth ODI against Australia?
Obviously I'm delighted. It's always an honour to represent one's country. This was one moment I had been looking forward to for quite some time. I've been performing well with a fair degree of consistency, too. I think my performance against South Africa 'A' has at last been rewarded. It's really a great feeling to get picked in the national side.
Do you think you were truly tested by the South African bowlers, particularly the medium-pacers?
Yes, I think so. They had a very good attack and it was never easy to stay comfortably at the wicket. You had to be extra careful and watchful not only about the South African quicks but also the electric fielders. So I was very happy doing well against them.
How confident were you of getting a call for national duty at this particular stage in your career?
I was always very confident of getting picked into the Indian team. It was just a matter of time. As said earlier, my performance against South Africa A in the four-day match at Delhi and in the one-dayer at Rajkot was quite good. The selectors haven't only taken note of it but also rewarded me. And I'm really happy about it.
Do you think the India call has come at the right time for you or it should have come a bit earlier in your career?
It's entirely up to selectors whom to pick or whom not to. It just isn't in a player's hands to select himself. All you can do as a cricketer is perform well consistently and hope for the best. You're bound to be noticed one day by those who matter. I'm happy that my talents and performances have also been noticed. I'm in good form and very consistent, too. Maybe, I've been playing some really good cricket these days.
'Passion, not aggression, drives me'
You are known as a grafter and have played many a long innings. How adept are you at changing your game to suit one-day cricket in which everything is so quick?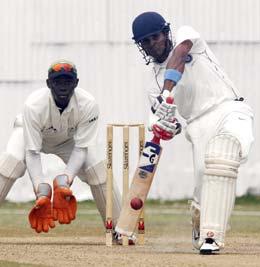 It's never been a problem with me. I've been playing consistently good cricket. I've proved my ability in limited-overs cricket as well. In fact, I was pretty successful with the bat in the inaugural national Twenty20 tournament earlier this year. I'm capable of playing any role as a batsman.
I can drop anchor, I can bat aggressively and I can really go after the bowlers in the slog overs. When you're a batsman, you've to be able to adjust your game, your approach to any cricket and any situation. So there is no reason why I can't do well in One-Day Internationals, too, if that is what you're hinting at. 
You sound very confident about your batting...
You've to be confident about your ability. But first of all let me join the team and know my role is actually going to be. I'm, however, very confident of doing well if picked in the playing XI.
Besides being a reliable batsman, you are also known for your excellent fielding. What makes you special as a fielder, too?
Well, I always try to involve myself in the game and I don't like to remain idle on the field. You could say fielding is one of my plus points. But don't forget I'm a good bowler also! Actually it's my concentration that helps me when I bat or field. Whether you're batting or fielding, you've to watch the ball constantly. I think my fielding and my bowling add to my value to the team. A good catch here and a brilliant run-out there can always contribute to your team's success.
With what degree of seriousness do you take your bowling?
I take my off-spin bowling very seriously, though I've to improve a lot as a bowler. I work very hard on my bowling. I always keep working on my bowling. But the fact remains that I'm primarily a batsman who can contribute a bit as a bowler and help in the field. And I'm humbly proud of my batting ability. I think I've got some sort of versatility as a cricketer. Having said that, I must say I'm well aware of my strengths and weaknesses.
Who have been the biggest influence on your career?
My parents. They've always encouraged me to pursue my cricket and stood by me in every moment of my cricketing life. They've been a fount of inspiration for me throughout my career.
Who have been your role models as a cricketer?
Definitely, Sachin Tendulkar and Rahul Dravid. Now that I've got a chance to represent India, it's like a dream come true to play alongside the players I've always admired so much. I've grown up seeing them and following their careers.
Who are the ones who have coached you, if at all?
Abdul Jabbar and Jay Kumar. They've really helped me a lot in my batting and my entire cricket.