May 31, 2012
My team gets the flak mostly because of me: SRK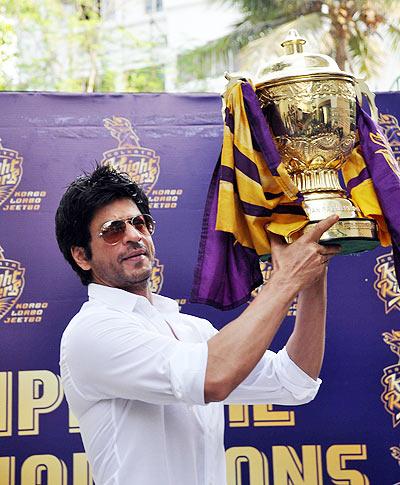 Shah Rukh Khan talks to Patcy N about the Kolkata Knight Riders victory and all the controversy that he is groped in.
I don't want to get into the whole apology thing: SRK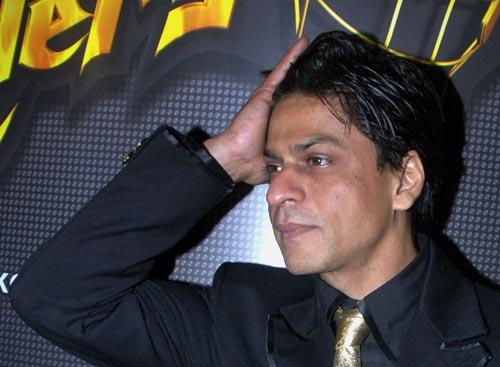 Superstar Shah Rukh Khan, who has been slapped with a five-year ban by the MCA on entering the Wankhede grounds in Mumbai refused to be drawn into the issue of whether would tender an apology to the cricket body.
'I know people will remember those two boundaries vs CSK'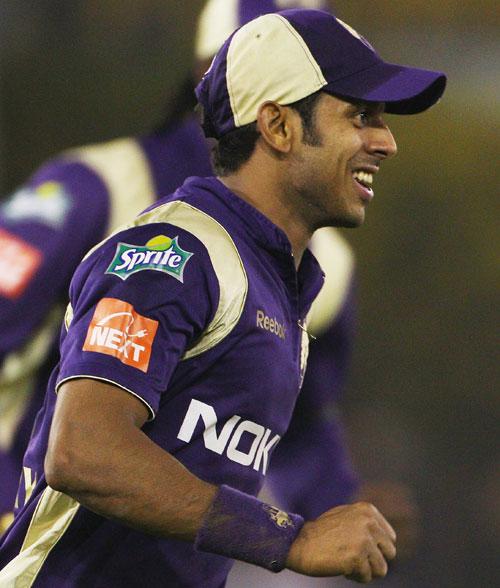 The entire Kolkata might be talking about the two boundaries that Manoj Tiwary hit off Dwayne Bravo's bowling but the 26-year-old feels that his maiden ODI hundred against West Indies at the Chepauk last year was the best moment of his career.
May 30, 2012
Perry told to choose either cricket or football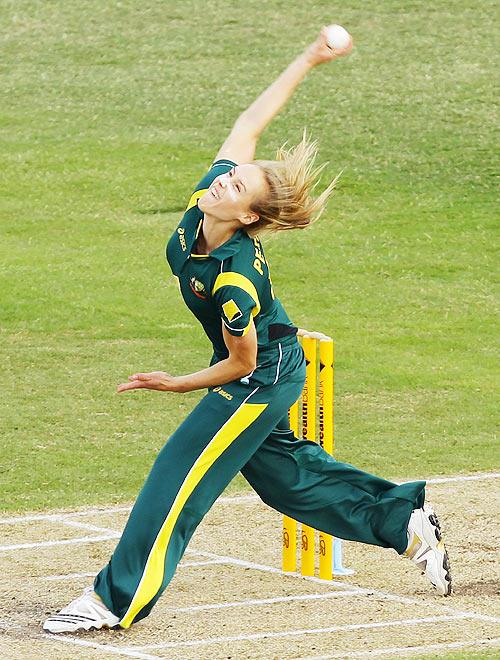 Star Australian sportswoman Ellyse Perry may soon have to make a tough choice of choosing either cricket or football.
The Indian success stories of IPL V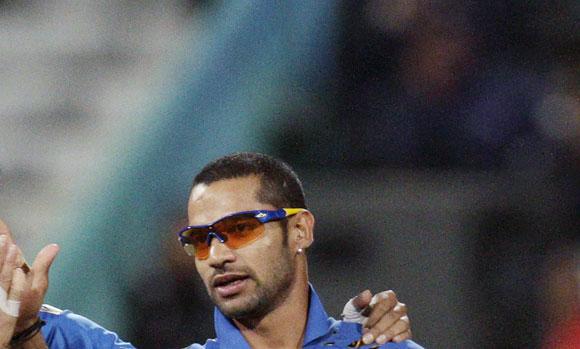 Rediff.com takes a look at the select few promising Indians who left a mark on the tournament.
May 29, 2012
Brett Lee impressed with Gambhir's captaincy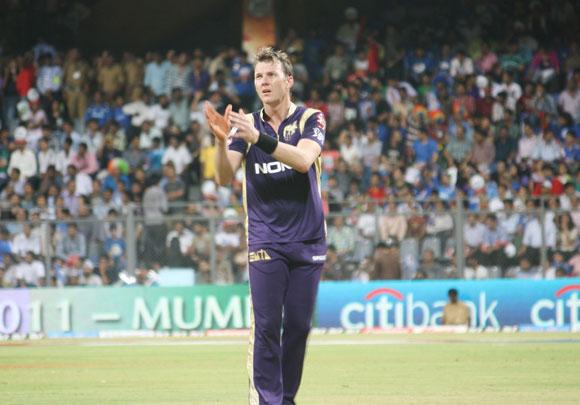 Australian speedster Brett Lee is impressed with the leadership skills of his IPL-winning side Kolkata Knight Riders skipper Gautam Gambhir and praised him for the way he lived up to the challenge of captaining a side with players from different countries.
PHOTOS: IPL champions KKR's victory parade in Kolkata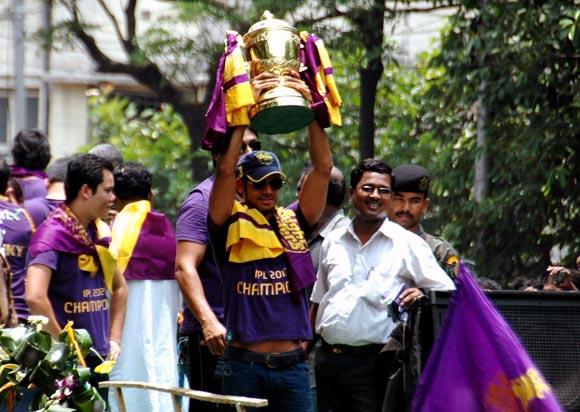 Thousands of frenzied fans on Tuesday turned up to give the triumphant Kolkata Knight Riders players a grand reception for their maiden IPL title win.
KKR was destined to win: Ganguly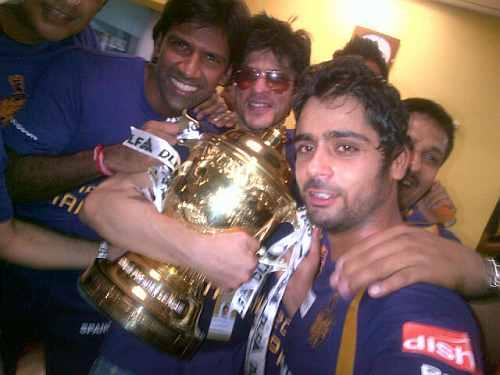 Former India skipper Sourav Ganguly hailed the maiden victory of Kolkata Knight Riders in the IPL, saying the team was destined to win and credited little-known Manvinder Singh Bisla for the triumph.
Gayle, Morkel top IPL 5 honours list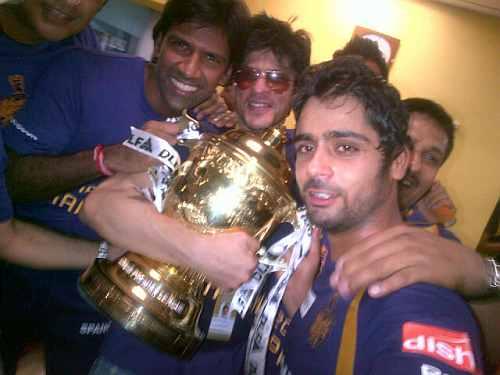 The dangerous Chris Gayle, with his power-hitting, was the most dominating batsmen, while South African pacer Morne Morkel finished as the tournament's top wicket-taker.
May 28, 2012
Five years on... Knights vindicate King Khan's faith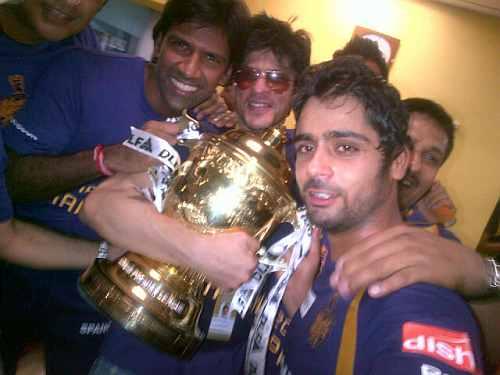 Bikash Mohapatra salutes Shah Rukh Khan and Kolkata Knight Riders on their triumph in the fifth edition of the IPL
May 26, 2012
T20 has ignited passion for cricket: Shastri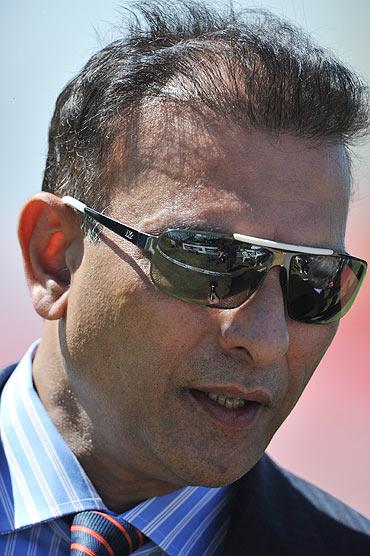 Former India captain Ravi Shastri feels Mahendra Singh Dhoni needs improvement as far as his batting in Test cricket is concerned but said he is doing a decent job as a skipper in the five-day format.
IPL: Is it more paisa vasool to buy from Sri Lanka or West Indies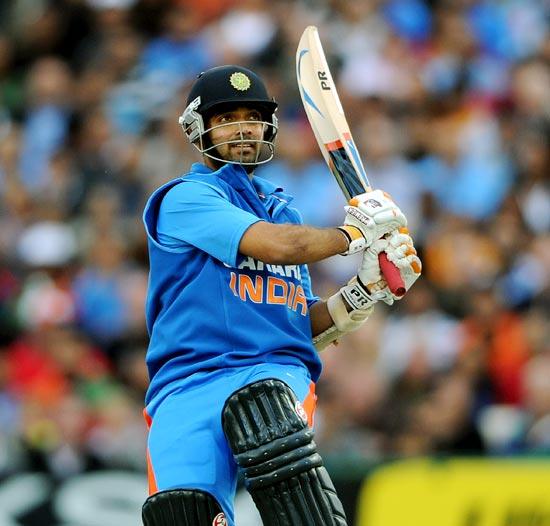 The most paisa vasool Indian players in IPL-5 in the list of the 50 most valuable players are: Mandeep Singh (PVI of 51; received $51 for every run scored), Ajinkya Rahane (75), Mayank Agarwal (80), Parvinder Awana (144), Ambati Rayadu (198) and Rajat Bhatia (216).
May 25, 2012
After IPL high, Rahane hoping to live up to expectations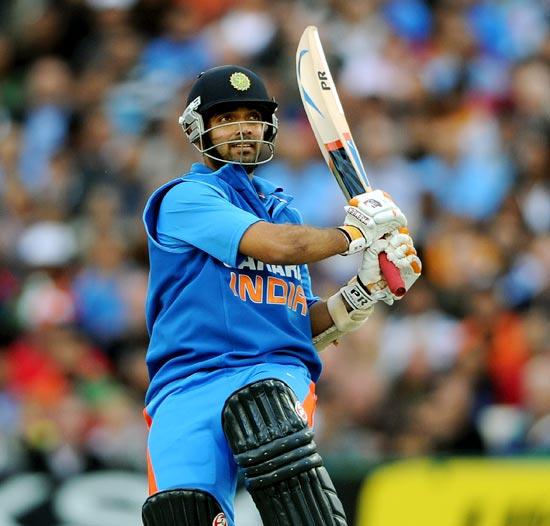 The Rajasthan Royals opener reveals he is not satisfied with his showing in the IPL despite finishing among the leading scorers.
May 24, 2012
Delhi hoping to destroy defending champs CSK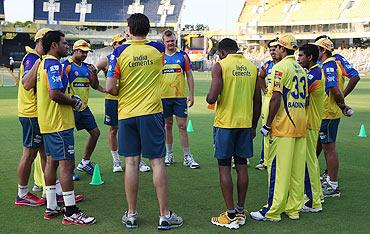 Wounded Delhi Daredevils will be eager to draw inspiration from their own performances in the league stages for a spot in the final of the ongoing Indian Premier League when they take on a rejuvenated Chennai Super Kings in the second qualifying match in Chennai on Friday.
Fleming credits Badri, Hussey for win vs MI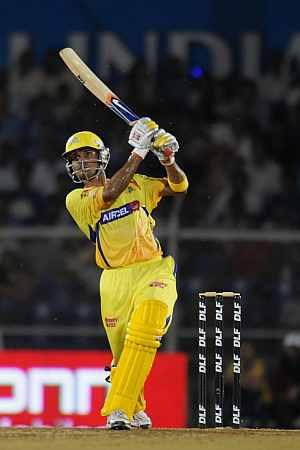 Chennai Super Kings coach Stephen Fleming applauded Mike Hussey and S Badrinath for laying a solid platform for their skipper Mahendra Singh Dhoni to launch an attack in death overs that turned the match in their favour against Mumbai Indians in the IPL eliminator in Bangalore.
Harbhajan concedes MI were outplayed by Dhoni & Co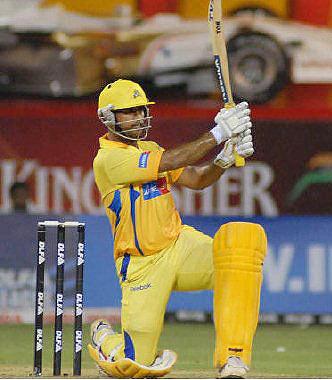 Mumbai Indians skipper Harbhajan Singh has admitted that Mahendra Singh Dhoni's whirlwind 20-ball 51-run knock took the game away from them in the IPL eliminator in Bangalore on Wednesday.
May 23, 2012
With faith in his Knights, Gambhir leads by example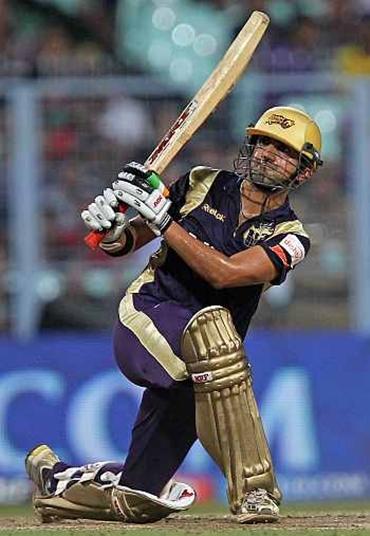 Gautam Gambhir has done what Sourav Ganguly couldn't. Since taking over the captaincy last season, he has led Kolkata Knight Riders with aplomb.
Sehwag disappointed by Delhi batsmen's no show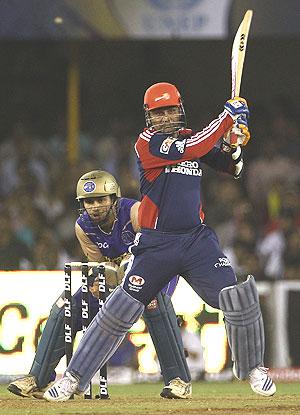 With the first chance to qualifying for the IPL final slipping out of their grasp, Delhi Daredevils skipper Virender Sehwag has blamed his batting unit for failing to fire against Kolkata Knight Riders in the Qualifier.
May 22, 2012
Revenge on Chennai's mind as they take on Mumbai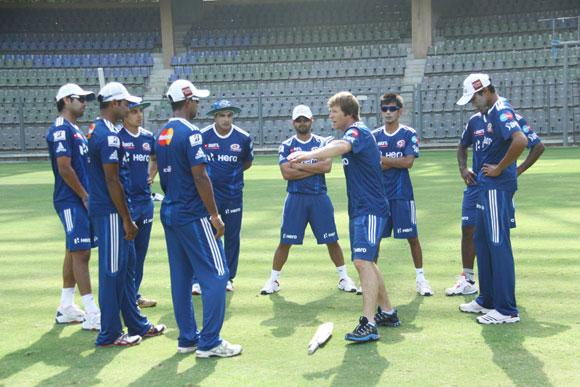 Mumbai Indians would hope to keep a clean slate against a lucky Chennai Super Kings while the defending champions would be eyeing revenge when both the sides meet in what promises to be a thrilling eliminator in the Indian Premier League in Bangalore on Wednesday.
Gayle blows over after stamping mark on IPL V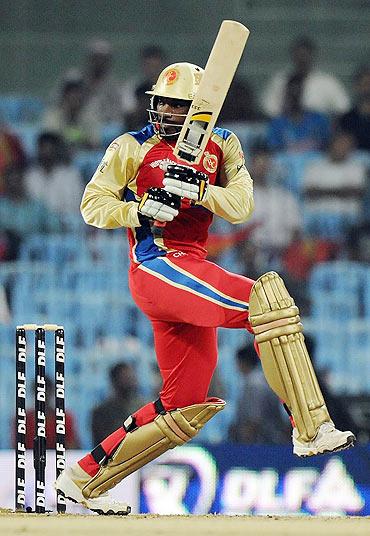 If Chris Gayle plays for the West Indies again, a new and distinct flavour will be added not only to the West Indies team but also international cricket, says .
May 21, 2012
Battle of equals as Kolkata meet Delhi in first play-off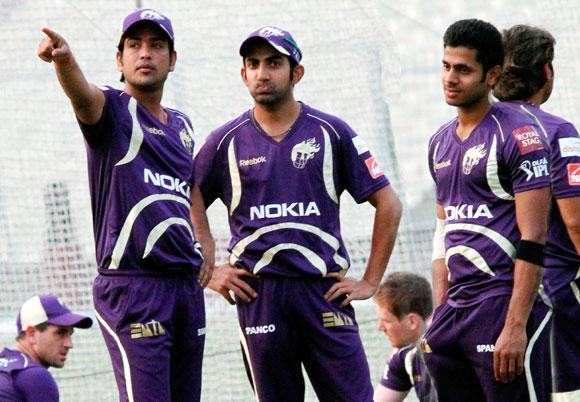 Two teams with matching firepower will come face to face when table-toppers Delhi Daredevils take on second-placed Kolkata Knight Riders in what promises to be a high-voltage first qualifier of the controversy-ridden IPL in Pune on Tuesday.
Is this a gentlemen's game?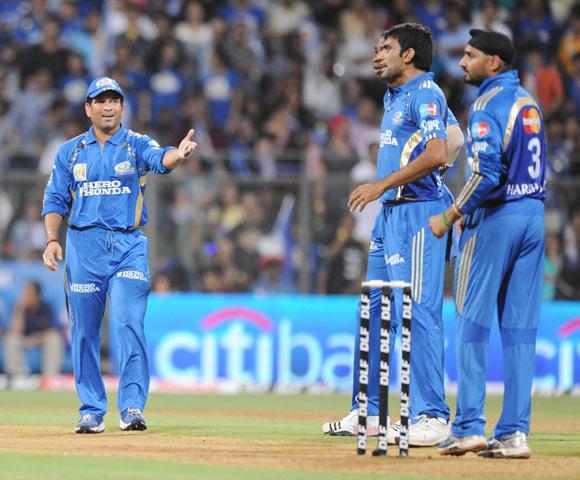 The latest spot-fixing controversy involving five relatively unknown Indian players in the ongoing IPL is yet another proof that cricket is all but a gentlemen's game. In fact, it is doubtful if it was ever one.
Not sure of my role in Rajasthan Royals: Dravid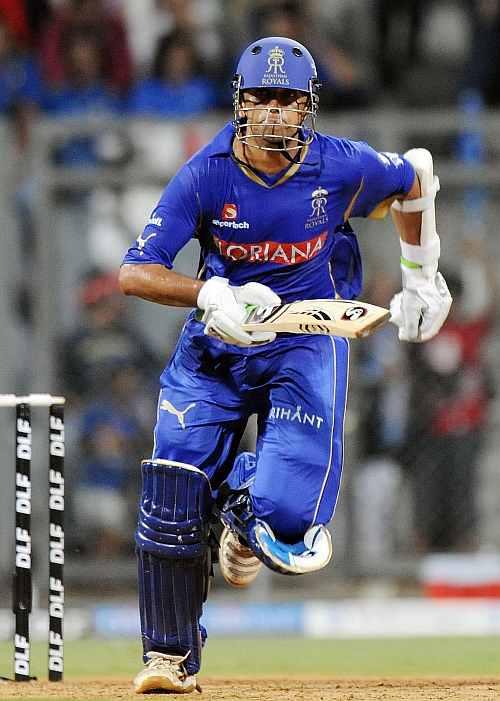 With Rajasthan Royals ousted from IPL's playoff contention, skipper Rahul Dravid says he is not sure about his role in the side and would take a break to think over before making any commitment.
May 20, 2012
'IPL is like a reality show on TV'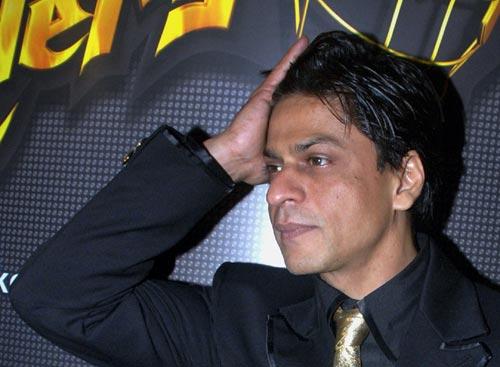 Controversies sell, and the latest series of incidents involving IPL have only added more drama to the T20 league rather than denting its brand equity, according to industry experts and advertisers.
May 18, 2012
Consistent KKR look to continue winning streak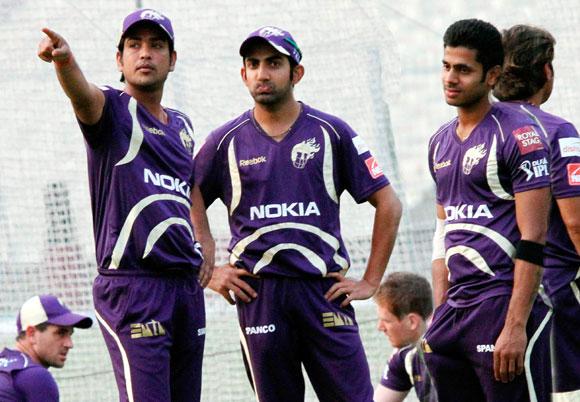 Already assured of a playoffs berth, Kolkata Knight Riders would aim to sign off their IPL league engagements on a high when they take on laggards Pune Warriors in Pune on Saturday.
MCA slaps 5-year ban on Shah Rukh entering Wankhede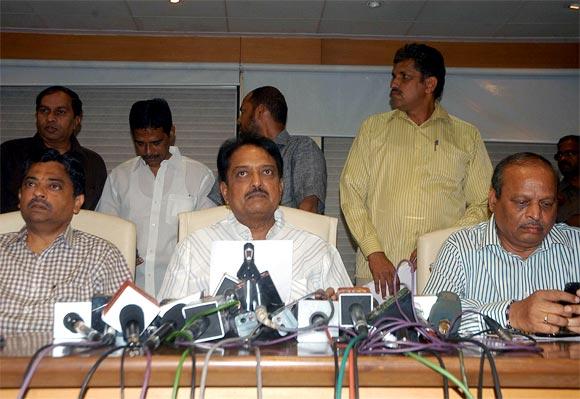 The Mumbai Cricket Association, on Friday, banned Kolkata Knight Riders co-owner and Bollywood superstar Shah Rukh Khan from entering the Wankhede Stadium for five years for misbehaving with its officials and violating its rules.
IPL chief distances from molestation case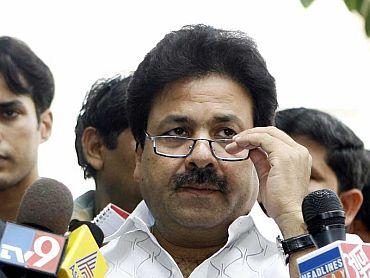 The IPL, on Friday, distanced itself from the molestation case involving Royal Challengers Bangalore player Luke Pomersbach with its chief Rajiv Shukla saying that it was "an individual misbehaviour of an individual player".
No ban on Shah Rukh if he apologises: Sources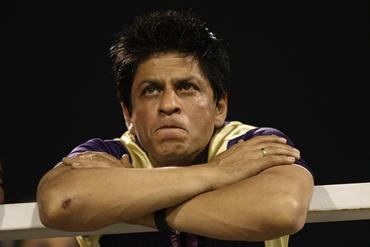 The Mumbai Cricket Association will meet on Friday to decide on the action to be taken against superstar and Kolkata Knight Riders co-owner Shah Rukh Khan. Sources in the MCA say that there will be no ban on SRK if he apologises for his behaviour.
May 17, 2012
SRK: I wasn't drunk, MCA officials were aggressive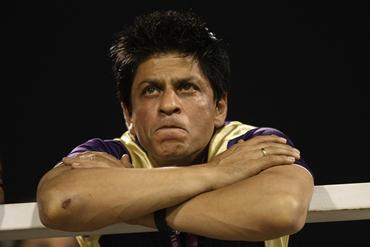 Kolkata Knight Riders co-owner Shah Rukh Khan hit back at the Mumbai Cricket Association, saying he was not drunk during the alleged brawl between him and MCA officials after the match between Mumbai Indians and his team, and got into the spat only after kids with him were 'manhandled'.
Mistake not to include all players in auction: Modi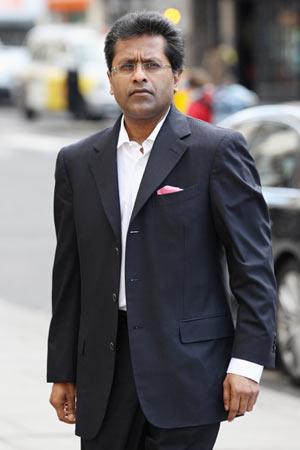 Former Indian Premier League chairman Lalit Modi says it was a mistake not to include all the players in the auction, as it has encouraged corruption and black-money transactions.
Rajasthan look at nothing less than a win against DC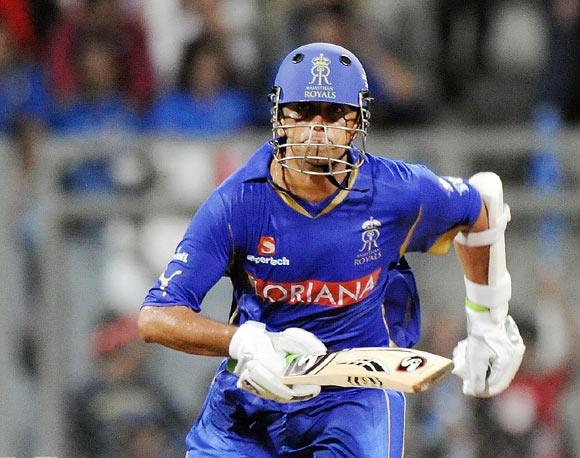 Keen to consolidate their chances of making the playoffs, Rajasthan Royals will be eyeing nothing less than a victory when they take on a lowly Deccan Chargers in their Indian Premier League match in Hyderabad on Friday.
MCA lodges police complaint against SRK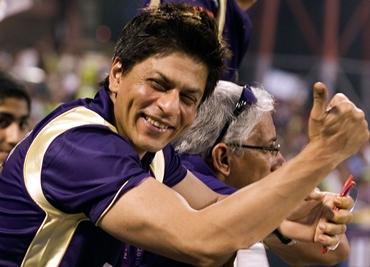 Mumbai Cricket Association officials have lodged a police complaint against Kolkata Knight Riders franchise team co-owner Shah Rukh Khan for his alleged misbehaviour on Wednesday night at Mumbai's Wankhede Stadium and decided to ban him for life from entering the premises.
May 16, 2012
Delhi take on RCB as race for last four spot heats up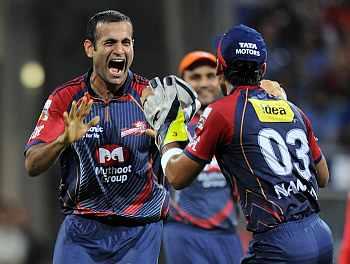 Assured of a place in the play-offs, Delhi Daredevils will look to sort out their middle-order woes when they take on a desperate Royal Challengers Bangalore in their Indian Premier League match, in New Delhi on Thursday.
CSK eye playoff berth as they face Kings XI Punjab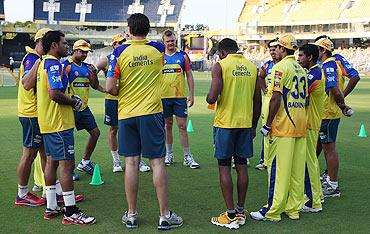 Chennai Super Kings, flying high on a three-match winning streak, will look to seal their play-off berth when they take on an erratic Kings XI Punjab in a crucial preliminary match of the IPL, in Dharamsala on Thursday.
This IPL season has been good for me: Umesh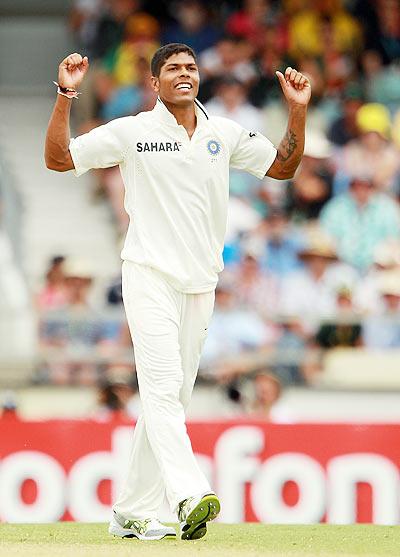 Delhi Daredevils' pacer Umesh Yadav said this IPL edition has been a "lot better" for him than the last season after his man-of-the-match performance helped the hosts register a five-wicket win over Kings XI Punjab and qualify for the knockout stage of the tournament.
Don't question integrity of my players: Hussey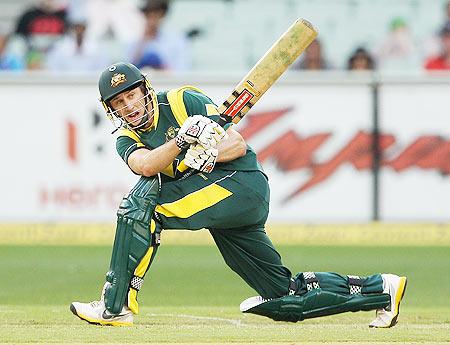 Refusing to be drawn into the furore surrounding a TV sting operation which claims to have exposed corruption in the IPL, Kings XI Punjab skipper David Hussey said he would be "very disappointed" if the media puts a question mark on the integrity of his players.
May 15, 2012
Shah Rukh appeals to stop comparing him with Ganguly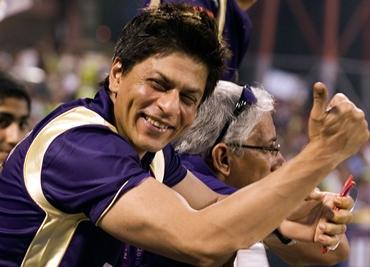 A visibly annoyed Shah Rukh Khan has sought to put an end to his comparison with Kolkata Knight Riders' former captain Sourav Ganguly and asked the fans to "grow up" and stop correlating the two.
IPL preview: Kolkata look to arrest slide against Mumbai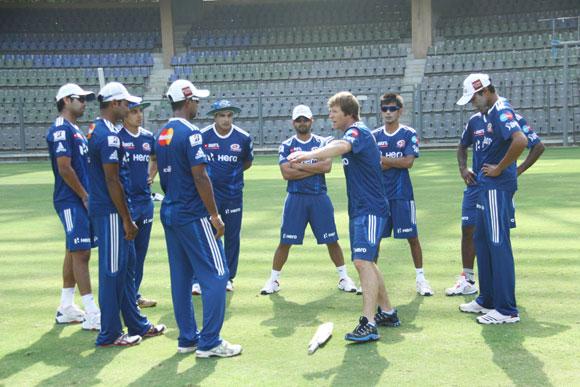 Thirsting for revenge and desperate to arrest their two-match losing streak in the ongoing Indian Premier League, Kolkata Knight Riders would settle for nothing less than a victory in their return leg clash against Mumbai Indians at the Wankhede stadium on Wednesday.
'It's disheartening not to be able to finish the games'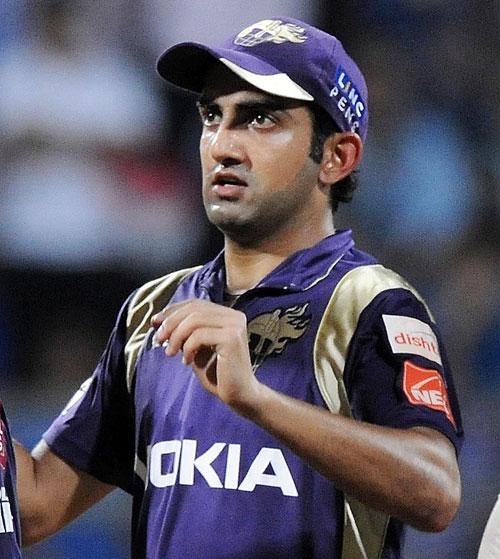 Having slumped to the third spot in the points table after back-to-back defeats, Kolkata Knight Riders are in danger of missing the play-offs, but captain Gautam Gambhir is confident of turning things around in their last two Indian Premier League matches.
The IPL's value for money players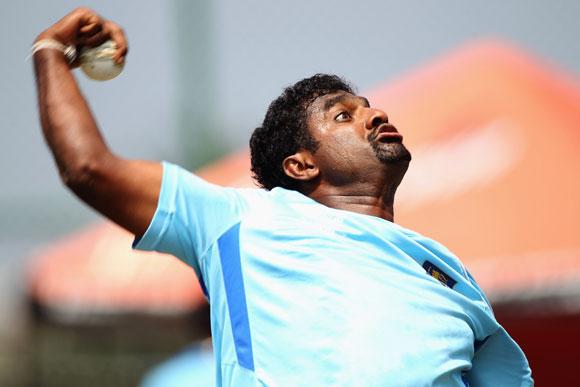 If the high-profile purchases in IPL V have belied their worth, there are some who have exceeded expectations. presents the smart buys
IPL V: Price fails to match performance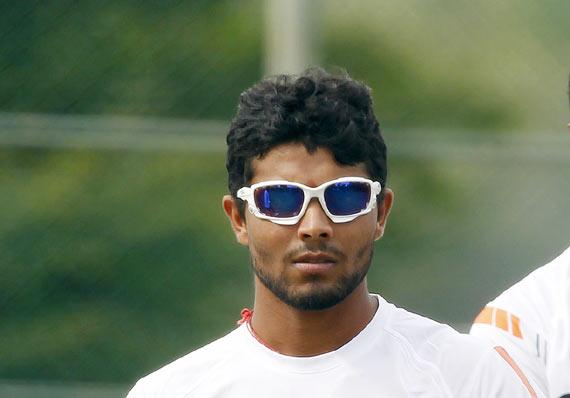 As the fifth edition of the IPL enters its home run, digs out the buys that have failed to provide value for money.
May 14, 2012
Can Kings XI beat table-toppers Delhi Daredevils?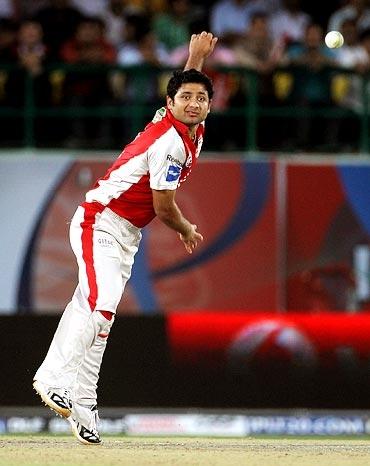 A rejuvenated Kings XI Punjab will be aiming to keep their play-off hopes alive when they take on table-toppers Delhi Daredevils in an Indian Premier League match on New Delhi on Tuesday.
May 13, 2012
Can Chennai upstage KKR at home?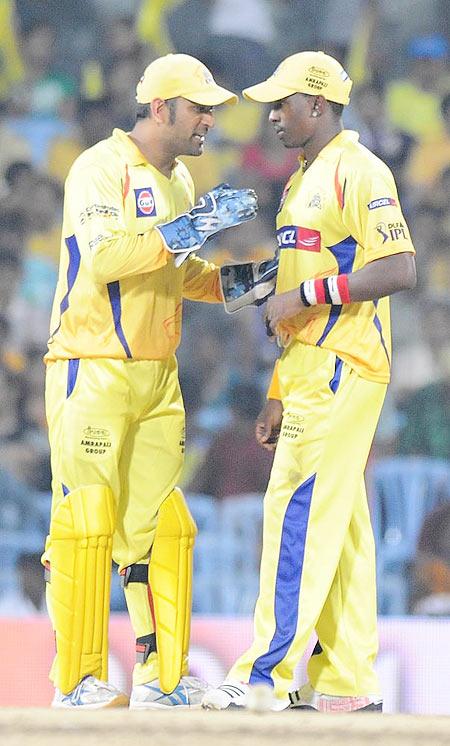 Their winning streak halted, Kolkata Knight Riders would feel the Chennai heat at home on Monday especially after the defending champions put their campaign back on track with two successive wins in the Indian Premier League in Kolkata.
Tough challenge awaits RCB in Mumbai Indians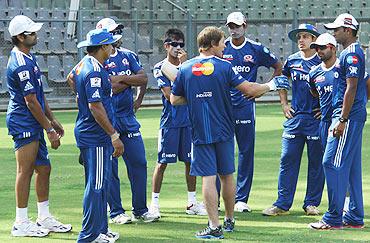 The ease with which the Royal Challengers Bangalore won their last two encounters has brought them closer to playoffs but a tough challenge awaits them on Monday in Mumbai Indians who have lost just one awaygame in this IPL season so far.
May 12, 2012
'If you do the right things, you need less luck'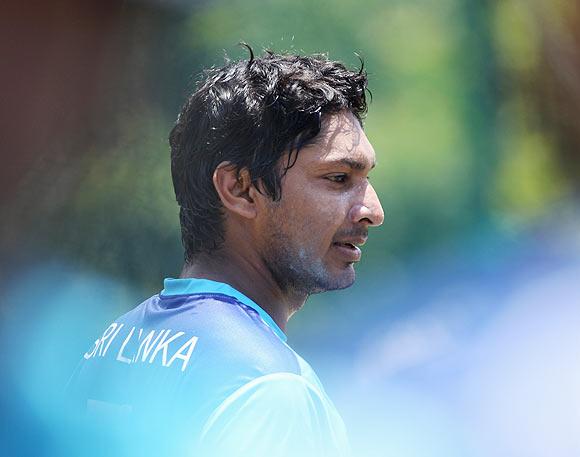 Deccan Chargers skipper Kumar Sangakkara on Saturday conceded that it was not just bad luck but their complete failure to click as a team that has been their undoing in the ongoing Indian Premier League.
Anil Kumble questions India's overseas Test debacle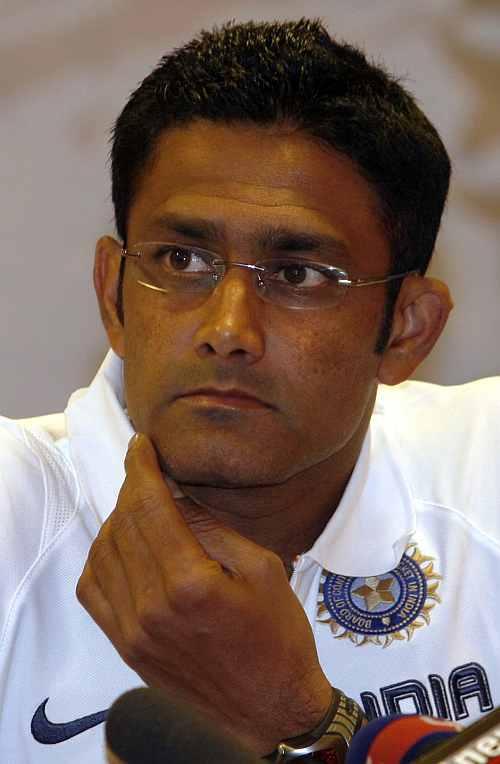 The Board of Control for Cricket in India is likely to ask national coach Duncan Fletcher to submit a report on India's twin Test series debacle in England and Australia after former India captain Anil Kumble raised the issue at the Working Committee meeting in Chennai on Saturday.
Rajasthan Royals take on struggling Pune Warriors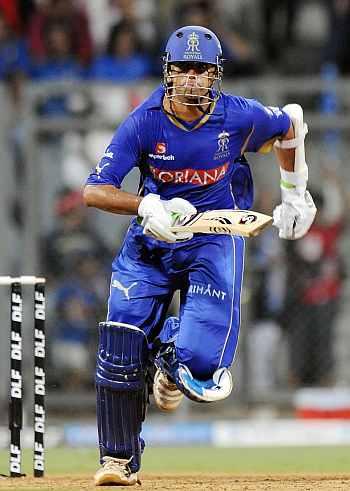 Faced with the daunting task of winning all their remaining matches for having any chance of making the playoffs, Rajasthan Royals would fancy a facile victory when they take on the struggling Pune Warriors in anIPL match in Jaipur on Sunday.
Kings XI in a must-win situation to stay afloat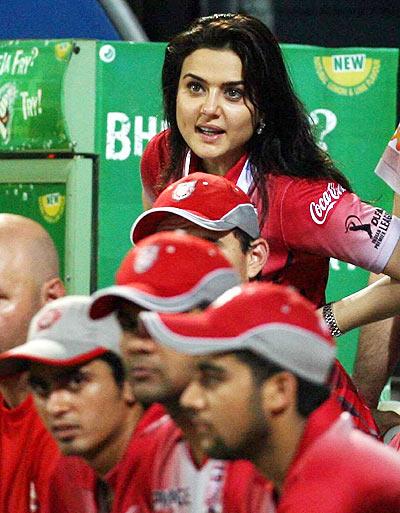 As the battle to reach the play-off stage in IPL gets fierce, Kings XI Punjab find themselves in a must-win situation as they take on Deccan Chargers at the PCA stadium in Mohali on Sunday.
Rohit blames bad batting for Mumbai's inconsistency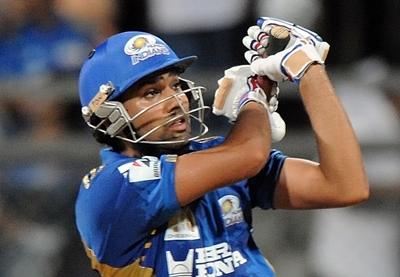 Ace batsman Rohit Sharma conceded that batting is the reason behind Mumbai Indians' inconsistent showing this IPL season, adding the side is focusing on doing well in the remaining four league matches.
May 11, 2012
Chennai looking to keep play-off hopes alive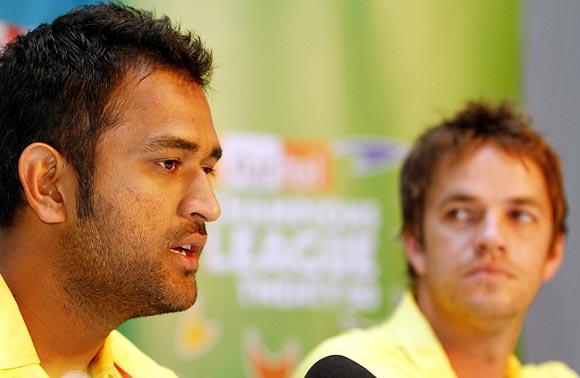 They might be upbeat after a narrow win but defending champions Chennai Super Kings' chances of making the playoffs are still far from good, as they take on tournament-leaders Delhi Daredevils in a crucial IPL match in Chennai on Saturday.
Can Mumbai halt rampaging Kolkata's winning run?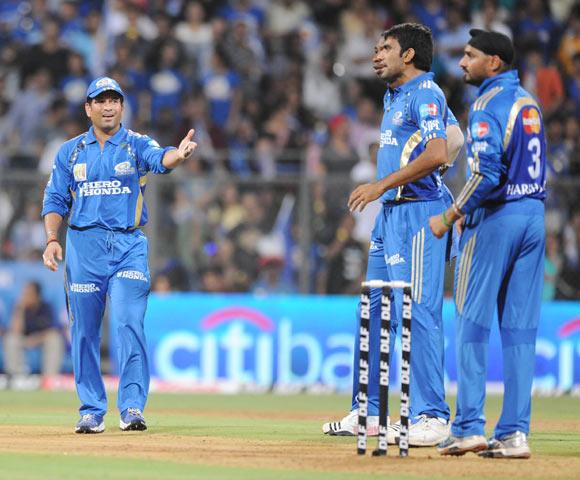 Yet to seal a last-four berth, heavyweights Mumbai Indians will look to end the Kolkata Knight Riders' six-match winning streak in what promises to be an exciting Indian Premier League contest in Kolkata on Saturday.
Run-machine Rahane says he's living a dream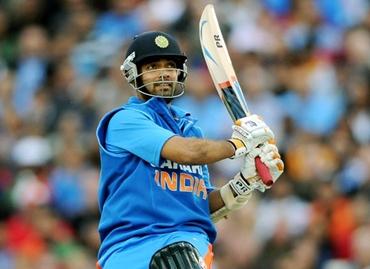 Having surprised even himself with a fine showing in the fifth edition of the Indian Premier League, Ajinkya Rahane says the entire experience is like living a dream.
IPL: Dhoni raps batsmen for leaving it too late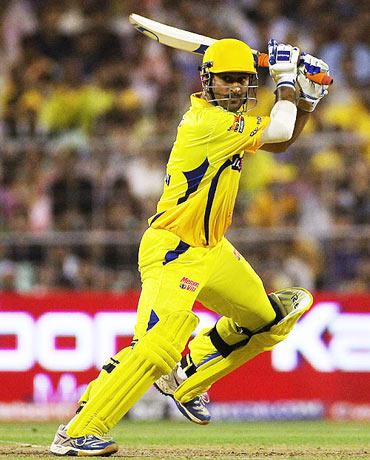 Chennai Super Kings might have kept alive their IPL campaign with a narrow four-wicket win over Rajasthan Royals on Thursday, but skipper Mahendra Singh Dhoni isn't too impressed with the performance of his batsmen and asked them to lift their game ahead of the remaining matches.
May 10, 2012
Pune Warriors considering dropping Sourav Ganguly?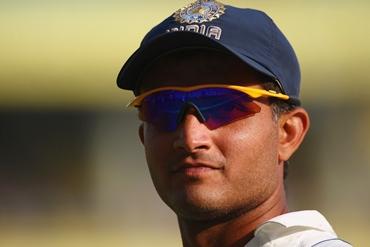 The Pune Warriors' management will, in all likelihood, have a brainstorming team meeting on the eve of their 14th round IPL clash against Royal Challengers Bangalore to decide Sourav Ganguly's fate for the remainder of the tournament.
Sachin still striving to 'live up to own expectations'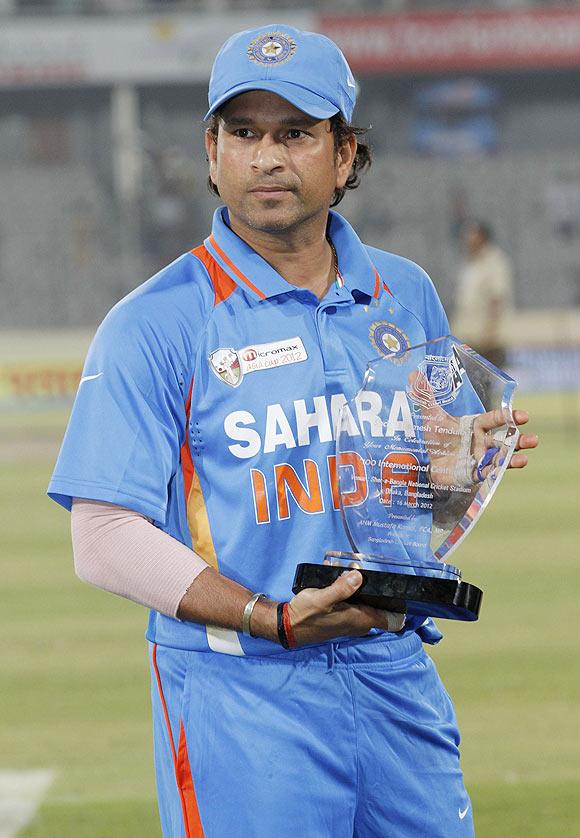 Maintaining his standard and living up to his own expectations still give Sachin Tendulkar "sleepless nights" and it is this restlessness that has brought the best out of him.
Our bowlers won us the match: Gayle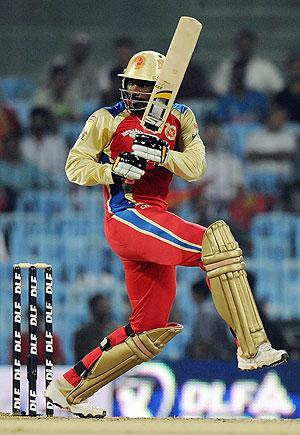 He played a crucial part in his team's comprehensive nine-wicket win with a blazing 82-run knock, but Royal Challengers Bangalore opener Chris Gayle credited his team's bowlers for setting up the crushing nine-wicket victory over Mumbai Indians.
Harbhajan reckons dropping Gayle proved costly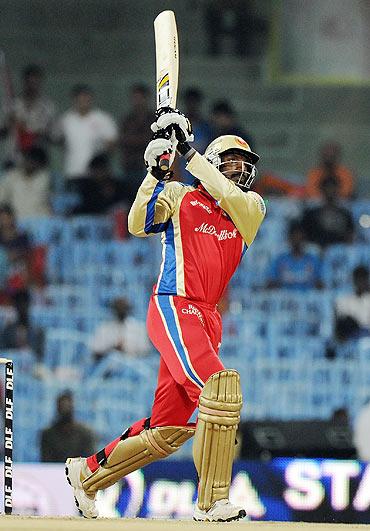 Mumbai Indians captain Harbhajan Singh has rued that the reprieve given to Chris Gayle early in Royal Challengers Bangalore's run chase cost his side their IPL match on Wednesday.
Delhi Daredevils 'Dare to Care' in Hyderabad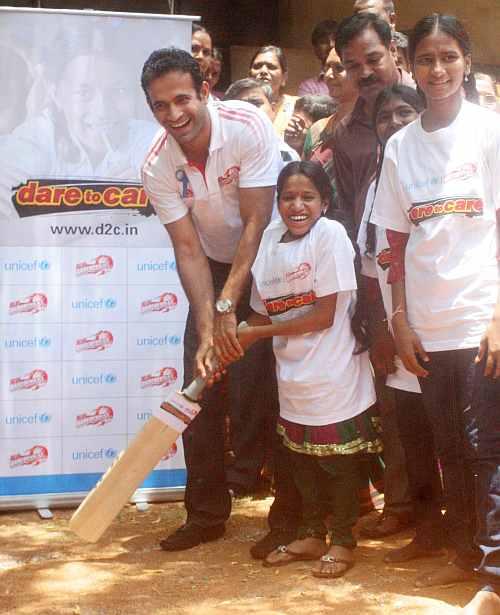 Under a novel and noble initiative by the UNICEF for the protection and empowerment of adolescent girls in India, the Delhi Daredevils team visited a government run Girls' Home in Hyderabad, interacted with the inmates to learn the stories of their struggle and even played cricket with them.
May 09, 2012
IPL franchises earning big through gate money: Shukla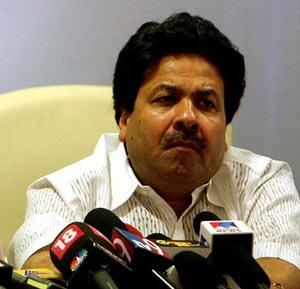 Franchises will earn unprecedented revenue through gate collections in this edition of the Indian Premier League, which, says the league's boss Rajiv Shukla, has seen a remarkable transition from pass culture to ticket culture among fans.
May 08, 2012
'I've been telling team to not look at points table'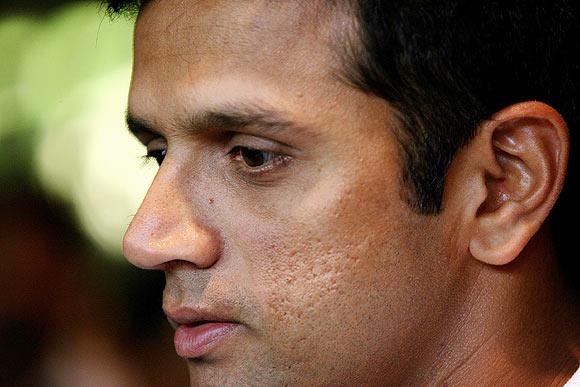 On a roll having posted their second successive win and sixth overall in the ongoing IPL, Rajasthan Royals skipper Rahul Dravid on Tuesday said that he has just told his team to focus on playing good cricket and not look at the points table.
Bangalore, Mumbai brace for high-octane outing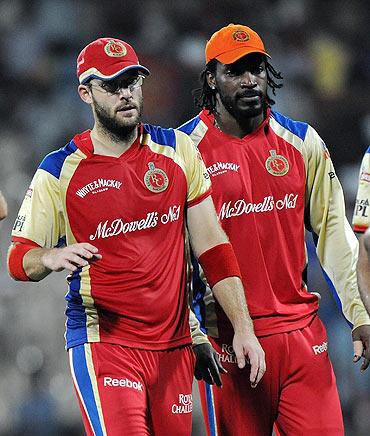 Buoyed by their sensational last-ball victory over Chennai Super Kings, a keyed up Mumbai Indians take on Royal Challengers Bangalore in a crucial Indian Premier League game, in Mumbai on Wednesday.
'It's not about competing in IPL; it's about winning'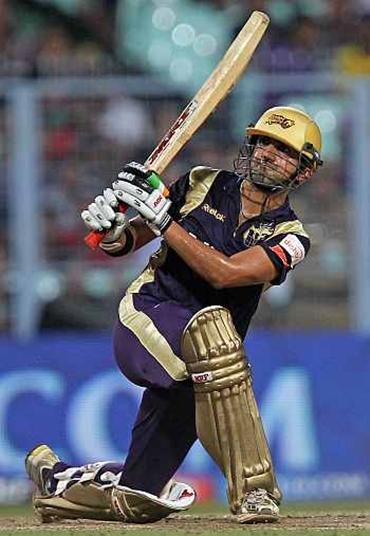 After leading his side to the top with a facile win over Delhi Daredevils, Kolkata Knight Riders skipper Gautam Gambhir said he, along with senior batsman Jacques Kallis, will have to shoulder the responsibility of steering the team to play-off stage.
Irfan admits Dardevils missing Pietersen's services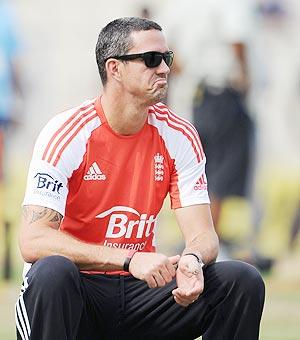 Delhi Daredevils all-rounder Irfan Pathan has called on the middle-order batsmen of his side to fill in the gap left by Kevin Pietersen, and also hoped that struggling Kiwi batsman Ross Taylor would soon regain his lost touch.
IPL is fantastic for Indian cricket: Albie Morkel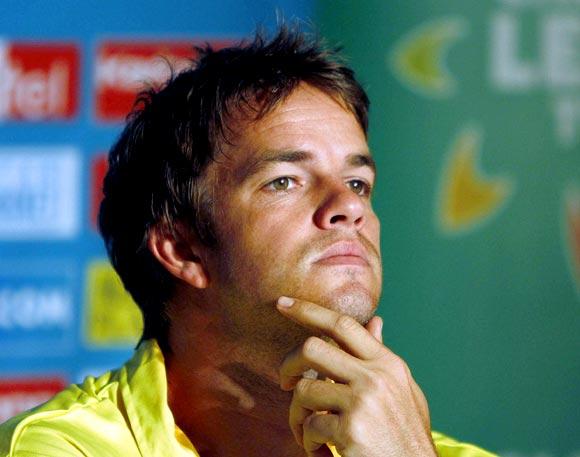 In an exclusive interview with on the sidelines of his visit to the PUMA showroom in Mumbai, Albie Morkel speaks about his experience with Chennai Super Kings and why IPL is a boon for Indian cricket.
May 07, 2012
IPL 2012: Last-ball escapes to victory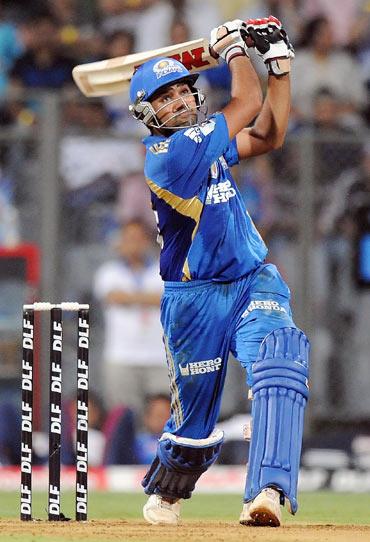 Following Mumbai Indians' thrilling last-ball win over Chennai Super Kings on Sunday, recounts the last-ball wins recorded in this IPL season so far.
Mumbai kid Shaw ready to take guard in Manchester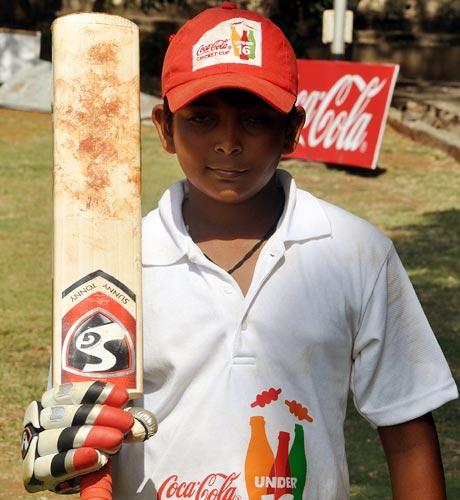 meets with 13-year-old cricket prodigy Prithvi Shaw ahead of his three-month coaching-cum-educational stint in the United Kingdom.
IPL: AB credits openers for laying platform for win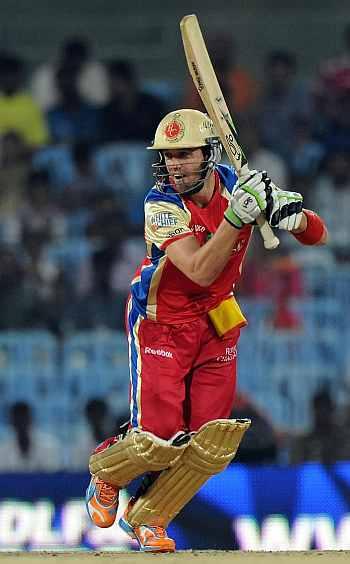 AB de Villiers might have turned out to be the hero for Royal Challengers Bangalore in their five-wicket win over Deccan Chargers on Sunday, but the South African instead lavished praise on openers Tillakaratne Dilshan and Chris Gayle for setting up the platform for the run chase.
May 06, 2012
We cannot be taken lightly in IPL V: Dravid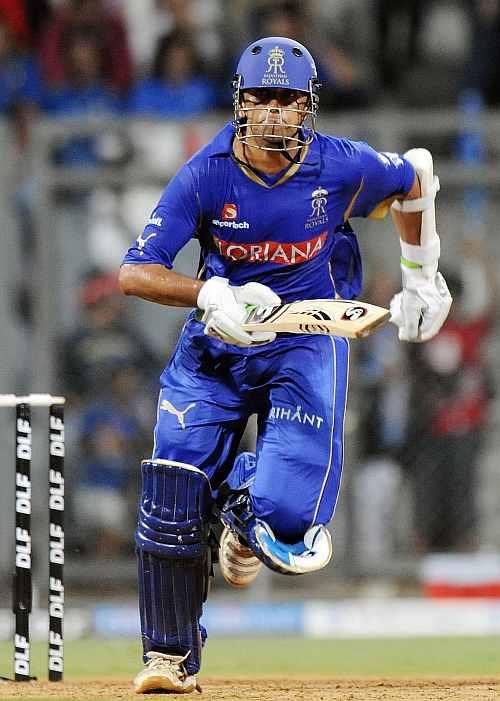 Their campaign back on track after the 43-run win over Kings XI Punjab, Rajasthan Royals captain Rahul Dravid has said that opposition teams would be making a big mistake by taking side lightly in the ongoing Indian Premier League.
May 05, 2012
Home woes plagues Mumbai Indians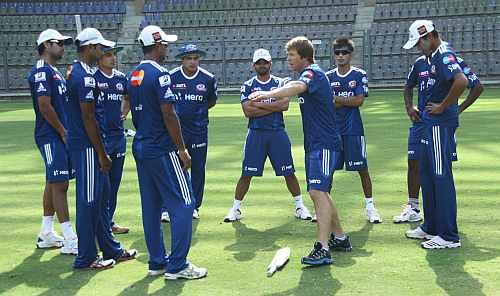 In a tournament like the Indian Premier League, winning the home fixtures is significant to a team's fortunes.
Confident Mumbai square-off against CSK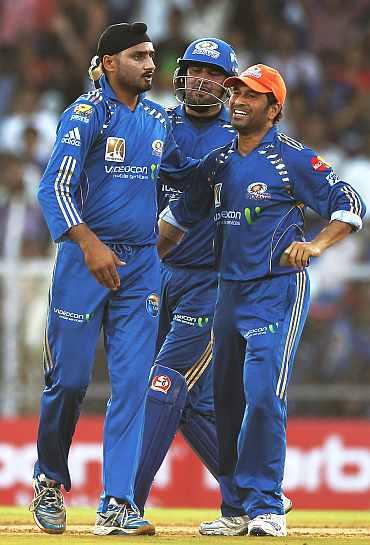 As the race to grab the top four spots heats up, fancied outfits Chennai Super Kings and Mumbai Indians will clash at the Wankhede Stadium in Mumbai on Sunday in what promises to be a riveting contest between the two IPL heavyweights.
'It's KKR vs Pune Warriors, not Sourav Ganguly'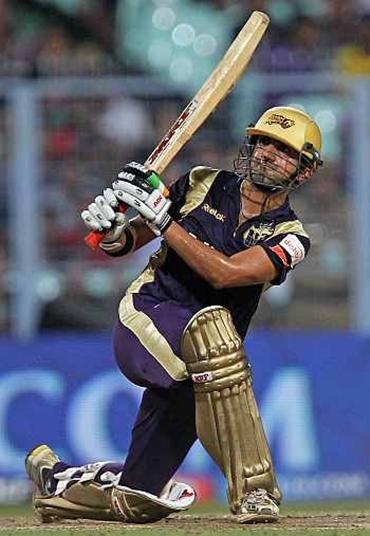 Skipper Gautam Gambhir has refused to label Saturday's sell-out IPL match against Pune Warriors as a contest between Kolkata Knight Riders and the city's favourite sports icon, Sourav Ganguly.
Spot-fixing is a closed chapter in my life: Asif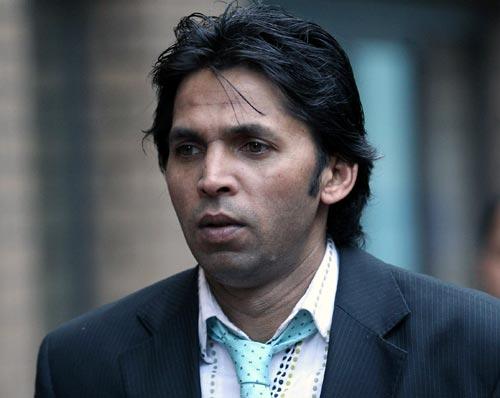 Banned Pakistan pacer Mohammed Asif believes that with the completion of his jail sentence for spot-fixing, one of the most difficult phases of his life has hopefully come to an end.
May 04, 2012
Kevin O'Brien 'upset' over snub by IPL franchises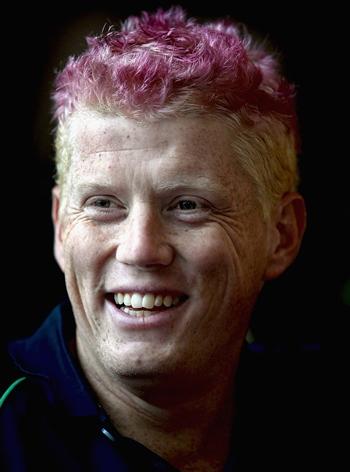 Ireland's dashing all-rounder Kevin O'Brien says he was disappointed at not being picked by any of the franchises at the auction for the fifth edition of the IPL.
Team has batted well but I am out of form: Taylor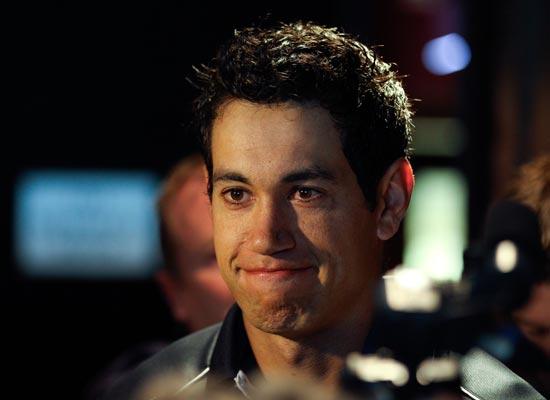 His form has been a bit of concern but New Zealand captain Ross Taylor is confident that Delhi Daredevils' untested middle-order will "stand up" and be counted when required in the Indian Premier League.
Gayle will have to fit in hardworking environment: Sammy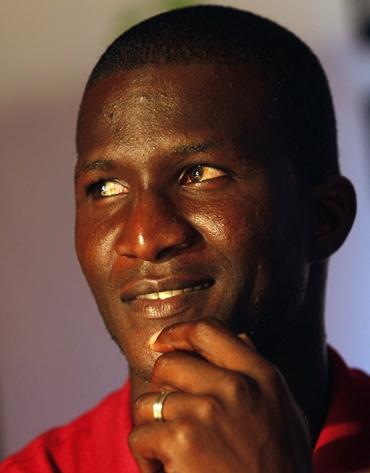 West Indies captain Darren Sammy, while backing the explosive batsman to be part of the side for the ODI series against England next month, insisted that he will need to get used to the 'hardworking culture' in the dressing room.
Fireworks expected as KKR take on Ganguly's Pune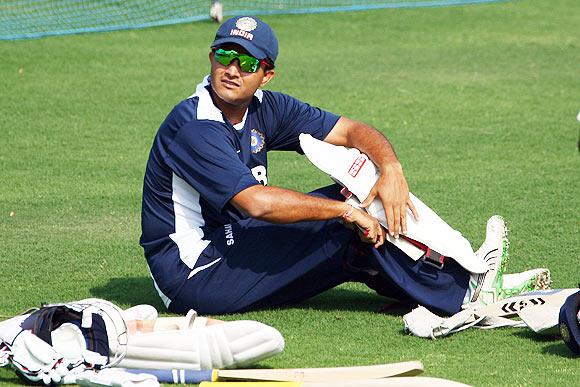 Sourav Ganguly's Pune Warriors may have lost four matches in a row but they would find themselves at 'home' as loyalties will be split when they face Kolkata Knight Riders in an emotionally-charged up IPL contest in Kolkata on Saturday.
VOTE: The hairdo that best suits Sachin Tendulkar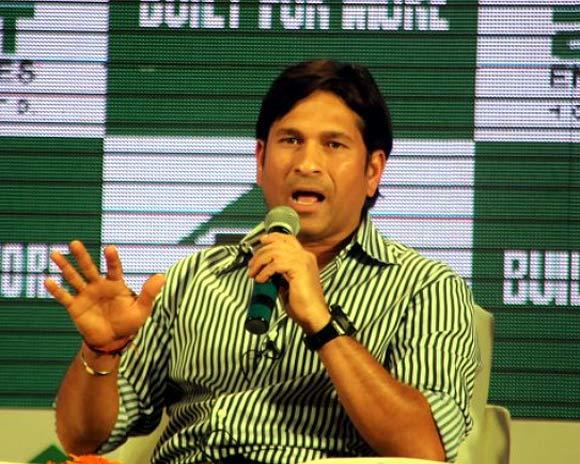 Vote for the hairstyle that best suits the batting ace.
May 03, 2012
The IPL's 19th over conundrum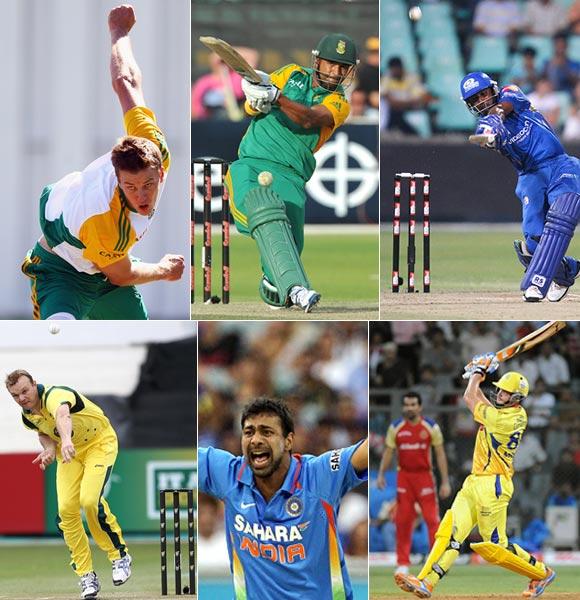 looks at matches in IPL V that were won or lost because of a player's individual brilliance in the 19th over of the second innings.
May 02, 2012
IPL: Pune Warriors look to arrest slide vs Mumbai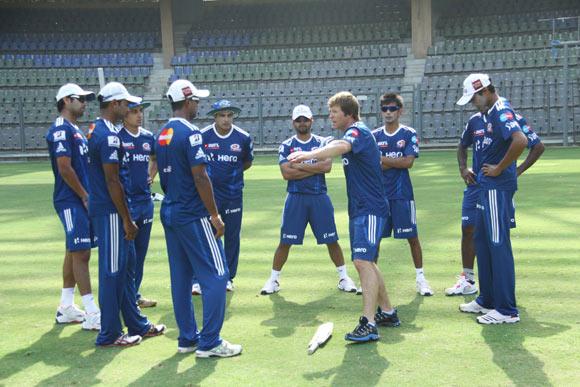 Having lost three successive matches, Pune Warriors will look to arrest the slide when they take on neighbours Mumbai Indians in an Indian Premier League match at the Subrata Roy Sahara Stadium on Thursday.
'I don't think Rajasthan has reached a must-win situation'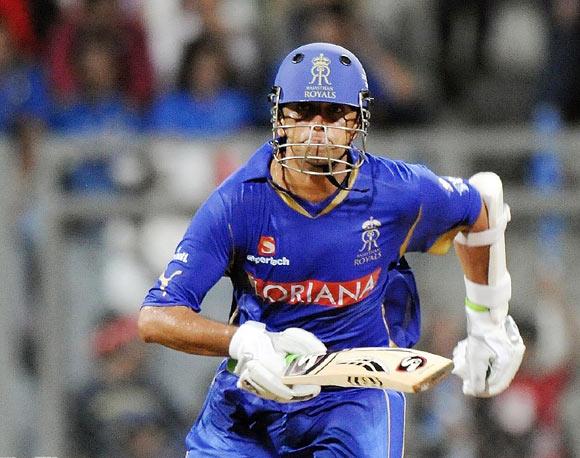 His side might have suffered fourth defeats on the trot but Rajasthan Royals captain Rahul Dravid is in no mood to press the panic button yet, saying they have still not reached 'must-win' situation in the ongoing Indian Premier League.
'There is no need for experimentation in games coming up'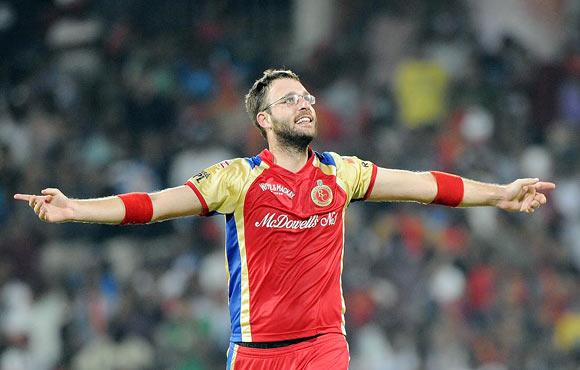 Royal Challengers Bangalore (RCB) skipper Daniel Vettori has said his side will look to shun experimentation and focus on wining the next four to five games to qualify for the semifinals in IPL V.
My comments were blown out of proportion: MS Dhoni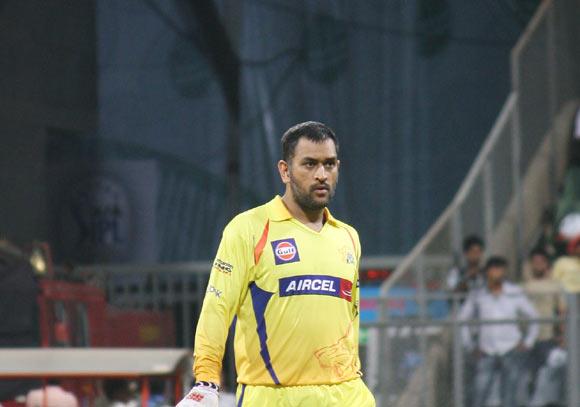 India skipper Mahendra Singh Dhoni has rubbished talks about his retirement plans in 2013, saying his comments made during the Australian tour were "blown out of proportion" and there was still time for him to take a call.
May 01, 2012
Gambhir backs under-fire Pathan to strike form soon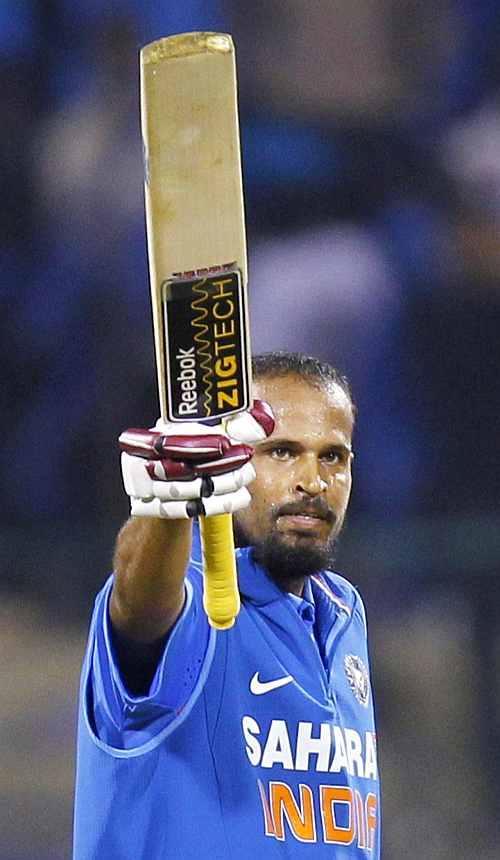 Kolkata Knight Riders captain Gautam Gambhir is not too bothered about Yusuf Pathan's extended lean patch and preferred to stay positive, saying it is a "good sign" that the team is still winning games without much contribution from the big-hitting batsman.
Archives
April 2012
|
March 2012
|
February 2012
|
January 2012
|
September - December 2011
|
July 2011
|
May 2011
|
March 2011
|
January 2011
|
November 2010
|
September 2010
|
July 2010
|
May 2010
|
April 2010
|
March 2010
|
February 2010