March 31, 2012
'Impossible to break Tendulkar's 100 centuries record'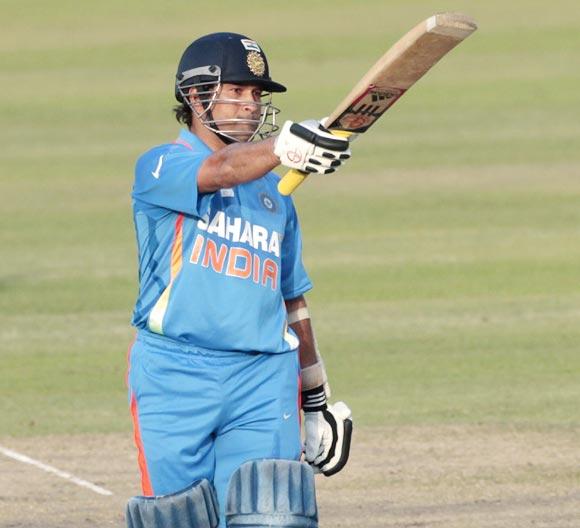 Former Australian wicketkeeper and explosive opener Adam Gilchrist feels there is a big gulf between Sachin Tendulkar and the rest of the top batsmen, something that makes it almost impossible for anyone to get anywhere near the legend's landmark of 100 international centuries.
Photos: Rain checks India's fightback in SA T20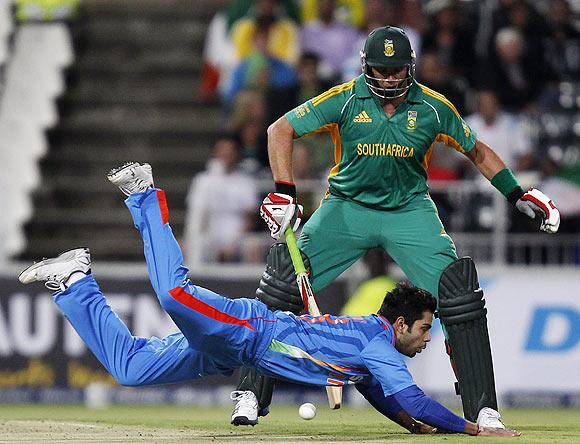 Images from the one-off T20 between India and South Africa in Johannesburg on Friday.
March 30, 2012
'From 99th to 100th hundred was a mega journey '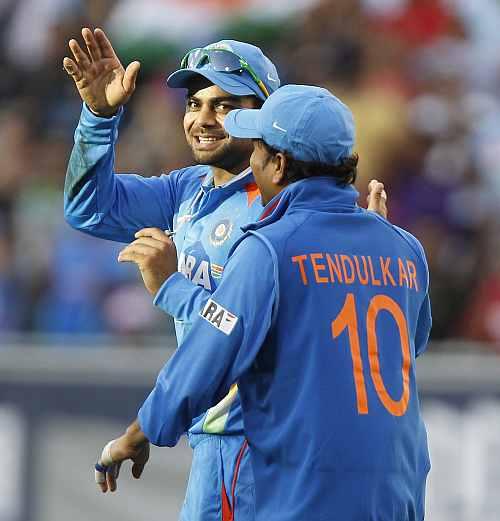 'Sachin Tendulkar is the reason I started playing,' said Virat Kohli, India's most promising batting talent at the moment, as he paid tribute to the batting ace on completing a century of international hundreds.
Have not compromised myself physically to play IPL: Clarke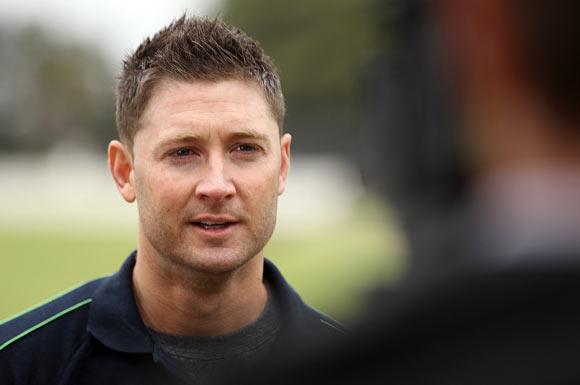 Australia's cricket captain Michael Clarke has insisted that he has not compromised himself physically by opting to sign a lucrative contract with the Indian Premier League (IPL) franchise Pune Warriors.
'Match against India a chance to put in the young guys'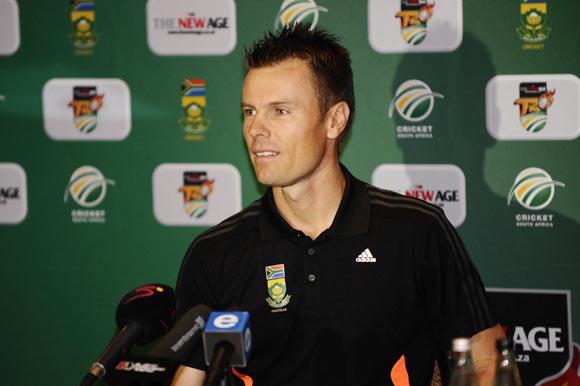 South African stand-in T20 captain Johan Botha has said the one-off match against India at the Wanderers today will provide a great opportunity for the squad's youngsters.
India may slip to fourth position in ICC Test rankings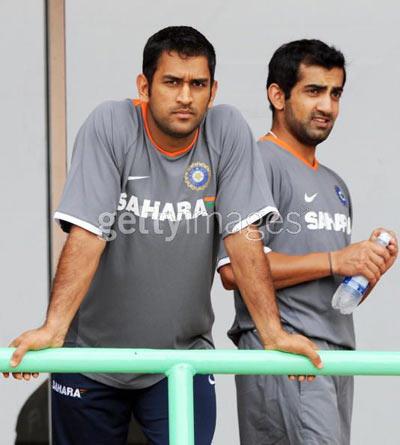 Whitewashed in two consecutive Test series, India are all set to lose a spot and slip to number fourth position in the ICC Test Championship table.
'Tendulkar's fingers are generally getting hit'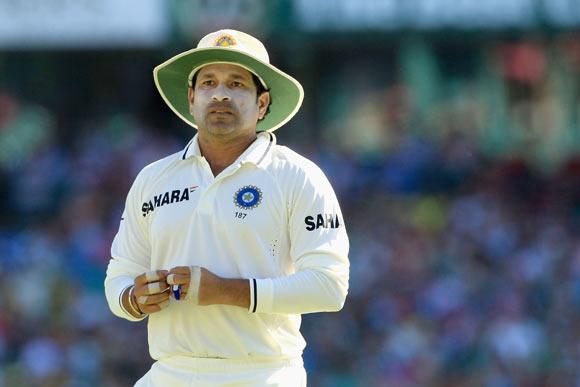 Mumbai Indians fielding coach and former South Africa cricketer Jonty Rhodes has said he tries to ensure that senior India batsman Sachin Tendulkar doesn't hurt his fingers during the practice sessions of the Indian Premier League.
'Sachin Tendulkar is the reason I started playing'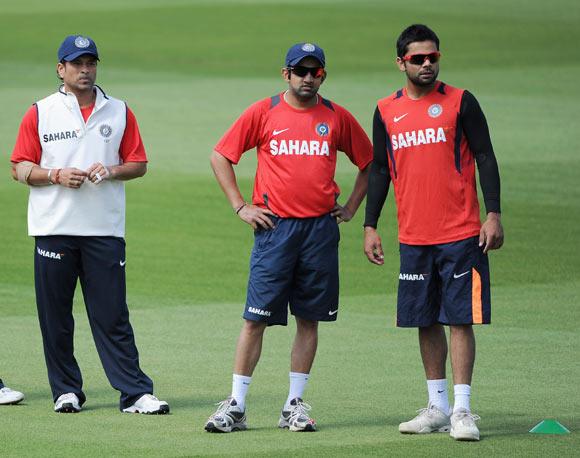 "Sachin Tendulkar is the reason I started playing" -- said India's most promising batting talent right now, Virat Kohli, as he paid tribute to the senior batsman for completing a century of international hundreds.
'The catch was debatable, I just wasn't 100 per cent sure'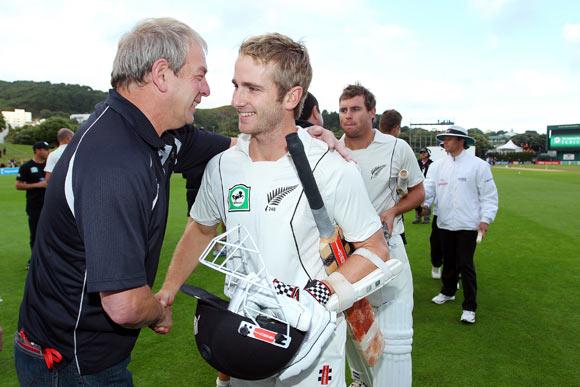 Kiwi middle order batsman Kane Williamson believes the umpires' decision to declare him not out, when Alviro Petersen had caught him during the last day of the final Test, was right, as the catch was 'debatable'.
March 29, 2012
Ahead of IPL V, India-South Africa clash in one-off T20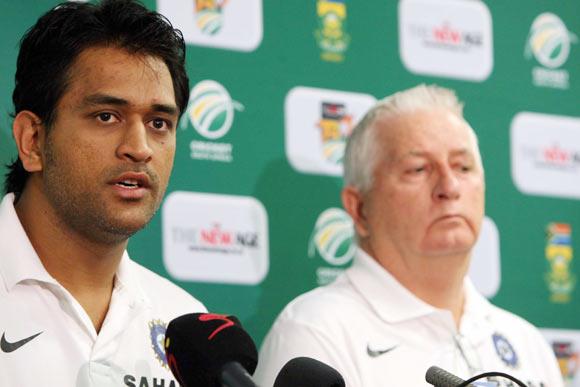 After the battering it was subjected to during the tour of Australia and the Asia Cup, the Indian cricket team would look to make a fresh start before the IPL razzmatazz when it takes on an in-form South Africa in a one-off Twenty20 international in Johannesburg on Friday.
'DRS has become an integral part of the game'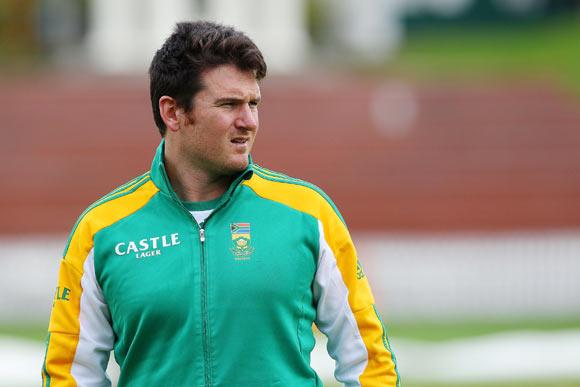 Graeme Smith is comfortable with television referrals and the umpire decision review system (DRS) playing a larger role in international cricket, the South Africa captain said on Wednesday.
'IPL gives a big platform to perform against world's best'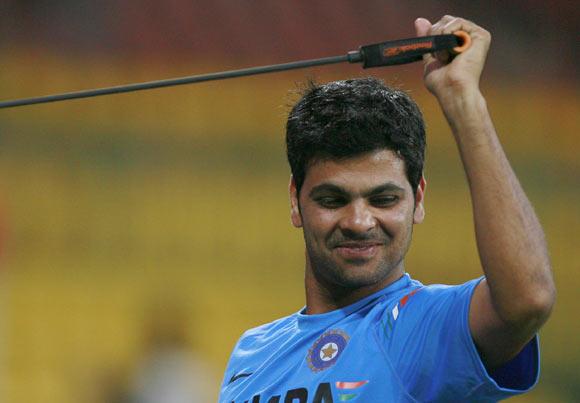 Indian Premier League's leading wicket taker, Rudra Pratap Singh, may have been out of favour in India's scheme of things but the left-arm pacer is hoping that season five of the T20 tournament will bring him back in the national reckoning.
'Spinners have to do more hard work than seamers in T20'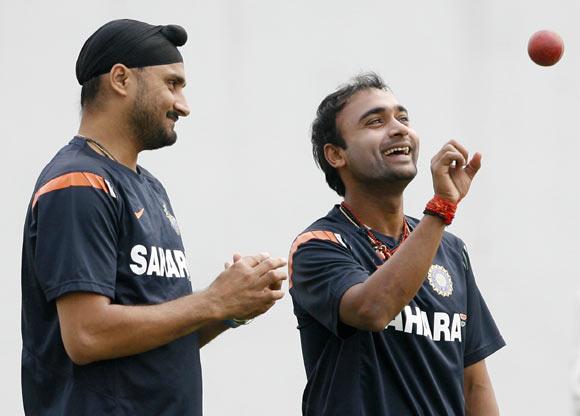 One of the vital cog in Deccan Chargers' wheels, leg-spinner Amit Mishra has said that spinners need to be more skillful and act fast to compete in the Twenty20 cricket.
We've played some very good cricket at home: Fletcher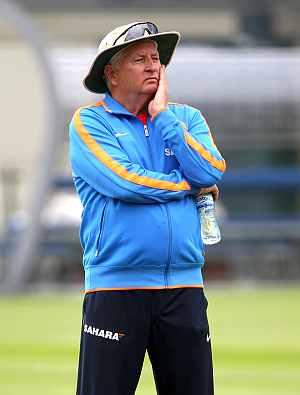 Going through a tough phase of late, Indian cricket coach Duncan Fletcher says "there's been no middle road" with his team's performances since he took over the job after the World Cup last year.
March 28, 2012
Tendulkar will be available for entire IPL: MI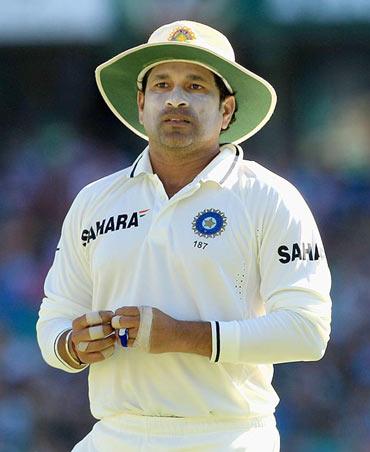 Sachin Tendulkar will be available to play the entire duration of the upcoming Indian Premier League after returning from London, where he has gone for medical consultation for a toe injury, a Mumbai Indians spokesman said.
'The best No. 3 batsman in the world'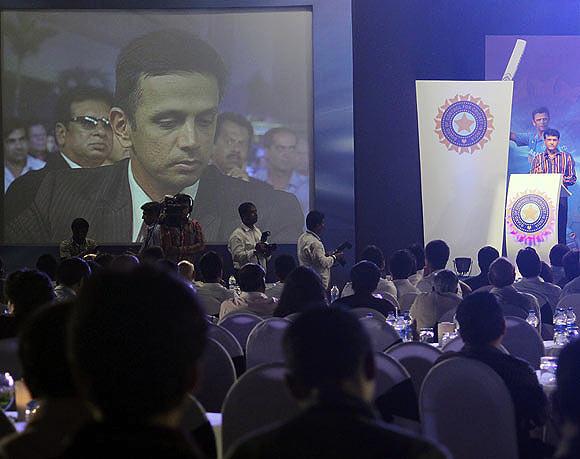 The tributes continue to flow for Rahul Dravid following his retirement from international cricket.
Rahul Dravid: Playing for India humbled me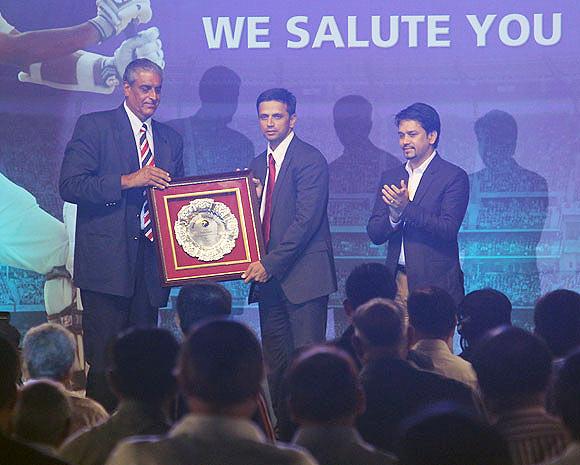 Rahul Dravid was struggling to hold back tears as he relived his journey in international cricket, reports
March 27, 2012
Teammates salute 'greatest number 3 bat' Dravid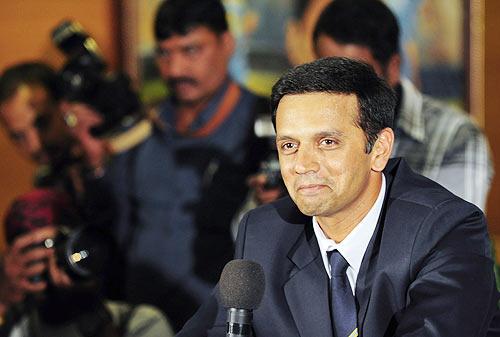 The cricketing fraternity came together on Tuesday night to raise a toast for the retired Rahul Dravid as they fondly remembered the immense contribution of the batting stalwart, who emotionally remarked that he will miss being part of the Indian dressing room.
Yadav keen to use new secret delivery in IPL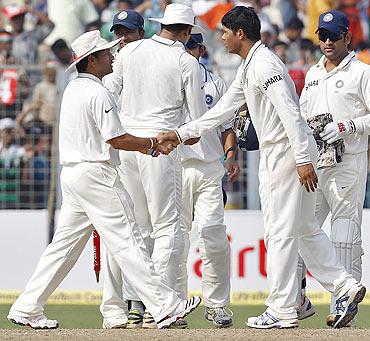 India's young speedster Umesh Yadav has said it was Sachin Tendulkar who encouraged him to work on a "surprise delivery" to bring about more variety in his bowling.
'Verdict against Lalit Modi has lifted a dark cloud'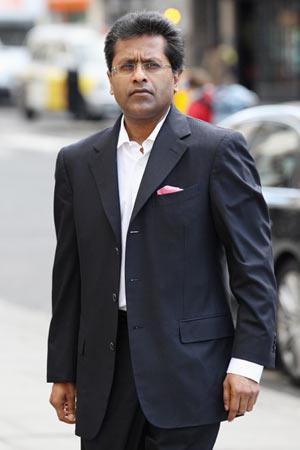 Relieved after winning a libel suit against axed IPL Commissioner Lalit Modi, who had accused him of match-fixing, former New Zealand all-rounder Chris Cairns said the London High Court's verdict has lifted a "dark cloud" that has been over him for the past two years.
'Australia was a very important tour for me'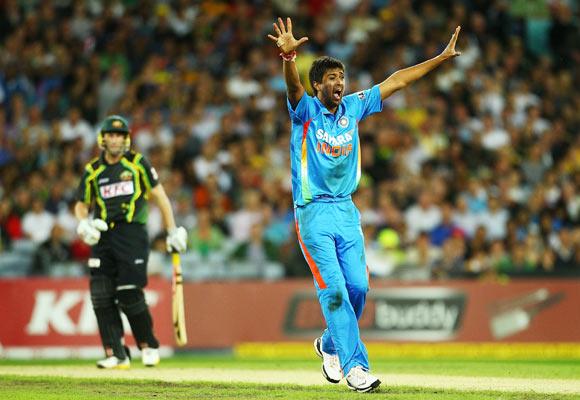 Young Punjab leg spinner Rahul Sharma said the tour of Australia was a good learning experience for him though he did not get many opportunities to be in the playing XI.
'Ishant Sharma can be a bowler in the Glenn McGrath mould'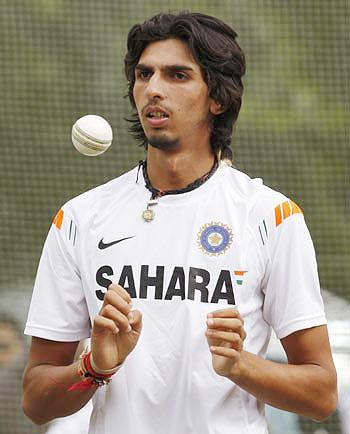 Injured speedster Ishant Sharma may not have lived up to his potential in the past few years but India's former bowling coach Eric Simons feels that team should invest in the lanky speedster as he has the ability to lead the attack once Zaheer Khan retires.
ICC ODI batsmen rankings: Dhoni, Tendulkar move up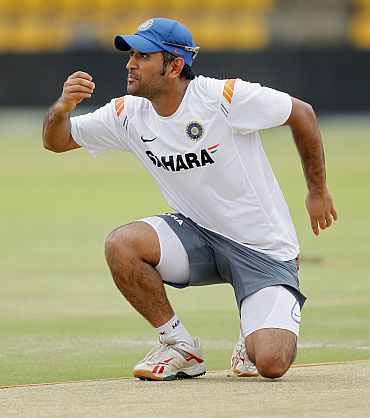 India captain Mahendra Singh Dhoni and off-spinner Ravichandran Ashwin have moved up the ladder to achieve the fourth and sixth positions respectively in the latest ICC ODI ranking for batsmen and bowlers.
March 26, 2012
I have performed my role with utmost sincerity: Raina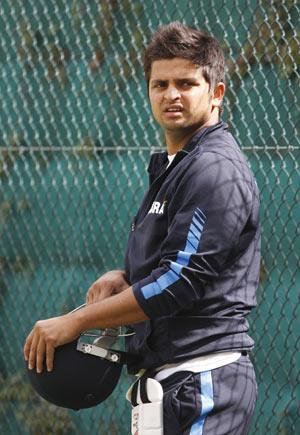 He drew a lot of flak for poor performances in the disastrous tour of Australia but young Indian batsman Suresh Raina is unperturbed by the criticism and says he knows his worth in the team.
Tests must remain cricket's pinnacle format: Tendulkar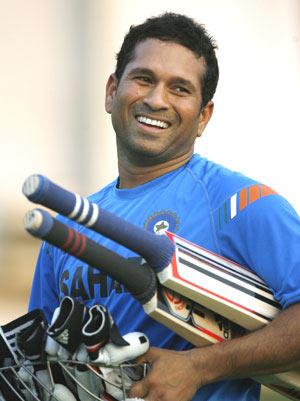 Describing Test cricket as a very challenging format, batting star Sachin Tendulkar on Sunday said Test cricket should remain the pinnacle format for future players to aspire to.
'I still get goosebumps when the national anthem is on'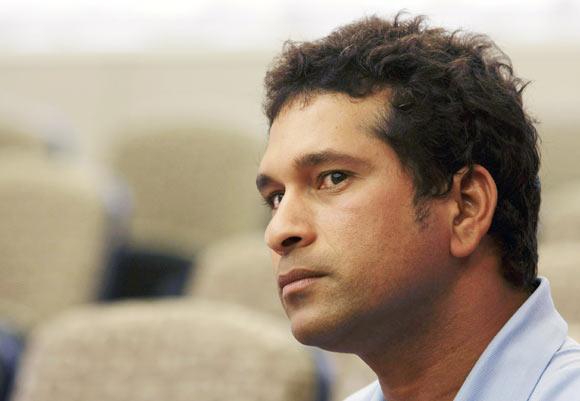 Sachin Tendulkar said he had played cricket because he loved to do and there was nothing better than playing for India.
What's wrong with Team India? What needs to be done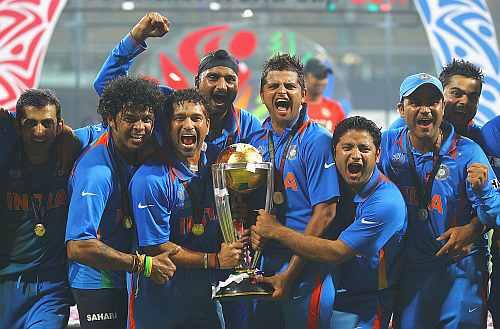 Following the dismal showing in one-day tournaments in Australia and Bangladesh, suggests remedial action, keeping the 2015 World Cup in mind.
March 25, 2012
100 hundreds wasn't my purpose: Tendulkar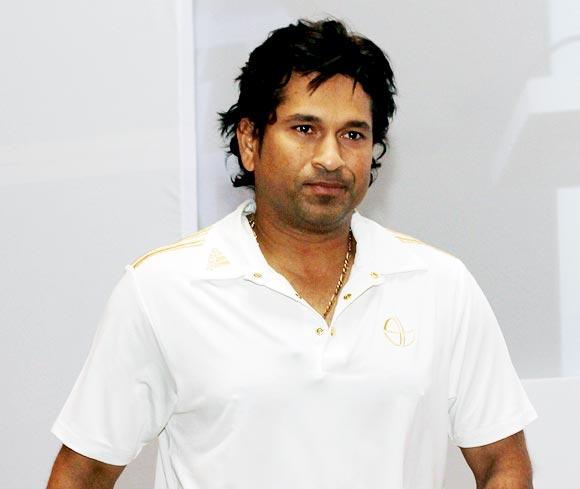 Sachin Tendulkar reveals the agony of the last 12 months during which he went without an international century, before finally getting the three figure mark in the Asia Cup match against Bangladesh, to complete the magical landmark of 100 international centuries.
I'll try out few variations in IPL 5: Umesh Yadav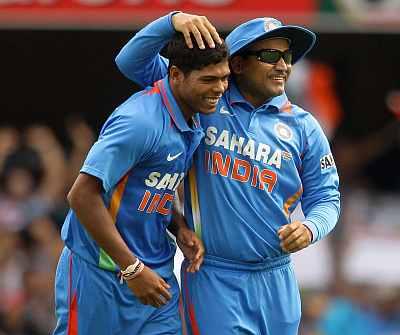 Talented speedster Umesh Yadav is fully fit and raring to go for his IPL side Delhi Daredevils in the upcoming fifth edition of the tournament.
March 24, 2012
'Tendulkar's achievement something super human'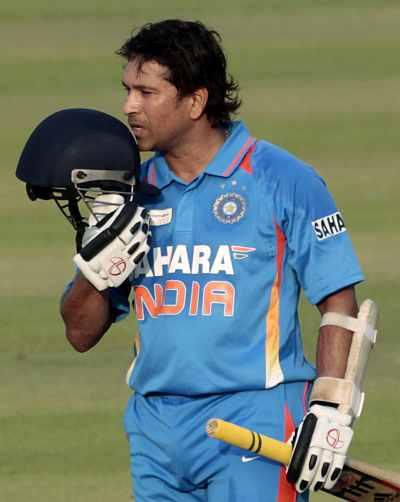 Paying glowing tributes to batting ace Sachin Tendulkar, selection committee chairman Krishnamachari Srikkanth described his achievement of scoring 100 international tons as something super human and cited him as a classic example of "thriving in an imbalanced world."
March 23, 2012
Anil Kumble: There's no one who can replace Dravid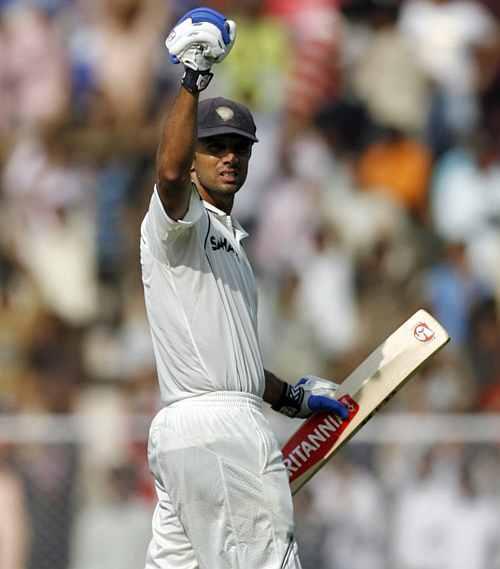 Former India captain Anil Kumble reckons that Virat Kohli has the "right game" to fit in at the crucial No 3 slot in the Test squad even though it will be impossible for anyone to step into Rahul Dravid's shoes.
March 22, 2012
PHOTOS: Pakistan win Asia Cup by 2 runs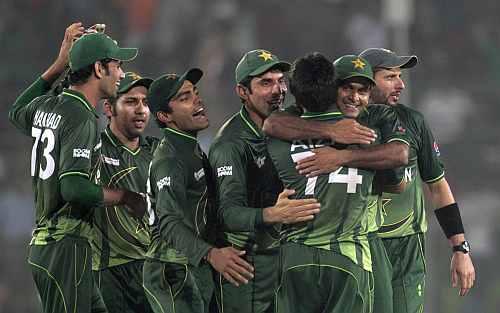 Images from the Asia Cup final match between Pakistan and Bangladesh, being played in Mirpur
March 21, 2012
Rest period is over and I'm set to play in the IPL: Sehwag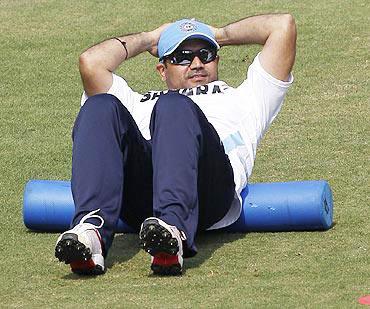 Declaring himself fit to resume cricketing activities after being 'rested' because of injury, opener Virender Sehwag on Wednesday said he missed not being in the dressing room when Sachin Tendulkar struck his landmark 100th international century last week.
Don't put pressure on Virat Kohli: Sachin Tendulkar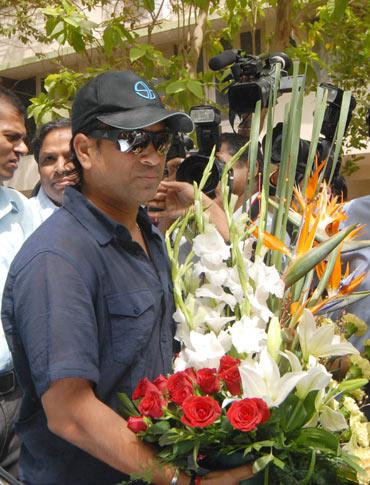 Virat Kohli is being hailed as one of cricket's finest upcoming batsmen and senior India player Sachin Tendulkar agrees but he does not want the youngster to be put under too much pressure just at the beginning of what seems to be a promising career.
March 20, 2012
PHOTOS: Bangladesh reach Asia Cup final, India knocked out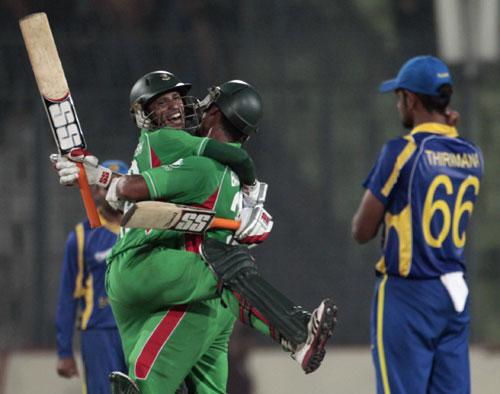 Images from the Asia Cup match between Sri Lanka and Bangaladesh, being played at Mirpur.
Kohli ideal player to replace Dravid at No 3: Ganguly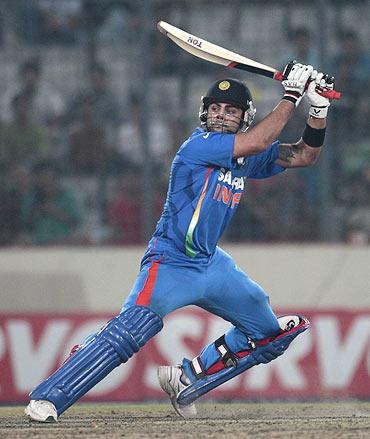 India's new batting sensation Virat Kohli, who has hit three hundreds in his four innings, is the ideal batsman to fill in the number three slot left by Rahul Dravid, former skipper Sourav Ganguly has said.
Mohammad Amir accuses Butt, Majeed of entrapment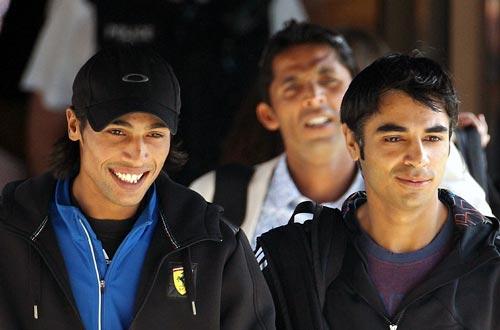 Banned Pakistan fast bowler Mohammad Amir has accused former captain Salman Butt and agent Mazhar Majeed of tricking him into bowling deliberate no-balls in the 2010 Lord's Test against England.
March 19, 2012
Ajmal's action raises concern in Indian camp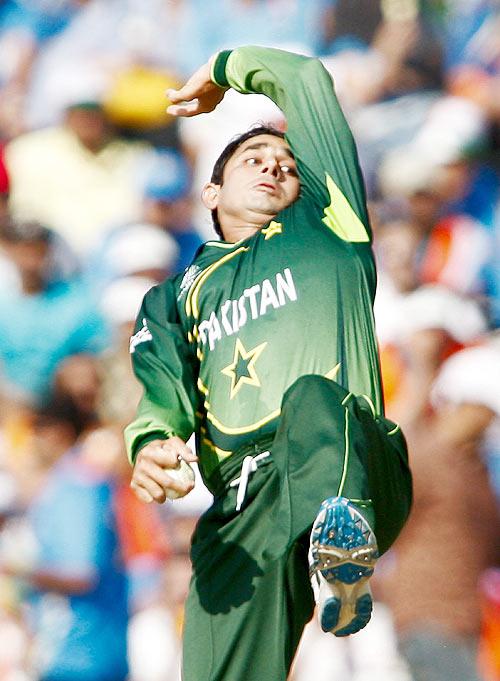 Off-spinner Saeed Ajmal's bowling action generated a fresh controversy on Monday after senior Indian players reportedly questioned the legality of his deliveries even as the ICC defended the Pakistani bowler, saying his action was well within "the allowed degree of tolerance".
Sri Lanka-Bangladesh match to determine India's fate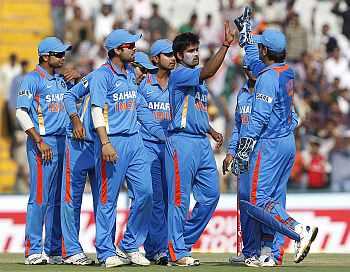 Millions of Indian cricket fans will be praying for a Sri Lankan victory when the islanders take on hosts Bangladesh in Mirpur on Tuesday in their last league match, the result of which will determine India's fate in the Asia Cup.
Have learnt to value my wicket more: Kohli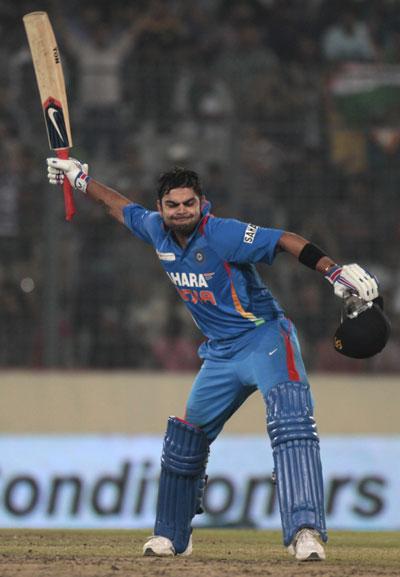 He is in the form of his life but young Indian batsman Virat Kohli said he felt under pressure in the crunch Asia Cup game against Pakistan on Sunday. Kohli struck a match-winning 183-run knock to register a thrilling win against the arch-rivals.
March 18, 2012
PHOTOS: Kohli's blitzkrieg help India beat Pakistan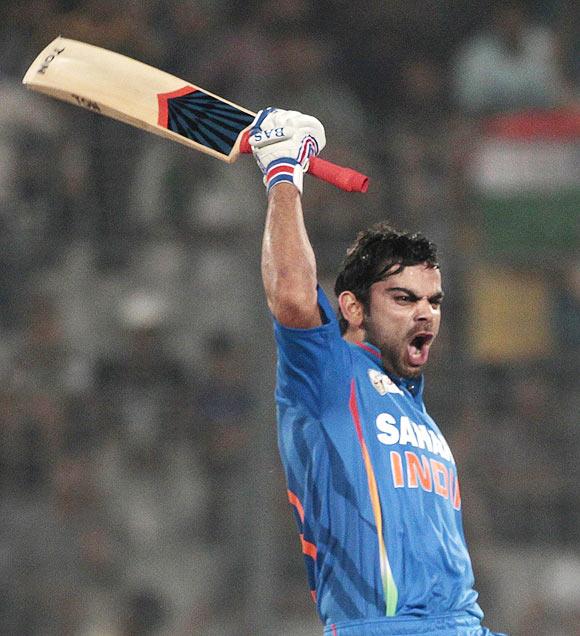 Virat Kohli produced a blistering 183 off 148 balls as India notched up their highest run chase ever to register an incredible six-wicket victory over arch rivals Pakistan and keep themselves afloat in the Asia Cup cricket tournament on Sunday.
Kohli was simply sensational, admits Misbah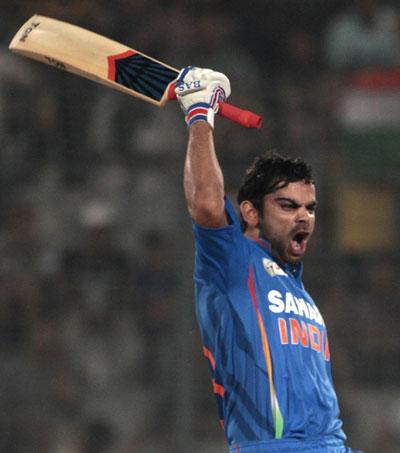 "This is the best innings I have ever seen," is how Pakistan skipper Misbah ul Haq described young Indian batsman Virat Kohli's majestic knock of 183, which helped India chase a mammoth 330-run target in Asia Cup, in Mirpur on Sunday.
Sachin has right to decide when to retire: Time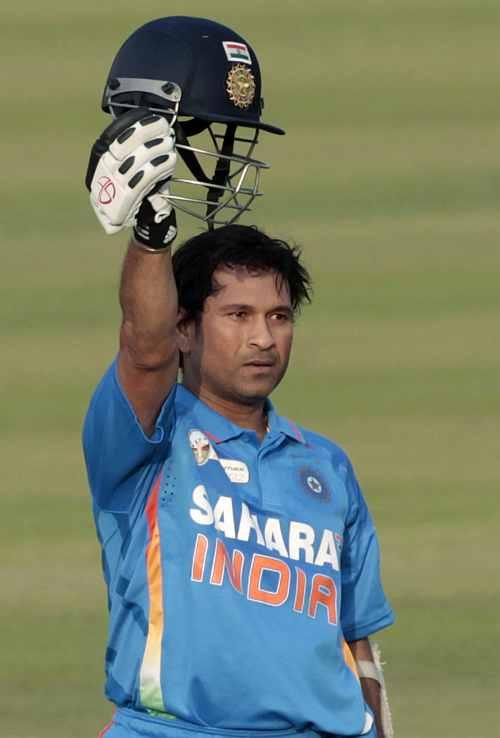 Iconic Indian cricketer Sachin Tendulkar's feat of 100 international centuries has fetched him a round of applause from the Time magazine which said that the unprecedented achievement has given him the right to decide when to retire from the game.
March 17, 2012
'I've scored 100 out of 100 in terms of commitment'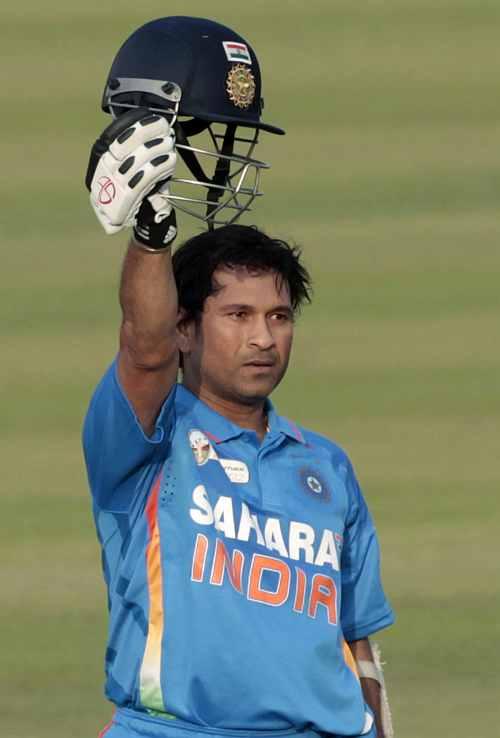 Sachin Tendulkar may have had to wait close to a year to achieve the historic feat of scoring 100 international centuries but the delay was certainly not due to any lack of effort, with the star batsman giving himself a mark of "100 out of 100" in terms of effort and commitment.
International media hails Tendulkar's grand feat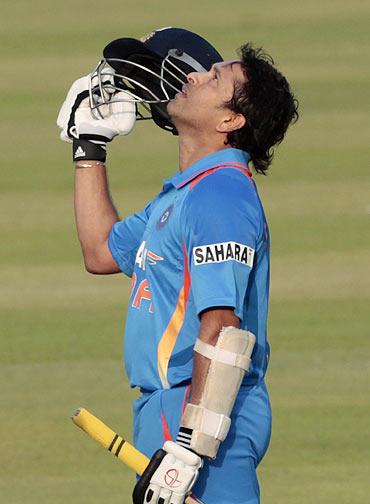 Sachin Tendulkar crossed the long standing milestone and finally completed the much anticipated 100th international ton on Friday. Here is how some of the major newspapers across the world reacted to the maestro's landmark feat.
Sporting records that are unlikely to be broken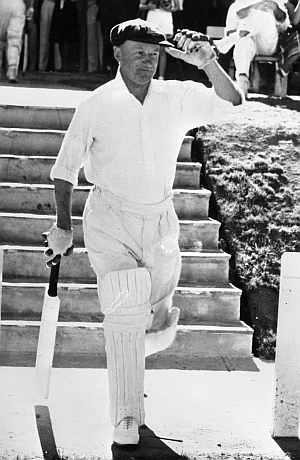 Following is a list of sporting records that are unlikely to be broken after Sachin Tendulkar became the first player to score 100 centuries in international cricket in the Asia Cup One-dayer against Bangladesh in Dhaka on Friday.
Selfish to retire when on top of your game: Sachin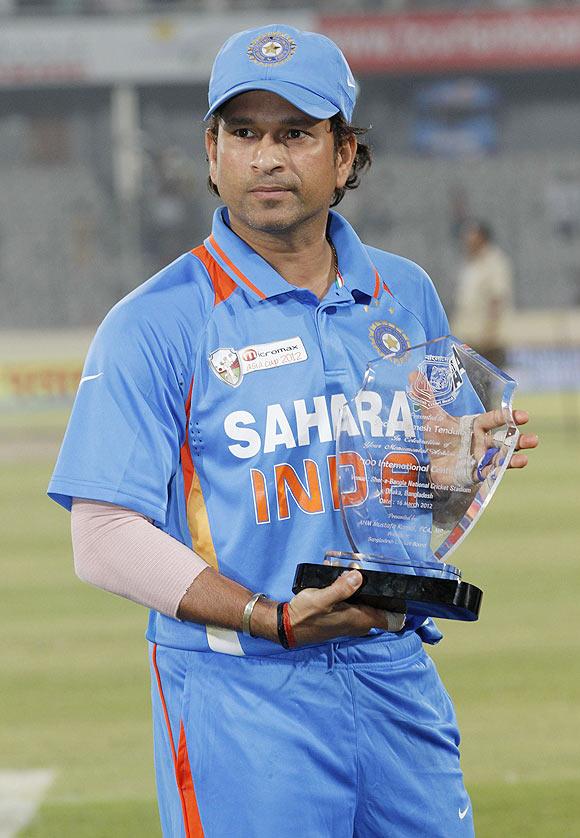 A phenomenal century of hundreds under his belt but iconic Indian cricketer Sachin Tendulkar is in no mood to consider retirement as he feels going out on top is a "selfish thought".
Saluting Sachin: Tributes flow in from all quarters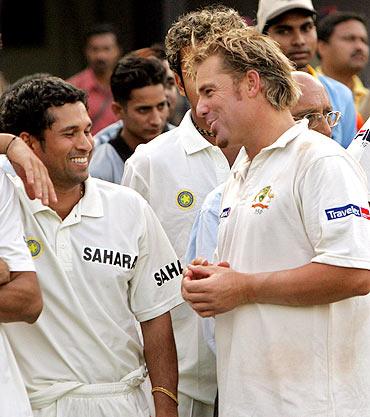 Australian spin legend Shane Warne pleaded for an end to the talk of Sachin Tendulkar's retirement as he joined the international chorus of appreciation for the iconic Indian cricketer who, on Friday, scripted history by completing a century of international tons.
'Tendulkar leaves mark of true greatness on the game'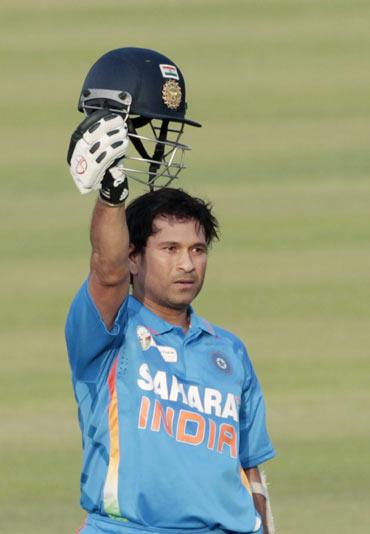 Comparing Sachin Tendulkar's 100 international centuries to Sir Donald Bradman's Test average of 99.94, former England captain Michael Vaughan said only "true greats in sport set an unreachable benchmark".
ODI rankings: SA climb to 2nd spot after India's loss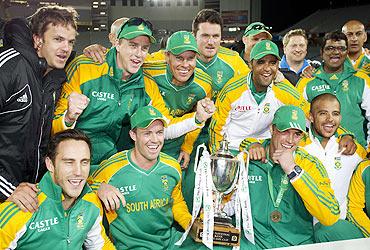 India's five-wicket defeat against Bangladesh in an Asia Cup match in Mirpur helped South Africa secure the second position in the ICC ODI Championship table at the April 1 cut-off date.
I am not God: Sachin Tendulkar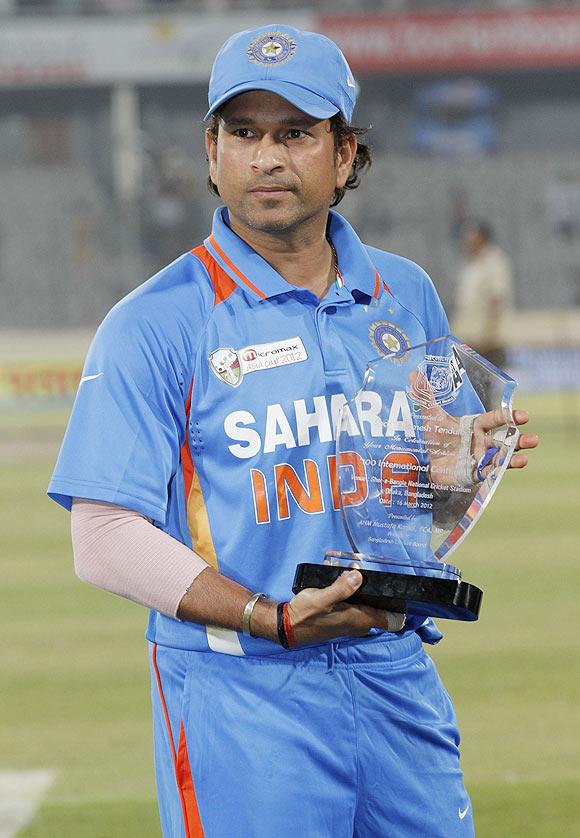 "I am not god, I am Sachin Tendulkar", said the iconic Indian cricketer who watched in dejection as his 100th international century, which he described as the "toughest" of his career, was overshadowed by the team's shock loss to Bangladesh in an Asia Cup match in Mirpur.
March 16, 2012
'Sachin's feat of hundred tons unlikely to be matched'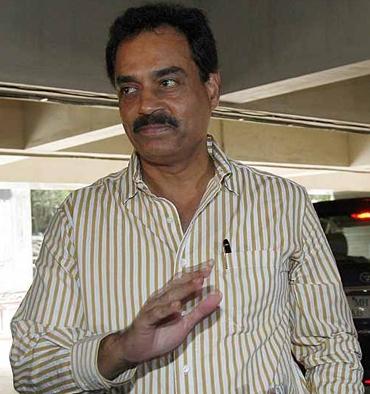 Former cricketing greats laud batting ace Sachin Tendulkar on his feat of hundred centuries in international cricket.
'It hasn't sunk in but I have definitely lost about 50kg'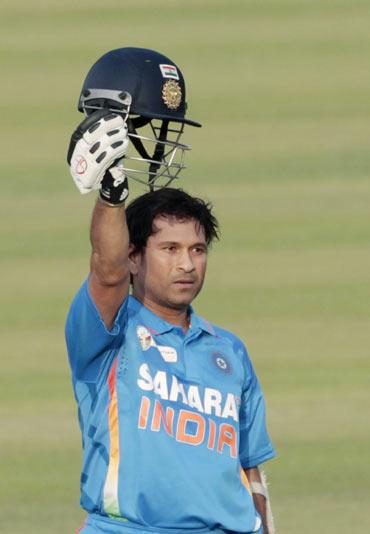 Relieved after notching his 100th international century that took over a year to come, Sachin Tendulkar on Friday said it was "mentally tough" to deal with the hype around the milestone and joked that he has lost 50kg after getting to it.
How Sachin Tendulkar achieved the historic feat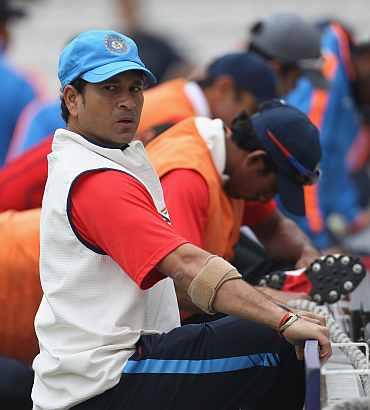 The 100 that had been one year in waiting finally came about as Sachin Tendulkar completed his century of tons but showed minimal emotion after reaching a milestone that is unlikely to be emulated in the near or distant future.
Finally, Sachin Tendulkar gets the elusive hundred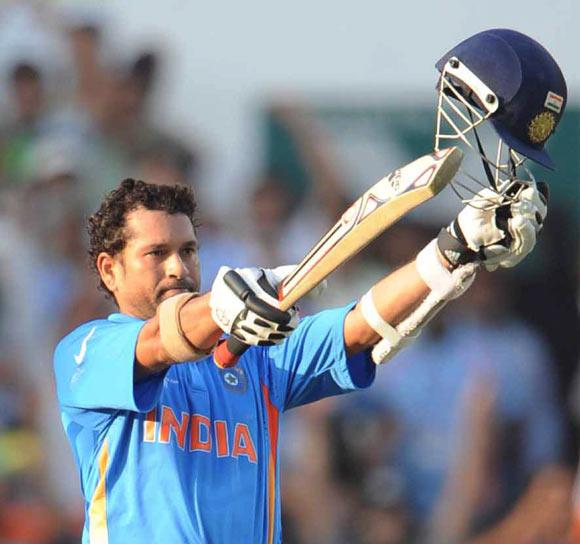 Iconic Indian batsman Sachin Tendulkar on Friday scripted history, becoming the first cricketer to score 100 international centuries, a phenomenal feat which may remain unconquered for years to come.
Tendulkar 100 hundreds and counting... Check them out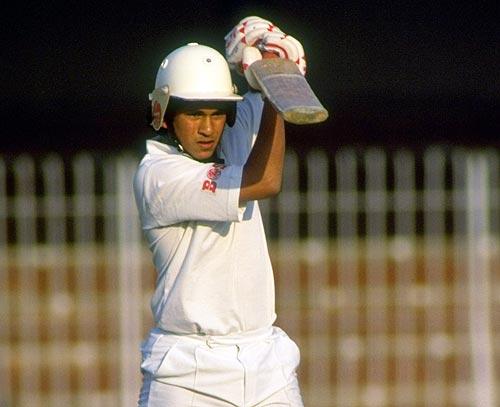 Check out Sachin Tendulkar's 100 international centuries.
'Sir Don Bradman great, but Sachin Tendulkar greatest'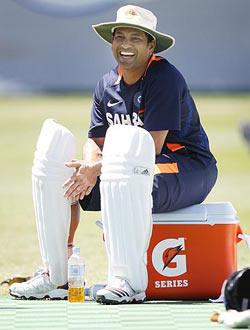 In the never-ending debate on whether Sir Donald Bradman or Sachin Tendulkar is the greatest batsman of all-time, former England captain Nasser Hussain gave his vote goes to the iconic Indian.
Sehwag believes Daredevils can make IPL play-offs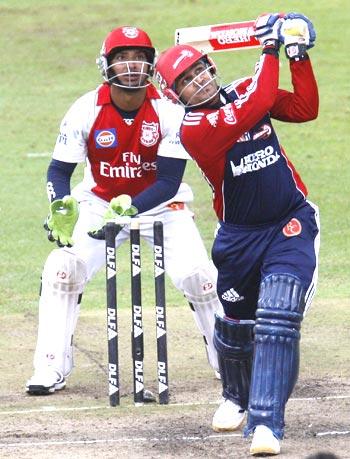 Satisfied with the squad at his disposal for the upcoming season of the Indian Premier League, Delhi Daredevils captain Virender Sehwag believes if his side can play to its potential it can figure in the play-offs of the Twenty20 tournament this year.
Our batting needs to be more consistent: Misbah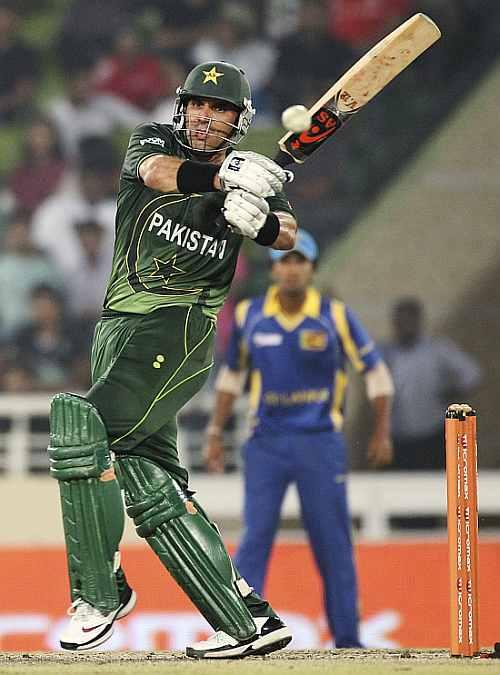 Pakistan captain Misbah-ul Haq said that his unbeaten knock of 72 against Sri Lanka has done his confidence a world of good after an indifferent series against England.
March 15, 2012
PHOTOS: Pakistan cruise into Asia Cup final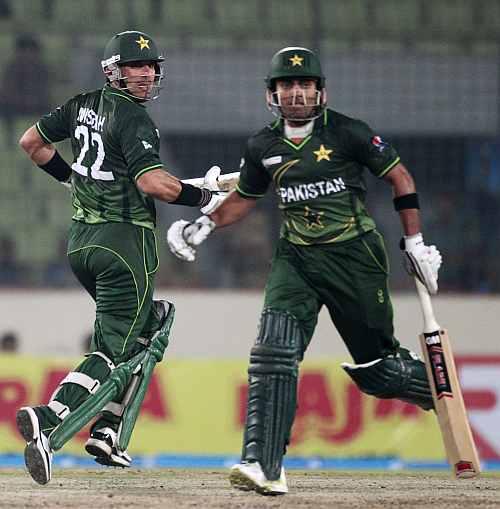 Images from Asia Cup match between Sri Lanka and Pakistan being played in Mirpur.
Eyes on Tendulkar as India meet Bangladesh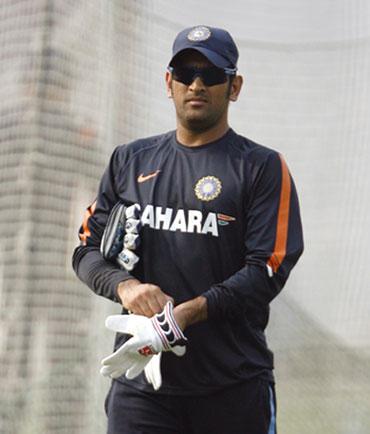 India would look to continue their recovery from the horror tour of Australia while Sachin Tendulkar would aim to the get the burden of a 100th international ton off his back when the team squares off against Bangladesh in an Asia Cup league match in Mirpur on Friday.
March 14, 2012
Unpredictable Pakistan up against consistent Sri Lanka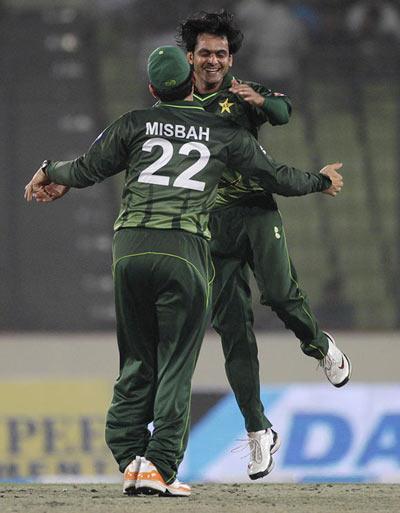 The ever-so-unpredictable Pakistan face their first big test of the tournament when they take on an injury-hit Sri Lankan team, which was outclassed by India in its lung-opener, in an Asia Cup league match, in Dhaka, on Wednesday.
Difficult to defend big totals at Sher-e-Bangla: Dhoni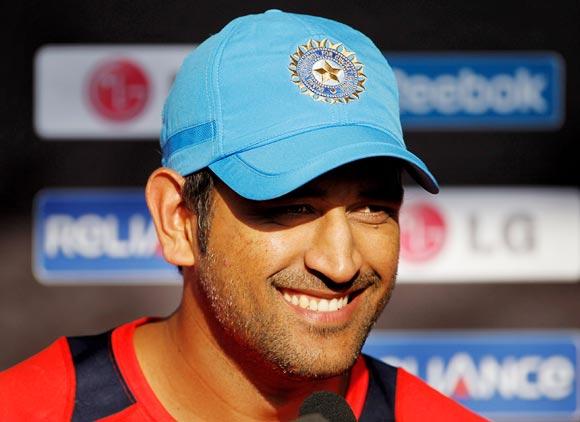 Even though India comfortably won their Asia Cup opener against Sri Lanka by 50 runs, captain Mahendra Singh Dhoni feels that it is 'difficult' to defend totals at the Sher-e-Bangla Stadium in Mirpur considering it has a 'very fast outfield'.
March 13, 2012
ICC rankings: Tendulkar looks for improvement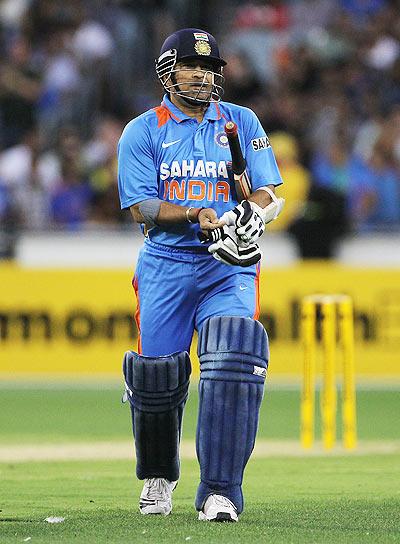 Senior India batsman Sachin Tendulkar would eye his 100th international century and also improve his position in the ICC ranking for the ODI batsmen.
March 12, 2012
Vijeeta Dravid reveals the virtues of 'The Wall'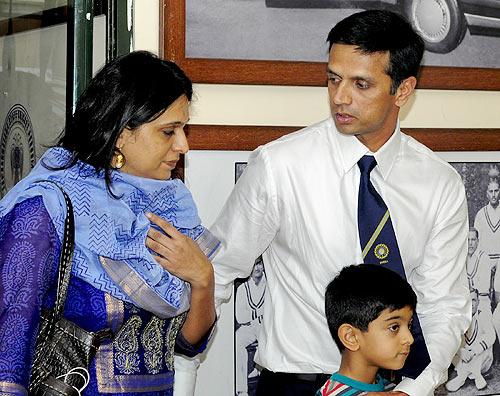 Vijeeta, wife of India's batting stalwart Rahul Dravid, reveals the strengths that make him the cricketer and person he is.
Bruised India eyeing redemption through Asia Cup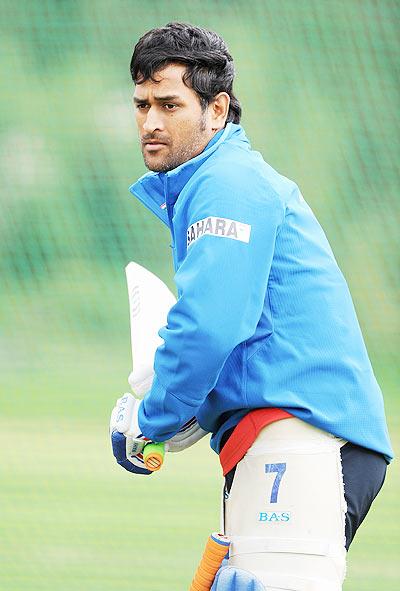 Desperate to restore their battered reputation after the recent debacle in Australia, title holders India would be hoping for a positive start to their campaign in the Asia Cup cricket tournament when they take on Sri Lanka in Mirpur on Tuesday.
India's Gen Next wish to inculcate Dravid's virtues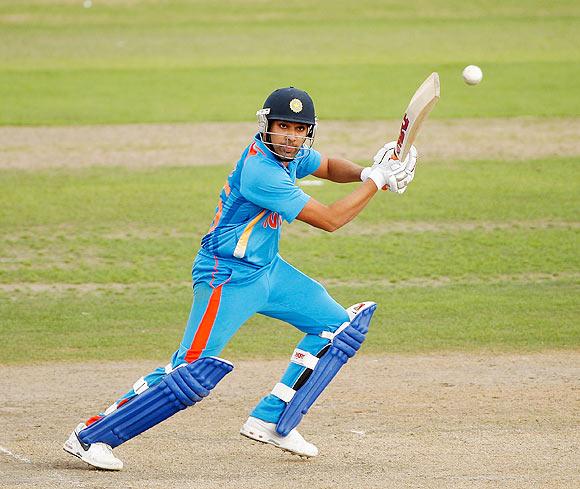 India's next generation of batsmen like Rohit Sharma, Cheteshwar Pujara paid rich tribute to recently retired Rahul Dravid stating that they would want to inculcate his "positive attitude, temperament and humility."
A year later...Sachin Tendulkar still stuck on 99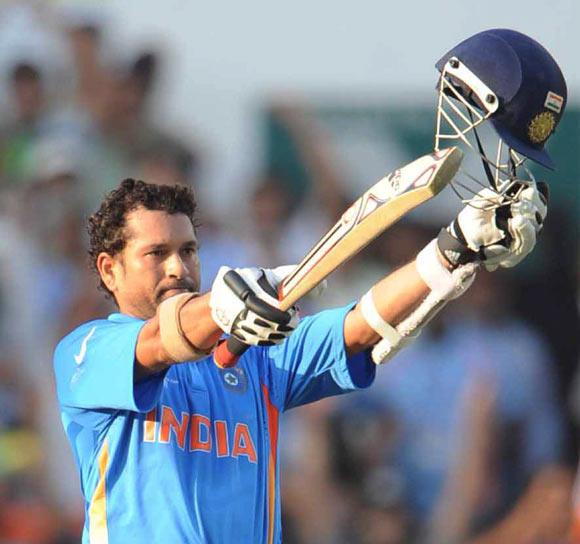 It was on this day (March 12) last year that Sachin Tendulkar scored 111 against South Africa in Nagpur. It was his 99th international hundred. A year later, the wait for the 'century of centuries' continues.
March 11, 2012
We need to lift our game: Misbah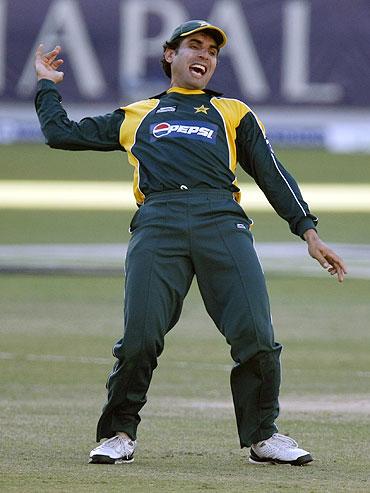 Pakistan survived a scare before pulling off a narrow 21-run victory over Bangladesh on Sunday and skipper Misbah-ul-Haq said his team needs to learn from their mistakes and lift their game if they have to threaten India and Sri Lanka in the Asia Cup.
PHOTOS: Pakistan beat Bangladesh in Asia Cup thriller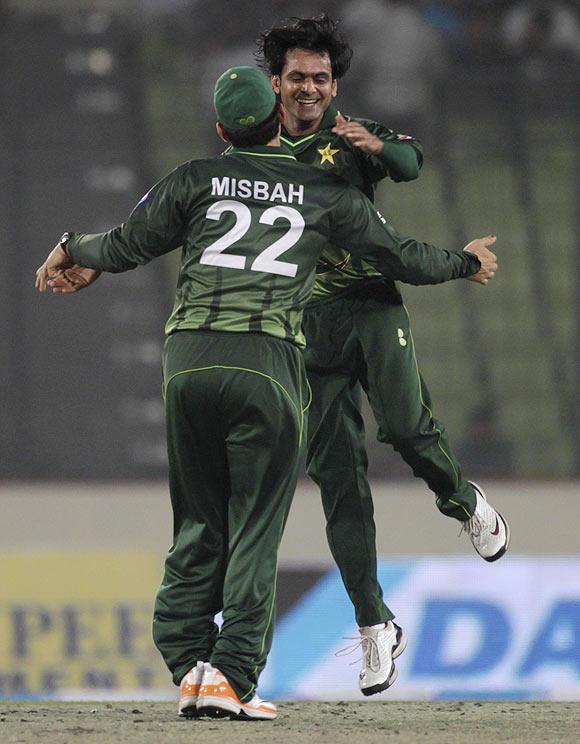 Images from the Asia Cup opening match between Pakistan and Bangladesh played in Mirpur on Sunday.
England is now officially No 1 Test team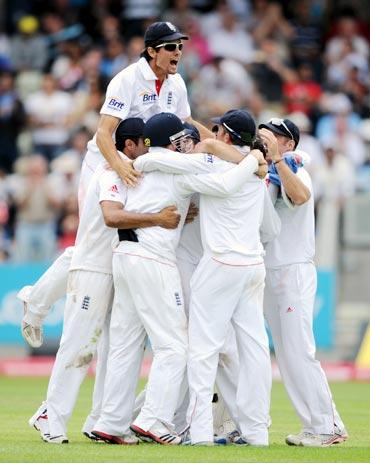 England have secured top spot in the ICC Test Championship table at the April 1 cut-off date after the first Test between New Zealand and South Africa ended in a draw in Dunedin on Sunday.
Akram picks India as favourites to win Asia Cup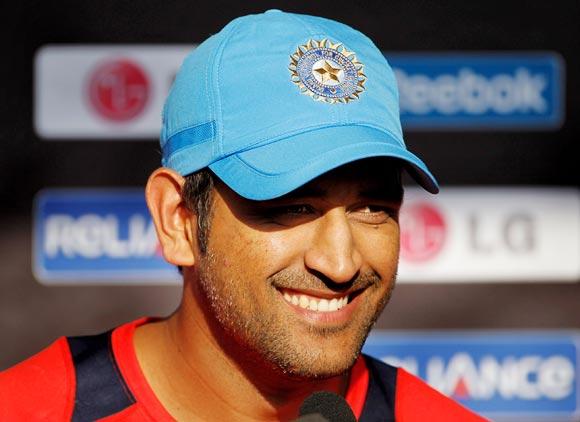 India might be completely down and out after their dismal show in the recently-concluded tour of Australia but former Pakistan skipper Wasim Akram feels that MS Dhoni and Co. would still start favourites in the Asia Cup, that commenced in Mirpur on Sunday.
March 10, 2012
ICC rankings: Tendulkar looks for improvement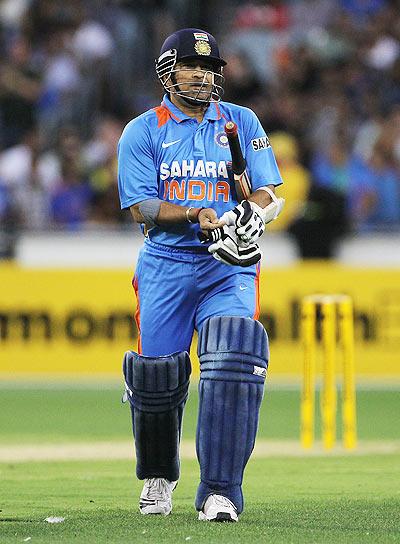 Senior India batsman Sachin Tendulkar would eye his 100th international century and also improve his position in the ICC ranking for the ODI batsmen when Asia Cup begins in Mirpur on Sunday.
Asia Cup: India look to redeem themselves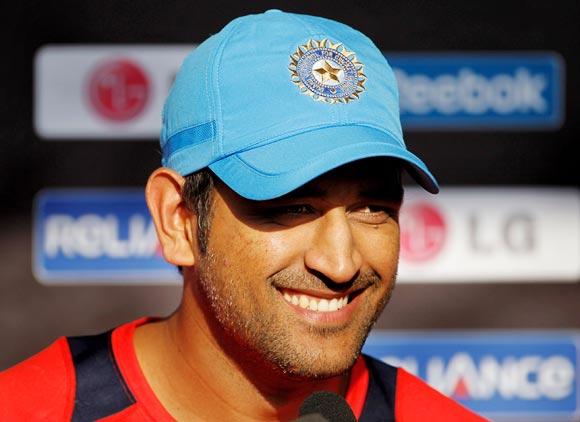 The 11th edition of the Asia Cup cricket tournament begins in Mirpur on Sunday with defending champions India hoping to redeem their pride and restore their reputation after the debacle in Australia.
Is Kohli ready to step into Dravid's shoes?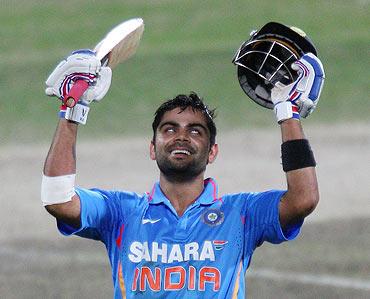 Now that Rahul Dravid has hung his boots from international cricket, the uppermost concern dogging the cricket-crazy country is who is nextDravid in the making!
Dravid 30th in all-time best list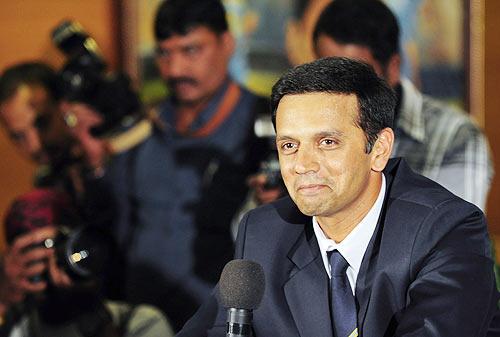 India's batting great Rahul Dravid, who bid adieu to international cricket on Friday, holds 30th position in the rating list for the all-time best in the Test cricket.
Australian newspaper pays tribute to Dravid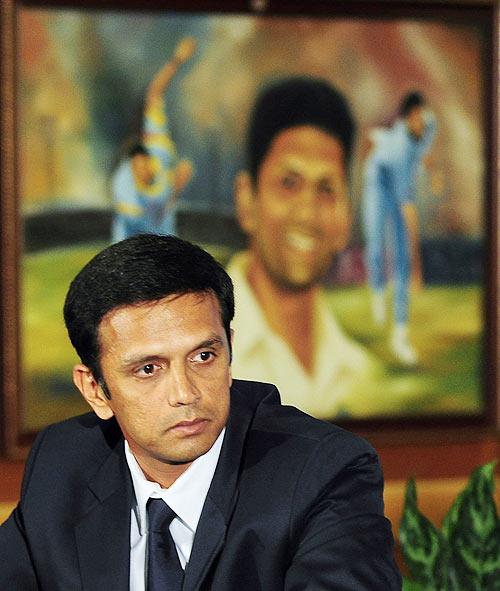 An Australian newspaper paid tribute to just-retired Rahul Dravid, praising him as not only one the greatest batsmen of his generation but also a gentleman and thinker of the game.Sydney Morning Herald heaped praise on Dravid, saying that his retirement on Friday from international cricket was a great loss at a critical period of the game.
Rahul Dravid's five gems in Test cricket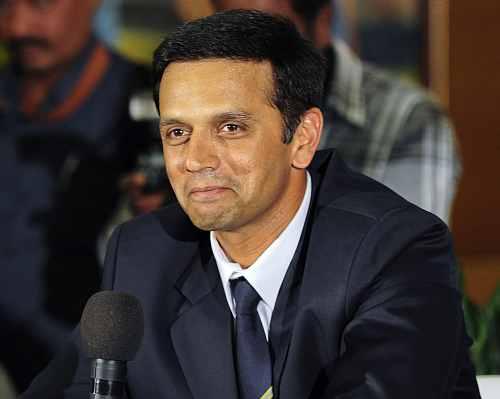 As the cricket world salutes the great Karnataka batsman on his retirement, rediff.com looks back on five Test knocks that are, arguably, his best.
March 09, 2012
PHOTOS: Dravid signs off on home turf Bangalore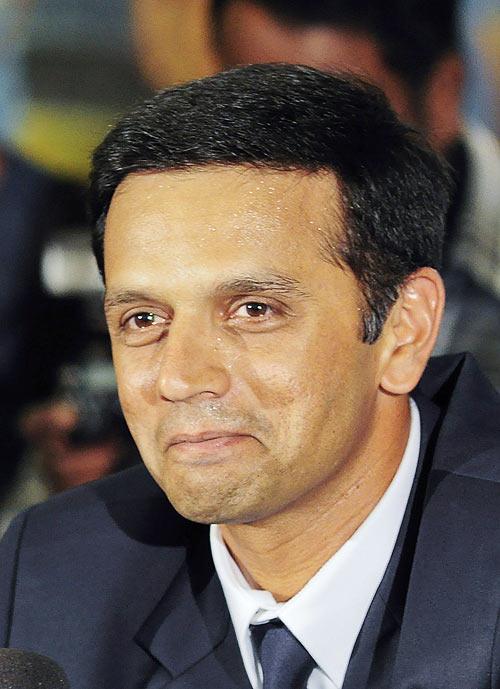 Indian cricket player Rahul Dravid speaks to the media as he announces his retirement from international cricket at the Chinnaswamy Stadium in Bangalore on Friday.
When a teammate's flair overshadowed Dravid's class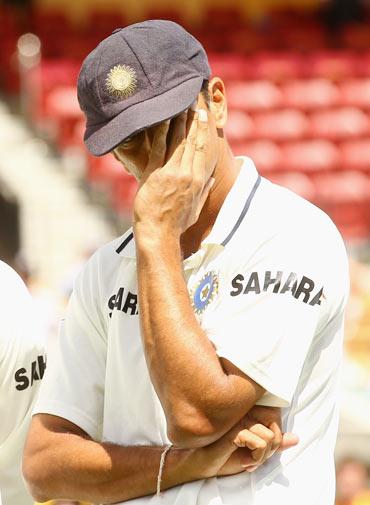 Bikash Mohapatra look at gems from Rahul Dravid's blade that lacked lustre thanks to the flamboyance displayed by a teammate.
Rahul Dravid in Facts and Figures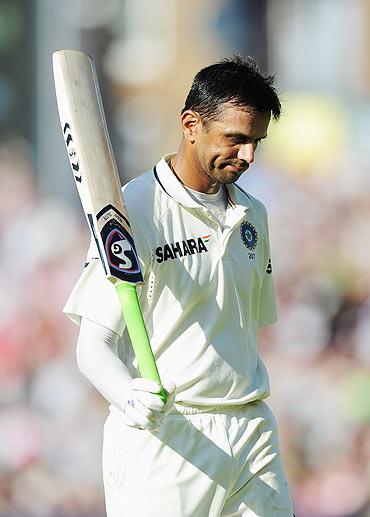 Facts and figures about Rahul Dravid, who called time on his international cricket career on Friday, March 9.
Dravid calls time on international career; will play IPL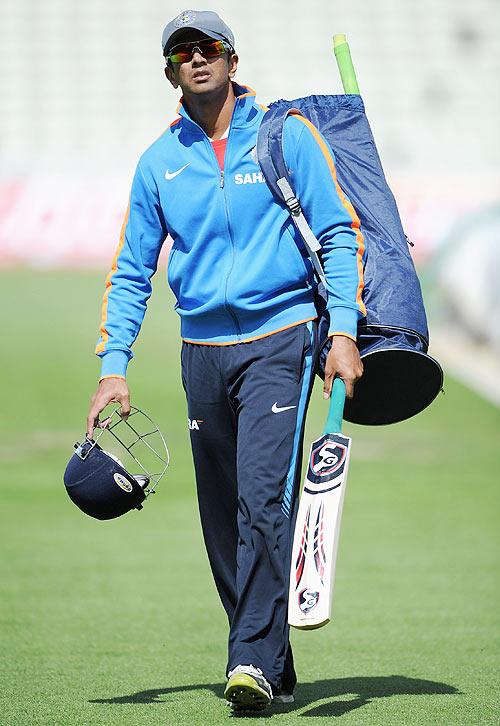 Batting great Rahul Dravid, the second most prolific batsman in the game's history and India's middle order bulwark for years, on Friday, bid adieu to Test cricket, bringing down the curtains on a glorious 16-year career.
Staggering figures on 'The Wall'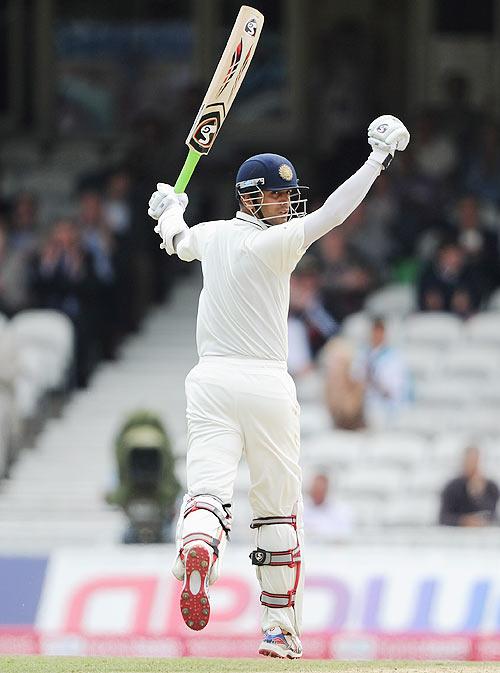 Rahul Dravid, who on Friday announced his retirement from international cricket, has achieved truly staggering numbers over a glittering 16-year career, with the most remarkable being his 13288 Test runs, the second most aggregate in the game's history.
'Rahul Dravid was an absolutely complete cricketer'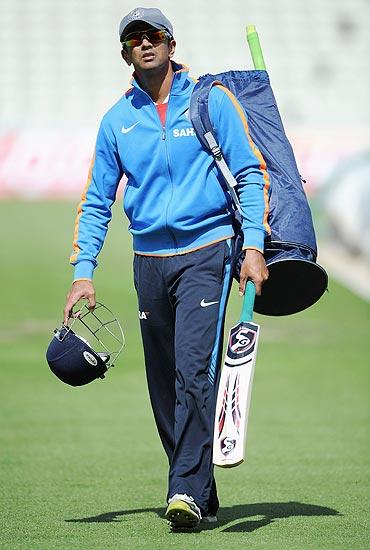 Former players hailed Rahul Dravid, who on Friday retired from international as well as domestic cricket, as among the very best produced by India and said his contribution to Indian cricket has been huge.
I leave with sadness, but also with pride: Dravid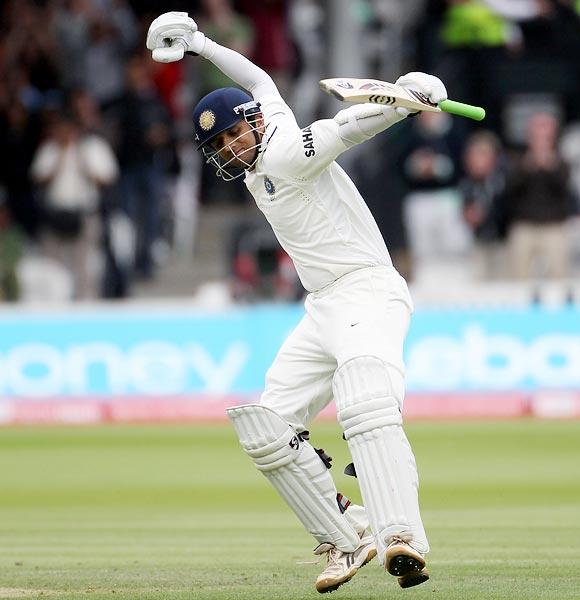 'I have failed at times, but I have never stopped trying. It is why I leave with sadness but also with pride,' said Rahul Dravid as he announces his retirement from international cricket.
'Dravid is the nicest guy in cricket'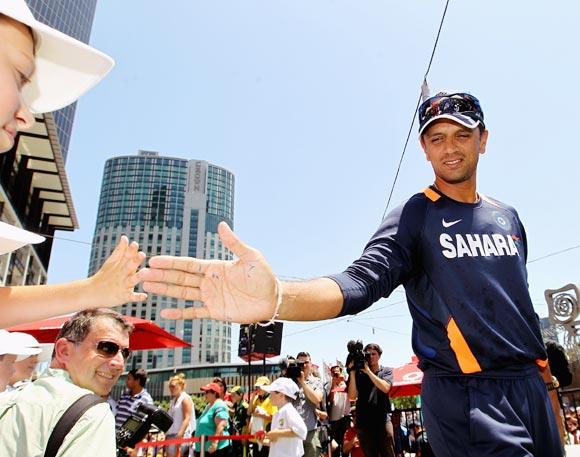 Stand-in Australian captain Shane Watson paid glowing tributes to Rahul Dravid, describing the retiring Indian batting stalwart as a "phenomenal man" and the "nicest guy" he has ever met in cricket.
For Dravid, it's always about self-respect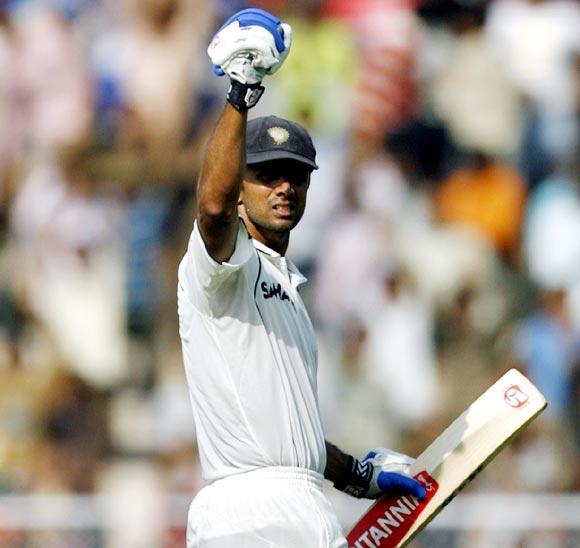 For batting ace Rahul Dravid, says , it was not just about playing the game. It was about playing it with dignity.
March 08, 2012
Jayawardene rues lack of partnerships upfront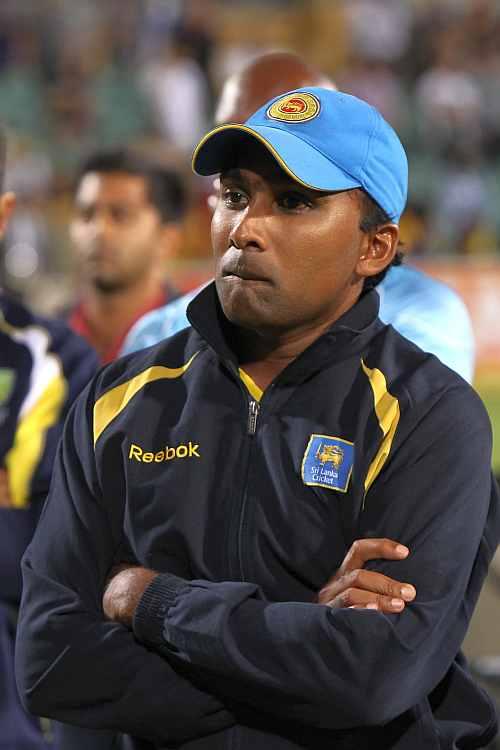 Sri Lankan captain Mahela Jayawardene rued the lack of partnerships upfront as they lost to Australia by 16 runs in the last and decisive final of the tri-series in Adelaide.
PHOTOS: McKay five-for steers Aussies to tri-series win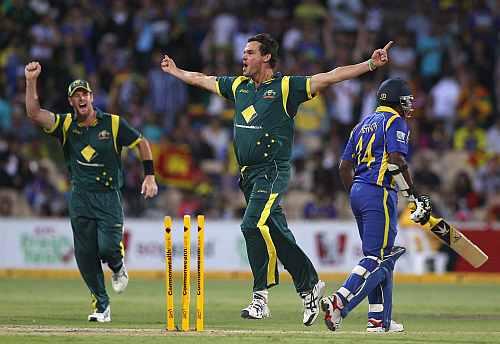 Images from the third final of the CB series between Australia and Sri Lanka at Adelaide.
March 07, 2012
Greg Chappell slams Indian culture and cricket team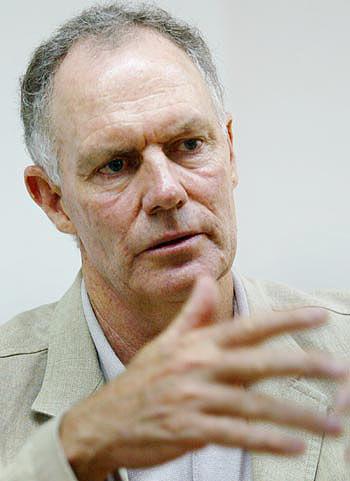 In a vicious attack on Indian culture and its cricket team of which he was the coach, Greg Chappell has said that the side lacks leaders because parents, school teachers and coaches made all the decisions in the Indian system.
SL look to seal series as Australia battle injuries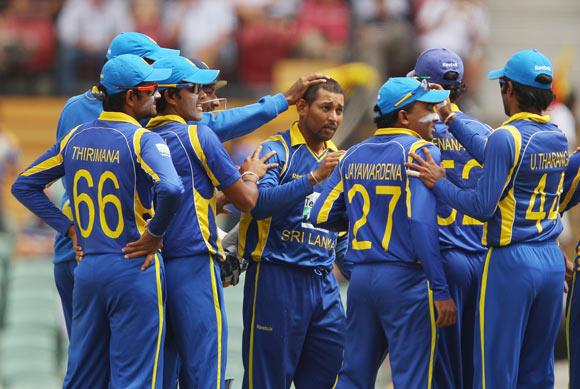 A rejuvinated Sri Lanka will look to exploit the injury problems and bowling woes of Australia when the two teams clash for the title in the third and last final of the cricket tri-series to be played in Adelaide on Thursday.
Can Harbhajan Singh make a comeback?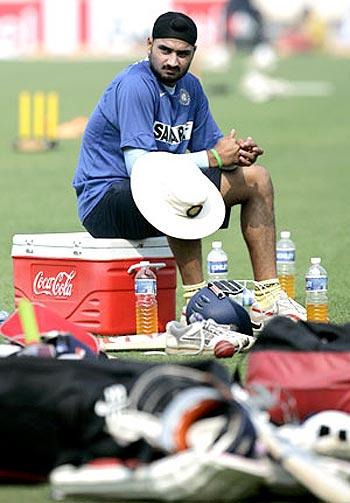 How long can you hold on to your place in the national team based on past performances?
March 06, 2012
Key is to compete well at all times: Jayawardene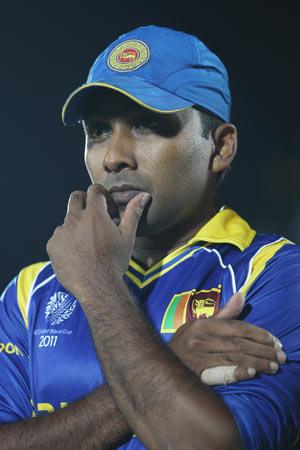 After registering a comprehensive win over Australia in the second final of the tri-series, Sri Lankan captain Mahela Jayawardene on Tuesday said that the key to his team's success against a tough opponent is to "compete well at all times".
Poor bowling and fielding let us down: Clarke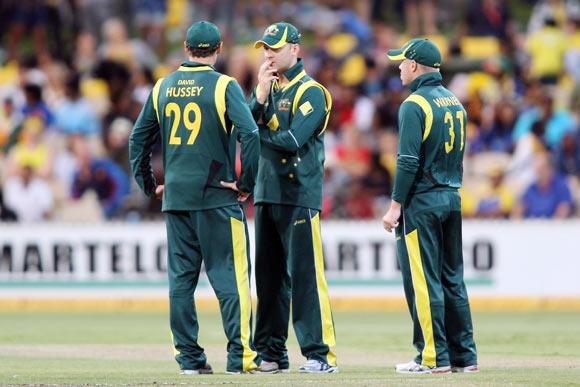 Australian skipper Michael Clarke on Tuesday blamed his bowlers and fielders for their eight-wicket loss to Sri Lanka in the second final of the triangular series at the Adelaide Oval.
PHOTOS: Dilshan, Jayawardene help Sri Lanka draw level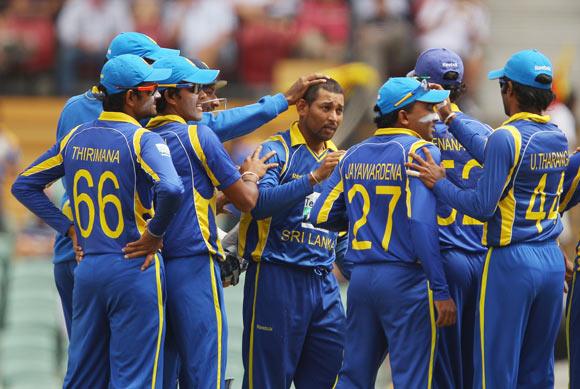 Sri Lanka thrashed Australia by eight wickets at the Adelaide Oval on Tuesday to level the best-of-three tri-series finals 1-1. The third final will be played at the same venue on Thursday.
Harbhajan eyes comeback at the earliest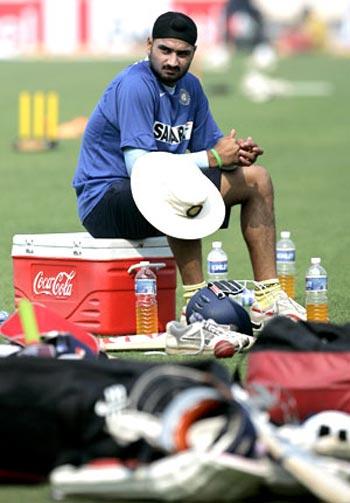 The sting in a "totally fit" Harbhajan Singh's bowling is on its way back and the out-of-favour off-spinner is eying a comeback into the Indian cricket team at the earliest.
March 05, 2012
Kohli has to first establish himself, says Dravid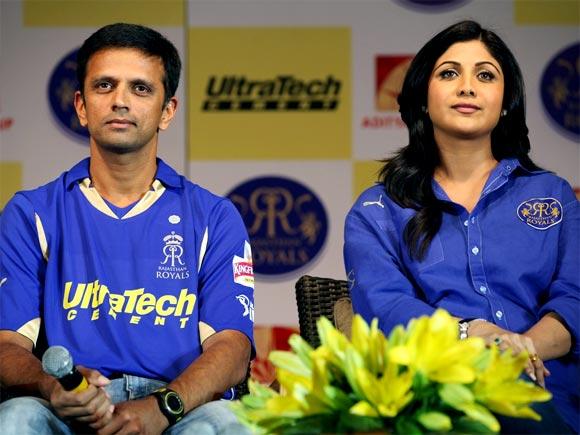 Former captain Rahul Dravid says Virat Kohli's elevation as vice-captain of the Indian team for the Asia Cup is a great step for the future, but the youngster has a long way to go before he establishes himself in the squad.
Team India Report Card: Kohli 10/10; Sehwag 2/10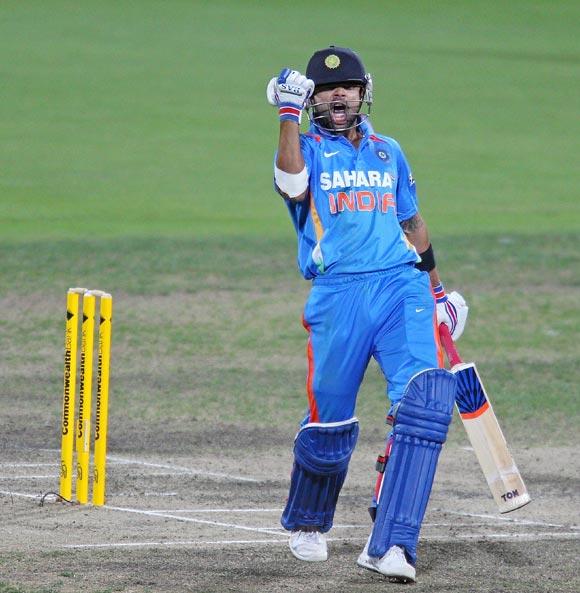 An assessment of the Indian players' performance in the CB tri-series, involving Sri Lanka and Australia.
CB Series catastrophe: Blame it on these big guns!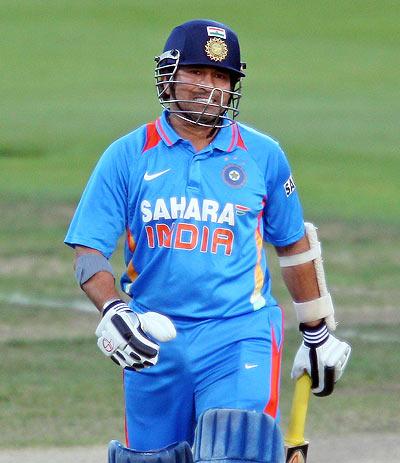 singles out at a few players whose performance, rather lack of it, cost India the title.
What went wrong with Team India Down Under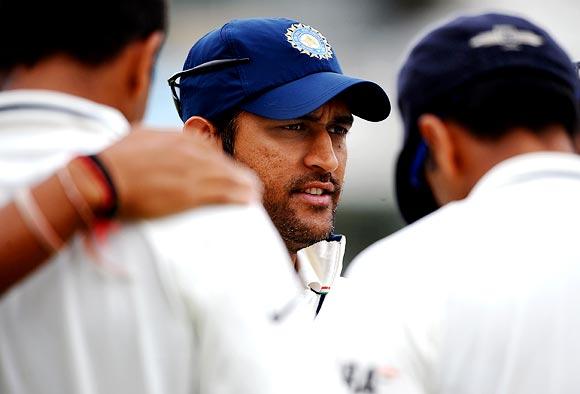 While we wait with bated breath for the upcoming Asia Cup, dissects the disastrous tour.
BCCI must get serious about domestic cricket: Vengsarkar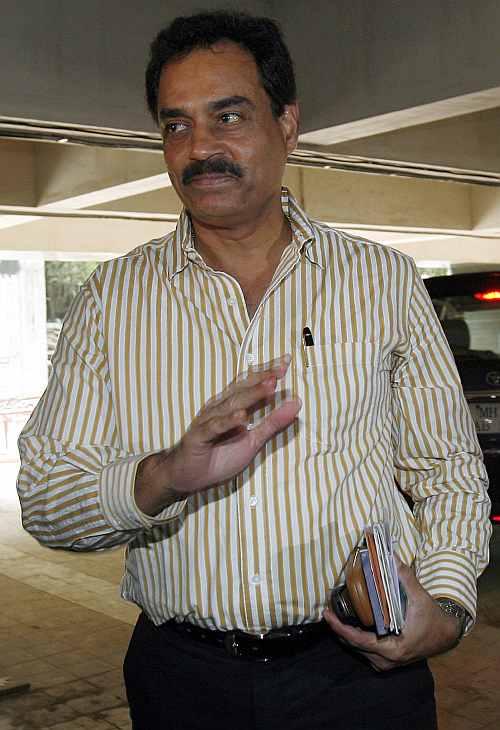 Under-performers Rohit Sharma and Suresh Raina need to tighten up their batting considerably, the former his shot selection and the latter playing the short balls with more conviction, says former India skipper Dilip Vengsarkar.
March 04, 2012
Jayawardene backs wayward Malinga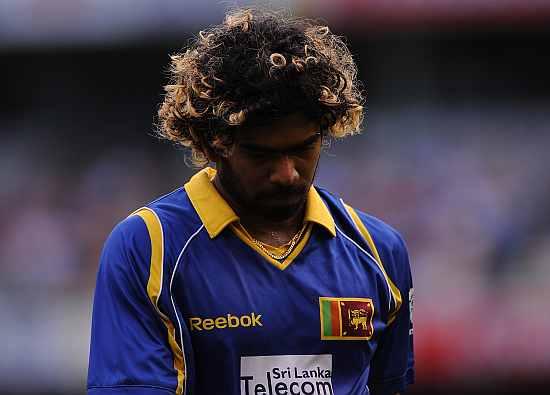 Lasith Malinga has been taken to the cleaners for the second time in three games, but skipper Mahela Jayawardene backed the express bowler after his eight overs cost Sri Lanka 74 runs in the first final of the tri-series in Brisbane.
Clarke all praise for Lanka's fighting skills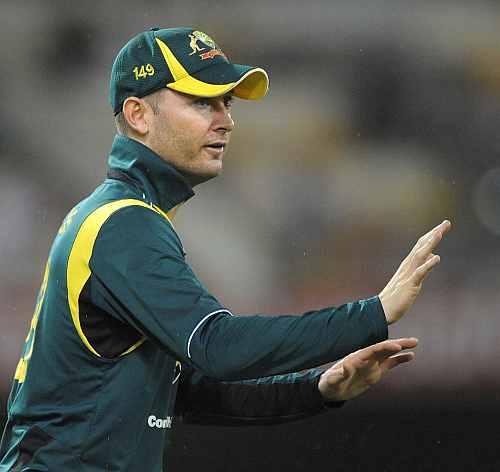 Australian skipper Michael Clarke could not stop himself from praising the Sri Lankan side which gave them a scare before the hosts won the high-scoring first final of the tri-series by 15 runs in Brisbane.
PHOTOS: Warner ton drives Aussies to victory over SL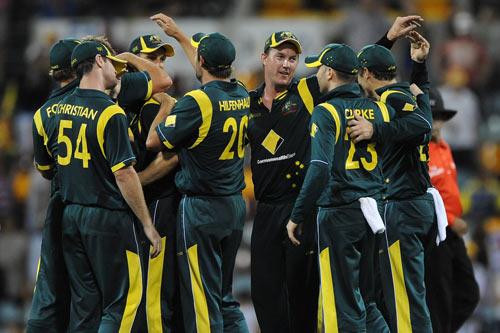 Images from the CB series final between Australia and Sri Lanka being played in Brisbane
March 03, 2012
Spirited Lankans look to get better of Aussies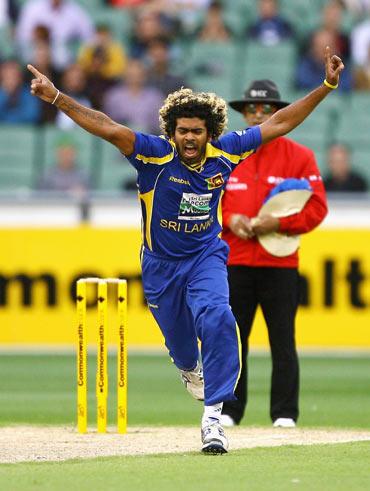 A woeful India out of the equation, Australia and Sri Lanka will battle it out in best-of-three finals with the spirited islanders well-equipped to upstage the hosts in the summit clashes starting on Sunday.
O'brien reminiscences life changing innings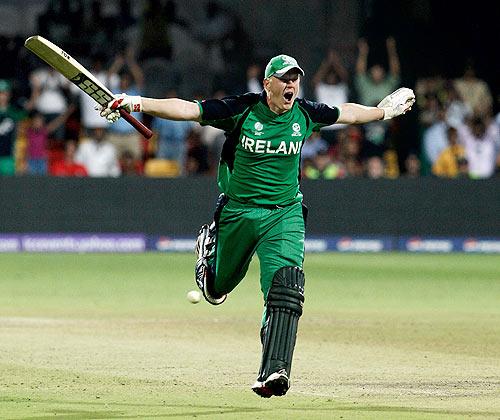 One year on from scoring the fastest hundred ever in the cricket World Cup, Ireland batsman Kevin O'Brien has yet to watch the innings in its entirety.
Curtains down for Team India, heads home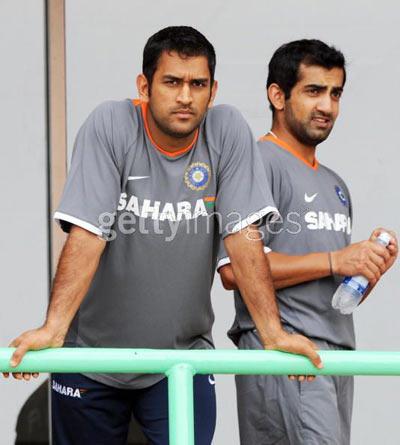 The vanquished Indian cricket team, barring a couple of players, traced its way back to home on Saturday, drawing curtains on a disastrous Australian tour during which it lost more than it gained.
Sri Lanka win ends India's nightmare tour Down Under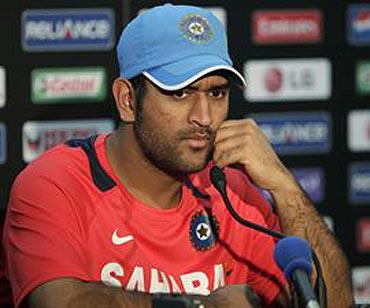 India's worst tour of Australia in the last 45 years ended on Friday when their faint hopes of qualifying for the tri-series finals were dashed with Sri Lanka pulling off a nail-biting nine-run victory over Australia in the last league in Melbourne.
'Hard to understand the psyche of Indian team'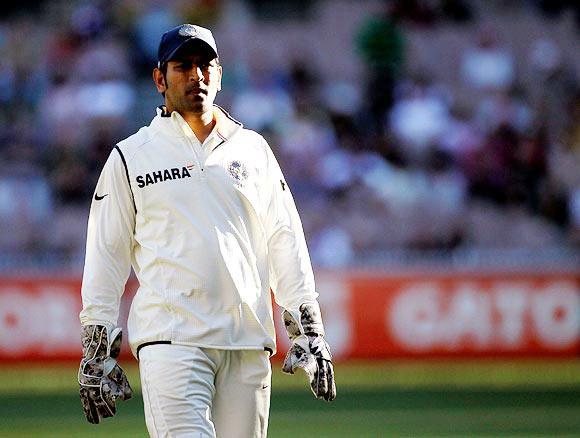 Former captain Sunil Gavaskar came down heavily on the Indian cricket team after the conclusion of its disastrous tour Down Under, saying it was hard to understand the "psyche" of Mahendra Singh Dhoni's men.
March 02, 2012
Jayawardene credits team for showing character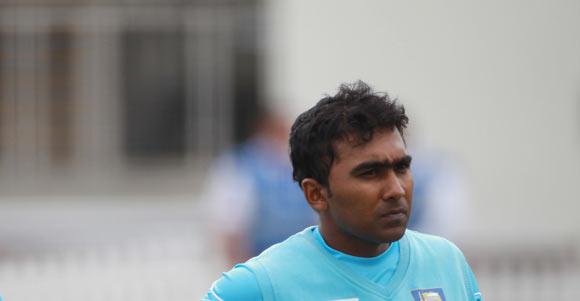 After Sri Lanka defeated Australia in a must-win match to qualify for the tri-series final, captain Mahela Jayawardene said his players showed a "lot of character" to lift themselves up after the morale-shattering loss against India in their penultimate round-robin game.
PHOTOS: Hussey's effort goes in vain as Lanka reach final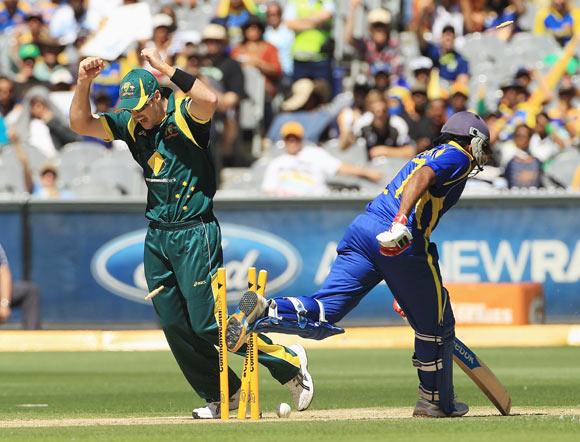 Sri Lanka's nail-biting nine-run victory over Australia in the crucial last league match of the ODI tri-series in Melbourne on Friday meant India bowed out of the tournament.
Seniors will not be happy with Kohli's elevation: Akram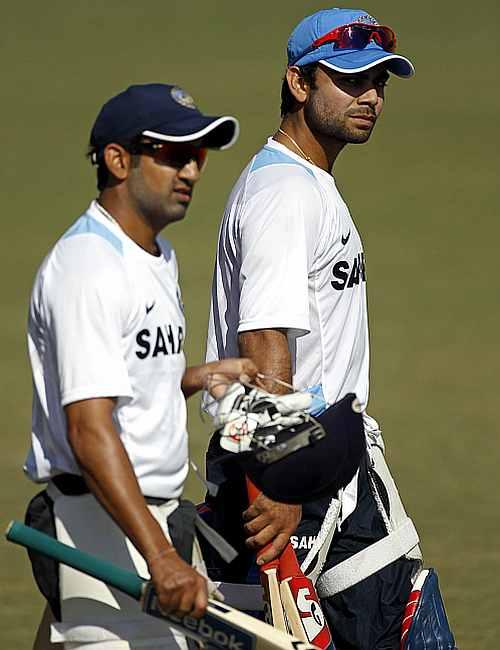 Former Pakistan skipper Wasim Akram feels the appointment of Virat Kohli as India's vice-captain for the Asia Cup will "hurt" senior players such as Virender Sehwag and Gautam Gambhir.
Dhoni gets his way with BCCI backing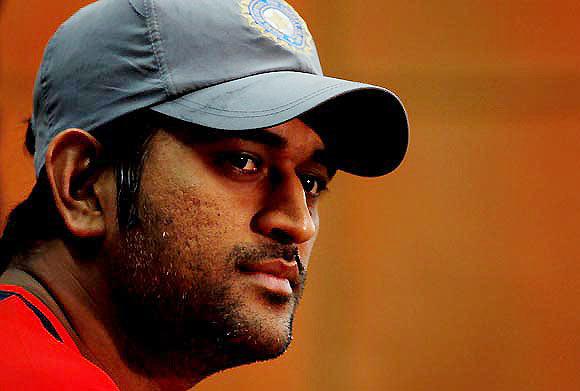 The selectors have wielded the axe on Virender Sehwag and Gautam Gambhir has made way for Virat Kohli in the vice-captain's seat but there has been no talk, no reaction over these changes made within the team.
March 01, 2012
It's good not to need someone else's favours: Jayawardene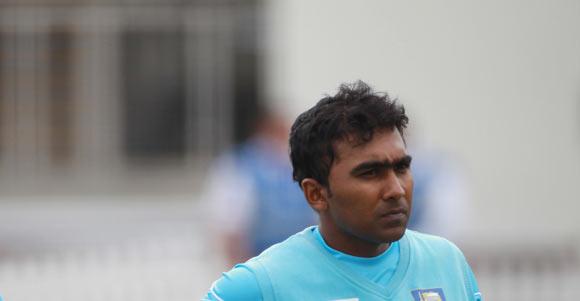 His team's prospects of reaching the tri-series final have been dented after the massive loss to India but Sri Lankan captain Mahela Jayawardene on Thursday said he is glad that at least the islanders' fortunes are still in their own hands unlike their sub-continental neighbours.
Team India skips practice, wait for SL-Aus outcome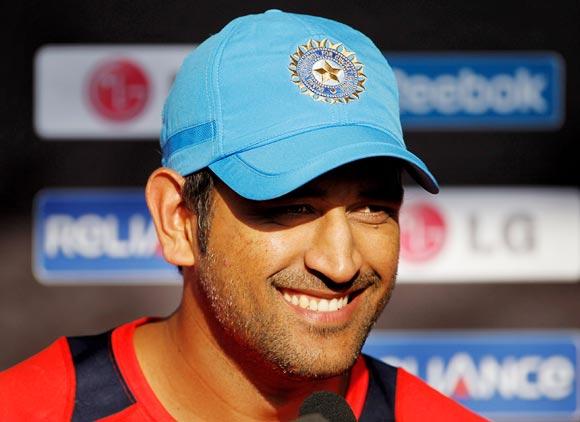 Their fate not in their hands, India have put practice on hold depending on how the Australia-Sri Lanka match of the ongoing CB tri-series pans out in Melbourne, on Friday.
Sri Lanka take on Australia in a must-win tie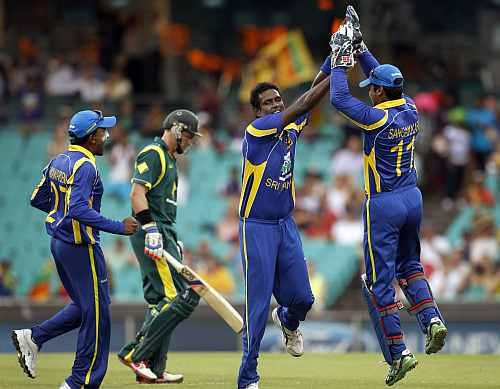 Indian cricketers would be praying for an Australian victory when the hosts take on Sri Lanka in the last but the most crucial league match of the ODI tri-series in Melbourne.
Mr Srikkanth, shut up and crack the whip!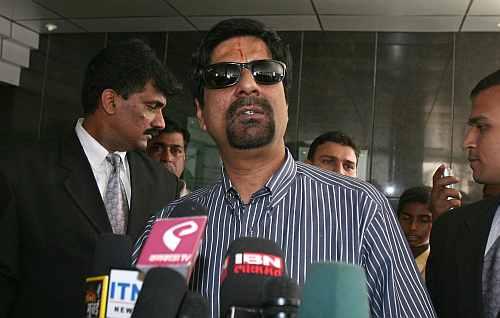 Did the selectors not have the guts to admit that Virender Sehwag was dropped because of a poor showing in Australia?, asks .
Archives
February 2012
|
January 2012
|
September - December 2011
|
July 2011
|
May 2011
|
March 2011
|
January 2011
|
November 2010
|
September 2010
|
July 2010
|
May 2010
|
April 2010
|
March 2010
|
February 2010