January 31, 2012
Sehwag doesn't qualify as skipper: Akram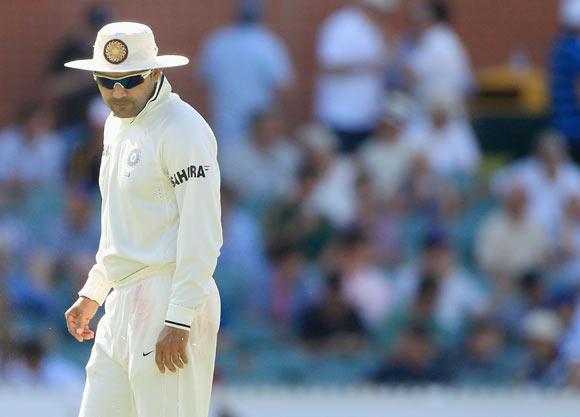 Under-fire Indian cricket captain Mahendra Singh Dhoni got much-needed support from former Pakistan skipper Wasim Akram who said the "hullabaloo" about his leadership is "ill-timed" as speculated replacement Virender Sehwag is not qualified for the job.
Lara superior than Tendulkar, Ponting: Chappell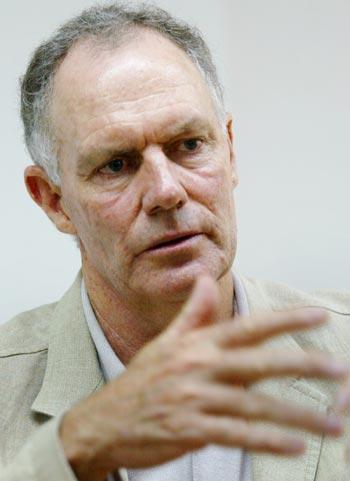 West Indian batting legend Brian Lara's knowledge of how to amass big scores at rapid rate without putting his wicket at risk makes him a "superior" batsman of his era than Sachin Tendulkar and Ricky Ponting, writes former Australian captain Ian Chappell.
Battered India hoping for turnaround in T20 opener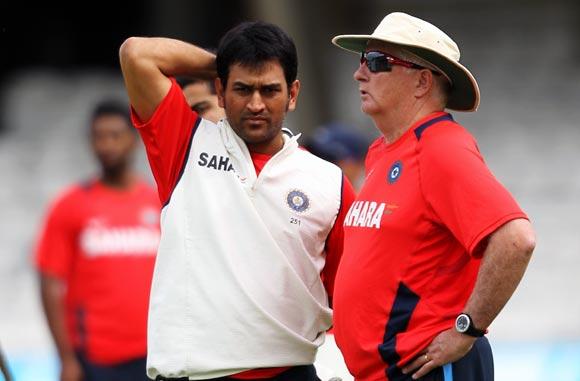 Their reputation bruised and battered after the humiliating loss in the Test series, India are desperate to turn their fortunes around and restore some pride in the limited-overs matches, which get underway with the first T20 against Australia in Sydney on Wednesday.
Dhoni open to being replaced as Test captain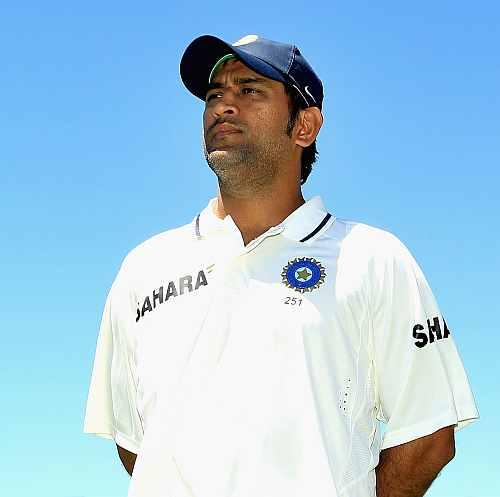 Facing severe criticism for his unimpressive captaincy and performances in Test cricket, under-fire Mahendra Singh Dhoni has offered to quit the leadership role in the longer format of the game if the Board of Control for Cricket in India feels there is a better replacement waiting in the wings.
ODI team will seek inspiration from 2008 triumph: Raina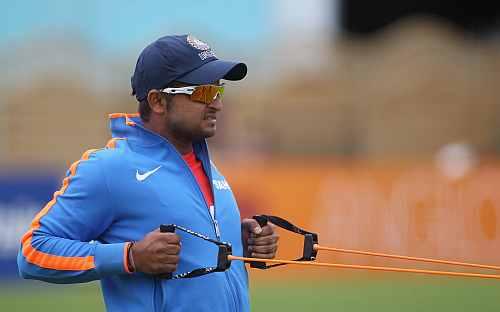 Suresh Raina tells Harish Kotian that India can take inspiration from their triumph in the tri-series in 2008, when they outclassed Australia 2-0 in the best-of-three finals.
Tendulkar should have retired after World Cup: Imran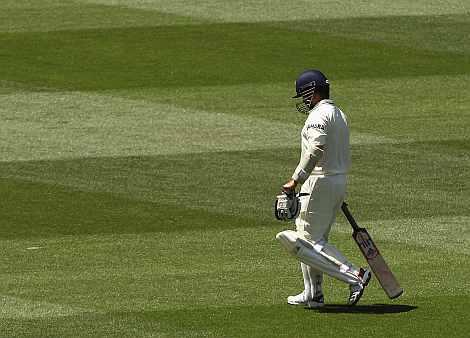 Former Pakistan captain Imran Khan feels that iconic batsman Sachin Tendulkar should have retired after the "ultimate high" of India wining the World Cup last year.
Oz debacle: 'Writing was on the wall, we chose not to see it'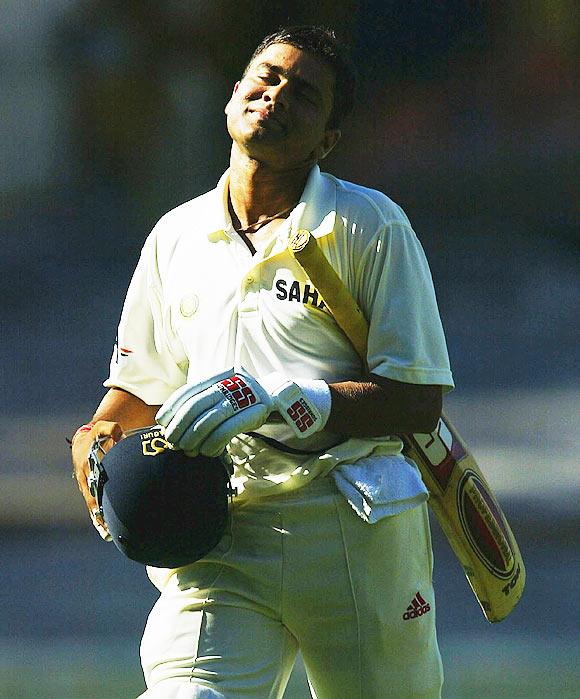 Aakash Chopra talks to Bikash Mohapatra about Rajasthan's Ranji Trophy triumph, the domestic format and India's dismal showing in the Test series Down Under.
January 30, 2012
Indians are going to come very strong at us: Arthur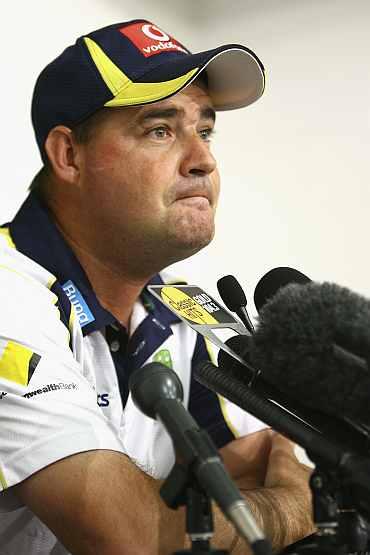 Hurting after being whitewashed in the Test series, India would be a "totally different" team in the upcoming Twenty20 internationals and the ODI tri-series, Australia coach Mickey Arthur said on Monday.
Rankings: Sachin, Dravid fall, Pak players make a mark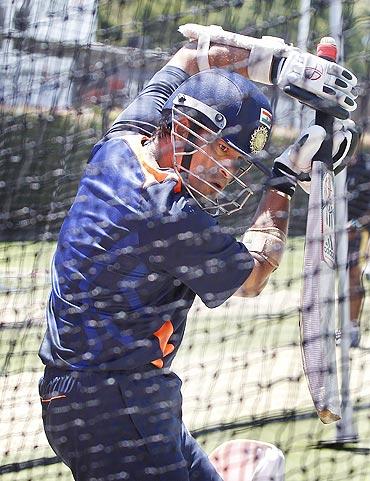 Veteran Sachin Tendulkar dropped out of the batting top-10 to the 13th spot, while pace spearhead Zaheer Khan slipped a spot to 10th in the bowling chart as India's misery in the Test series against Australia reflected in the latest ICC rankings issued on Sunday.
Spin can no longer win at home for India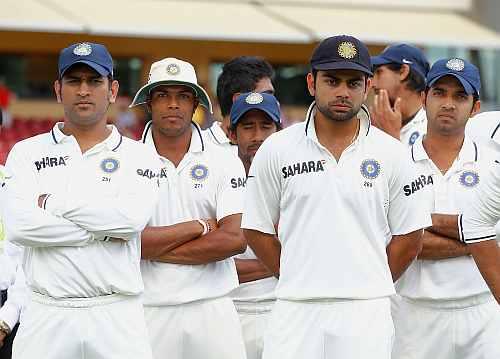 India must stop thinking it can make up for poor away performances by producing spin-friendly tracks, says .
Clarke credits 'intense preparation' to Test success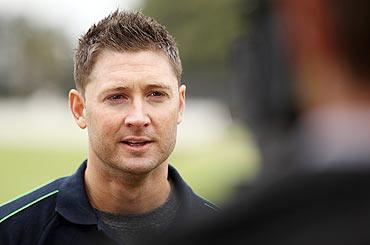 Australian cricket captain Michael Clarke feels a "team-first orientation of sustained pressure and sacrifice" led to his side's thumping triumph over India in the just-concluded Test series. Australia whitewashed India 4-0 with just one Test going the full distance of five days. Clarke said the performance was a result of intense preparations.
We'll play different cricket during ODIs: Raina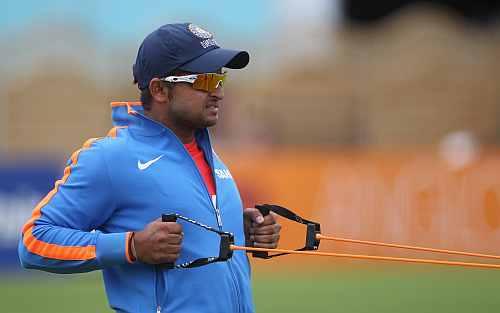 Unfazed by the Test debacle as he was not a part of the team, Indian middle-order batsman Suresh Raina said his side will play some "different cricket" to give a better account of itself in the shorter formats starting with a Twenty20 match against Australia on Wednesday.
Deconstructing the pace that demolished India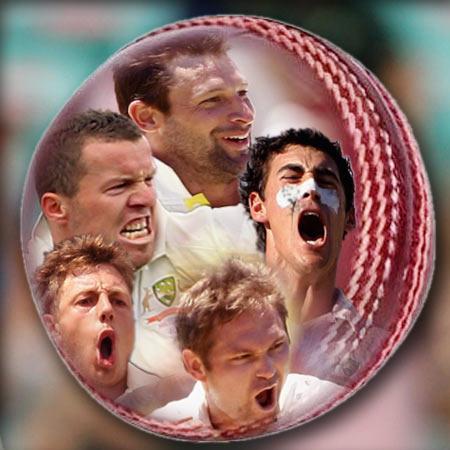 Bikash Mohapatra analyses the performances of the Australian pace brigade that completely exposed the chinks in the Indian batting.
Disaster Down Under: Team India's marksheet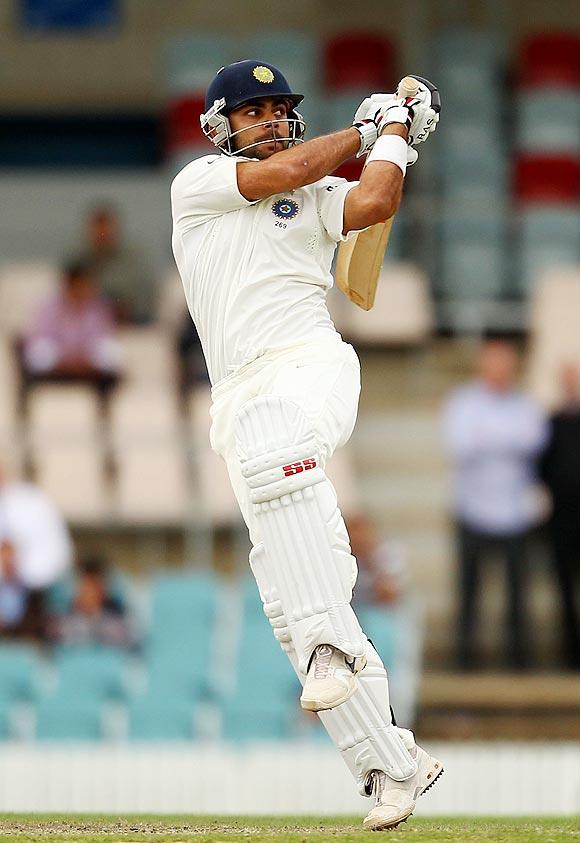 Batting and fielding averages from the recently concluded four-match Test series in Australia.
Serious pressure on Fletcher: Ganguly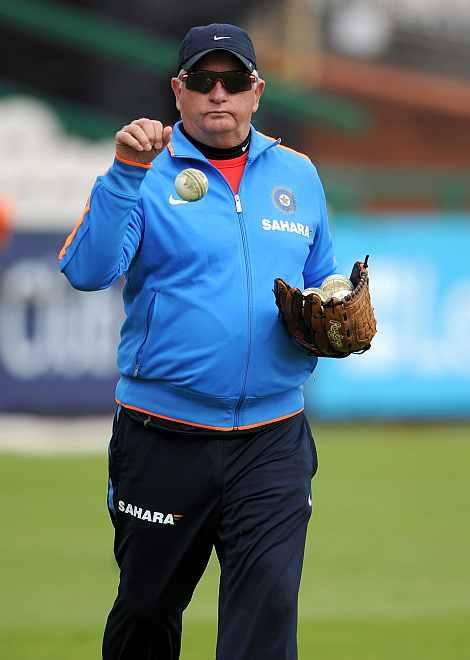 Former captain Sourav Ganguly feels India's humiliating 0-4 whitewash in the Test series against Australia has proved to be a 'nightmare' for Duncan Fletcher and his reputation as a coach is at stake.
January 29, 2012
Pakistani's relishing India's mauling by Australia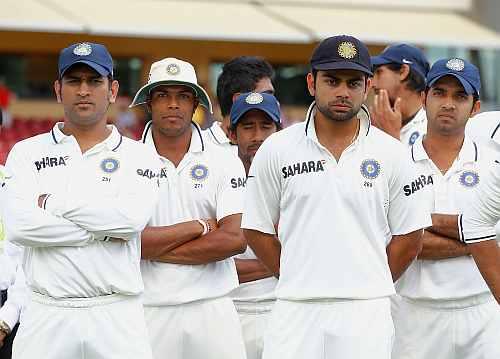 The media and fans in Pakistan are not just savouring their team's terrific series-win against World No. 1 England but they are also relishing the pounding India received at the hands of Australia Down Under.
Shastri lambasts Indian batters for poking at fifth stump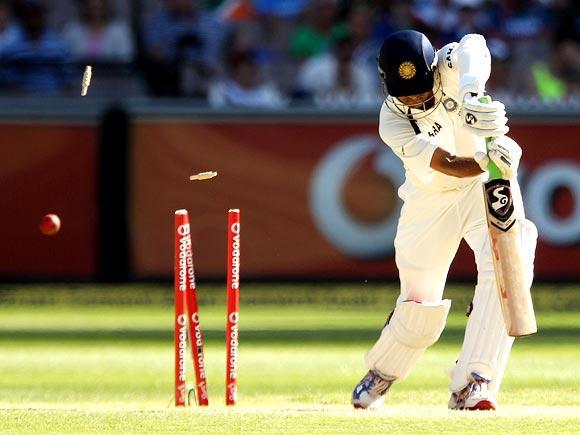 Former captain Ravi Shastri on Sunday, made scathing criticism of the star-studded Indian batting line-up for constantly playing away from the body outside the off-stump, which he said was responsible for their 4-0 whitewash in the just-concluded Test series.
I haven't made any decision on retirement: Dravid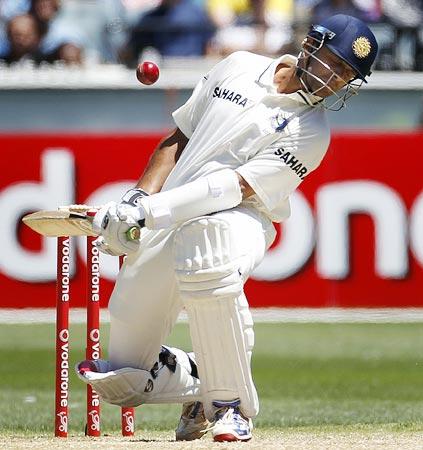 Embattled Rahul Dravid, on Saturday, made it clear that he has not taken any decision on retirement from international cricket but admitted that his glorious career was "definitely nearer the end than the beginning".
January 28, 2012
It happens to every team: Sehwag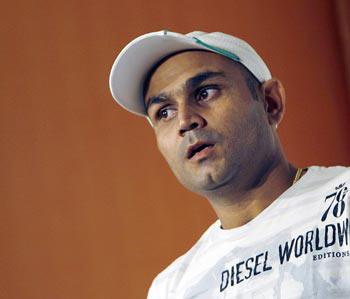 Facing intense criticism for failing to put up even a semblance of fight in the 0-4 Test series loss to Australia, stand-in Indian skipper Virender Sehwag on Saturday, tried to defend the team's performance, insisting that such debacles happen to every international side.
Team India report card: Kohli only standout batsman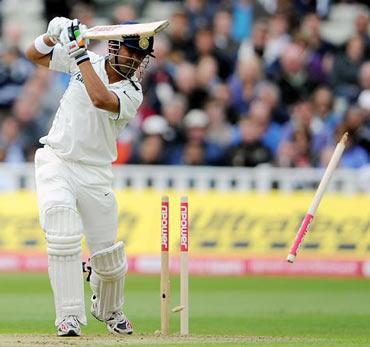 India succumbed to its second successive overseas series whitewash on Saturday and the bulk of the blame should go to its famed batting line, which failed miserably in what has turned out to be a disastrous Test series against Australia.
'Dravid, Laxman don't need suggestions on retirement'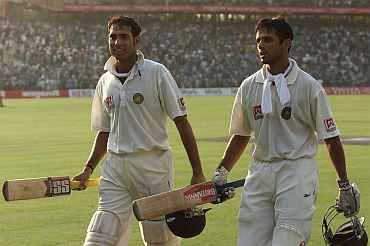 Livid with "hindsight critics" who are calling for Rahul Dravid and VVS Laxman's head after India's 0-4 Test hammering in Australia, former skipper Bishen Singh Bedi said the "once-in-a-generation players" deserved to be respected.
Bowling partnerships key to Australia's success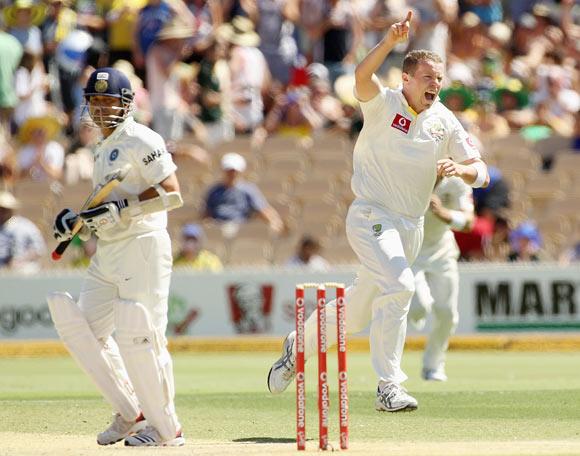 Australian bowlers hunted in a pack all throughout the Test series to demolish the famed Indian batting line up and pace spearhead Peter Siddle said the home team reaped rich dividends by sticking to its plan of "bowling in partnerships".
We've shown the world we are on our way up: Clarke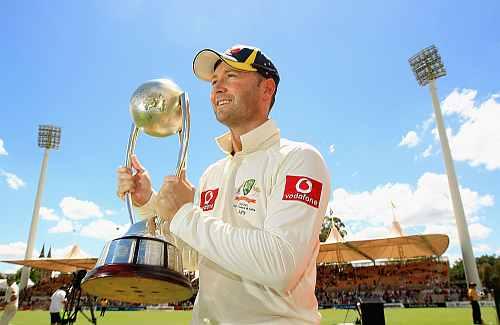 Australia captain Michael Clarke, while delighting in the 4-0 whitewash of India, re-emphasised on Saturday that the triumph was just a staging post to the goal of being the best Test team in the world.
No quick decision on seniors' future: Dhoni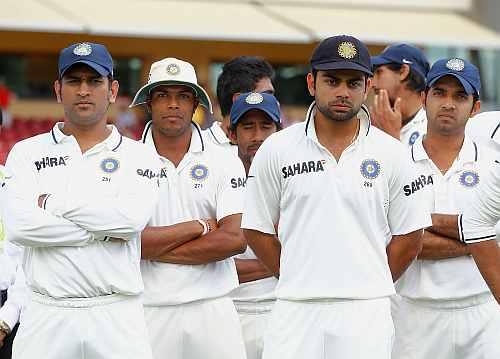 The flop show of India's senior batsmen in the Test series loss to Australia notwithstanding, skipper Mahendra Singh Dhoni refused to say anything on their future, insisting that decisions would not be taken in haste.
PHOTOS: Australia knock over India to complete Test rout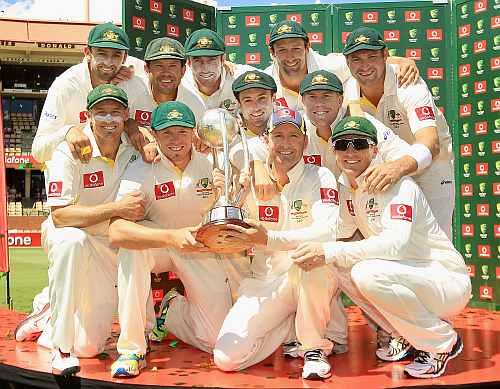 Images from the day 5 of the fifth and final Test between Australia and India at Adelaide.
'Kohli-Hilfenhaus exchange of words part of game'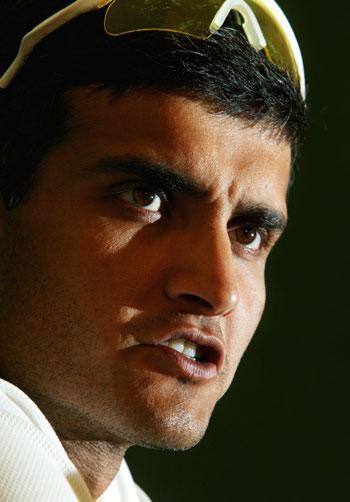 Former captain Sourav Ganguly feels that the on-field verbal exchange between Virat Kohli and Ben Hilfenhaus in the fourth and final Test between India and Australia is part and parcel of international cricket and signifies 'competitive spirit'.
January 27, 2012
Three or four players have played last Test: Gavaskar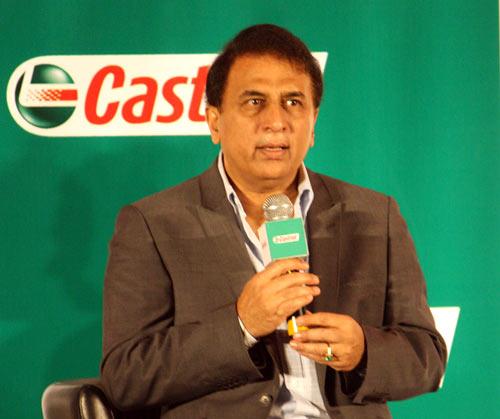 Former India captain Sunil Gavaskar says at least three senior cricketers may not be selected again for Tests after the disastrous Test series against Australia.
Having already got three, Lyon eyes a five-for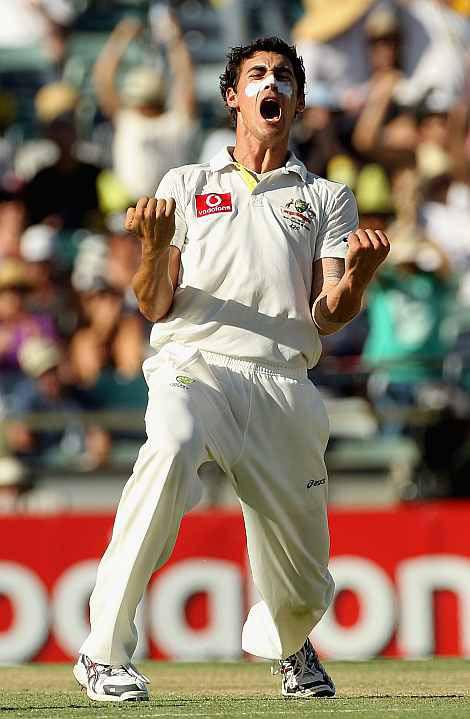 Off-spinner Nathan Lyon is aiming for a five-wicket haul against a demoralised India as the fourth and final Test at the Adelaide Oval heads into the fifth day.
'Change in colour of ball could change our luck'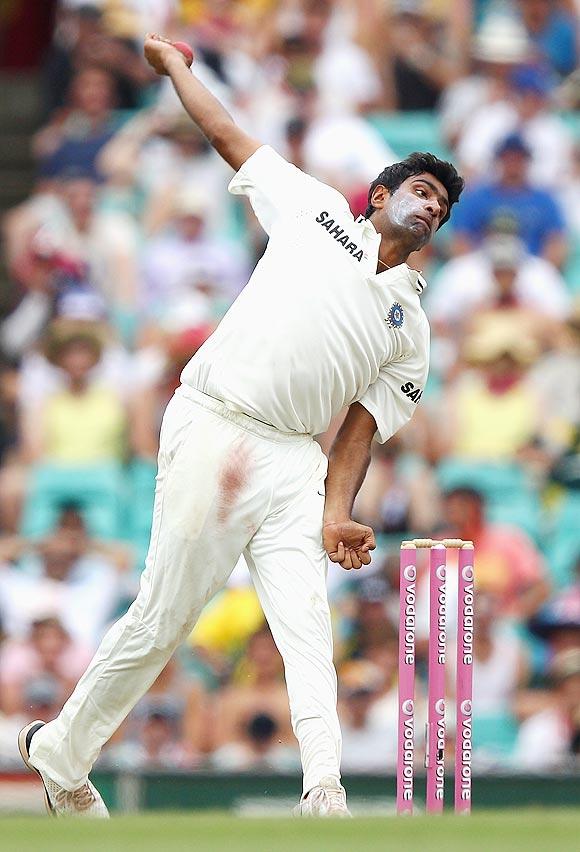 With India heading towards a second successive overseas 'whitewash', off-spinner Ravichandran Ashwin feels that upcoming tri-series could bring a "change in luck as the colour of the ball will change".
Ganguly baffled at Indian surrender in Adelaide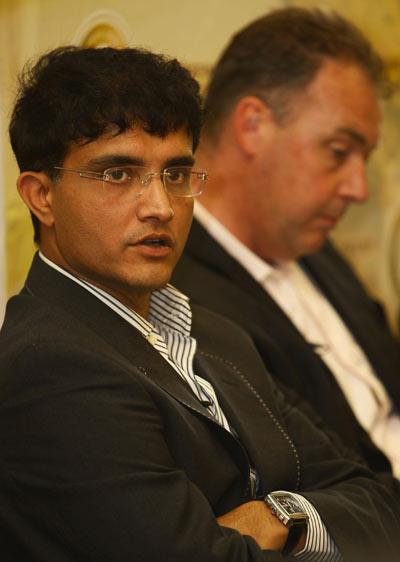 Former captain Sourav Ganguly was baffled at the abject surrender of the Indian batsmen at the batting surface at Adelaide Oval in the fourth and final Test, saying that even good pitches creates problems for batsmen low on confidence.
PHOTOS: India stare at another embarrassing whitewash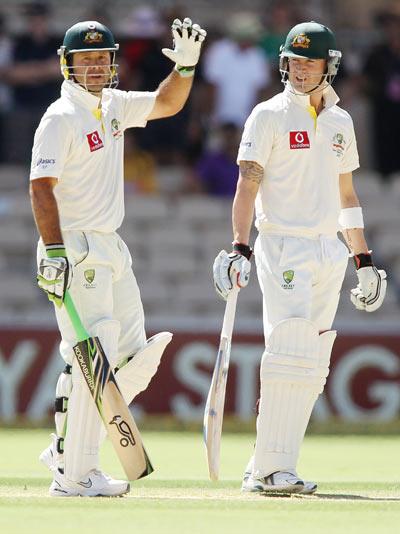 A fluent half century by Ricky Ponting as well as the positive approach of skipper Michael Clarke saw Australia extend their overall lead to 499, setting India a target of 500 to win the fourth and final Test in Adelaide.
Gavaskar slams Kohli for swearing at Aussies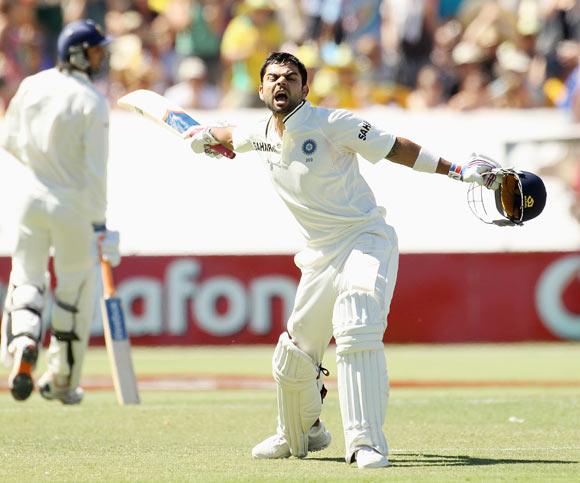 Former India captain Sunil Gavaskar disapproved of young batsman Virat Kohli swearing at the Australian players after scoring a century in the final cricket Test at Adelaide on Thursday, terming it as "school kid" temperament.
January 26, 2012
My goal has been patience and consistency: Siddle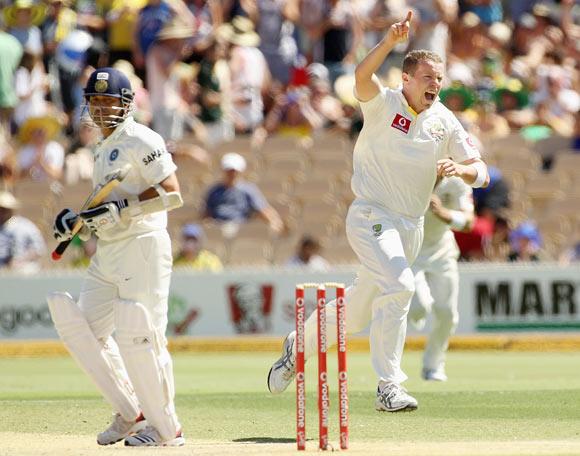 Australia's pace spearhead Peter Siddle is relieved to scalp a maiden five-wicket haul against India, saying the hard work he has put in this summer has finally paid off.
I am glad I gave it back to Hilfenhaus: Kohli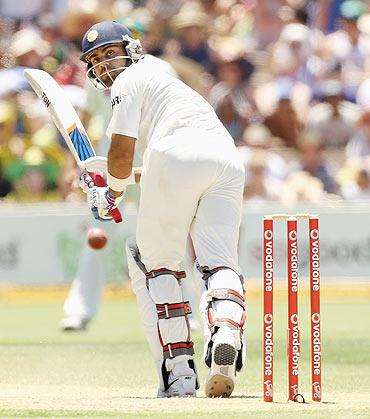 Centurion Virat Kohli lashed out at the Australian players for "constantly" indulging in sledging and the local fans Down Under for not treating the Indian cricketers with respect.
PHOTOS: Bowlers put Australia in command in Adelaide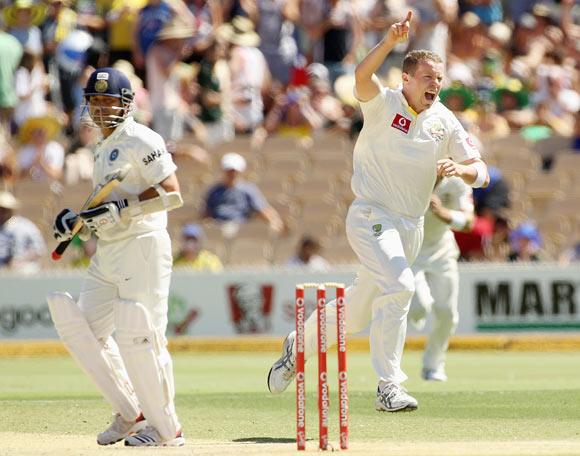 India were facing with a herculean task of preventing a 'whitewash' after conceding a huge first innings lead of 332 runs in the fourth and final Test in Adelaide on Thursday. India folded up for 272 in the first innings. Australia were 50 for three in the second innings enjoying an overall lead of 382 to further consolidate their poistion and push for a 4-0 rout.
Sehwag's hunger to succeed is on decline, says Ganguly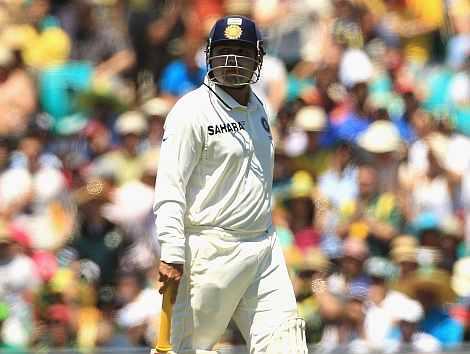 Former India captain Sourav Ganguly feels that Virender Sehwag's "hunger to succeed" and veteran Rahul Dravid's "fluency of footwork" is on the decline.
January 25, 2012
We won't be showing Tendulkar any sympathy: Clarke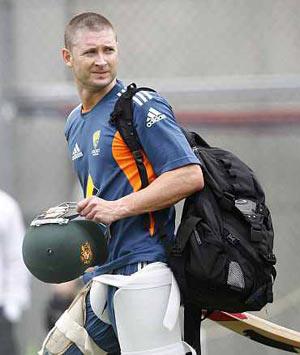 In his quest for a 4-0 whitewash, Australian skipper Michael Clarke said his team would not show any sympathy to Sachin Tendulkar, who remains unbeaten at the end of day two of the fourth Test in Adelaide and desperately seeks his 100th international century.
Don't think that I have been unlucky: Ishant Sharma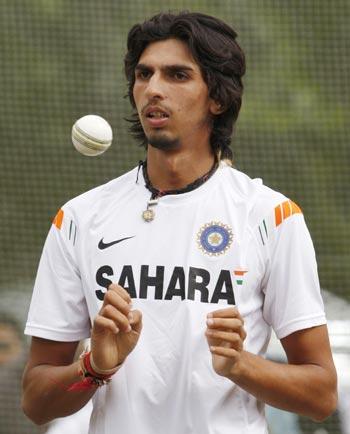 Ishant Sharma has been toiling hard for the past one month but does not have results to show for his on-field efforts during the tour of Australia.
PHOTOS: India jolted early in reply to huge Aus total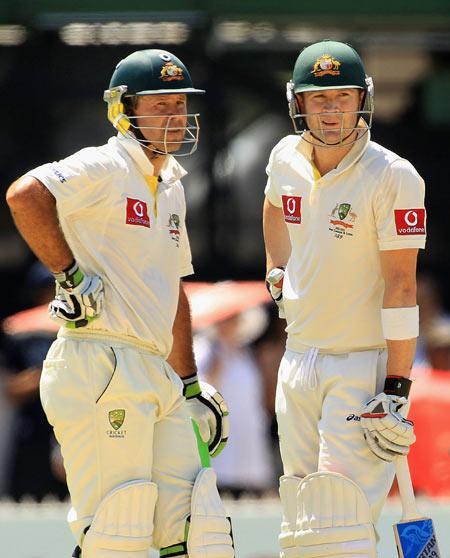 Captain Michael Clarke and Ricky Ponting ground the hapless Indian bowlers with a huge partnership to help Australia to a mammoth first innings total of 604-7 (declared) on the second morning of the fourth and final Test in Adelaide on Wednesday. India were at a shaky 61 for 2 in reply.
January 24, 2012
Sehwag erred in not playing Ojha: Ganguly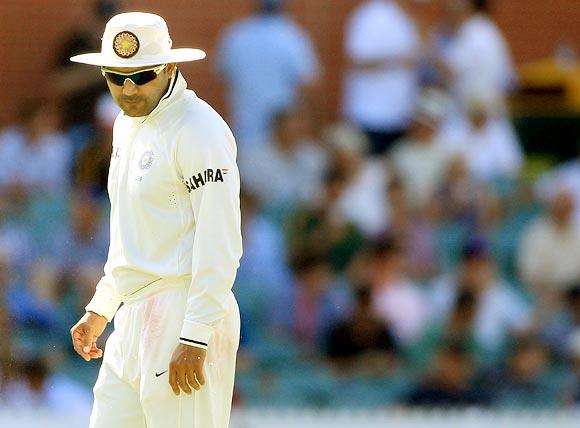 Former captain Sourav Ganguly feels the struggling visitors should have played two spinners in the ongoing fourth and final Test against Australia, as the conditions in Adelaide appear "closest to subcontinent".
Taking 20 wickets on this pitch will be tough: Ponting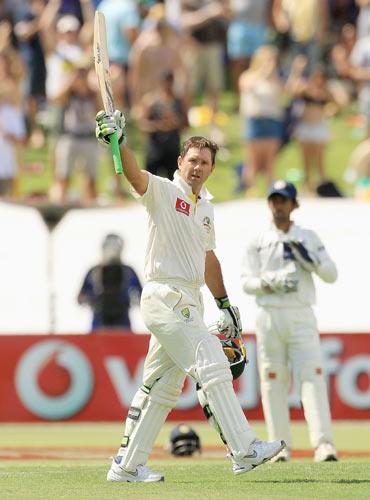 Centurion Ricky Ponting does not want Australia to "kill too much time" in their pursuit of putting up a huge first-innings total, for taking 20 wickets could be hard work on a benign pitch at the Adelaide Oval.
Nobody is embarrassed in dressing room, says Ashwin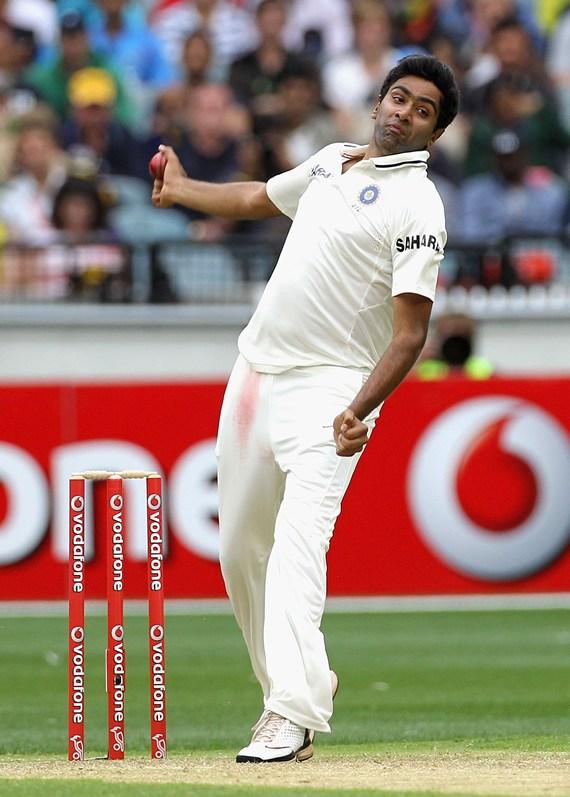 India are not embarrassed by their showing on the tour of Australia despite being soundly beaten in the first three Tests and taking another hammering on the first day of the fourth, bowler Ravi Ashwin said on Tuesday.
PHOTOS: Ponting, Clarke tons grind India to dust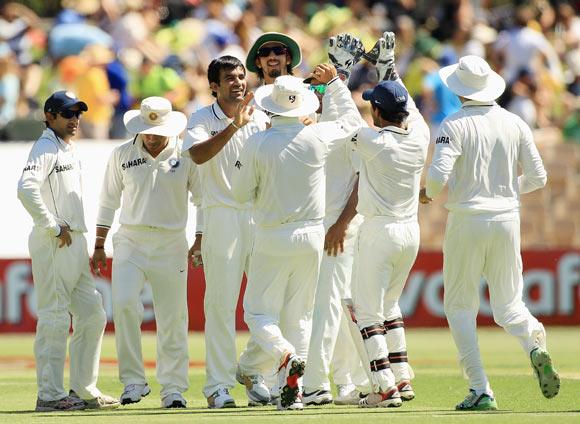 Ricky Ponting (137) Michael and Clarke (140), both of whom tormented India in the second Test in Sydney with centuries, joined hands once again for an unbroken 251-run fourth wicket stand which took the hosts to a comfortable 335 for three after a shaky start on the opening day of the fourth and final Test in Adelaide.
IPL: Laxman may not get a team in auctions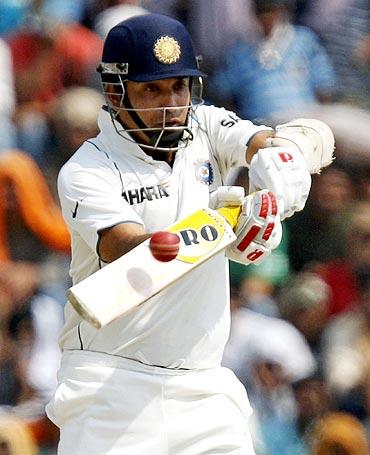 Already under severe pressure to retain his place in the Test squad, VVS Laxman's IPL career may just come to a halt as none of the nine franchises are keen on roping in the senior batsman as a full-time player.
January 23, 2012
Akram wants Sehwag to change attitude, motivate the team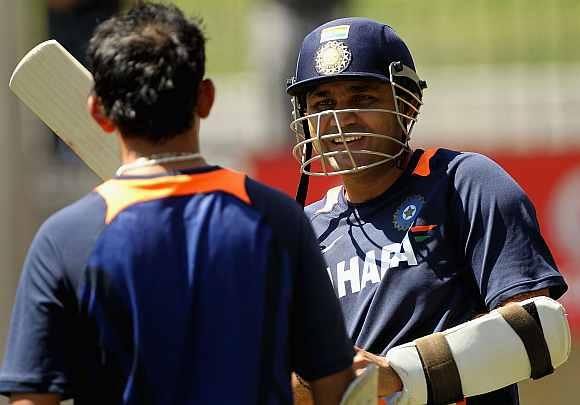 Former Pakistan skipper Wasim Akram feels stand-in captain Virender Sehwag has looked "nonchalant" so far and needs to change his attitude to motivate the demoralised Indian Team in the fourth and final Test against Australian starting on Tuesday.
Adelaide Oval offers hope for India to salvage pride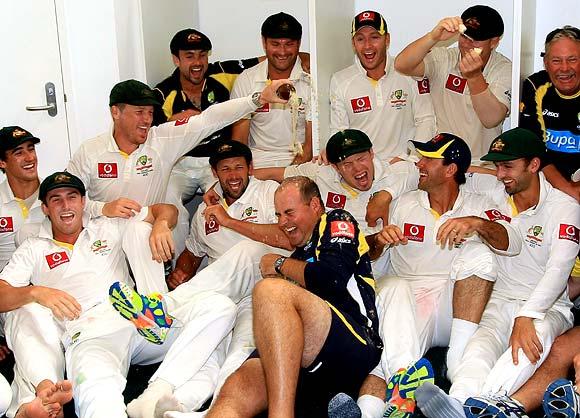 As India and Australia head into the final Test at Adelaide, the visitors can take hope from previous performances at the venue to salvage lost pride, writes Norma Godinho.
We've utmost respect for India's batting veterans: Clarke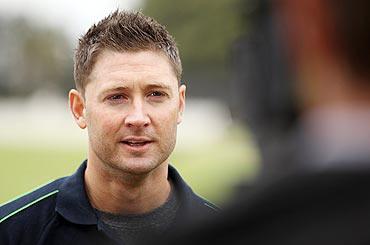 It is perhaps the last time that India's batting trinity of Sachin Tendulkar, Rahul Dravid and VVS Laxman will play a Test in Australia and host captain Michael Clarke paid tribute to the veterans, saying they should get the respect they deserve.
'Australian bowlers are playing with our patience'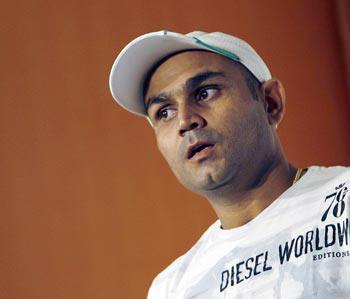 He has a reputation of treating opposition bowlers with disdain but India's stand-in skipper and dashing opener Virender Sehwag on Monday said the current Australian attack is the best he has faced as it has tested his patience like none before.
India seek to avoid whitewash, Oz aim to complete rout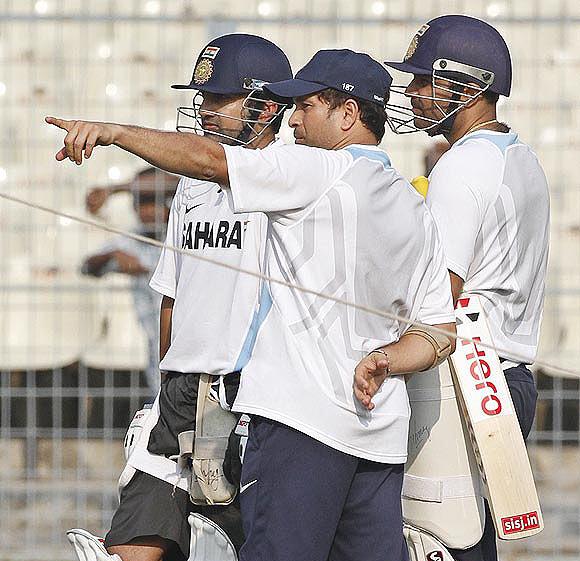 The series is lost and their reputation is in tatters but India will make a desperate bid to avoid a whitewash when they take on Australia in the fourth and final Test in Adelaide on Tuesday, hoping to redeem some of the lost pride.
At 40, Hogg makes a comeback to Aussie T20 squad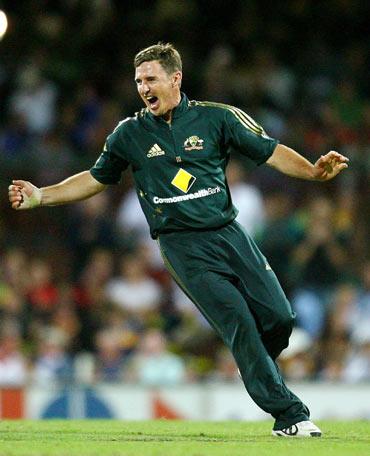 Almost four years after he announced international retirement, 40-year-old left-arm spinner Brad Hogg on Monday stunningly returned to the Australian team by getting picked in the 14-member Twenty20 squad for the two matches against India next month.
'Conditions at Adelaide suit India more'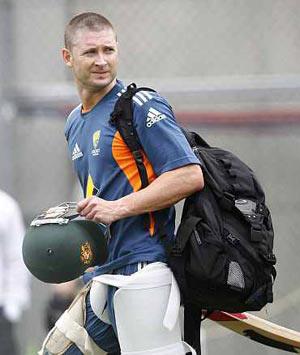 Australia are aiming for a whitewash but that is easier said than done as skipper Michael Clarke on Monday conceded the conditions at Adelaide Oval are more of India's liking even though he expects reverse swing to play a crucial role during the fourth and final Test starting on Tuesday.
Will Sehwag save India with another special in Adelaide?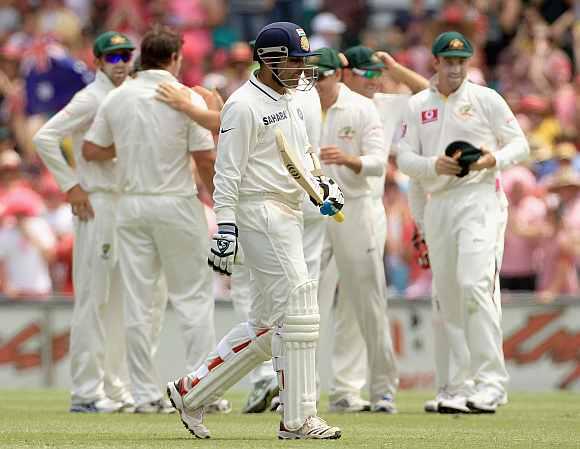 Virender Sehwag doesn't need to look anywhere for inspiration when he leads India in the fourth Test against Australia. His persevering innings the last time he played at the Adelaide Oval, says Bikash Mohapatra, is enough to give his batting the fillip it desperately needs.
January 22, 2012
Anything less than 4-0 will be disappointing: Clarke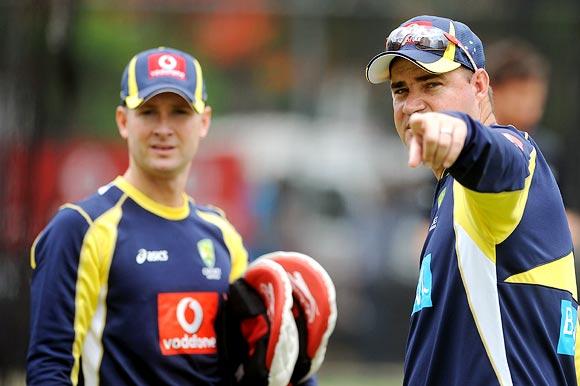 Australia have an unassailable lead in hand but skipper Michael Clarke says he wouldn't be satisfied with anything less than a 4-0 whitewash of India in the ongoing cricket Test series.
Tendulkar is a 'cricket god': Hussey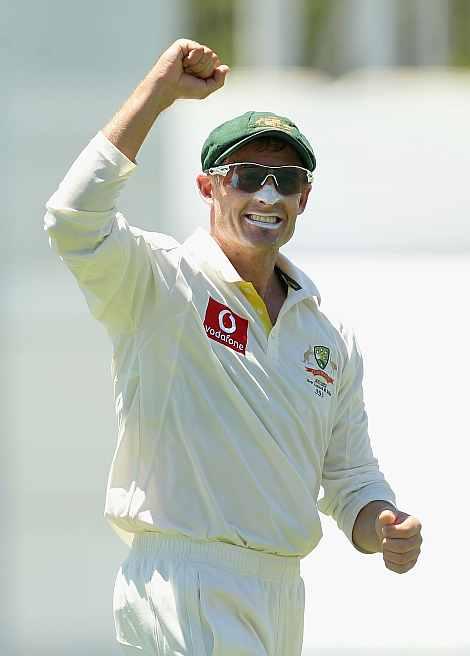 The Indian cricket team is drawing criticism for what is being described as lack of intensity in training but it found unlikely support in Australian batsman Mike Hussey, who said the visitors are experienced enough to do well without long net sessions.
There is no lack of motivation: Gambhir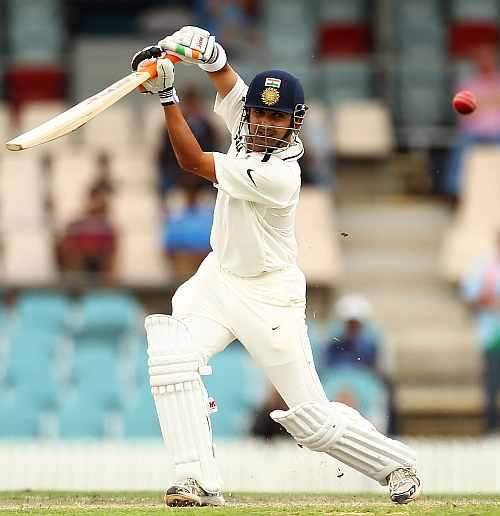 The series is out of grasp but Indian opener Gautam Gambhir said the debacle has not affected his team's motivation and it is focussed on winning the fourth and final Test to avoid a whitewash against Australia.
January 21, 2012
Tendulkar should take inspiration from previous Aus tours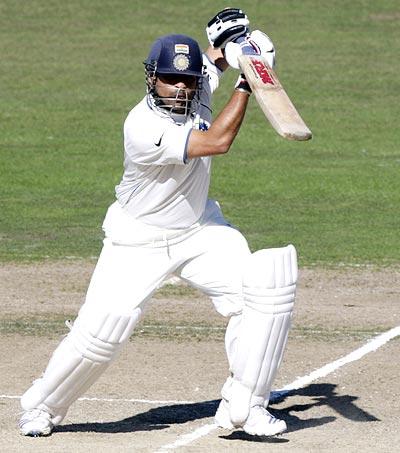 In his quest for a 100th international century, Sachin Tendulkar has often lost his wicket to defensive batting but the Indian icon is expected to be in top gear in the fourth and final Test against Australia starting in Australia on Tuesday.
Will look to get Tendulkar out: Lyon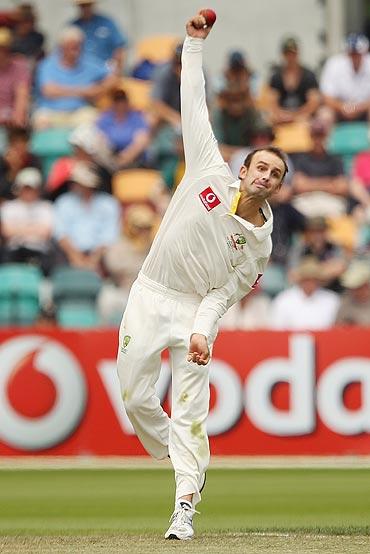 Eager to make an impression on home turf and cement his place as Australia's front-line spinner, offie Nathan Lyon has said he would look to get the prized scalp of the iconic Sachin Tendulkar in the fourth and final cricket Test starting in Adelaide on Tuesday.
Sehwag's woeful away form costing India dear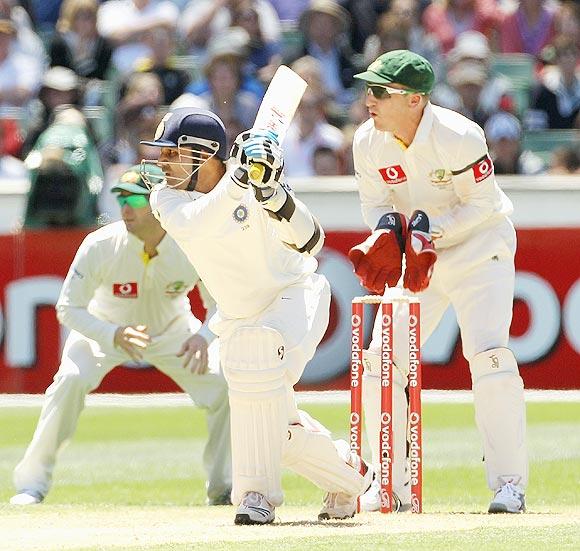 A couple of scores in single digits in the upcoming fourth Test in Adelaide and Virender Sehwag's average, for the first time in 26 months and 25 Tests, could fall below 50 per innings.
I feel ashamed by India's performance: Kapil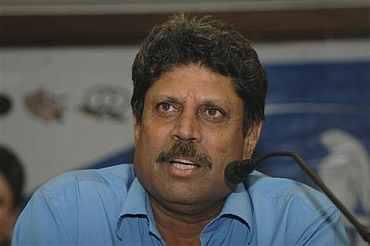 Stating that he felt "ashamed" by the Indian cricket team's dismal performance against Australia in the ongoing Test series, former India captain Kapil Dev said every aspect of the game has gone wrong for the Indians.
Calm Wriddhiman Saha feels no pressure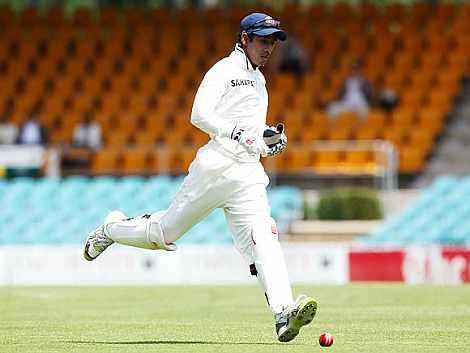 Unfazed by the sudden spotlight on him, India's reserve wicketkeeper Wriddhiman Saha said he is not intimidated by the prospect of having to fill in for Mahendra Singh Dhoni behind the stumps in the fourth and final Test against Australia starting in Adelaide on January 24.
January 20, 2012
Tendulkar, Zaheer slip in Test rankings; Pakistanis rise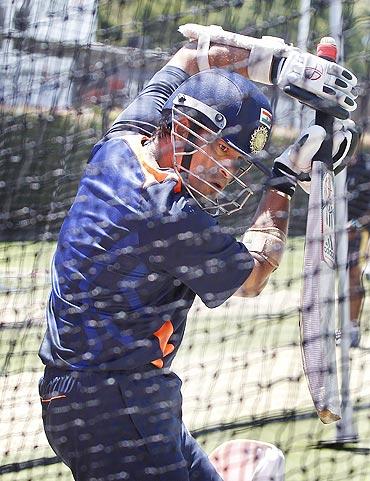 Sachin Tendulkar remained static at ninth in the batting list, while Zaheer Khan fell a rung, to occupy the ninth position in the bowling charts in the latest ICC Test rankings released on Friday.
'4-0 would be absolute drubbing of world's second best team'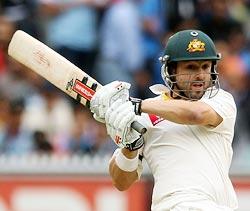 Its result would be inconsequential to the final scoreline but Australian opener Ed Cowan said his team is motivated to win the fourth Test against India in Adelaide as the hosts want to hand out an "absolute drubbing to the second best side in the world."
I think the batting department will click: Raina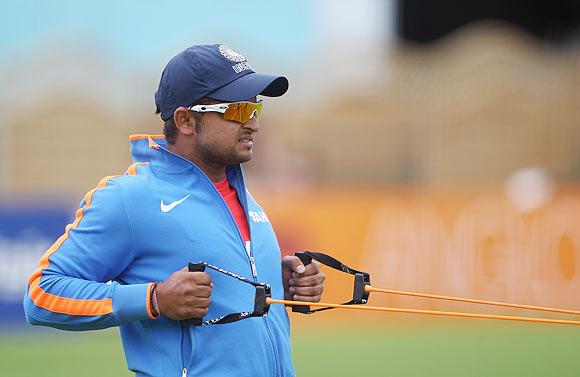 A good performance in the inconsequential fourth and final Test against Australia at the Adelaide Oval will be a shot in the arm for the demoralized Indian team ahead of the triangular One-day series to be held next month, said middle-order batsman Suresh Raina on Thursday.
Oz youngsters have shown genuine enthusiasm: Nielsen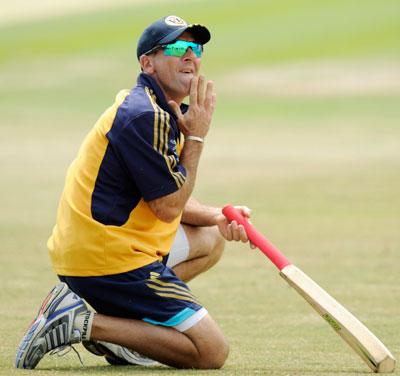 Impressed by Australian team's resurgence post the Ashes humiliation last year, former national coach Tim Nielsen says the side could regain the top spot in world cricket within 12 months.
India can still beat any side in the world: Srinivasan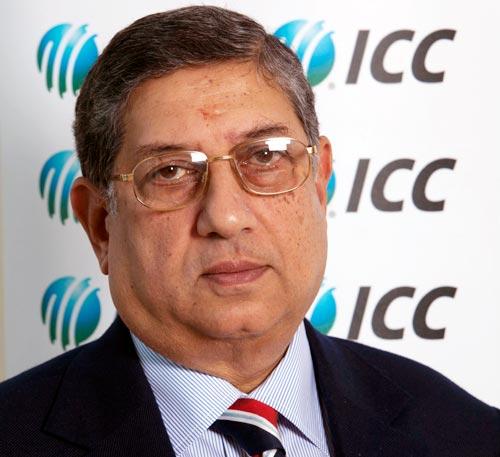 Reposing full faith in the beleaguered Indian cricket team, BCCI chief N Srinivasan has said the side can still beat any top team in the worldand needs a little bit if luck to turn it around in Australia.
Advertisers keep faith with struggling Indian stars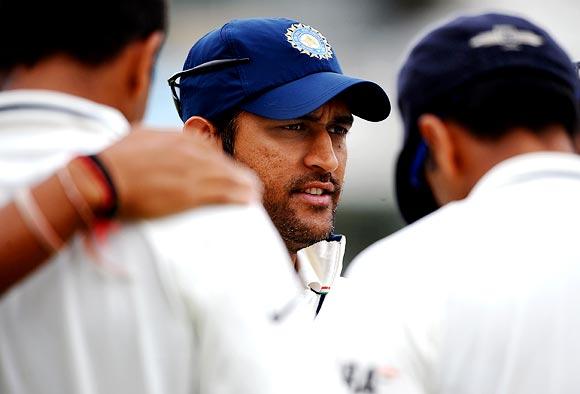 The India Test side's continued freefall in Australiahas infuriated the media and angered fans back home but advertisers and broadcasters are refusing to give up on cricket, given a lack of alternatives and the fickleness of local supporters.
January 19, 2012
PHOTOS: Pakistan rout England in first Test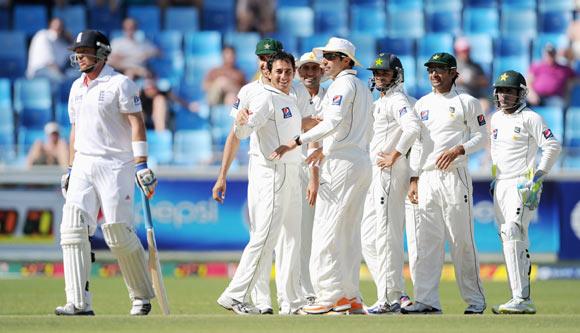 Pakistan beat the world's best Test team, England, by 10 wickets in the first Test inside three days in Dubai on Thursday, gaining a 1-0 lead in the three-match series.
'Keeper Saha is an ideal replacement for Dhoni'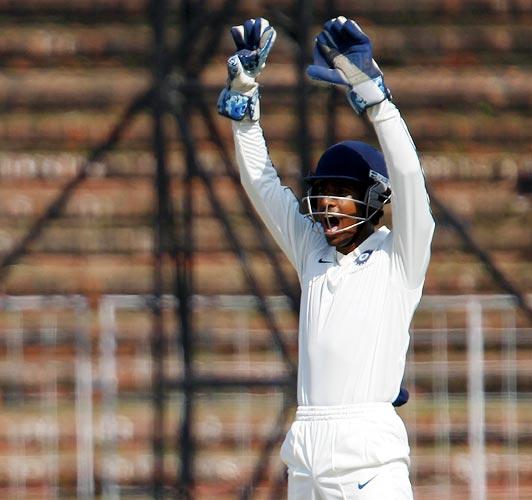 Replacing the Indian captain in a Test match is not an easy job but former wicketkeepers feel that Wriddhiman Saha's calm demeanour could be an advantage when he dons the gloves during the final Test against Australia in Adelaide, starting on January 24.
Oz pacers use 'perfume ball' to mop Indian tail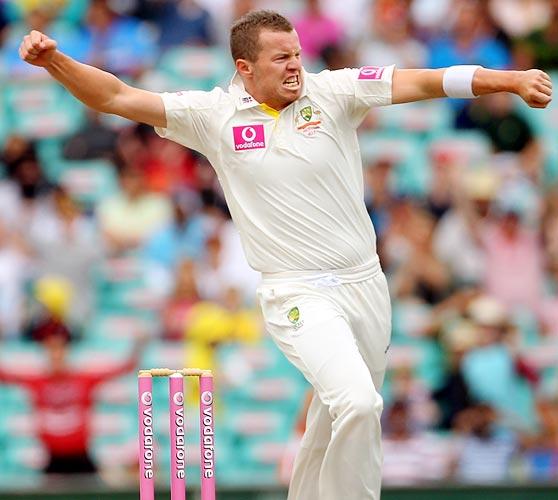 It is called the 'throat ball' or the 'perfume ball' and the Australian pacers are using it with intimidating regularity against Indian tailenders in the ongoing Test series.
We want to strangle India again in Adelaide, say Siddle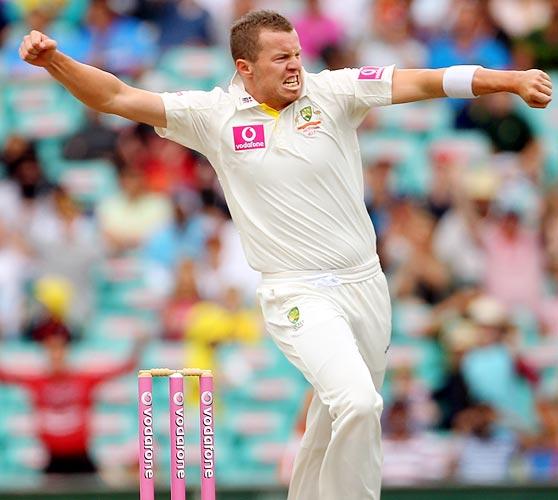 Australia fast bowler Peter Siddle feels his team's bowlers have "strangled" India in the ongoing Test series and being the spearhead, he would not loosen the grip by sitting out of the fourth and final Test.
'Perth showed the inadequacies of India's ageing players'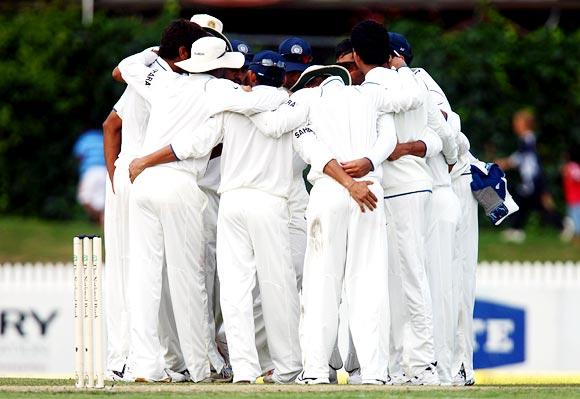 Former Pakistan captain Wasim Akram feels that playing conditions in Sydney and Perth in the ongoing Test series between India and Australia exposed the "physical inadequacies of an ageing cricketer".
January 18, 2012
PHOTOS: Pakistan ahead despite England's fightback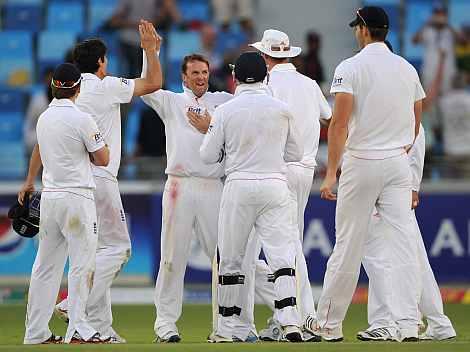 Images from Day 2 of the first Test between Pakistan and England in Dubai.
Warne backs Haddin but says Wade also ready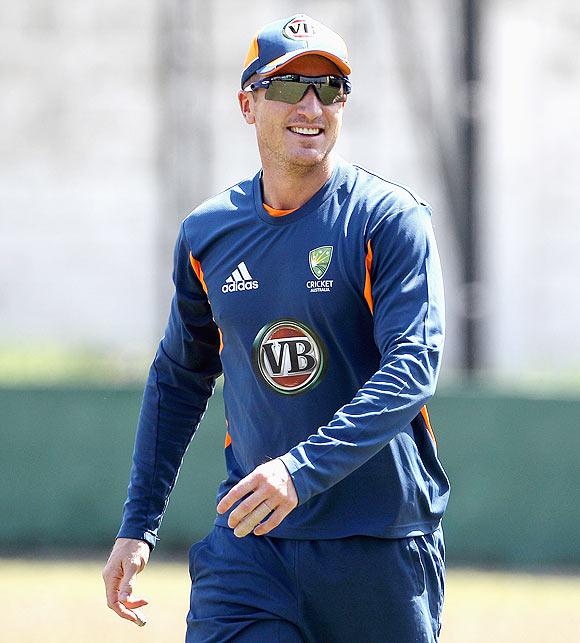 Australian spin legend Shane Warne has backed out-of-form wicketkeeper Brad Haddin to retain his place in the national team but said Matthew Wade is ready to replace him.
Dhoni's ban gives Saha rare opportunity to shine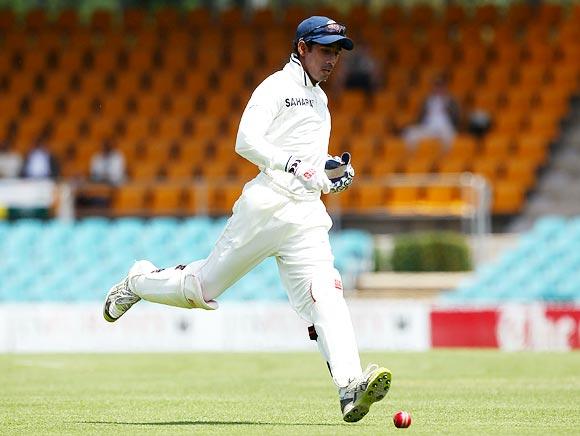 In a series which has been disastrous to say the least, not many expect Wriddhiman Saha to script a success story for India in the final Test against Australia next week but the Bengal youngster might turn out to be a pleasant surprise.
Lyon taking tips from Warne to plot India's downfall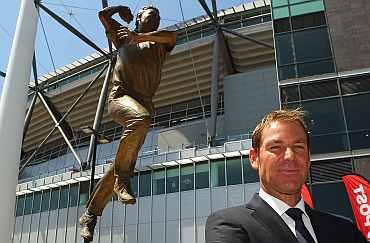 The only struggling Australian bowler against a clueless Indian batsmen, off-spinner Nathan Lyon is taking tips from spin legend Shane Warne to plot the downfall of Virender Sehwag and his men in the fourth and final Test in Adelaide starting on January 24.
What Team India needs to do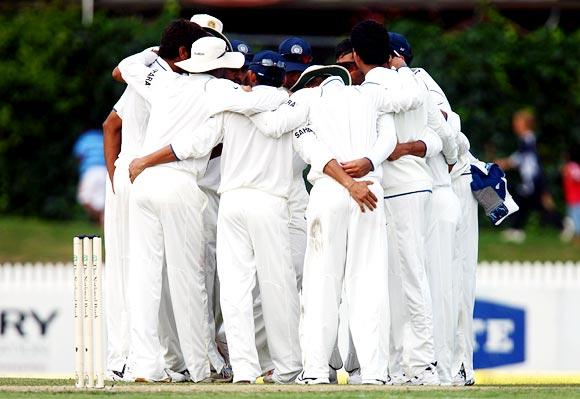 Indian Test cricket stands at the crossroads with future fortunes heavily dependent on off the field policies and strategies adopted by the Indian cricket establishment, says Faisal Shariff.
Siddle might be rested for Adelaide Test: Report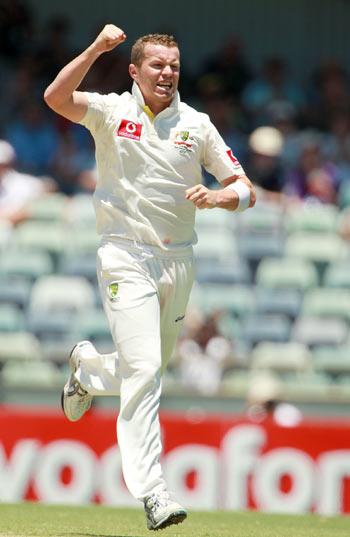 Impressive paceman Peter Siddle may be rested for the fourth and final Test against India at the Adelaide as per Cricket Australia's rotation policy, a media report speculated on Tuesday.
January 17, 2012
PHOTOS: England dance to Ajmal's tune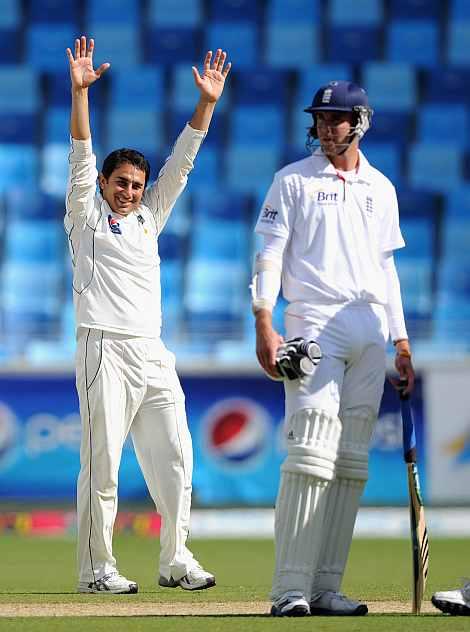 Images of the Day 1 of the first Test between Pakistan and England.
Oz pacers face 'Taming of the Shoe'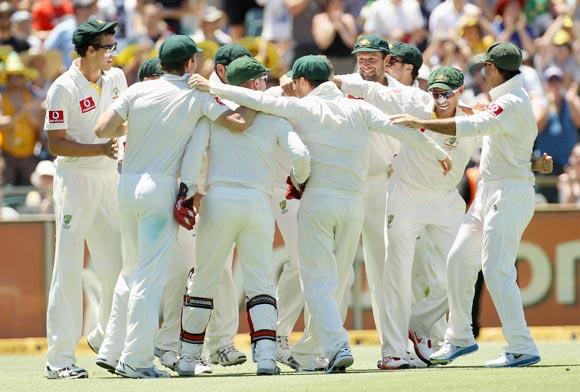 Baffled by the spate of injuries that has sidelined its young crop of pacers, Cricket Australia is investigating whether the boots these bowlers use are causing the foot problems that have ruined their season.
Bedi blames IPL for poor overseas Test showing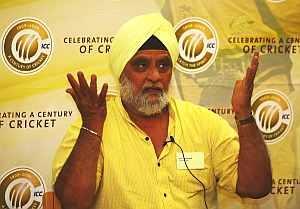 Former India captain Bishan Singh Bedi feels the emergence of the cash-rich Indian Premier League is one of the primary reasons for India's disastrous performance in Test matches overseas.
Under-pressure Sehwag and Co toil at nets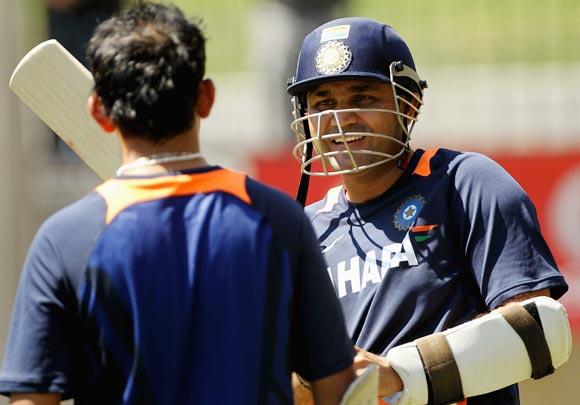 If Virender Sehwag was anxious about his role as India skipper for the fourth Test against Australia and his continued poor run with the bat, he didn't show it to the world during the nets at the WACA in Perth on Tuesday.
'Laxman has no plans of hanging up his boots'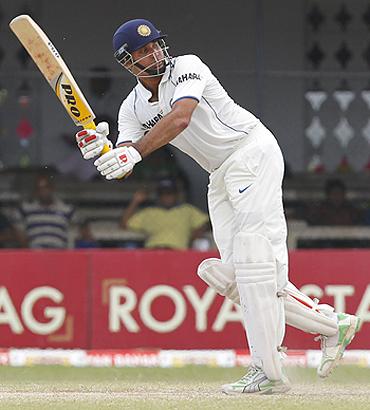 He might be drawing flak for his flopshow in the ongoing Test series against Australia but veteran Indian batsman VVS Laxman has no plans of hanging up his boots just yet.
We have let the nation down: Gambhir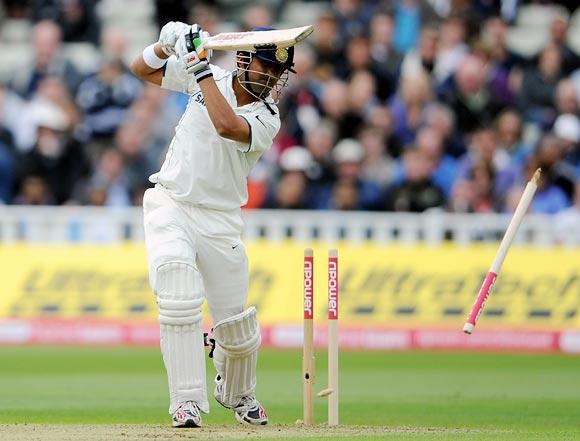 Struggling India opener Gautam Gambhir on Tuesday conceded that his team has let the entire nation down in the ongoing Test series against Australia and has failed to live up to the expectations.
'IPL not the sole reason for India's poor display in Australia'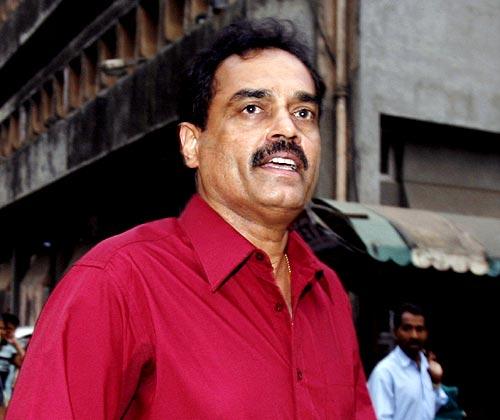 Refusing to blame the cash-rich Indian Premier League (IPL) for the national squad's debacle in Australia, former Test skipper Dilip Vengsarkar on Tuesday said lack of proper planning by the BCCI is the prime reason for the dismal show.
IPL cannot be blamed for batsmen's poor techinque: Gavaskar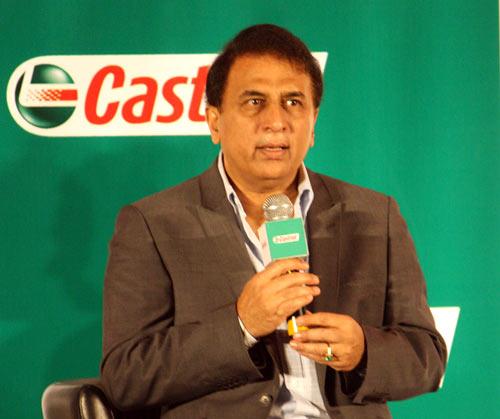 Former India captain Sunil Gavaskar, on Monday, refuted suggestions that the technique of the Indian batsmen has been affected due to the slam-bang approach in the Indian Premier League (IPL).
January 16, 2012
Subcontinent cricket giants face testing times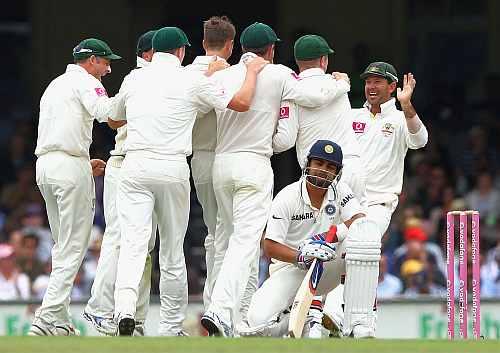 India's strength was never its bowling, says Faisal Shariff, but each time they discover a gem, they seem to perfect the art of pushing him out of the system.
Men in blue close to being worst ever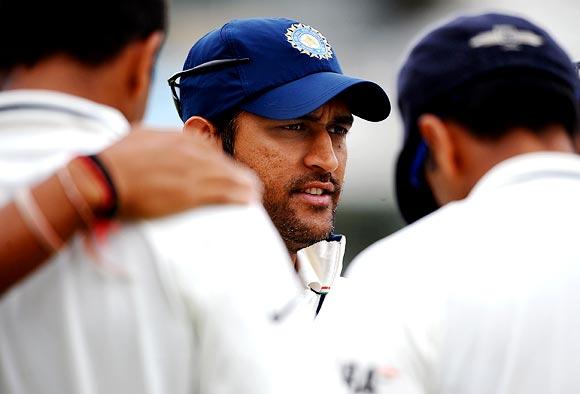 If Mahendra Singh Dhoni and his men continue their losing streak in the fourth Test against Australia at Adelaide, it would prove to be the worst phase in the annals of Indian cricket.
CA goes broke with India losing three Tests in nine days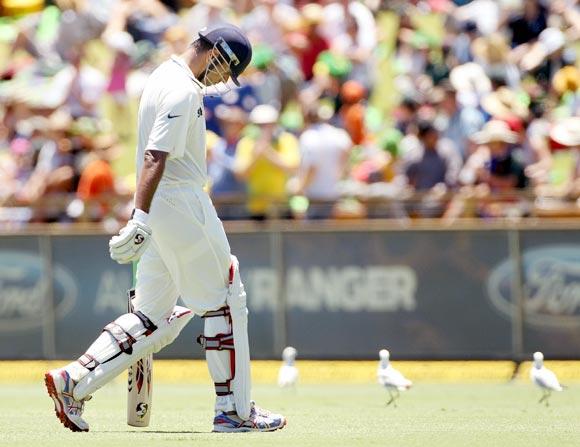 With India losing three Tests against Australia in less than 10 days, Cricket Australia is set to become broke as it has been left with a small fortune in terms of revenue generation from gate ticket sales.
India's worst losing streaks in away Tests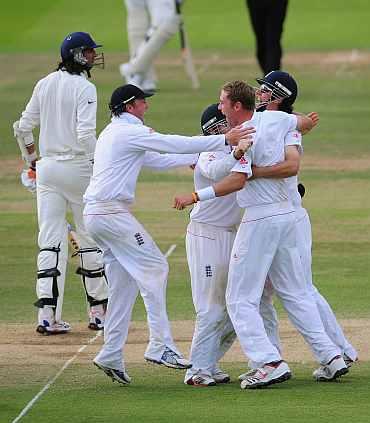 Following their loss in the third Test match in Perth, India recorded their seventh loss on the trot. Rajneesh Gupta presents a summary of India's worst losing streak in away Tests.
Tendulkar drops to 9th as Indians slip in Test rankings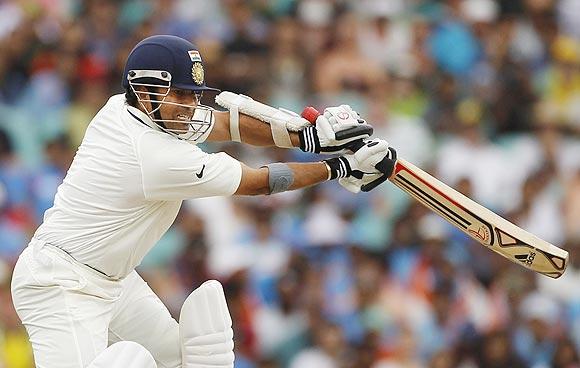 Having conceded a 0-3 lead to Australia in the four-Test series so far, the Indian cricket team is all set to lose its second place in the ICC Test ranking to South Africa.
'Spoilt' Indian team battered by Aus media following series loss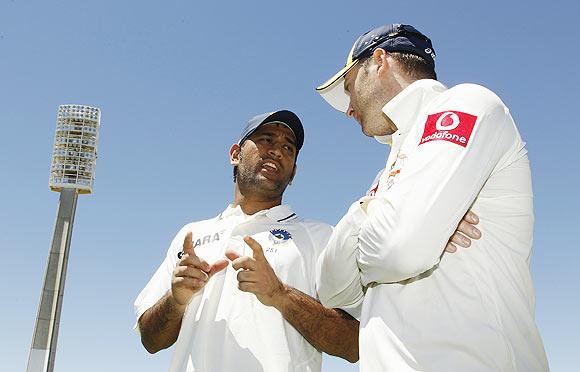 The Australian media described the star-studded Indian batting line-up as "useless rubble" and skipper Mahendra Singh Dhoni as a "passive captain" as they taunted the visiting team for its abject surrender in the ongoing Test series.
We will hammer down India in tri-series also: Aus coach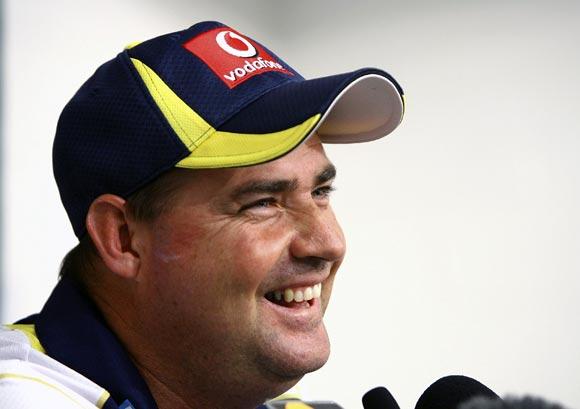 Australia coach Mickey Arthur on Monday said that his men will "hammer down" the visitors in next month's One-Day International tri-series as well once all-rounder Shane Watson comes back into the team.
Away Test failures puncture Dhoni's leadership aura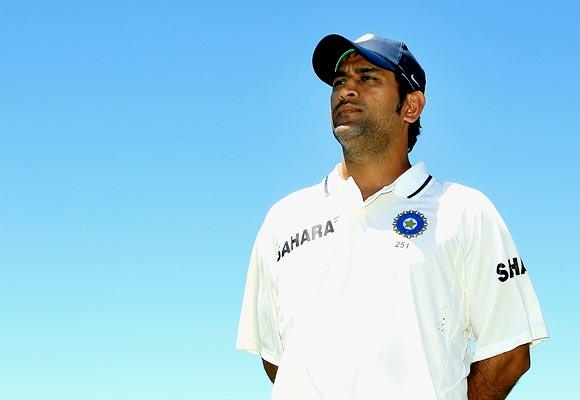 It was a fairytale too good to last long and Mahendra Singh Dhoni met his Waterloo in England last year, a nightmare that returned to haunt him in Australia.
'Laxman will retire at the end of the Test series in Australia'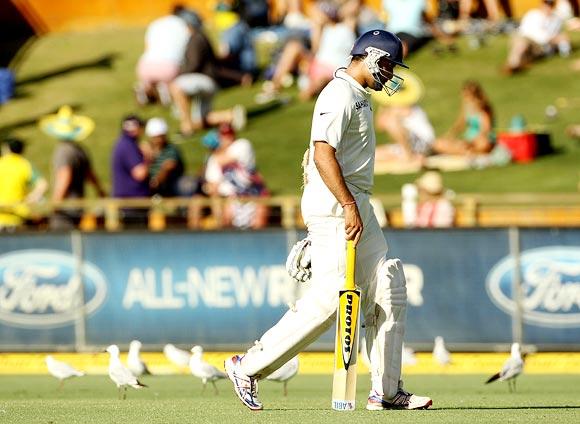 VVS Laxman's will be the first head to roll after the shambolic tour of Australia as India embark on the unpleasant task of phasing out their ageing stalwarts, local media reported on Sunday.
January 15, 2012
'Difficult to single out one particular reason for Oz debacle'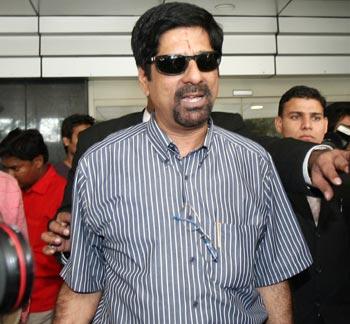 The chairman of BCCI's selection committee, Krishnamachari Srikkanth expressed huge disappointment on the Indian team's dismal performance Down Under, terming it a collective batting failure.
Clarke: Our goal is to be the No 1 Test team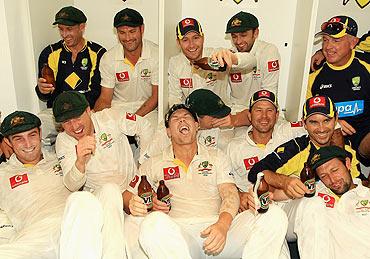 Australia might have taken an invincible 3-0 lead over India in the four-match Test series but skipper Michael Clarke doesn't want to take his foot off the pedal and said his team's goal is to be the No 1 side in the world.
Batting failure, lack of adaptability did us in: Dhoni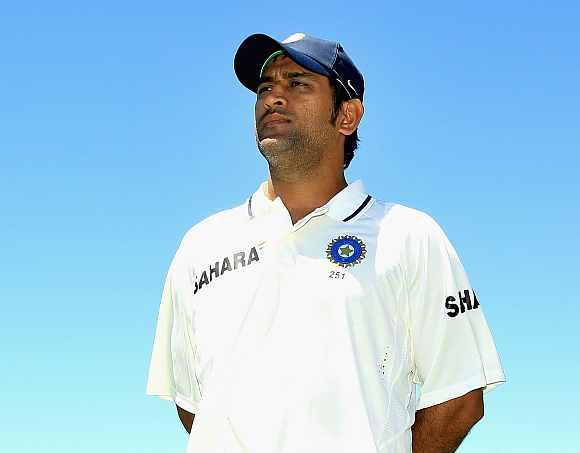 Battered in just two and a half days, Indian skipper Mahendra Singh Dhoni said the inability to quickly adapt to new conditions and the flop show of his batsmen were the reasons behind his team's series defeat against Australia.
I am the main culprit: MS Dhoni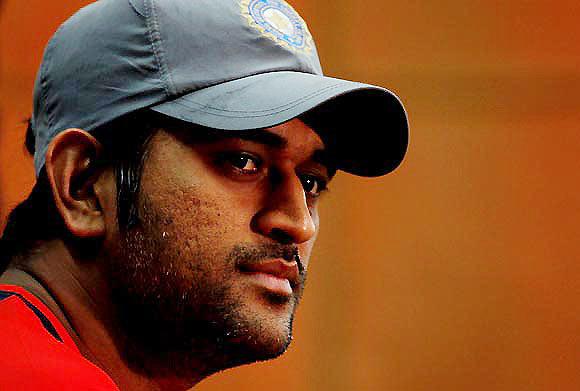 Indian captain Mahendra Singh Dhoni on Sunday took the blame on himself for a disastrous performance of his team against Australia, saying that he was the main culprit as the captain.
PHOTOS: Australia thrash India, regain Border-Gavaskar trophy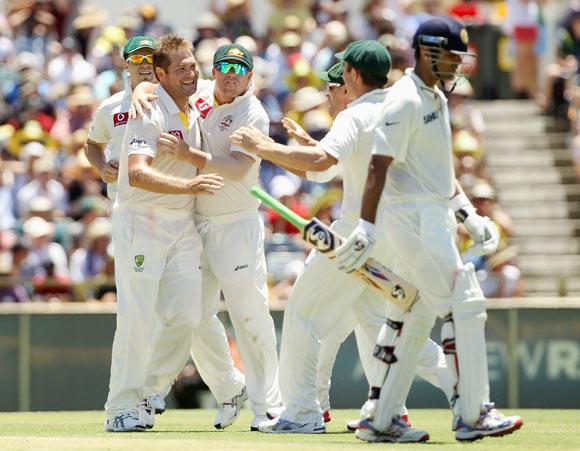 Australia thrashed India by an innings and 37 runs well inside three days in the third Test in Perth, making the visitors suffer their second successive overseas series defeat. The win enabled the home team to regain the Border-Gavaskar Trophy.
January 14, 2012
Batting failure not helping team cause: Yadav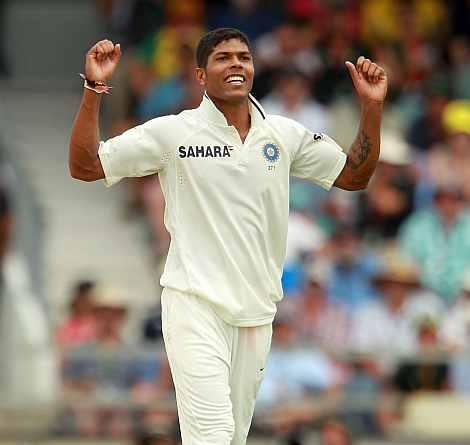 Young Indian pacer Umesh Yadav, who took five wickets in an exceptional spell of sustained hostile bowling at the WACA, conceded that the batting failure was not helping the visiting team's cause in the third Test against Australia in Perth.
'I appealed for Sachin's wicket, I thought it was out'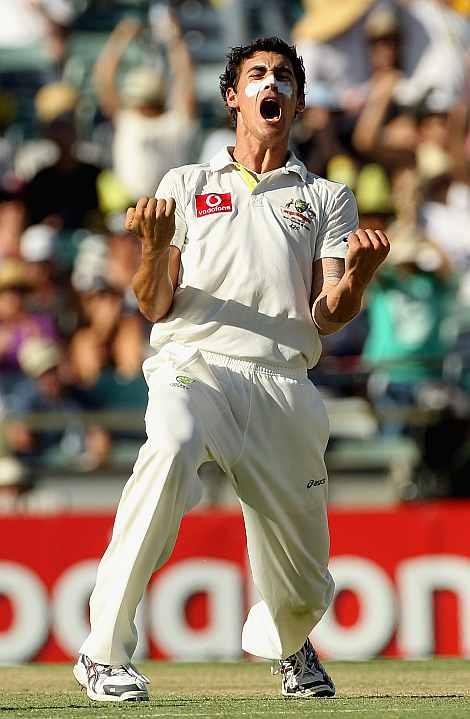 Young left-arm quick Mitchell Starc said that invaluable tips from legendary Pakistan pacer Wasim Akram has helped him to swing the ball consistently during the ongoing Test match against India.
Ex players call for Dhoni's head, retirement of Dravid, VVS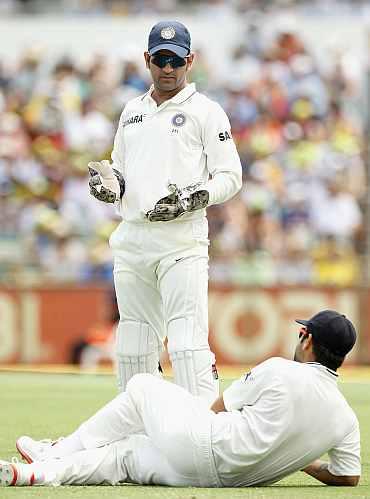 As Indian team's pathetic show continues in Australia, former players say time has come to remove Mahendra Singh Dhoni as Test skipper and senior players like VVS Laxman and Rahul Dravid should plan their timely retirements.
PHOTOS: Warner, bowlers hand Australia the edge in Perth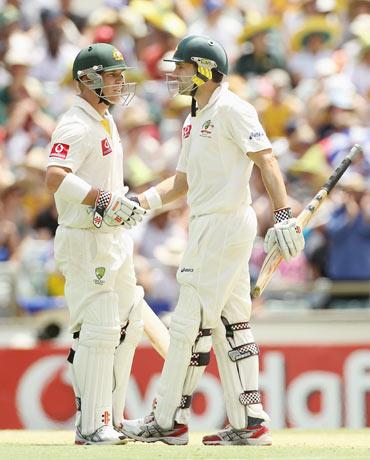 A terrific opening partnership of 214 runs between David Warner and Ed Cowan helped Australia take a formidable 208-rin lead in the first innings on Day Two of the third Test against India at the WACA, Perth.
Scoring 400 was a lot easier than getting 375: Lara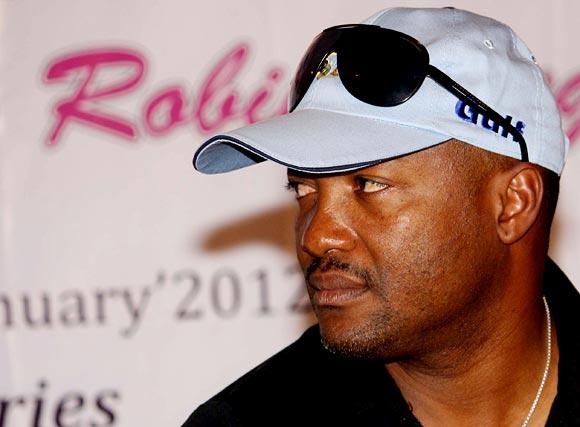 The former West Indies captain, who spent a couple of hours with young kids at the Khar Gymkhana in Mumbai on Friday, teaching them the finer nuances of batting, reveals what it takes to be the best in the world.
January 13, 2012
'It will be great if we make 500 and take the series'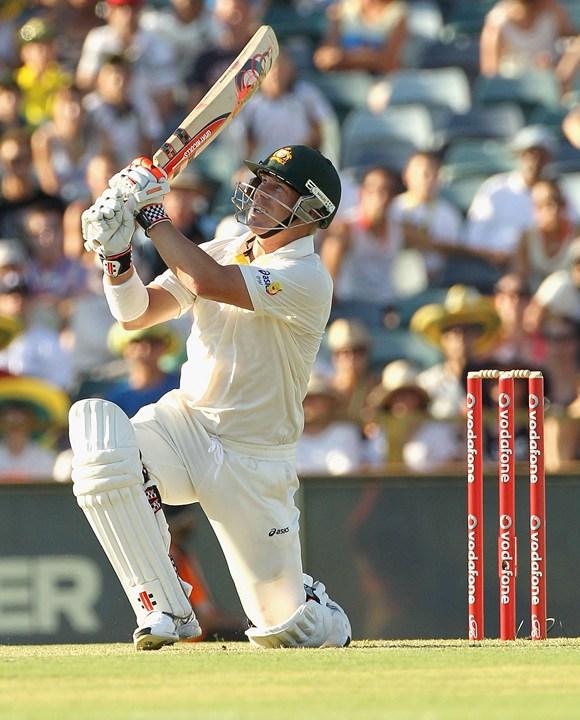 Australia opener David Warner says the third Test is all but over for India, after they were bowled out for 161 and Australia replied with 149 for no loss by the end of the first day.
Photos: Ten fastest Test tons after Warner's blazing knock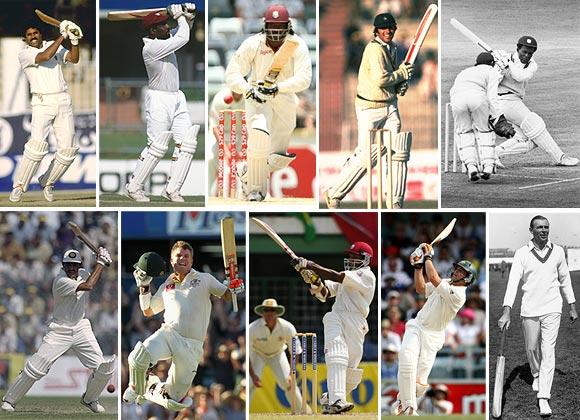 Australia's David Warner etched his name in to the record books after he slammed the fastest century by an opener in Test cricket, on Day One of the third Test against India at the WACA in Perth on Friday. Here are the top ten fastest tons in Tests.
PHOTOS: Warner puts Australia in control at WACA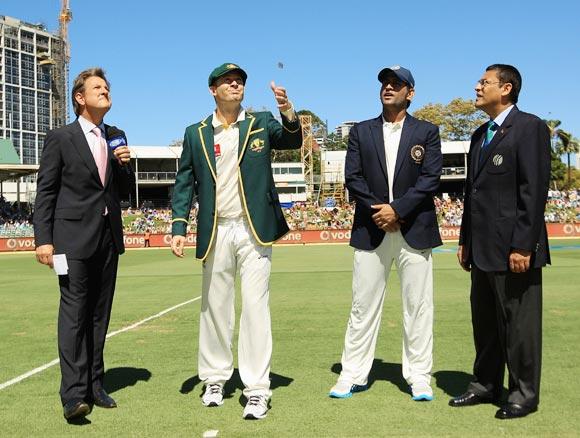 Images from Day 1 of the 3rd Test played in Perth on Friday.
January 12, 2012
'New ball will play very important part at WACA'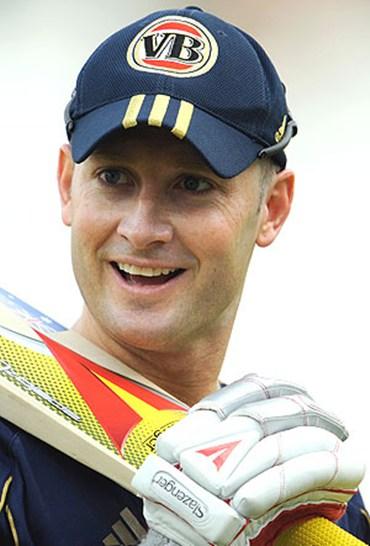 Australia captain Michael Clarke exuded confidence on his fast bowlers, saying whether there is a four-pronged pace attack or not, it is good enough to take the wickets in the third Test against India, at the WACA in Perth, beginning Friday.
Heat could crack green WACA pitch, says curator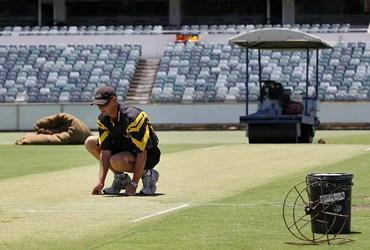 Curator Cameron Sutherland says the hot conditions prevailing in Perth have taken some sting out of the "green" WACA surface, but the pitch will still suit fast bowlers in the third Test between India and Australia, beginning Friday.
Time for underperforming Indians to salvage pride at Perth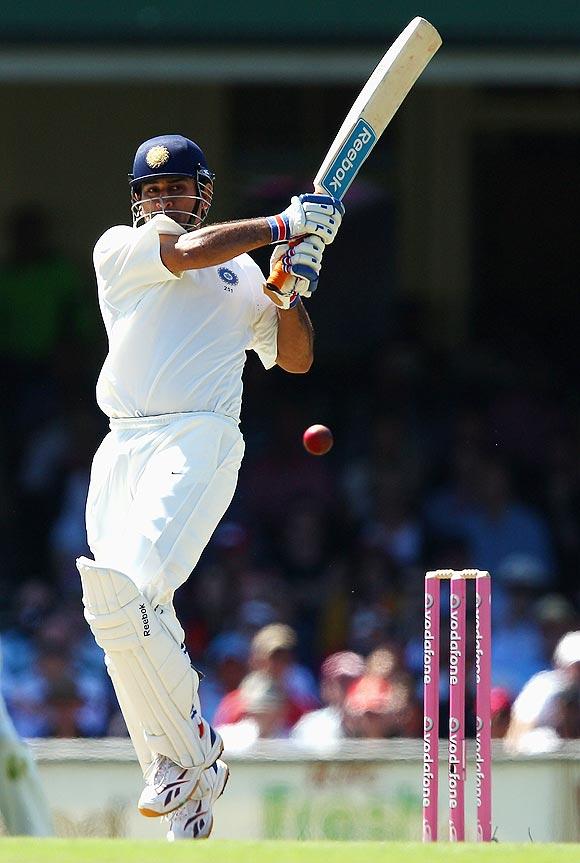 The highly-rated but underperforming batsmen will have to click to keep up the team's hopes as the visitors go into the must-win third cricket Test against Australia in Perth on Friday amid serious concerns about their ability to counter the pacy WACA track.
With an eye on 2015 WC, Dhoni hints at quitting Tests by 2013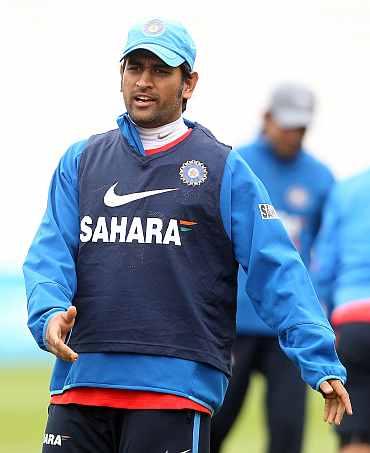 Indian captain Mahendra Singh Dhoni made a surprise revelation that he may retire from Test cricket if he is to play in the 2015 cricket World Cup.
Injury nightmares hound Harris before Perth Test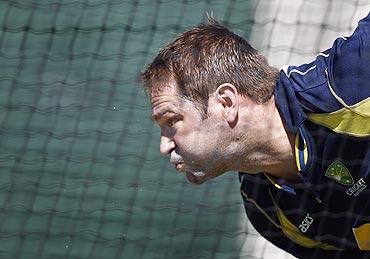 Set to return in Test cricket against India for the Perth Test on Friday, Australian paceman Ryan Harris is wary about breaking down again and said that he had "bad thoughts" about his recurring injury problems.
Young generation prefers IPL to Ranji: Yuvraj Singh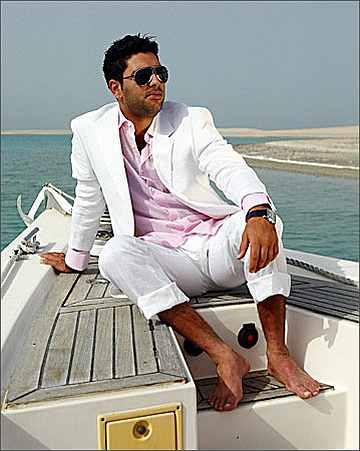 India's World Cup hero Yuvraj Singh, who is recovering after being treated for a non-malignant tumour in his lungs, says he is fine now and looking forward to board the flight to Australia for the ODI series that follows the Tests.
January 11, 2012
India's 'big-four' need to click in Perth: Yuvraj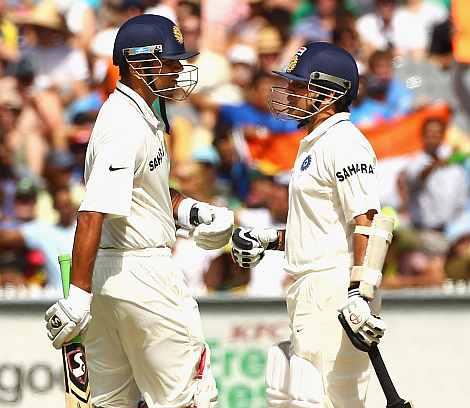 The 'big-four' of India's batting department need to fire in unison to fish the team out of troubled waters if the visitors want to make a comeback in the third cricket Test against Australia, starting Friday at Perth, feels Yuvraj Singh.
I'm not going to rest on my Sydney hundred: Ponting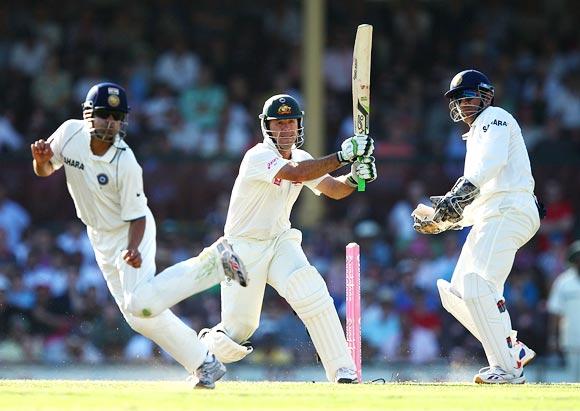 Former Australia batsman Ricky Ponting says his batting is a work in progress, and the hundred he scored in the second Test against India is the start of something big.
'What Zaheer said, same could be said about Sachin...'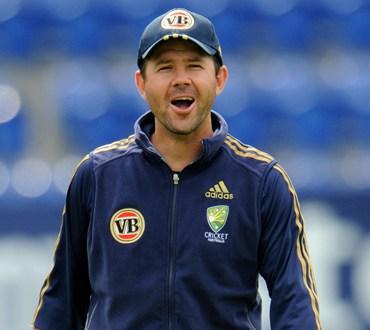 Ricky Ponting shot back at Zaheer Khan for finding fault with his batting rhythm on Wednesday, saying what the Indian pace spearhead said about him could also be applied to the likes of Sachin Tendulkar and Rahul Dravid.
Dravid rubbishes reports of Sehwag-Dhoni rift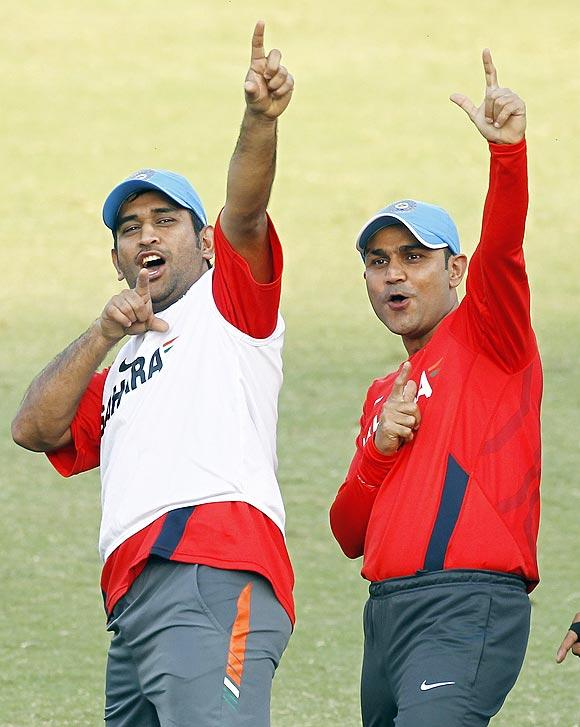 Senior Indian batsman Rahul Dravid rubbished Australian media reports that successive losses in the ongoing Test series has led to disharmony in the visiting side's dressing room, saying the team is not bothered about such speculation.
Eradicating corruption from cricket almost impossible: Brearley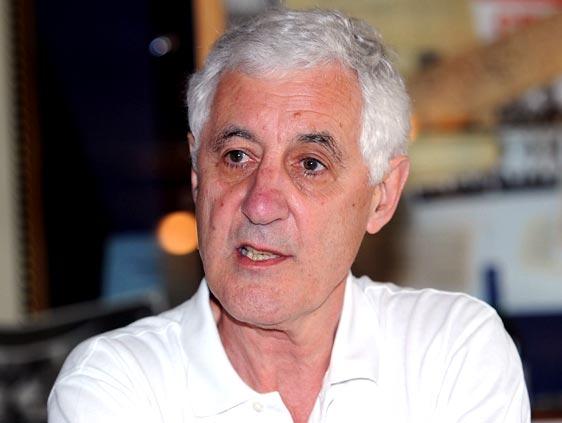 Mike Brearley, one of England's most successful cricket captains, said on Tuesday that eradicating corruption from the game is probably impossible but that is no reason to stop trying.
Amir could still play international cricket: PCB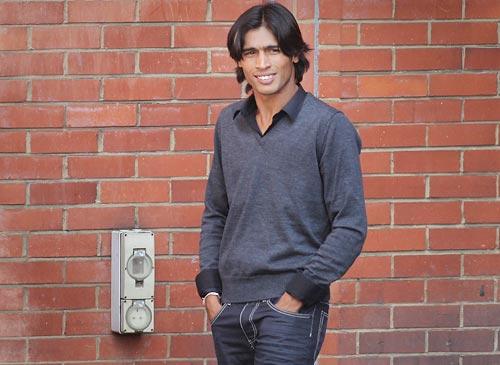 Teenage Pakistan fast bowler Mohammad Amir, serving six-months in jail for spot-fixing elements of a Test match, could still have a future in international cricket, Pakistan Cricket Board (PCB) chairman Zaka Ashraf said.
India will look to attack as Perth pace looms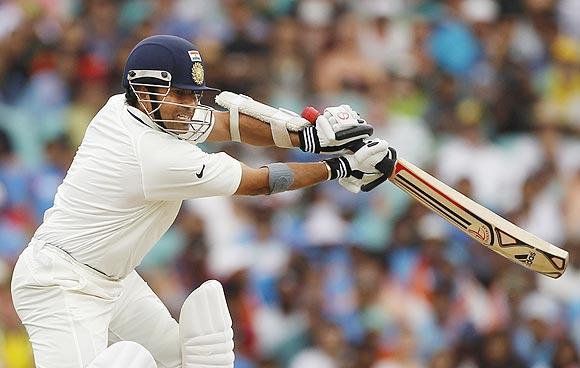 Attack will be the best form of defence for Team India against a rampaging Australian pace battery when the two sides square off on the dreaded green-top wicket of WACA in the do-or-die third Test starting on Friday.
January 10, 2012
India, Aus players in war of words ahead of Perth Test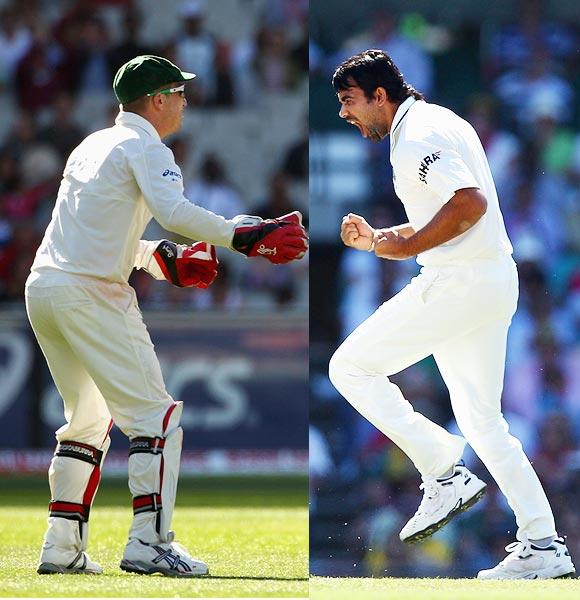 Indian and Australian cricketers were engaged in a war of words on Tuesday, ahead of the crucial third Test in Perth, with senior players of both sides taking digs at each other after Brad Haddin started the jibes by calling India a "fragile" team.
Australian batting can be put under pressure: Zaheer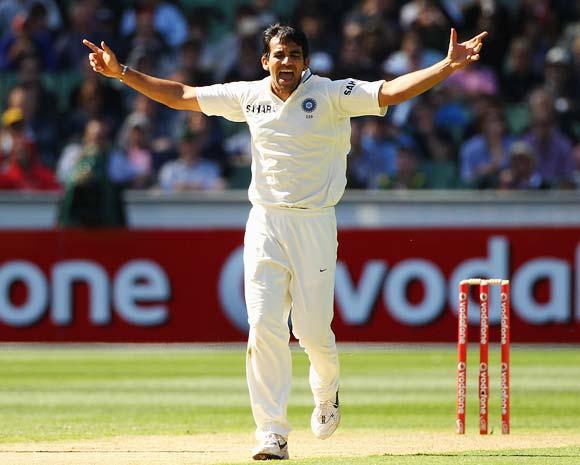 Unfazed by the debacles in the first two Tests, India's pace spearhead Zaheer Khan said the team will come back strongly in the third match, the key to which would be putting the in-form Australian batting line-up under pressure.
Team India back in the nets at 'green' WACA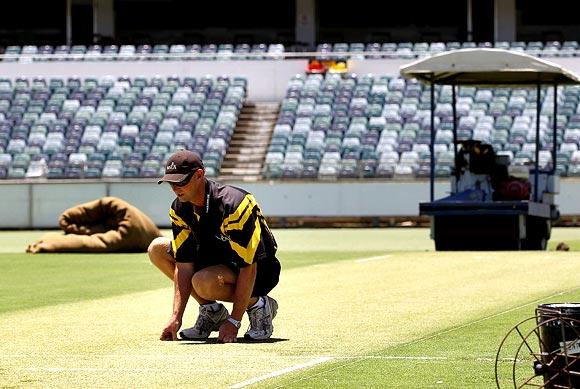 India face an ominous task to win the third Test on a fast and bouncy wicket in Perth and keep the four-match series alive which they are presently trailing 0-2.
Indian cricketers break under pressure, says Haddin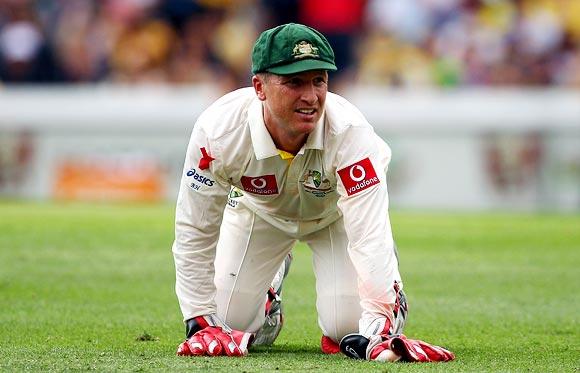 In a fresh salvo at the visitors, who are already facing flak back home for their meek capitulation in the first two Tests against Australia, the Australian wicketkeeper said the tourists are "as fragile as any team in the world".
The Expert replies: How many father-son pairs have played v India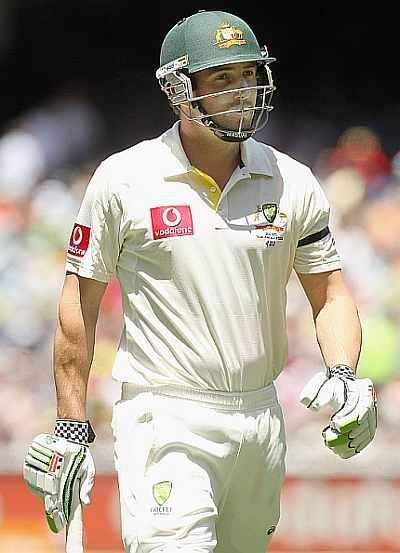 If you have a question relating to cricket and did not know who to ask, bounce them off to Rajneesh Gupta. Each week he will pick questions readers send him and provide answers.
Tendulkar will get 100th century soon: Achrekar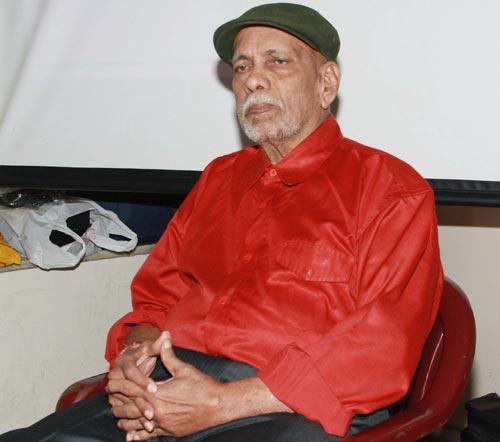 The endless wait for Sachin Tendulkar's 100th international century is not only causing frustration to millions of his fans worldwide, but also his coach.
Ten high points on the cricket pitch in 2011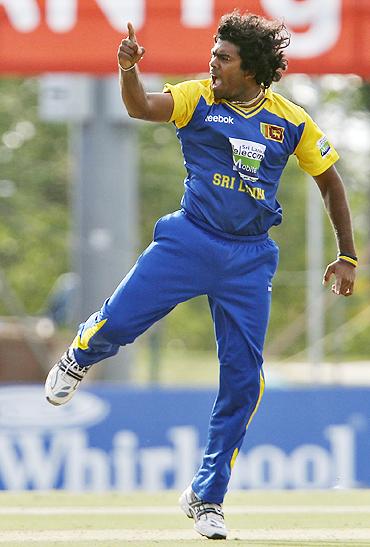 Rajneesh Gupta comes up with interesting trivia from the year gone by. Read on.
January 09, 2012
Now, Ishant shows finger to fans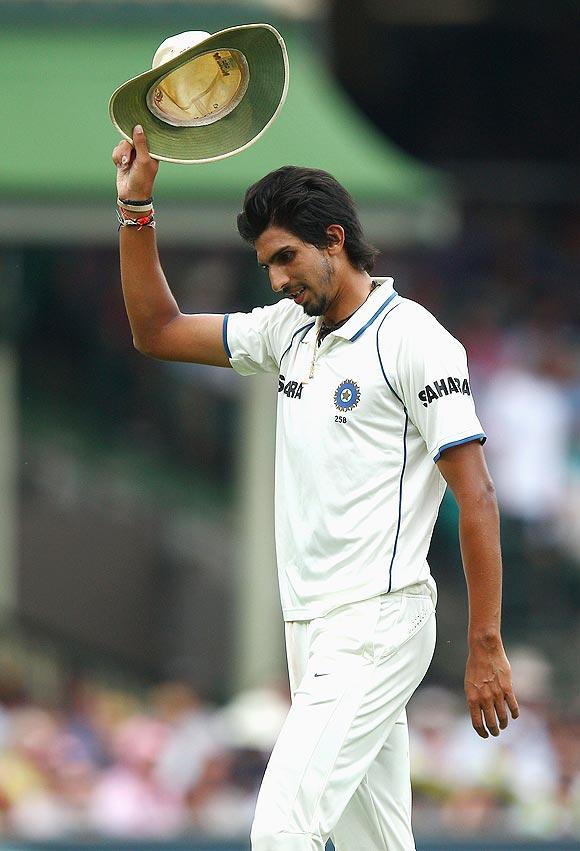 The present tour of the Indian team to Australia is not only a disaster from cricketing point of view but it is also turning out to be a catastrophe as far as public manners go.
Is this cricket's greatest catch? Check it out
Unheralded teenager Bevan Small looks like taking the honours for the most famous piece of cricketing action ever in New Zealand's domestic Twenty20 league after his athletic leap to facilitate a catch went viral over the weekend.
Akram flays Team India for negative body language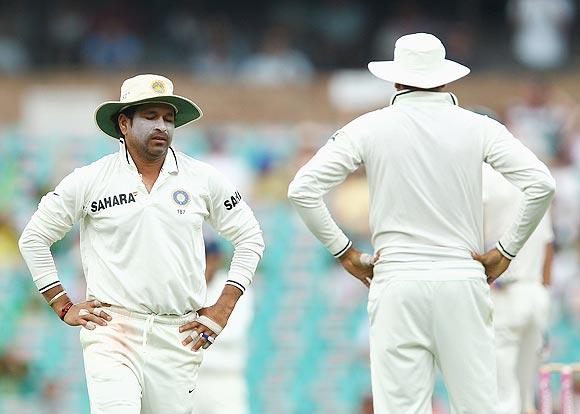 Team India's negative body language is one of the reasons that has deemed the team unable to rise from their slump, feels former Pakistan captain, Wasim Akram.
Hussey believes experienced India can bounce back at the WACA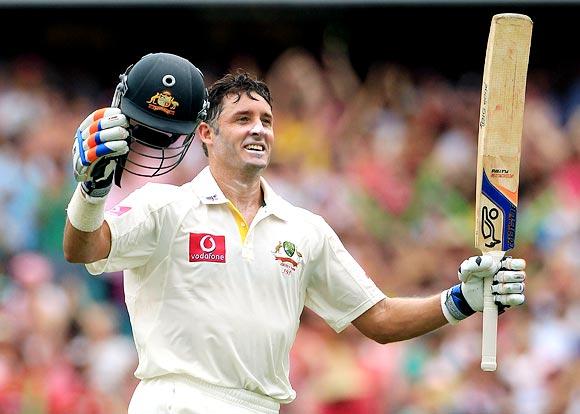 The Indian cricket team seems down and out after back-to-back losses but senior Australian batsman Michael Hussey remains wary of the tourists as he feels their "pride and experience" can conquer the intimidating conditions that await them in the third Test starting in Perth on Friday.
WACA pitch will have extra pace and bounce, says curator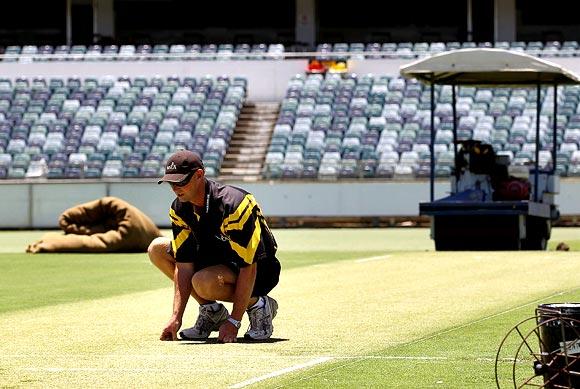 Struggling Indian batsmen are in for a tough challenge during the Perth Test as the WACA pitch is expected to be significantly quicker this time around.
Struggling Team India pick go-karting over nets before Perth Test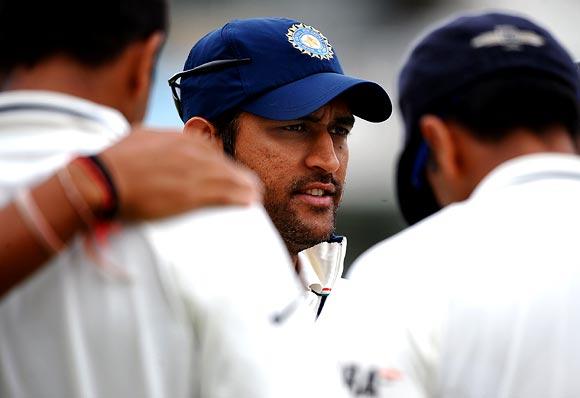 The mounting criticism of their poor show in the Test series against Australia notwithstanding, the Indian cricket team chose, on Monday, to enjoy some go-karting instead of having a nets session ahead of the do-or-die 3rd Test starting in Perth on Friday.
'Australia will exploit India's weak batting technique at WACA'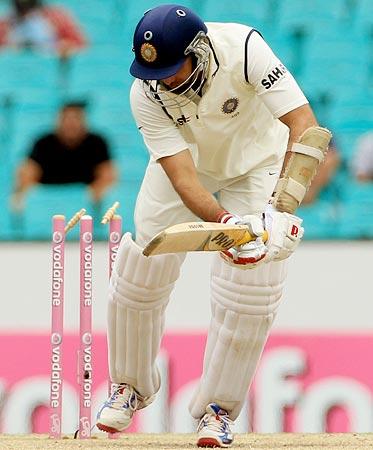 India's struggling batsmen should brace up for a very tough battle if Australia decide to field an all-out pace attack on the dreaded WACA track during the third Test in Briabane, feels former England all-rounder Paul Collingwood.
Latif advises counselling for 'under pressure' Tendulkar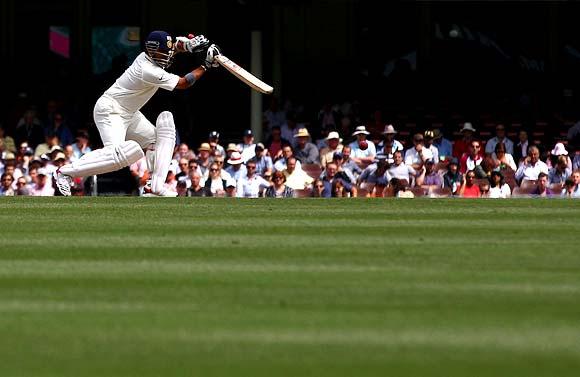 Former Pakistan captain Rashid Latif suggested that Indian batting icon Sachin Tendulkar should take counselling from a sports psychologist to get over the "mental block" caused by the continuing wait for his elusive 100th international century.
Should M S Dhoni give up the Test captaincy? Have your say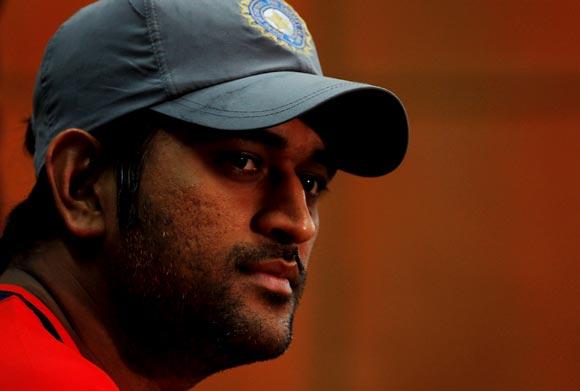 Should India follow England and South Africa and appoint separate captains for Tests and ODIs?
January 08, 2012
ICC Rankings: India set to lose No. 2 spot to South Africa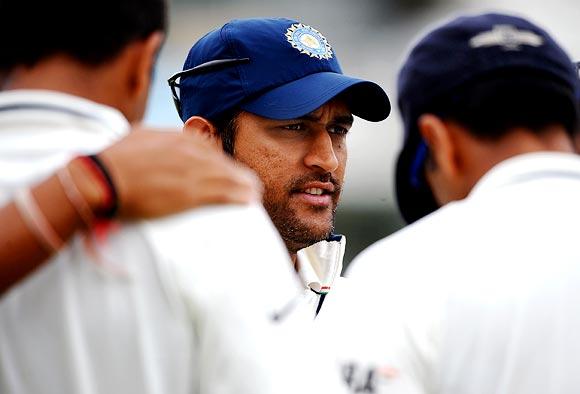 Even if India manages to win the next two Tests against Australia, it will still lose its second place in the ICC Test ranking to South Africa.India have conceded a 0-2 lead to Australia in the four-match series.
Australia reviewing player management after injury glut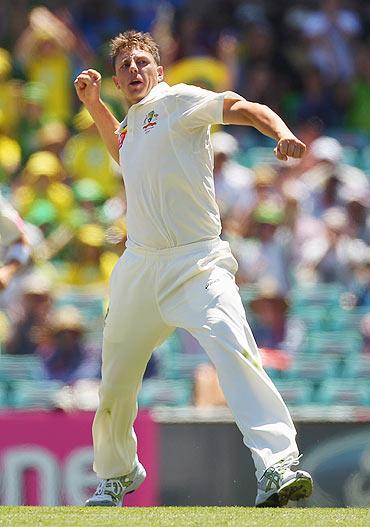 Australia's embattled cricket board has defended its player management practices in the face of withering criticism following a raft of injuries that have gutted the team's bowling unit.
Keep Cummins 100 percent fit for next summer: NSW CEO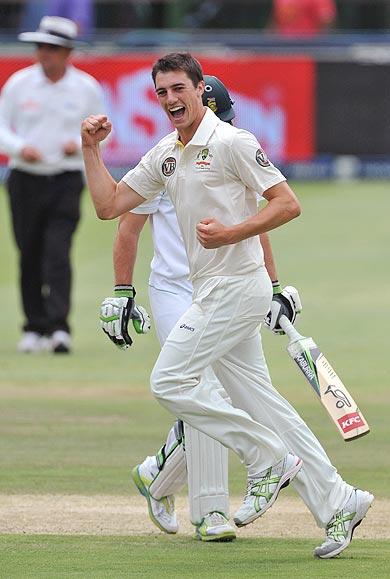 Australian pace sensation Pat Cummins should not be rushed into the One-day squad for the upcoming tri-series even if he recovers in time from the heel injury as he needs to be kept 100 percent fit for next summer, feels Cricket NSW chief executive David Gilbert.
Australia walks with confidence on to the Perth Test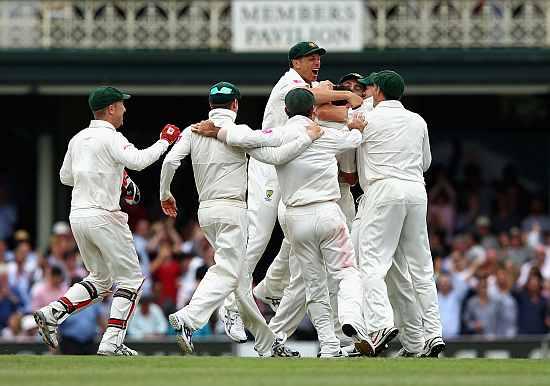 Australia move on to the third Test against India in Perth this week with a 2-0 series lead, a captain in the form of his life and a fiercesome bowling attack salivating at the prospect of a lively wicket at the WACA.
Harbhajan's absence hurting India: Akram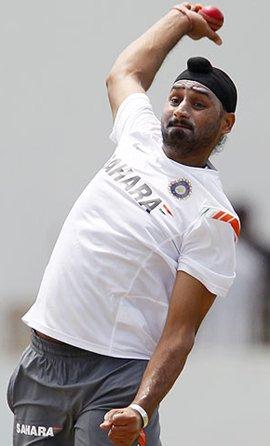 Former Pakistan skipper Wasim Akram feels that the absence of experienced off-spinner Harbhajan Singh is costing India dearly on the bouncy Australian pitches as Ravichandran Ashwin is only good enough for sub-continental wickets.
January 07, 2012
Aussies hope ghosts of Ashes vanish under captain Clarke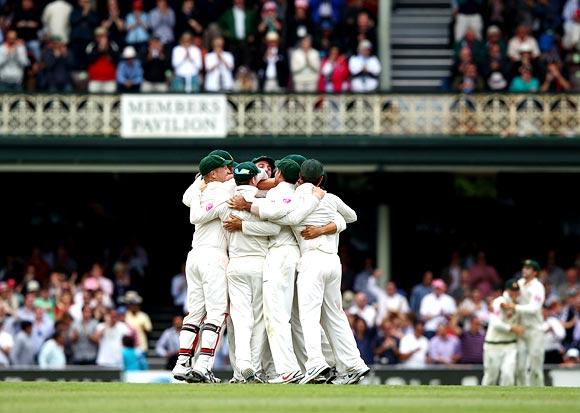 Australia's crushing second Test victory over India was cheered on Saturday by a triumphant local media who saw the ghosts of last year's Ashes humiliation vanishing under the leadership of captain Michael Clarke.
Arthur looking forward to seeing India cope Perth challenge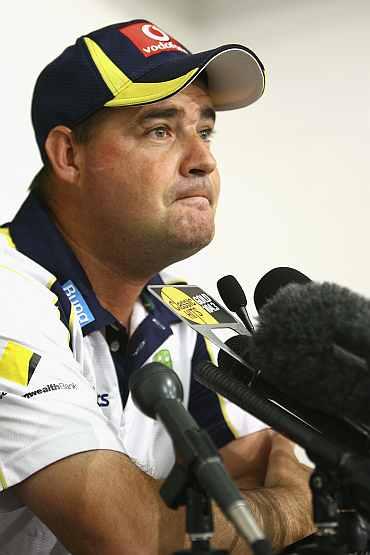 India were unable to cope with the relatively easy-paced wicket for the second Test and Australia coach Mickey Arthur can't see how they can turn it around on the dreadfully quick and bouncy WACA track in Perth during the third Test starting January 13.
Our batting didn't click as a unit: Srikkanth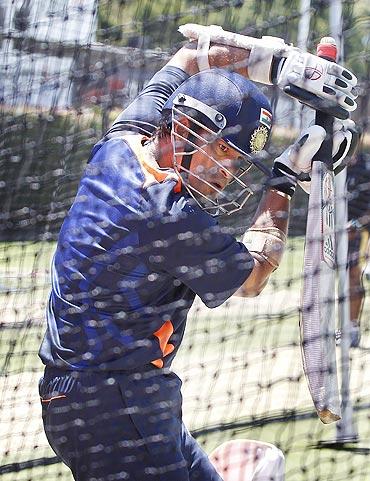 Chief selector Krish Srikkanth on Saturday said the two consecutive Test defeats in Australia has a lot do with poor batting rather than Mahendra Singh Dhoni's captaincy, which has come under sharp criticism.
Aus media hails Clarke's captaincy, slams over-hyped Indians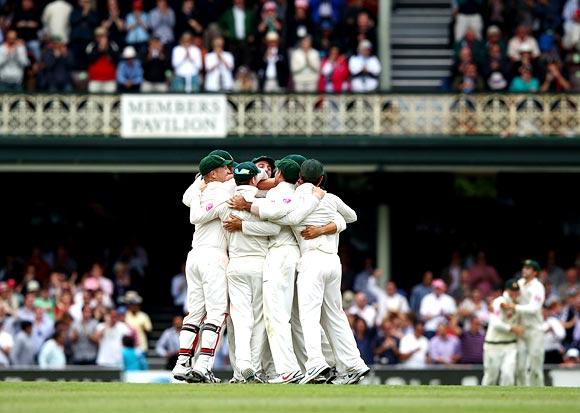 The Australian media suggested a reality check on the hype surrounding the much-vaunted Indian batting line-up after the visitors' humiliating innings defeat in the second Test, saying that they should ponder over whether the ageing stars can still deliver for the team.
Team India's weakness in foreign conditions more than apparent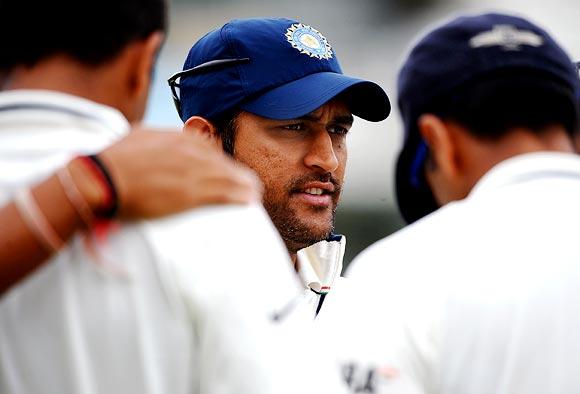 Mahendra Singh Dhoni landed in Australia leading a marquee Indian team but now, midway through the Test series, they look rather like a slice of Swiss cheese with more holes than possibly can be plugged.
Former India players call for Laxman's head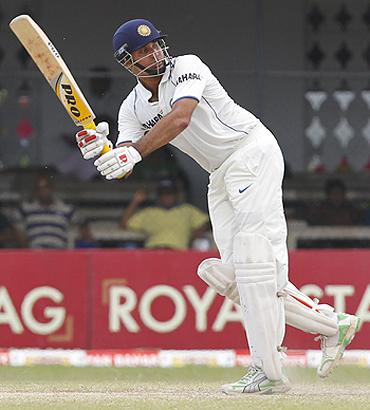 VVS Laxman should be the first veteran head to roll in a batting revamp if India are to secure their future in Test cricket, several former players have said in the wake of a second crushing defeat in Australia.
Gavaskar critical of Team India's attitude towards practice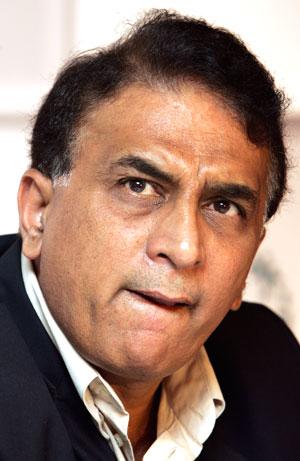 Former India captain Sunil Gavaskar came down hard on Indian cricketers, who had skipped practice sessions during the ongoing Test series against Australia, saying they have not gone there for "sightseeing but to play cricket".
January 06, 2012
What's wrong with the Indian cricket team? Speak up!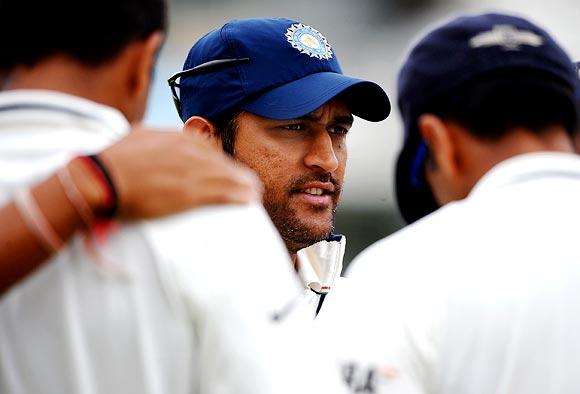 A few months back India was ranked the No. 1 Test team; now they are getting trashed in every Test played away from home.
No time for the blame game: Dhoni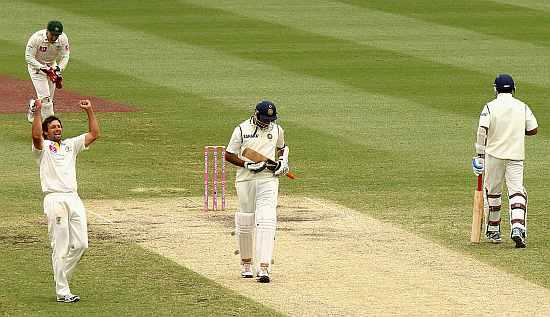 India must avoid blaming individuals and shoulder the burden of turning their fortunes around collectively after a crushing innings and 68-run defeat to Australia, says captain Mahendra Singh Dhoni.
Aus hand India sixth successive overseas Test defeat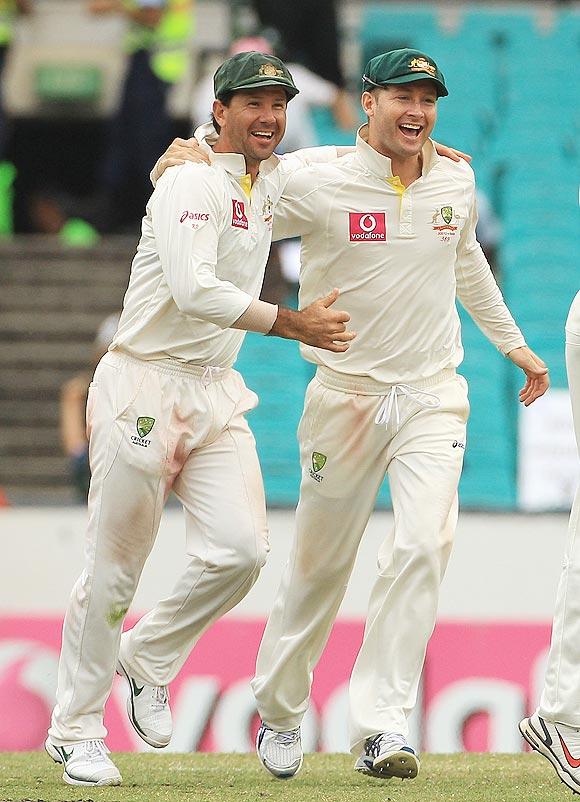 Australia, inspired by captain Michael Clarke, crushed India by an innings and 68 runs in the second Test at the Sydney Cricket Ground on Friday to take a dominant 2-0 lead in the four-match series.
PHOTOS: India succumb to innings defeat at SCG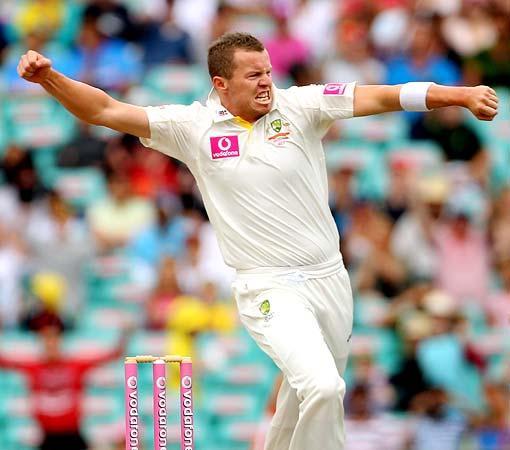 Images from day four of the second Test between India and Australia in Sydney, on Friday.
We were down in the first session itself: Dhoni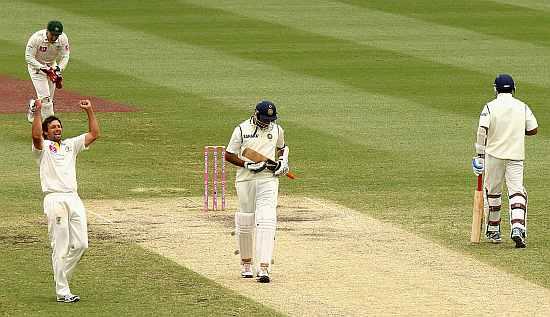 A downcast Indian skipper Mahendra Singh Dhoni blamed his team's shambolic first-session batting collapse and the monumental triple century by his Australian counterpart Michael Clarke for the humiliating innings and 68 runs defeat in the second Test in Sydney.
Tendulkar falls short of century of centuries in Sydney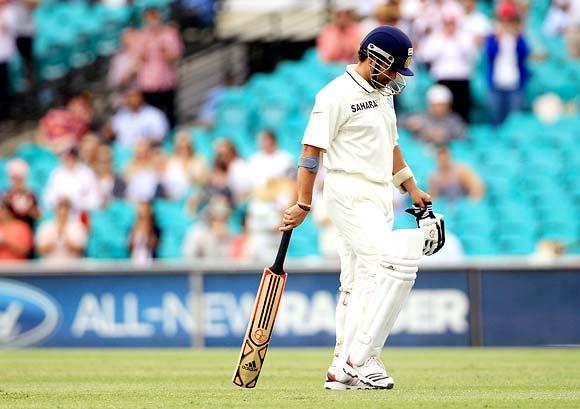 Sachin Tendulkar was dismissed for 80 after lunch on the fourth day of the second Test between India and Australia on Thursday, coming up short once again in his quest for a 100th international century.
When Indian cricketers breached the Code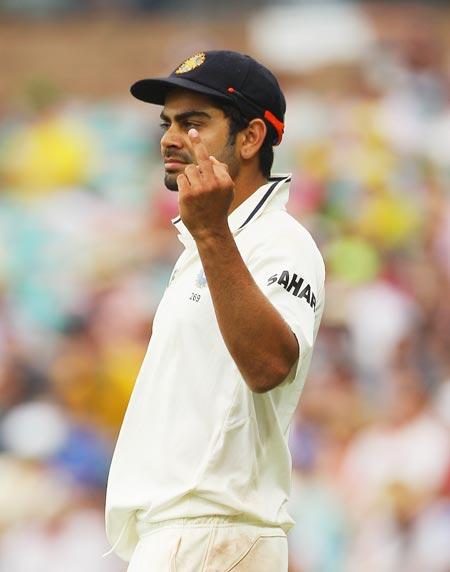 Following Virat Kohli's middle finger gesture in the second Test against Australia, Bikash Mohapatra looks back on instances when Indian cricketers were penalised for their actions on the field.
Before Clarke, Gooch and Jayasuriya feasted on Indian bowling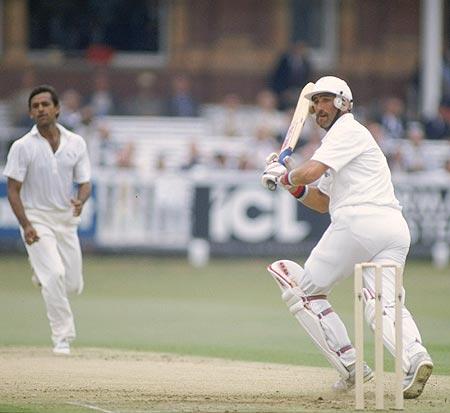 Michael Clarke, on Thursday, became the third batsman to score a triple-century against India. Rajneesh Gupta makes note of the other two batsmen who decimated Indian bowling are...
January 05, 2012
'We need to show some fight, bat as long as we can'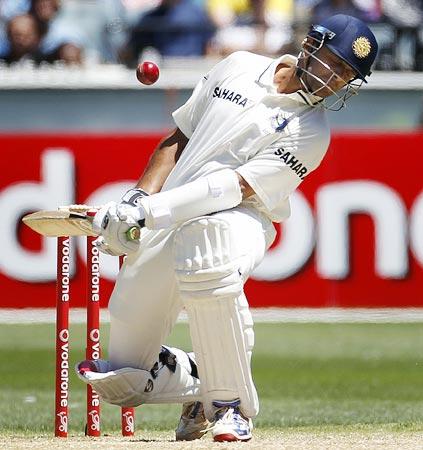 India are heading towards their sixth consecutive overseas Test defeat, but veteran batsman Rahul Dravid has expressed confidence that the team has quality batsmen to fight back, and all they need is some inspiration to save the second Test.
Sponsor's miss the chance to share Clarke's triple ton glory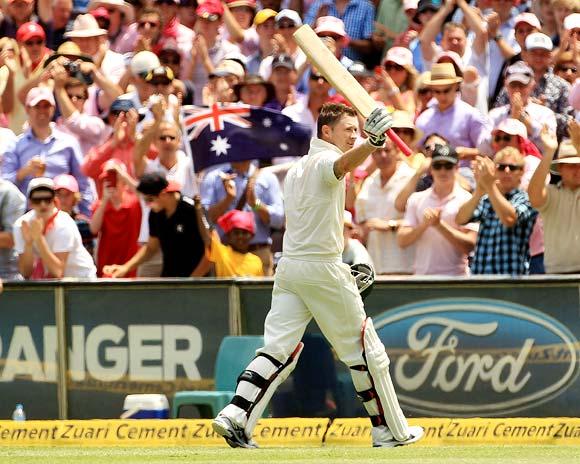 Australian skipper Michael Clarke rewrote the record books at the Sydney Cricket Ground with his unbeaten triple hundred against India but his bat went without any sponsor's logo for the first time.
When it's India, Clarke is king!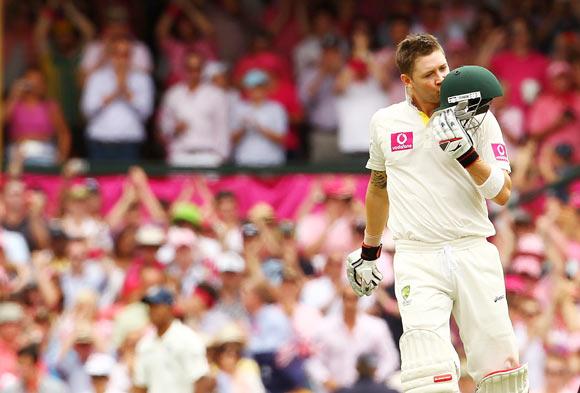 Even as Michael Clarke's many fans celebrate his mammoth hundred, takes a look at a few instances when the 30-year-old played a crucial role in Tests against India.
Poonam Pandey: Indian batsmen are like faithful husbands...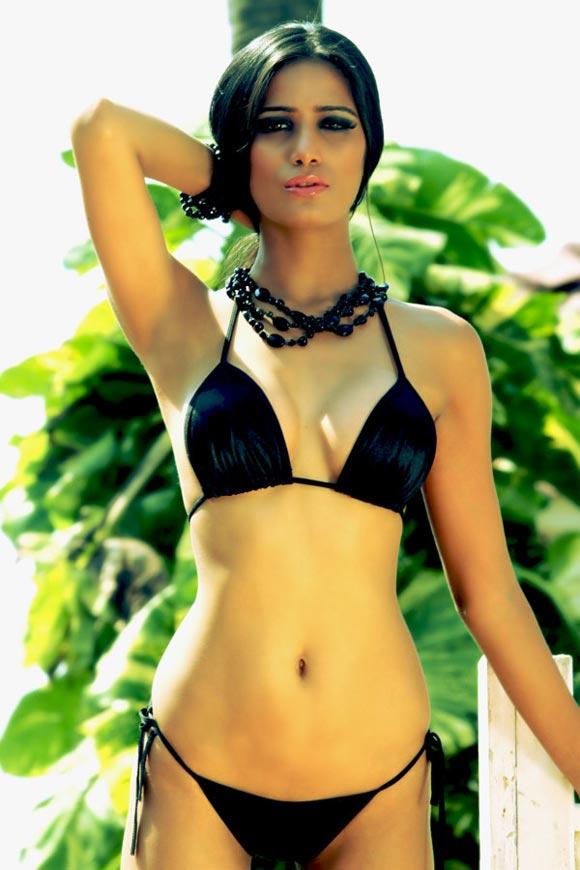 India's effigy sellers are licking their lips at the prospect of booming business as the national cricket team continue to struggle on a shambolic tour of Australia and fans back home lose patience with Mahendra Singh Dhoni and his men.
Captain Clarke puts team before records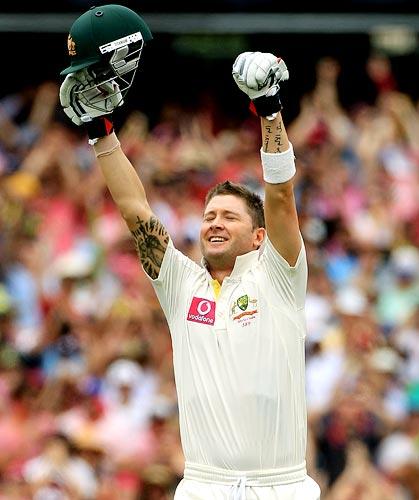 Michael Clarke never considered batting on beyond his mammoth unbeaten 329 to chase more records rather than declaring Australia's first innings in the second Test against India on Thursday.
PHOTOS: India fighting to save SCG Test after Clarke's triple ton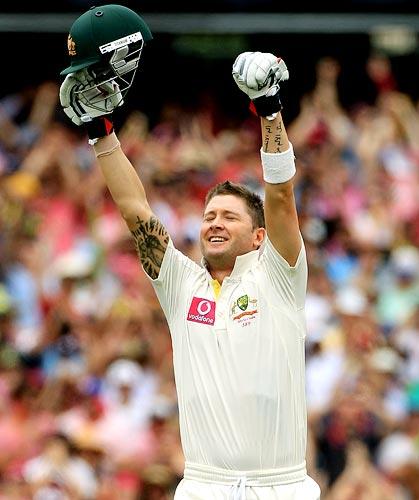 Images from day three of the second Test between India and Australia in Sydney, on Thursday.
Defensive India should be ranked eighth outside home: Waugh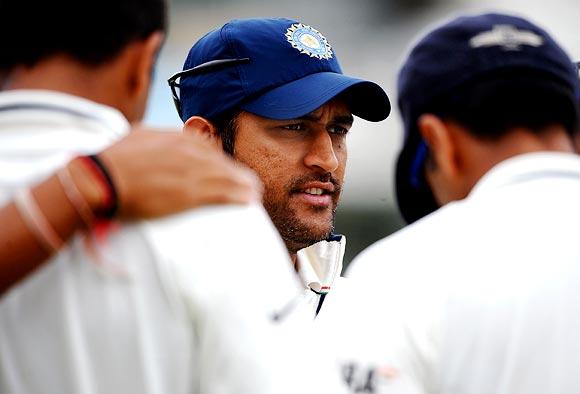 Unimpressed with Mahendra Singh Dhoni's leadership skills, former Australia batsman Mark Waugh termed the Indian as a "defensive captain", who just sits back and wait for the opposition to make mistakes.
January 04, 2012
Daunting, but not impossible task for India: Ganguly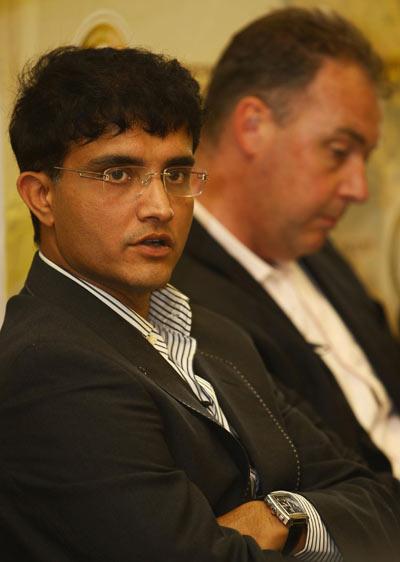 India are down on their knees in the second Test against Australia, but former skipper Sourav Ganguly says it is not "impossible" to save the match, and for that to happen their batsmen need to bat out of their skins.
Tendulkar focuses on enjoying the game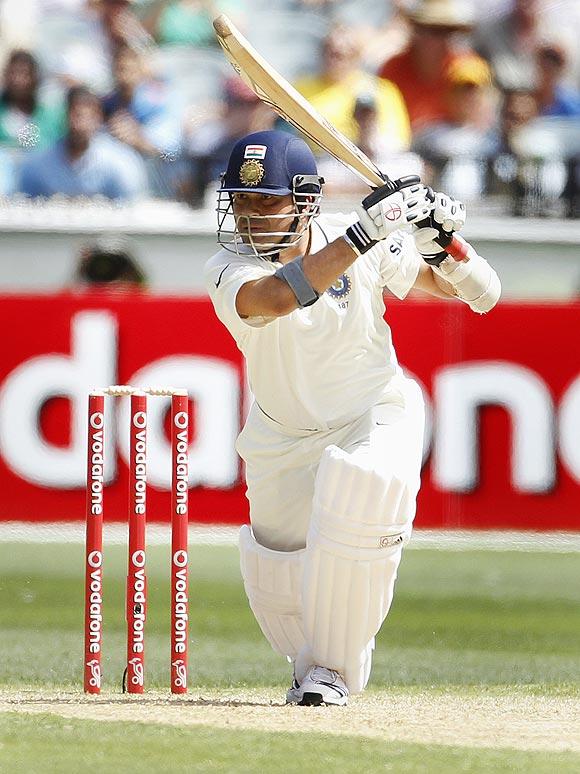 Millions across the globe have been waiting for his historic 100th international century but Sachin Tendulkar says that he would prefer to just enjoy the game without thinking much about the hype surrounding the landmark.
'If I didn't feel the hunger, I wouldn't be playing the game'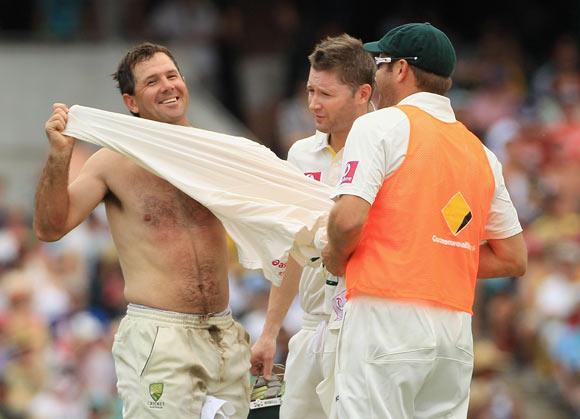 Former Australian captain Ricky Ponting, who silenced his critics by scoring a sparkling 134 against India, on Wednesday said he hung in there because he had "hunger" to do well at the international level despite being under enormous pressure.
Harish's Take: Dhoni disappoints as captain on Day 2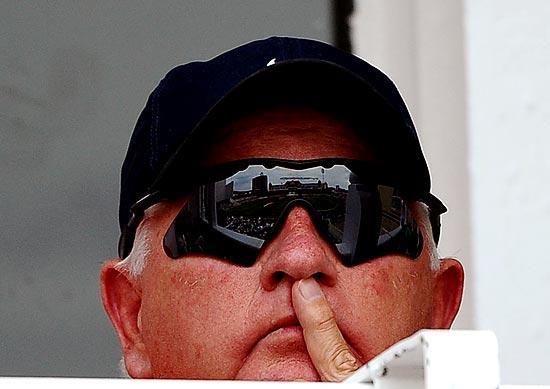 Clearly, Mahendra Singh Dhoni struggles as captain when it comes to Test matches overseas, as is being witnessed in Australia on the ongoing tour and in England last year.
Clarke seeks team respect as momentum swings in Aus favour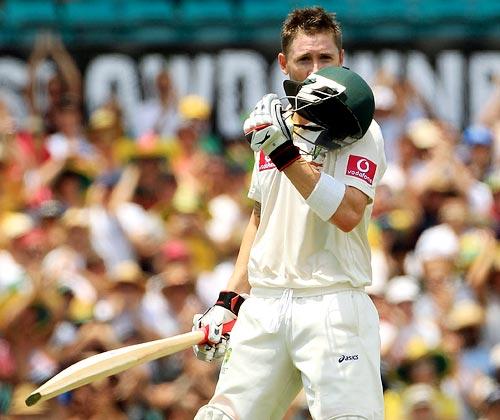 Australia captain Michael Clarke hopes that his unbeaten double century against India will "earn him respect" while his former captain Ricky Ponting, who marked his return to form with a century, described the second day as an "unbelievable one" for his team.
PHOTOS: Clarke's double century puts Australia in charge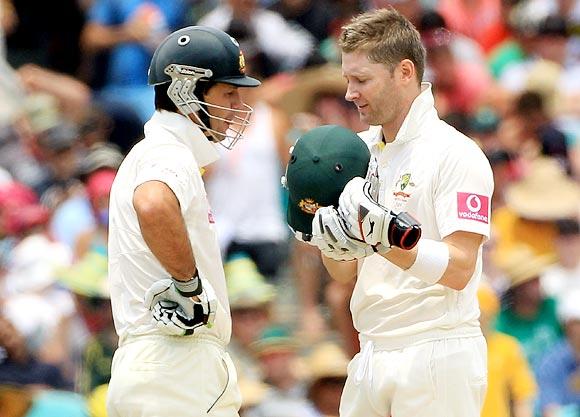 Images from day two of the second Test between India and Australia in Sydney, on Wednesday.
January 03, 2012
Former pacers impressed by Australia's 'chief asset' Pattinson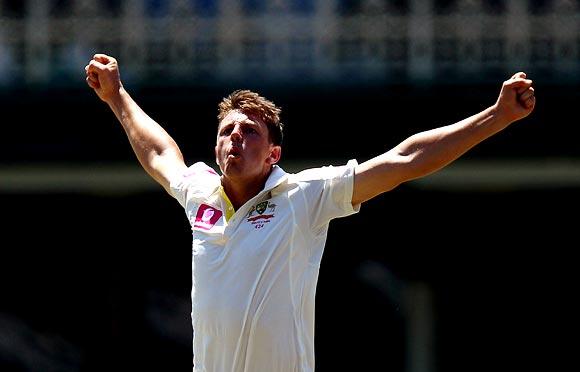 He has played just three Tests for his country, but young fast bowler James Pattinson has already been tipped to become Australia's most destructive paceman in future.
Harish's Take: Is the golden era of India's batting over?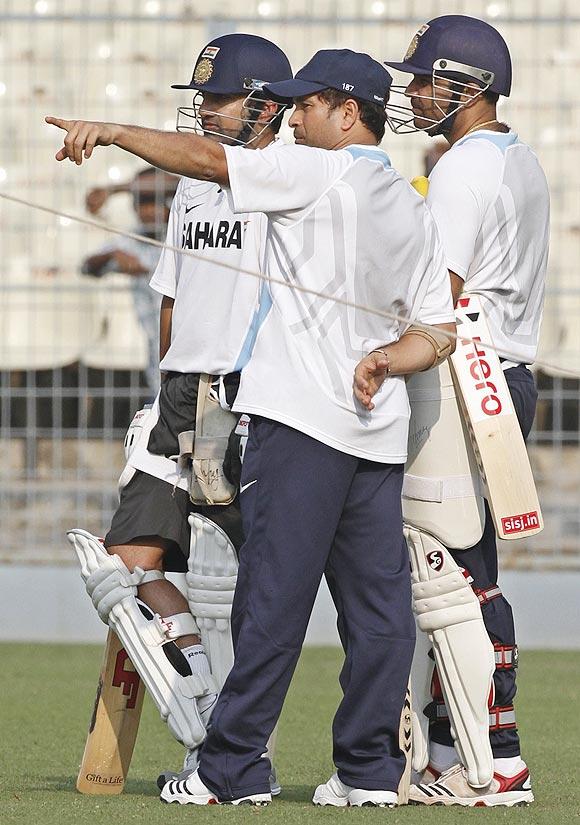 Harish Kotian glances at the first day's play in the second Test between India and Australia.
Fletcher blames failure to build partnerships on batting collapse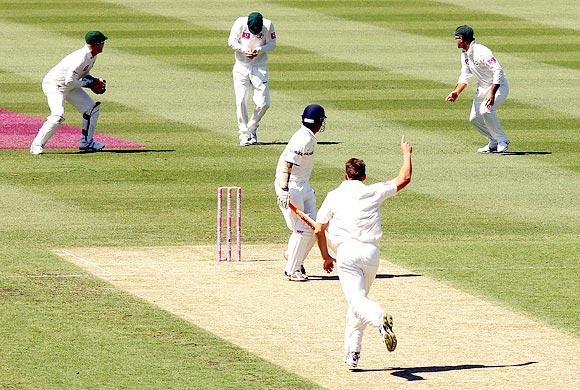 India cricket coach Duncan Fletcher conceded that struggling opener Gautam Gambhir will have to be a "lot more positive" in his approach to come out of his lean patch in the ongoing Test series against Australia but defended the team's batsmen despite their continuing poor run.
To get Sachin out is a very special feeling: Pattinson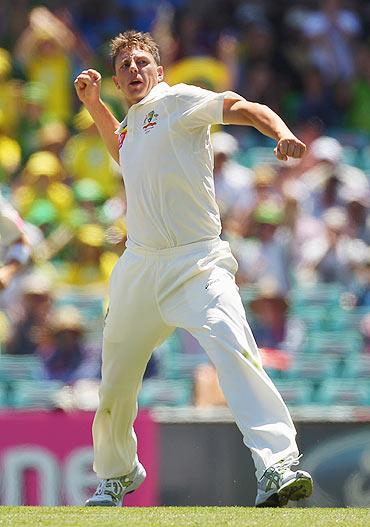 Australia's pace sensation James Pattinson on Tuesday termed his dismissal of Sachin Tendulkar as a lucky one at the Sydney Cricket Ground but said that it was a special feeling nevertheless.
Tendulkar's mental strength makes him a legend: Clark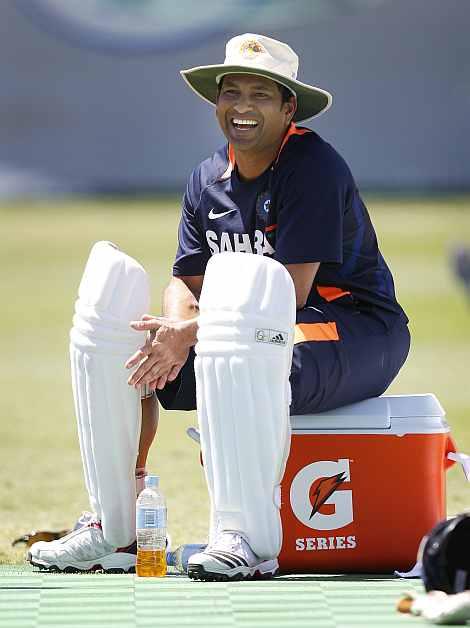 Stating that Sachin Tendulkar's mental strength makes him a legendary batsman, former Australia pacer Stuart Clark has said the 'modern-day Don Bradman' would get to his elusive 100th international century in the second Test against Australia in Sydney.
PHOTOS: Australia on top after Indian batsmen flop at SCG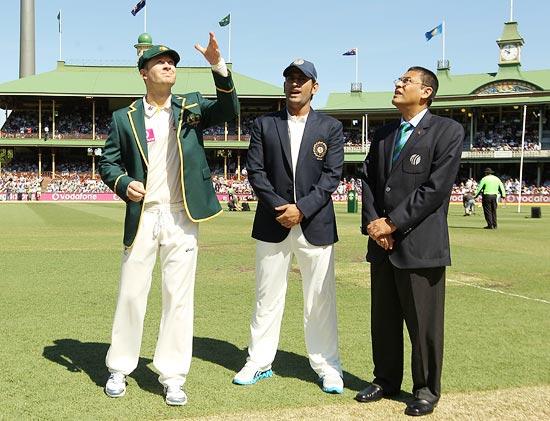 Images from day one of the second Test between India and Australia in Sydney, on Tuesday.
2011 Cricket Trivia 1: Bangladesh's Shafiul Islam got most ducks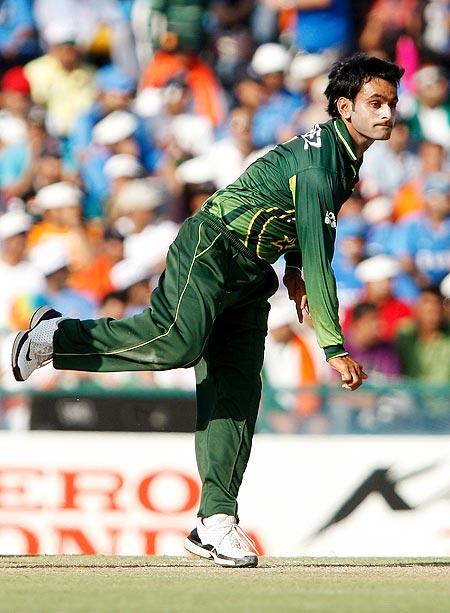 Rajneesh Gupta comes up with interesting cricketing trivia from the year gone by. Read on...
January 02, 2012
Aussies lost respect for Tendulkar after Monkeygate: report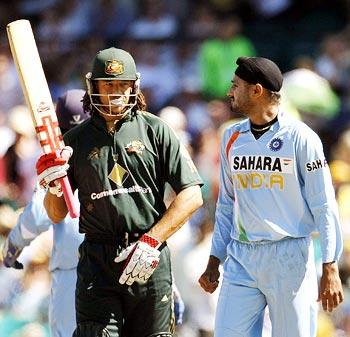 In a virulent verbal attack on Indian cricket icon Sachin Tendulkar, an Australian newspaper, on Monday, slammed the batting maestro for backing his team-mate Harbhajan Singh during the '2008 monkeygate scandal' in Sydney, saying some Aussie players lost respect for him after that.
Dhoni chosen for prestigious AIPS Fair Play award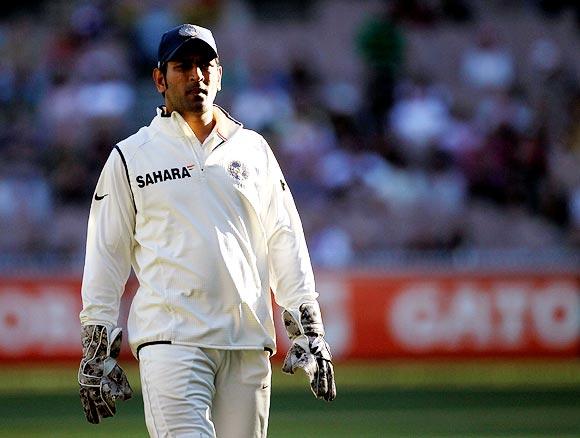 India captain Mahendra Singh Dhoni has become the first cricketer in the world to be chosen for the AIPS Fair Play 2011 award for his exemplary action in
2nd Test: India aim for turnaround at SCG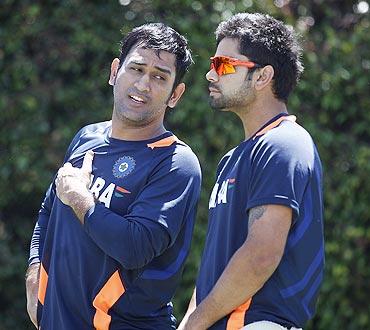 Crushed in the series-opener, India aim to draw level when they go into the second cricket Test against Australia in Sydney on Tuesday amid growing concerns over their famed batting line-up's ability to deliver in overseas conditions.
Sydney Synonymous With Sachin Tendulkar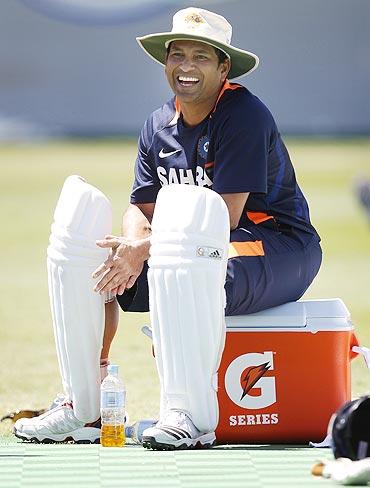 India play the next Test at Sachin Tendulkar's favourite hunting ground and this could just end his search for the elusive 100th ton, writes .
Faisal Shariff's Dream Aussie, India XIs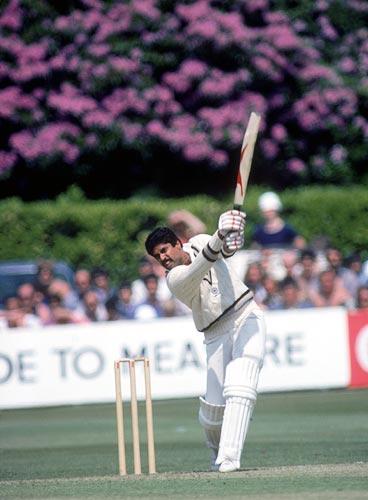 Some huge surprises in 's all-time India-Australia dream teams. Check it out!
Delving on the positives, Dhoni sends warning to Australia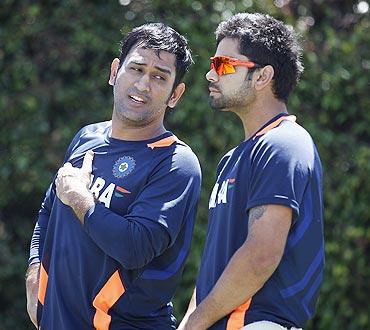 India captain Mahendra Singh Dhoni has warned Australia not to get too carried away with their victory in the first Test and backed his team to battle back in the second in Sydney this week.
McGrath impressed by Australia's pace attack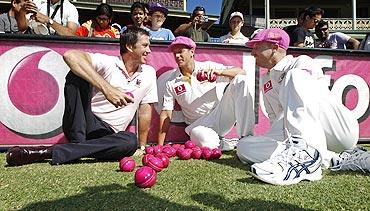 Pace legend Glenn McGrath foresees Australia complete a 4-0 whitewash over India in the ongoing Test series. McGrath makes this claim following the top-class performance of the home team's pace bowling attack, especially the young James Pattinson.
Keen to maintain momentum, Aus retain squad for 2nd Test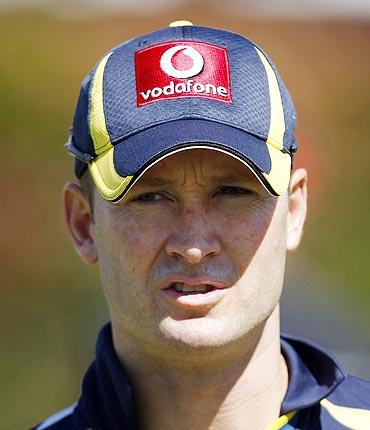 Australia captain Michael Clarke is looking for more of the same from his team after naming an unchanged line-up to that which beat India by 122 runs in Melbourne last week for the second Test.
Will Fletcher's Australia jinx continue?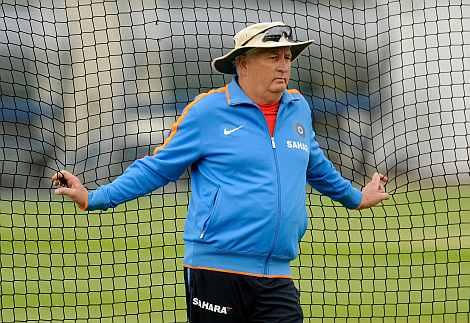 Indian skipper Mahendra Singh Dhoni has a jinxed man in his corner and it's none other than coach Duncan Fletcher.
The top-10 ODI batsman in 2011: Kohli No. 1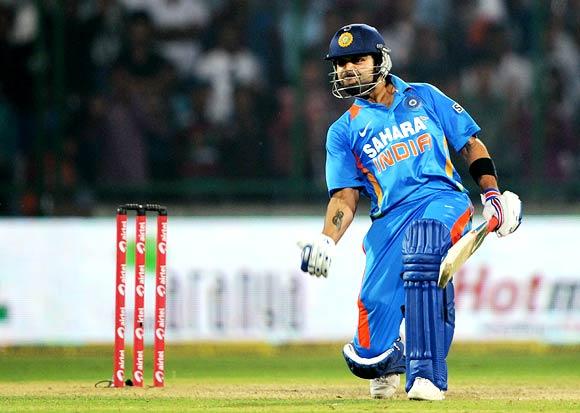 Virat Kohli finished top with a tally of 1381 runs in 34 matches, having played a vital role in India's World Cup triumph in March-April.
Top-10 bowlers in Tests in 2011: Ajmal No. 1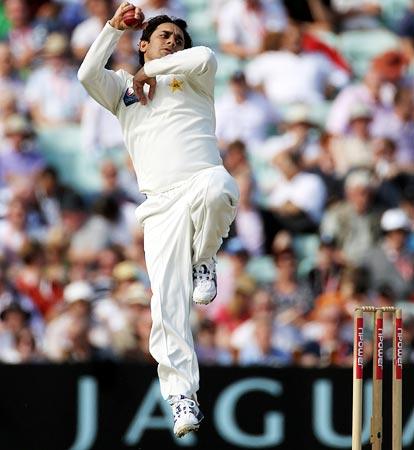 There was no catching Ajmal in the bowling stakes as he ended with a massive haul of 50 wickets in eight Tests, while Ishant Sharma was second with 43 wickets in 12 matches.
January 01, 2012
I love the aggression of my pacers: Clarke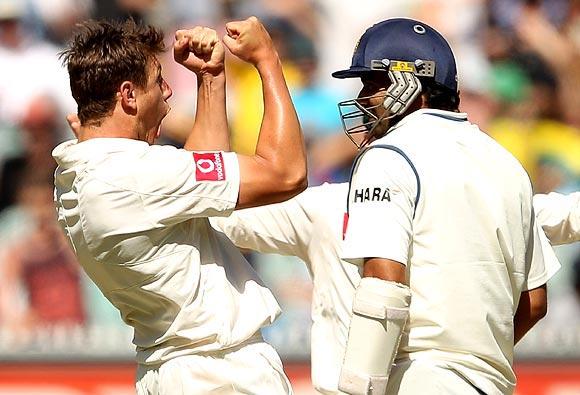 Australian cricket captain Michael Clarke can't stop raving about the aggression his pacers displayed in the opening Test against India and wants them to remain ruthless and bounce the visitors again during the second match starting in Sydney, on Tuesday.
DRS will always be controversial: MacGill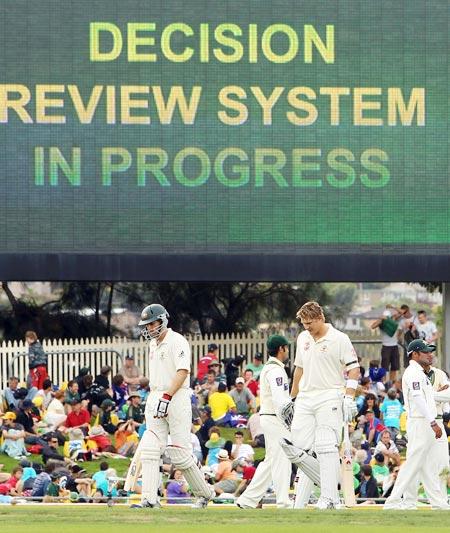 Former Australian leg-spinner Stuart MacGill feels the Decision Review System will remain controversial whether it is used or not but the prerogative to use the technology should remain with the on-field umpires and not the players.
I am mentally prepared for Test debut: Rohit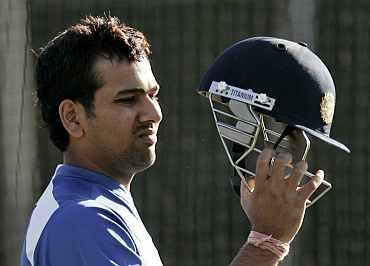 India batsman Rohit Sharma says he is mentally prepared to make his Test debut against Australia, in Sydney, should he be picked to replace an out-of-form Virat Kohli in the second match of the series, starting on Tuesday.
2nd Test: Dravid works on technique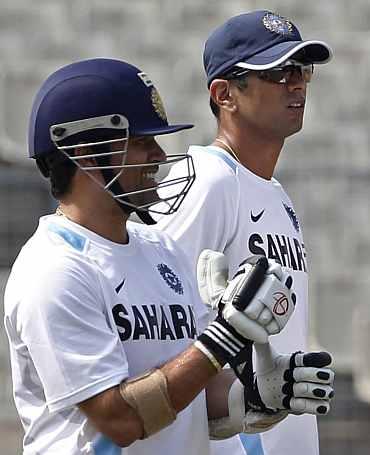 He is second highest run-maker in Test cricket's history but Indian batting veteran Rahul Dravid remains a student of the game and was seen fussing on his technique during the net session ahead of the second Test against Australia starting in Sydney on Tuesday.
Number six slot crucial for India's fightback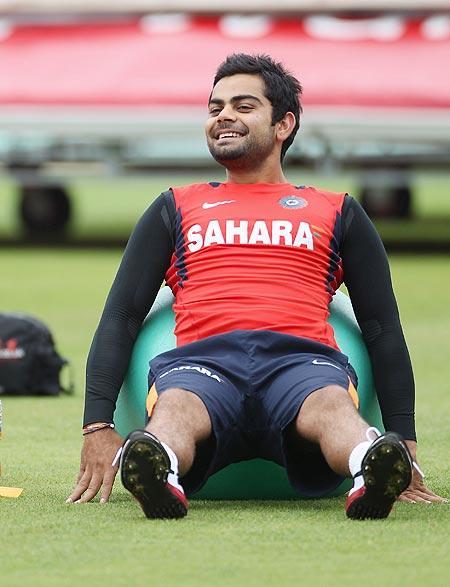 Ever since Sourav Ganguly hung his boots in the winter of 2008, the number six slot has got Team India in crosshairs and the problem continues with Virat Kohlifailing miserably in the first Test against Australia.
Archives
September - December 2011
|
July 2011
|
May 2011
|
March 2011
|
January 2011
|
November 2010
|
September 2010
|
July 2010
|
May 2010
|
April 2010
|
March 2010
|
February 2010