February 29, 2012
'If non-performers aren't dropped, you can lose a series'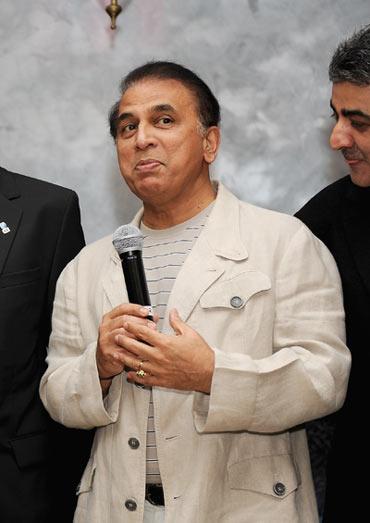 Former India captain, Sunil Gavaskar on Wednesday said the selectors should not be afraid of dropping non-performing players but refused to criticise the selection of the side for the upcoming Asia Cup.
We have started to look towards the future: Srikkanth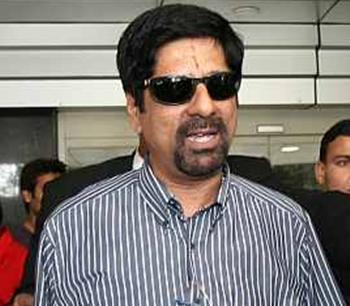 Selection committee chairman Krishnamachari Srikkanth made it clear that opener Virender Sehwag and pace spearhead Zaheer Khan were not dropped but 'rested purely on fitness grounds'.
India's ten best successful run chases in ODIs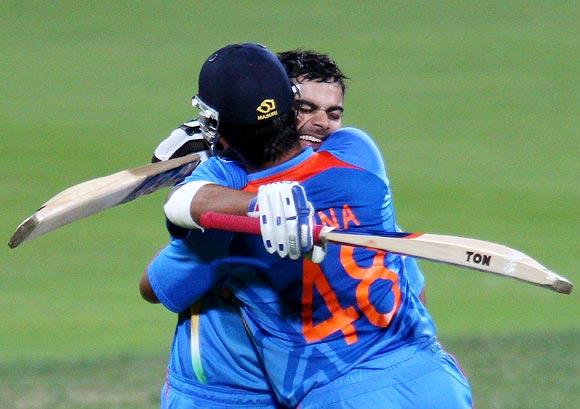 A look at India's ten best successful run chases in One-Day Internationals.
Kohli slams Aussies for not playing in spirit of game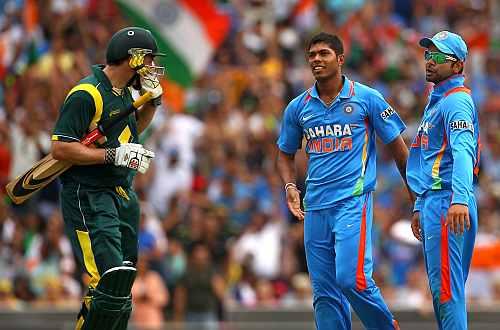 Virat Kohli lashed out at the Australian players for not playing in the spirit of the game in his side's tri-series match against the hosts in Sydney on Sunday.
Kohli on how India achieved the impossible at Hobart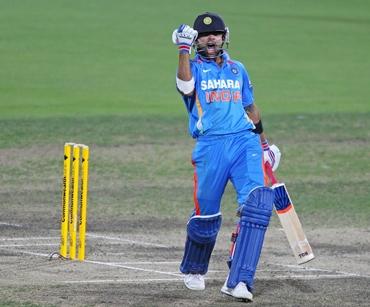 Virat Kohli, who smashed an unbeaten 133 to guide India to a morale-boosting victory over Sri Lanka in a crunch tri-series match in Hobart on Tuesday, said his side was confident of winning the tie in 40 overs and they took it as playing two Twenty20 games.
February 28, 2012
One of best ODI victories I have been part of: Dhoni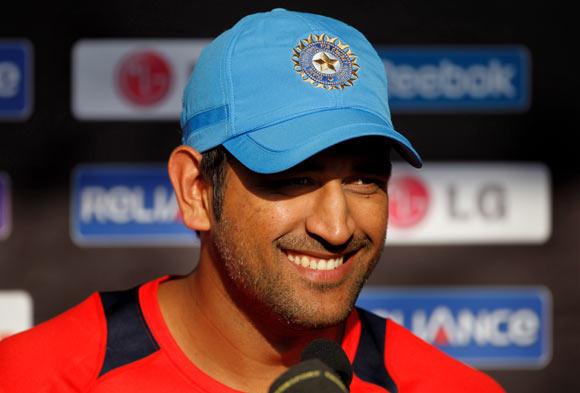 Indian captain Mahendra Singh Dhoni on Tuesday described his side's incredible seven-wicket win over Sri Lanka in the crucial tri-series match here as one of the best ODI victories he has been part of.
PHOTOS: Kohli dazzles as India race past SL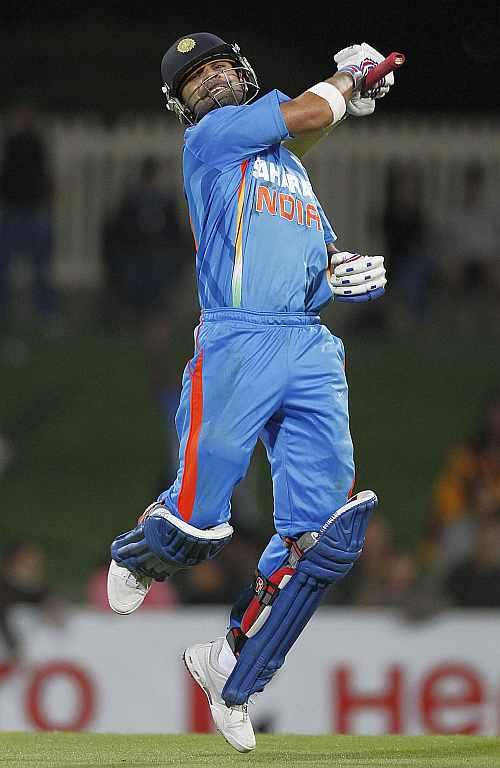 Images from the ODI tri-series between India and Sri Lanka in Hobart on Tuesday.
Sehwag, Sachin likely to be 'rested' for Asia Cup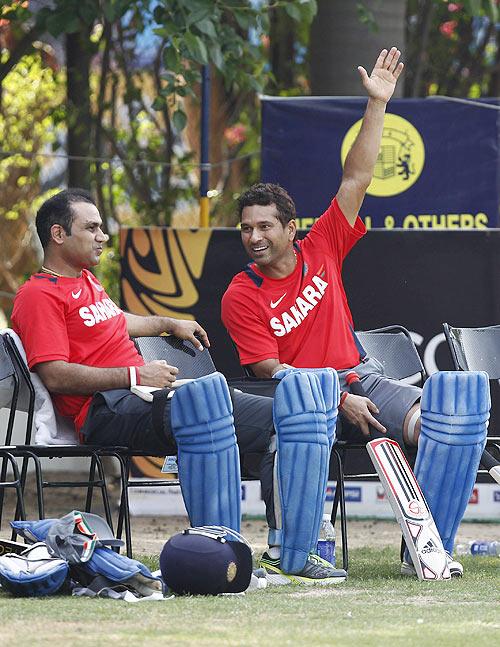 Indian selectors will have a lot to discuss and deliberate in the wake of the national cricket team's pathetic show in Australia when they meet in Mumbai on Wednesday to pick the squad for next month's Asia Cup in Bangladesh.
February 27, 2012
'Expect something different from Team India'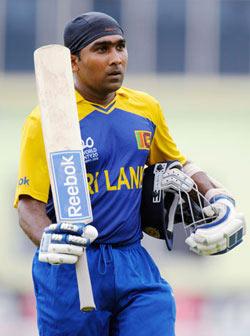 The Indians may have had an indifferent tour of Australia but Sri Lankan captain Mahela Jayawardene has cautioned his teammates to guard against complacency when the two teams clash in a crucial tri-series match in Hobart on Tuesday.
Kumble visits ailing Yuvraj in US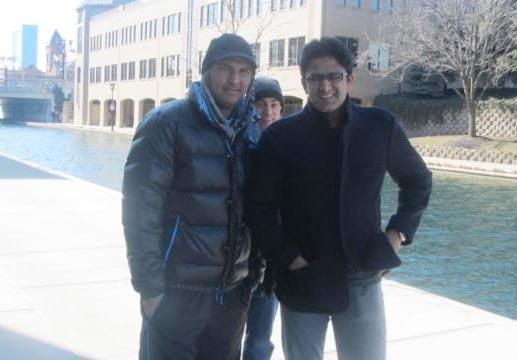 Recovering from a malignant tumour between his lungs in the United States, star India cricketer Yuvraj Singh was paid a "surprise" visit by former skipper Anil Kumble.
PHOTOS: Clarke named Australia's player of the year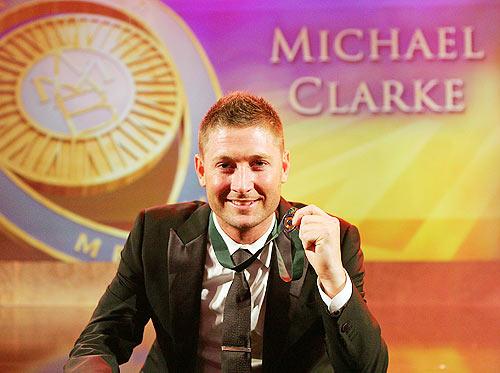 Australia captain Michael Clarke won the Allan Border Medal as his country's Player of the Year for the third time on Monday.
India hope for turn of fortunes to stay alive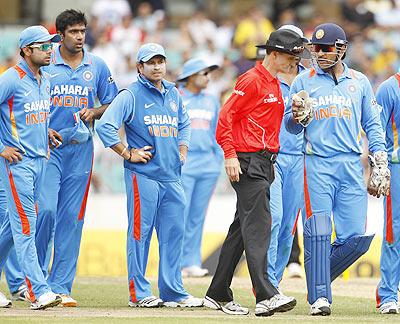 Pushed to the very brink of elimination, a demoralised India face an arduous task of beating Sri Lanka with a bonus point to have even a remote chance of qualifying for the finals of the cricket tri-series when the two sides clash in Hobart on Tuesday.
'Pathetic India treating the game with no respect'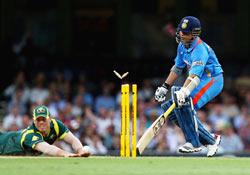 An Australian newspaper slammed the Indian cricket team as a "rabble with no redeeming features" and lashed out at Sachin Tendulkar's remonstration of being blocked by Brett Lee in his run-out in the triangular series match as "woeful".
February 26, 2012
Dhoni blames batsmen for crushing defeat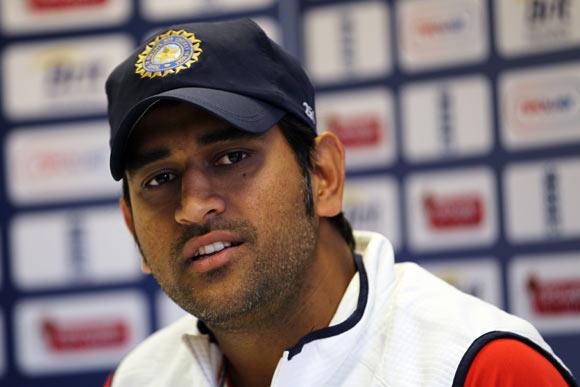 Indian skipper Mahendra Singh Dhoni squarely put the blame on his batsmen for the crushing 87-run defeat at the hands of Australia in a critical match at the SCG on Sunday.
Dhoni lashes out at Lee, says no business to obstruct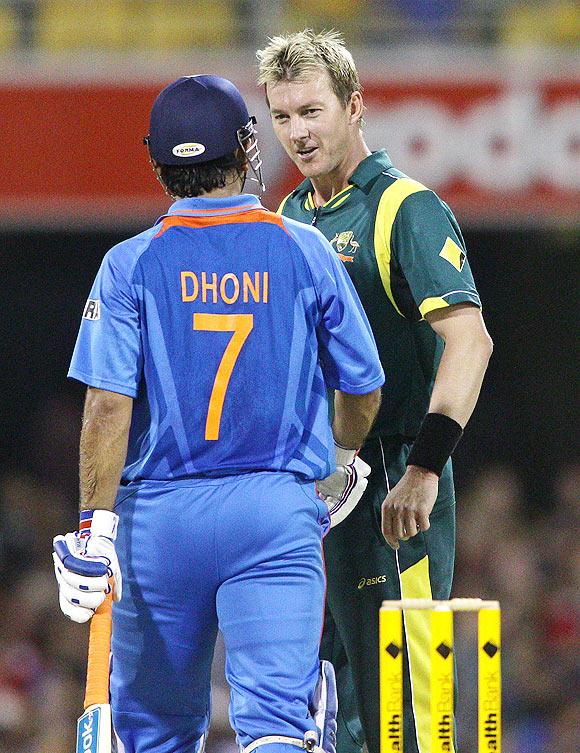 A major controversy erupted in the tri-series match between India and Australia at the SCG, with Sachin Tendulkar being dismissed in a debatable run out and visiting captain Mehendra Singh Dhoni lashing out at pacer Brett Lee for standing on the way of the batsman.
'We haven't been able to perform to our potential'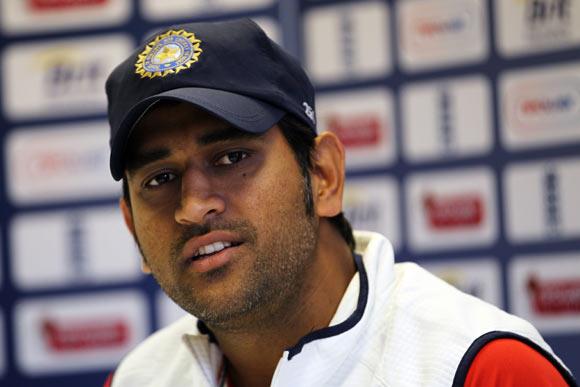 India captain Mahendra Singh Dhoni on Sunday said that he "can't pinpoint one particular reason" for his team's failure in the ongoing ODI tri-series where they have lost their fourth match.
Bedi calls for Dhoni's head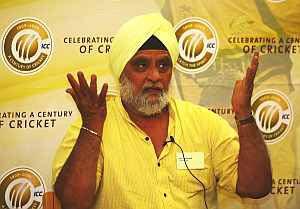 Blaming Mahendra Singh Dhoni for the apparent 'rift' in the Indian cricket team in Australia, former captain Bishan Singh Bedi on Sunday said that time has now come for the side to have a new Test skipper.
PHOTOS: Indian batting flounders again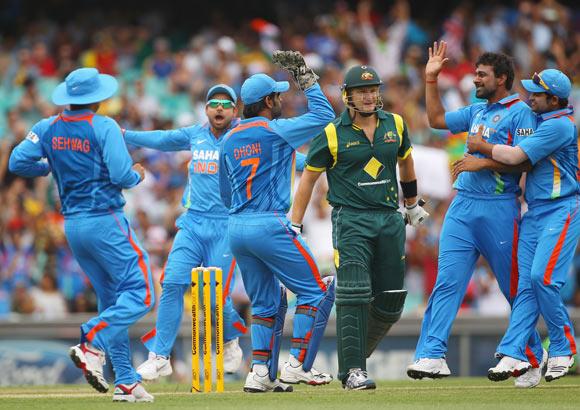 Australia scored a resounding 87-run win over India in Sydney on Sunday to book a berth in the final of the CB Series. Chasing 253 to win, the visitors could only manage 165, losing with 10.3 overs to spare.
February 25, 2012
Time for experiments over, says Dhoni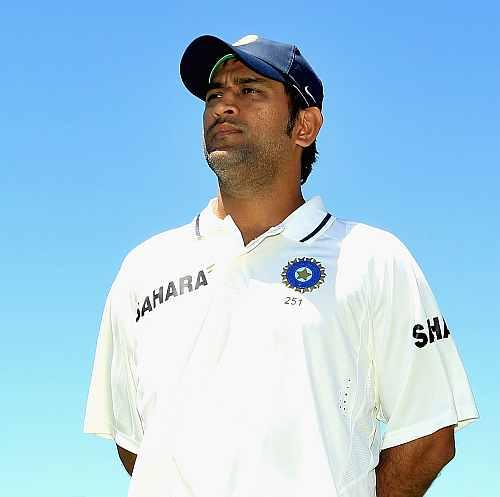 Faced with a do-or-die situation, Indian skipper Mahendra Singh Dhoni is all set to field his three regular openers rather than experiment with a pinch hitter at the top of the order in Sunday's crucialtri-series One-dayer against Australia in Sydney.
India aim to stay afloat, battle Oz in crucial tie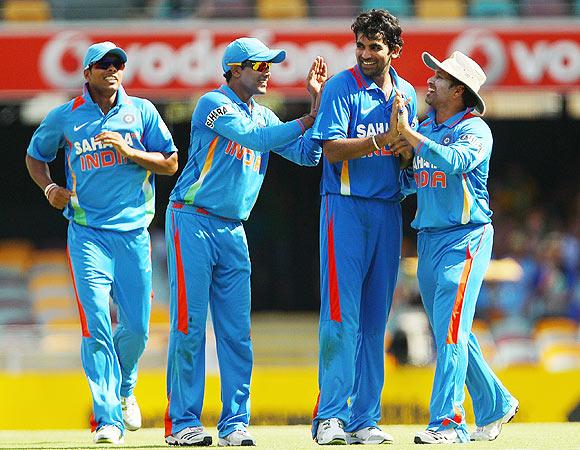 Their survival in the series at stake and reputation hit by speculation of discord in the camp, India are a team on the brink as they prepare to take on World No. 1 Australia in a crucial tri-series league match in Sydney on Sunday.
'Selectors fear telling Sachin to retire from ODIs''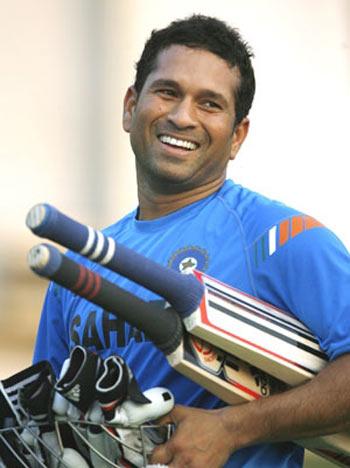 Former Australian batsman Dean Jones says that Sachin Tendulkar looked tired of One-day cricket but no selector has the courage to tell him to retire from the 50-over format.
February 24, 2012
PIX: Jayawardene leads chase as Lanka down Australia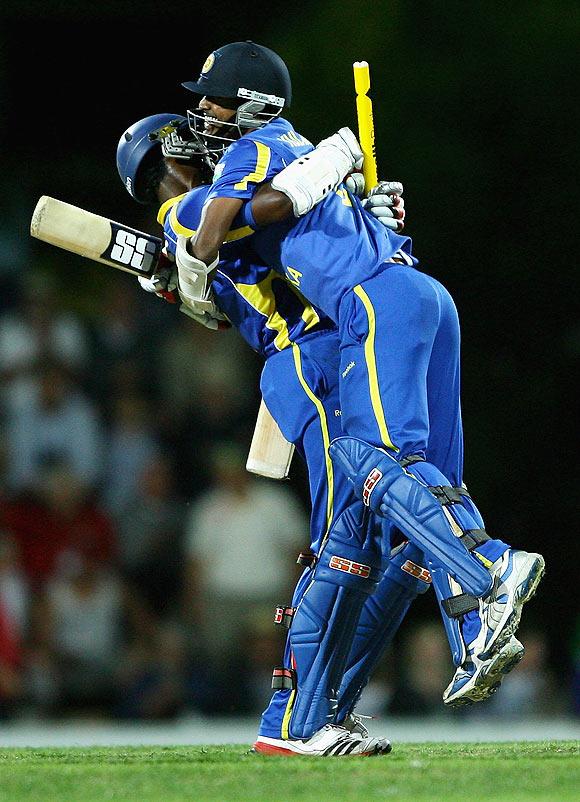 Images from the 9th ODI between Sri Lanka and Australia played in Hobart on Friday.
All powerful teams go through transition: Srinivasan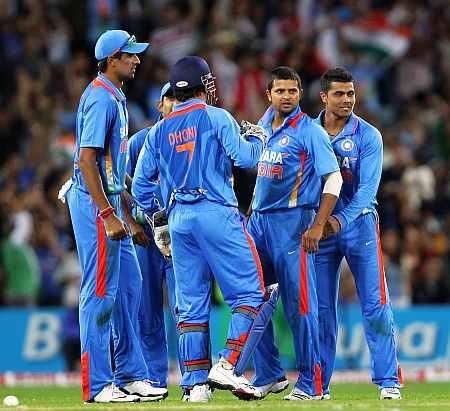 "All powerful teams go through a period of transition" -- this was BCCI President N Srinivasan's take on the future of Indian cricket team but he gave no indication as to when the much-talked about phaseout ofseniors will happen."
Irfan keen to take all-rounder spot in Indian team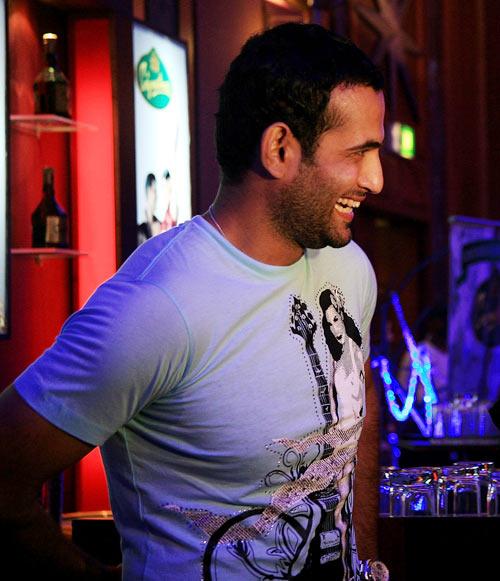 Irfan Pathan on Friday said he is keen to fill in the position of the medium-pace bowling allrounder in the Indian team that skipper Mahendra Singh Dhoni craves for all too often.
The Expert Replies: 'Mankaded' in international cricket!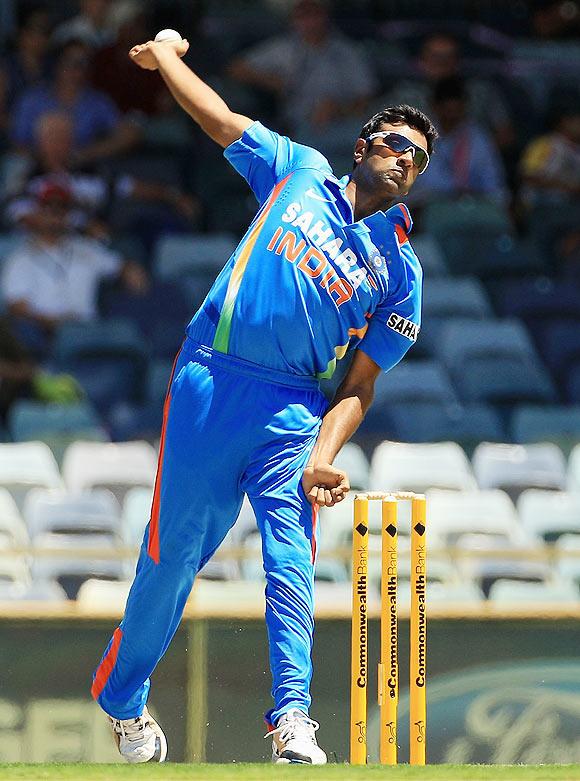 If you have a question relating to cricket and did not know who to ask, bounce them off to Rajneesh Gupta. He will pick questions readers send him and provide answers. Your queries should be addressed to: Ask Rajneesh on Facebook or askrajneesh@rediffmail.com Rajneesh replies to questions he received from readers last week:
February 23, 2012
India's poor stats testimony to Down Under disaster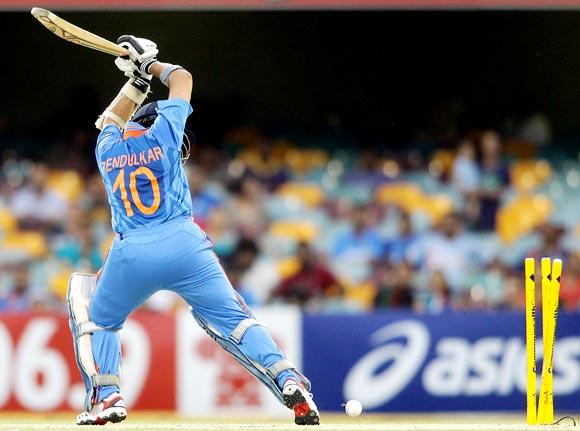 It's a clear call for India's bowlers and batsmen to raise their stocks. There ought to be bigger knocks, bigger stands and more firepower in the bowling arsenal.
Kohli, Yadav bright spots on dismal Aus tour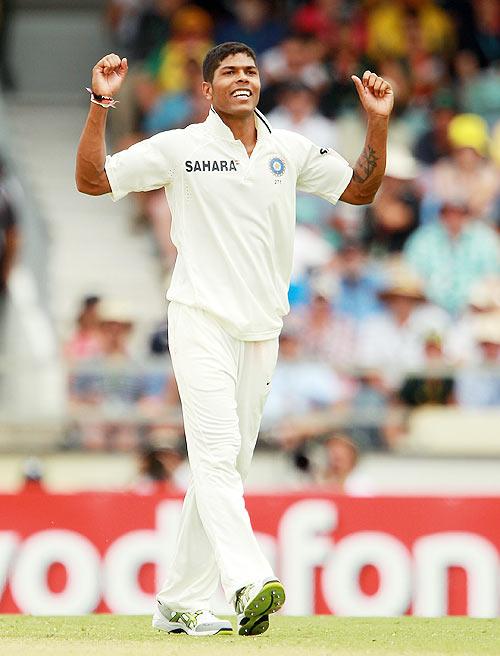 Young Virat Kohli and Umesh Yadav emerged the notable bright spots in an otherwise disastrous Australian tour during which India's reputation as a cricketing giant took a beating.
February 22, 2012
Playing without Ponting will be weird: Clarke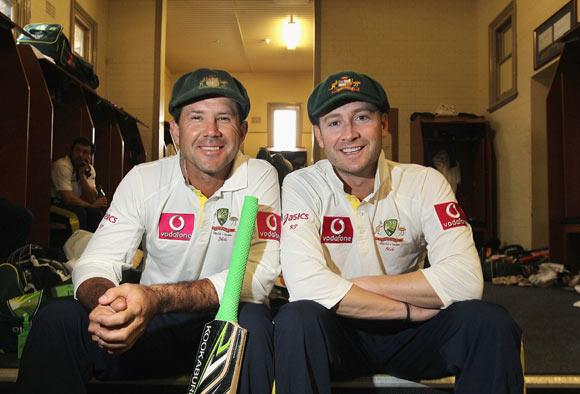 Australian skipper Michael Clarke on Wednesday said it will be a "weird" and "strange" feeling when he will walk out in Hobart to play against Sri Lanka without Ricky Ponting, who he says is "giant of the game".
Kapil urges BCCI to step in and sort out issues in team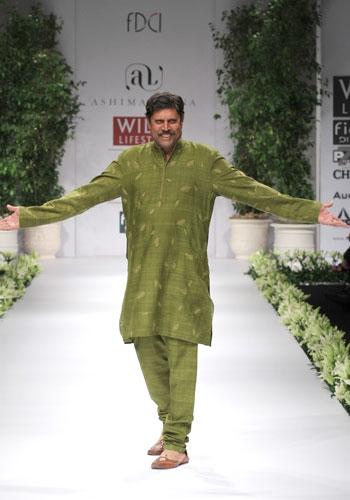 Amid reports of a rift within the Indian cricket team in Australia, former captain Kapil Dev on Wednesday urged the BCCI to step in and sort out "difference of opinion" among players.
ICC ODI Rankings: Dhoni rises, Sehwag drops to 18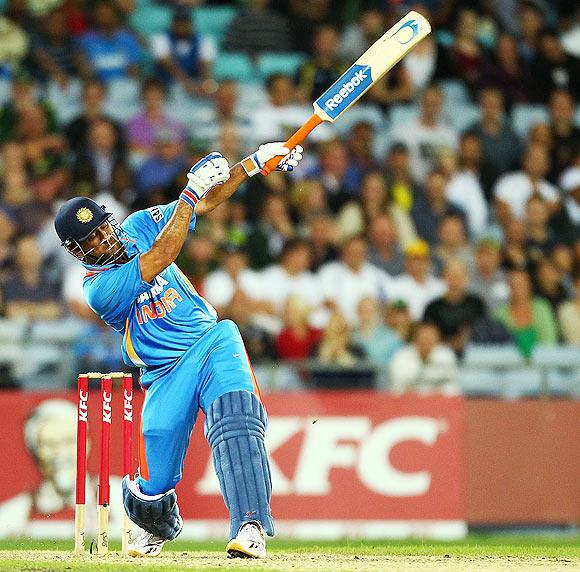 The continuous failure with the bat cost Indian opener Virender Sehwag four places as he slid to 18th in the ICC ODI rankings for batsmen but skipper Mahendra Singh Dhoni moved up by two places to No. 4.
Border backs Ponting's decision to bat on in Tests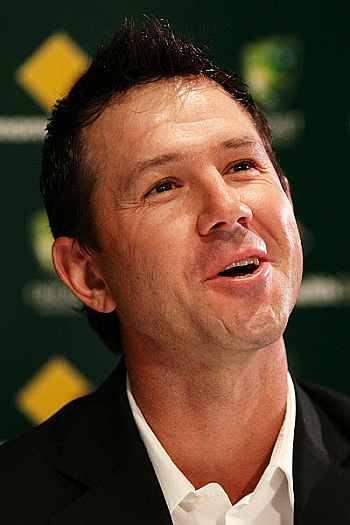 Former Australian skipper Allan Border has backed Ricky Ponting's decision to continue playing Test cricket, saying the 37-year-old veteran remains a "walk-up start" in the line-up due to a lack of young batting talents.
Time for different captains for different formats: Ganguly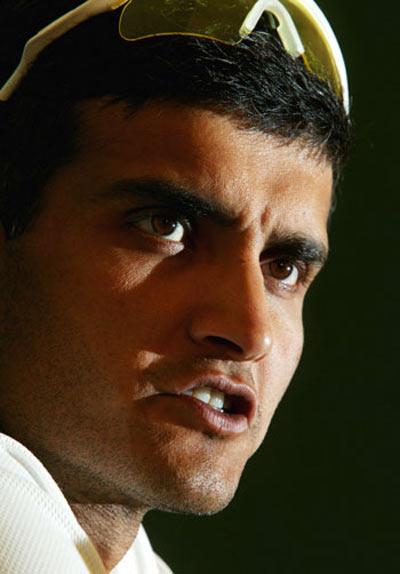 Critical of Mahendra Singh Dhoni's rotation policy, former Indian skipper Sourav Ganguly says time has come for the selectors to appoint different cricket captains for the three formats of game.
'We have been fielding the same for last 10 years'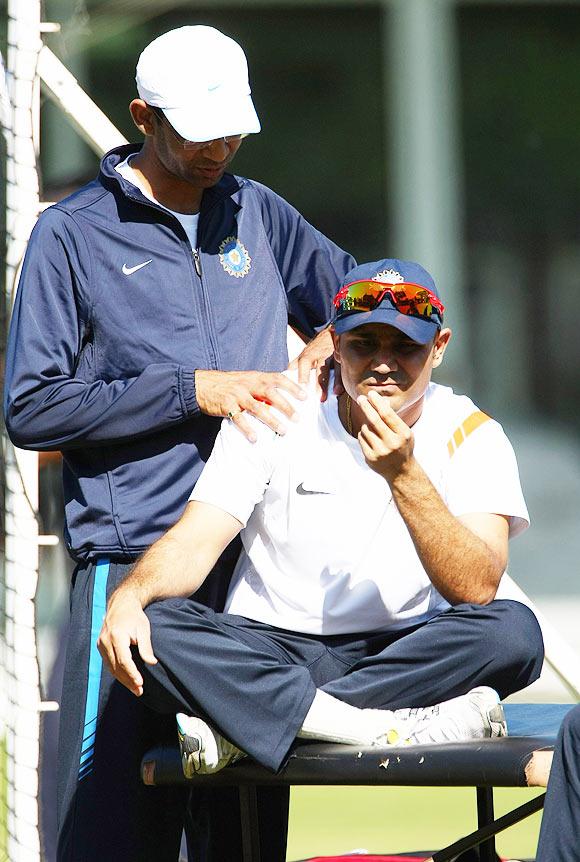 The controversial rotation policy, which has sparked of a heated debate among critics and speculation of a rift within the team, took a more confusing turn on Tuesday with Virender Sehwag saying he did not know that fielding abilities had anything to do with it.
Ricky Ponting: Limited-overs, unlimited success!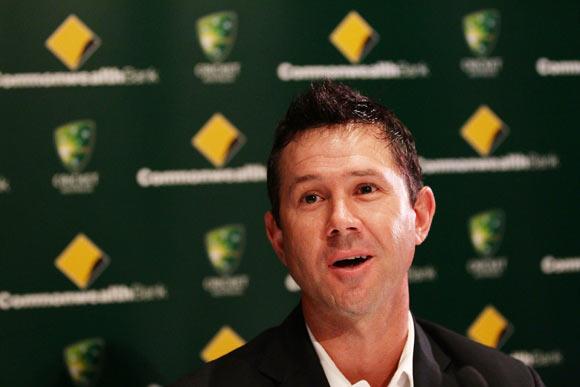 Despite a premature end to his ODI career, Ricky Ponting should have no regrets. He achieved everything on offer as player and captain in one-day cricket, says Bikash Mohapatra.
February 21, 2012
Sehwag concedes he needs to improve his batting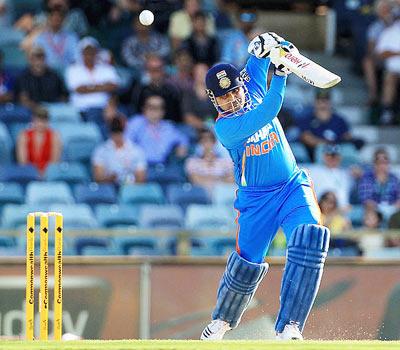 Dashing opener Virender Sehwag conceded that he needs to improve his batting at the top of the order to win matches for India, saying he will curb his natural aggressive instinct.
Photos: Sri Lanka ease past India in Brisbane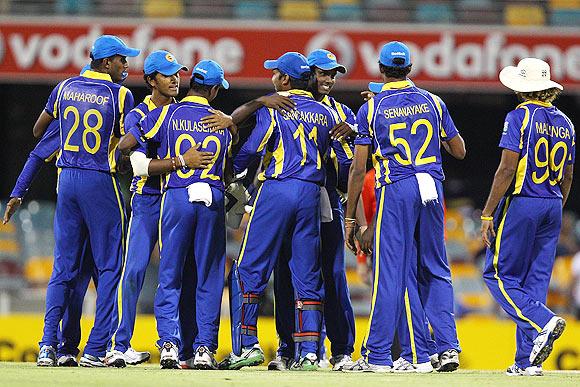 India's tri-series campaign was thrown into disarray as they lost Sri Lanka by 51 runs in Brisbane on Tuesday.
Axed Ponting hopes to hold on to Test spot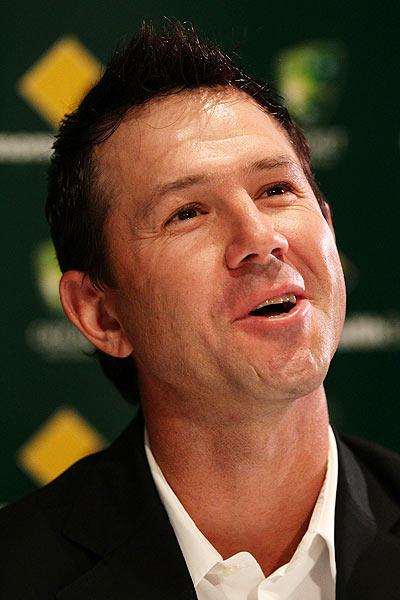 Whether it be pulling a short delivery to the fence or plucking a lightning-quick catch in the slips, Ricky Ponting's formidable powers of anticipation have rarely been questioned throughout his storied career.
'Ponting won't be pushed into retiring from Tests'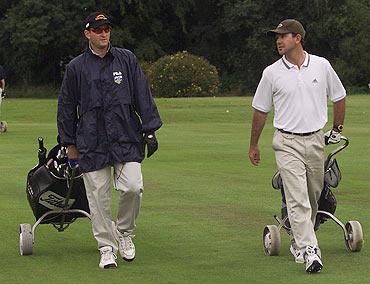 Former Australia cricketer Mark Waugh expects Ricky Ponting to scrap for survival in Australia's Test set-up despite being shunned from the One-day side.
February 20, 2012
Sachin's time in ODIs is up, says Kapil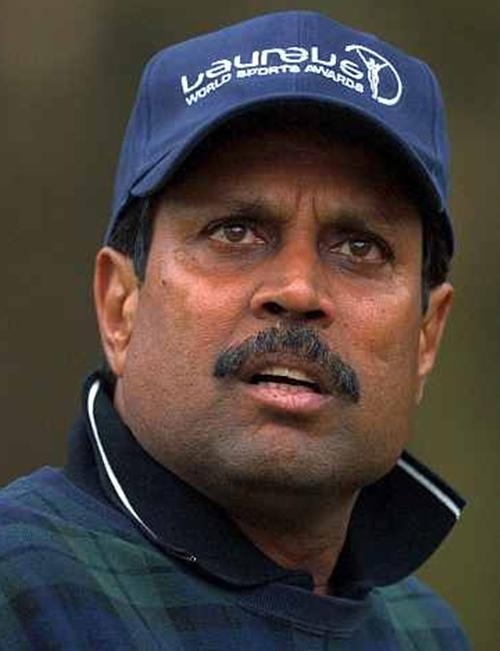 Former India captain Kapil Dev says Sachin Tendulkar should have quit playing One-Day Internationals after the last World Cup.
Tri-series axing signals end to Ponting's ODI career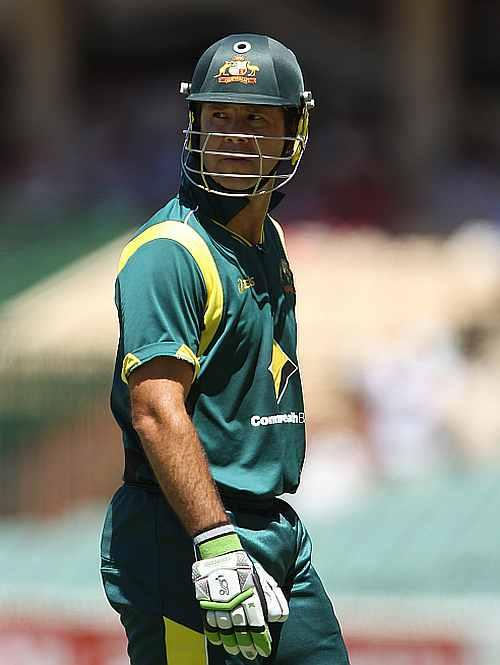 Dropped from the squad for the next two tri-series matches, Australia's two-time World Cup-winning former captain Ricky Ponting is "considering his future" in one-day cricket and an announcement could come in the next couple of days.
Lankan test awaits Dhoni-less India in tri-series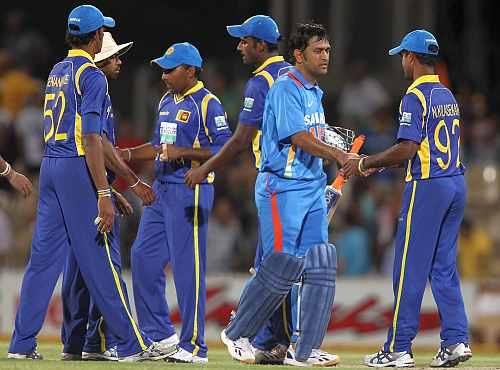 India are grappling with a selection dilemma and a prolonged form slump of their batsmen as they go into the crucial tri-series match against Sri Lanka in Brisbane without the services of their in-form captain Mahendra Singh Dhoni.
Levi makes IPL franchises take notice of him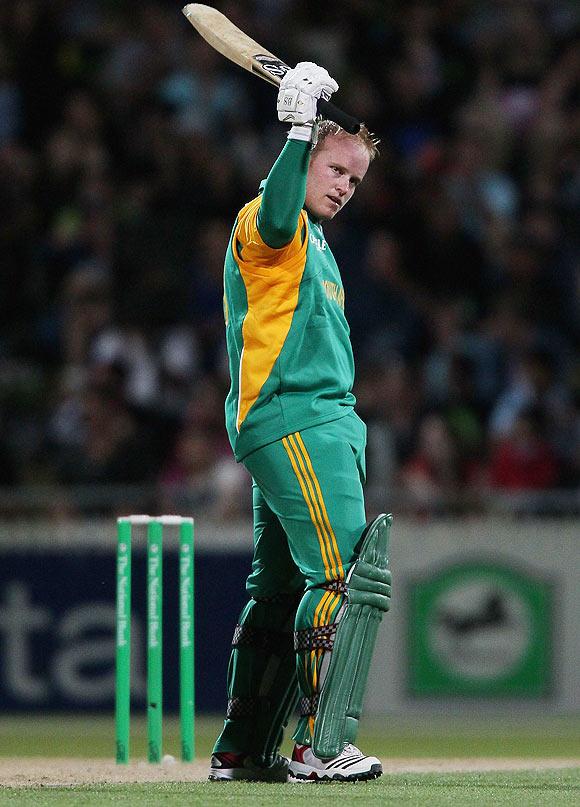 South African opener Richard Levi who scored the fastest century in the history of T20 International during his knock 117 off 51 balls against New Zealand has made the IPL franchises owners sit up and take notice after being ignored at auctions in Bangalore, earlier this month.
February 19, 2012
Top three not playing all games because they are slow: Dhoni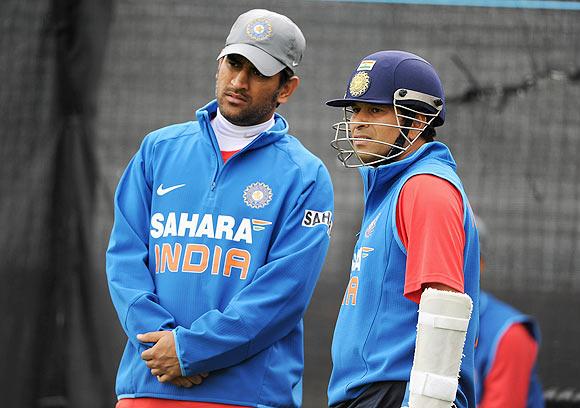 Indian skipper Mahendra Singh Dhoni on Sunday backed the team's rotation policy in the top order, saying the top three batsmen were not playing each game because they are slow on the field.
PHOTOS: Aussie pacers put India to sword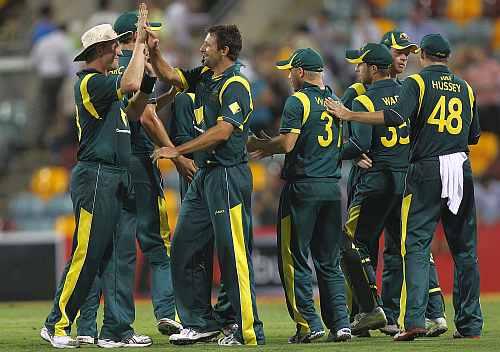 Images from the seventh ODI between India and Australia in Brisbane.
Dhoni gets one-match ban for slow over rate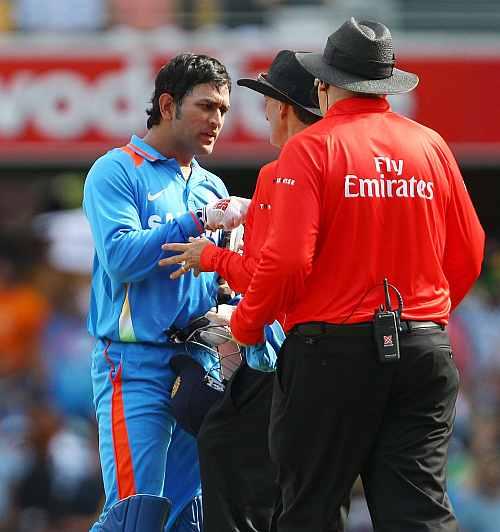 Indian captain Mahendra Singh Dhoni has been banned for one ODI after his side was fined for a second minor over-rate offence within a year during the cricket tri-series match against Australia in Brisbane on Sunday.
Shastri urges Tendulkar to 'forget the milestone'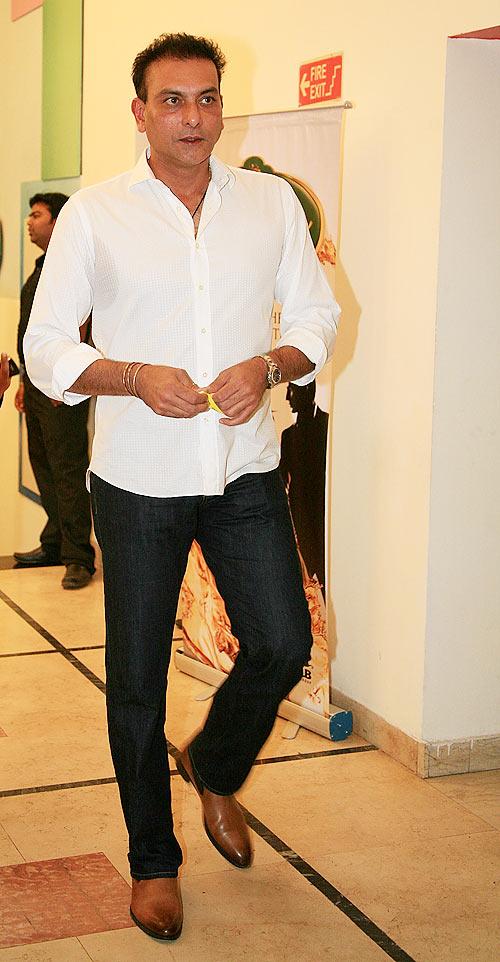 Former India skipper Ravi Shastri wants senior batsman Sachin Tendulkar to stay true to his game and "forget about the milestone" as the wait for his landmark 100th international century continues.
February 18, 2012
'Ricky Ponting is a little bit jaded...'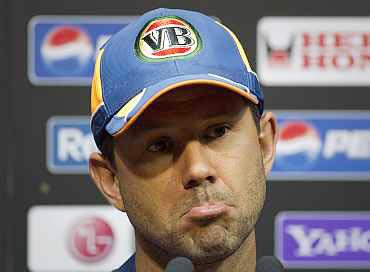 Livid after consecutive losses in the ODI tri-series, Australia coach Mickey Arthur on Saturday said the side and its "jaded" stand-in skipper Ricky Ponting would have to face the consequences if they don't atone for the defeats with an improved performance against India in Brisbane on Sunday.
There are a few areas I can improve: Vinay Kumar
He has emerged as an unlikely top wicket-taker for India in the ongoing ODI tri-series and pacer Vinay Kumar on Saturday said he is looking to improve on consistency in the forthcoming matches.
Table-toppers India aim to stifle cornered Aussies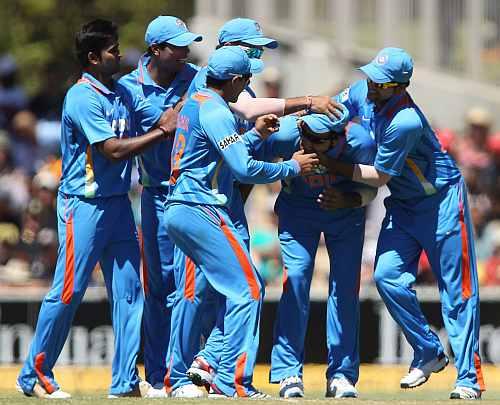 Australia's back-to-back losses have thrown the ODI tri-series open and a revitalised India would look to corner the struggling and injury-hit hosts when the two sides clash in the critical second phase of the league in Brisbane on Sunday.
I'm still worth a place in the side: Ponting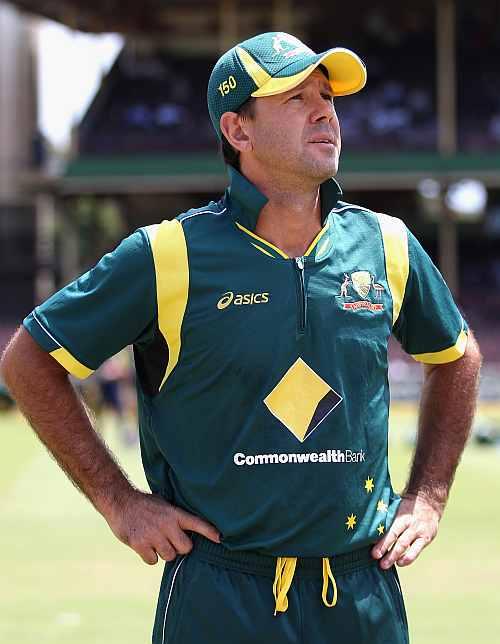 His recent poor run notwithstanding, Australian cricket team's stand-in skipper Ricky Ponting says he is still "worth a place" in the side but concedes that reputation alone won't be enough to get him the selectors' nod all the time.
February 17, 2012
Rotation helps players stay mentally fresh: Ganguly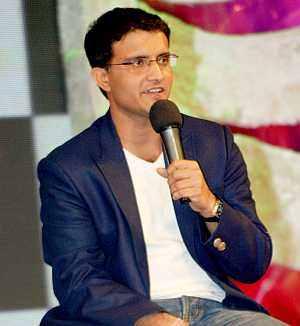 Former India skipper Sourav Ganguly has come out in defence of the much-debated rotation policy adopted by the India team in the ongoing tri-series in Australia, saying it would help the players to be 'mentally fresh' before the final stages of the tournament.
PHOTOS: Sri Lanka too good for Aus in Sydney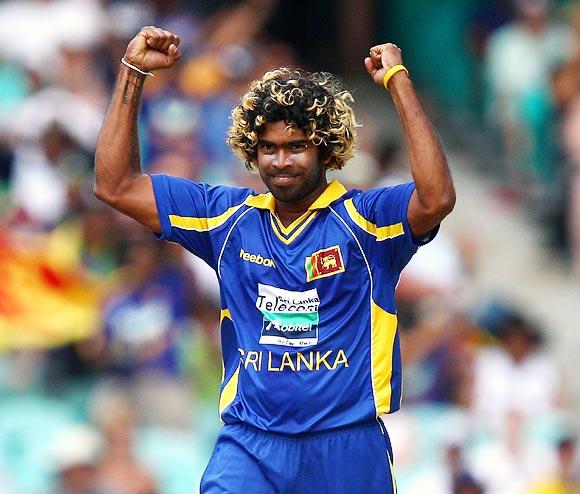 Images from the sixth One-Day International of the CB Tri-series between Sri Lanka and Australia in Sydney, on Friday.
IPL: Harmeet's 'homecoming' for Kings XI Punjab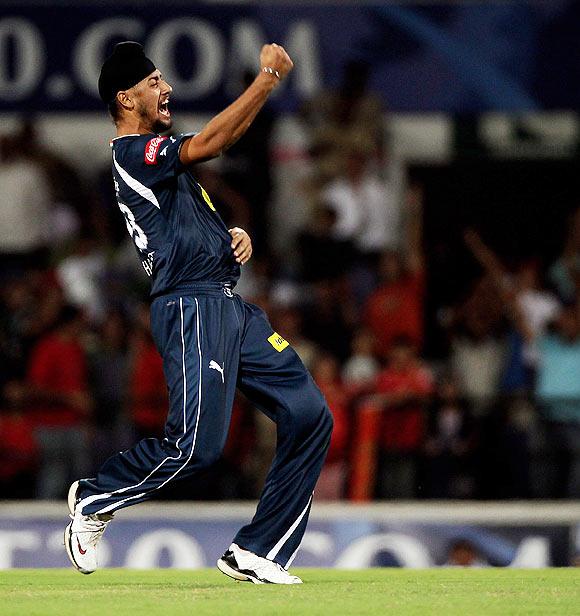 It's sweet 'homecoming' for medium-pacer Harmeet Singh, who will turn out for Kings XI Punjab in the fifth edition of Indian Premier League after having a three-year stint with Deccan Chargers.
Vinay Kumar makes a difference in ODIs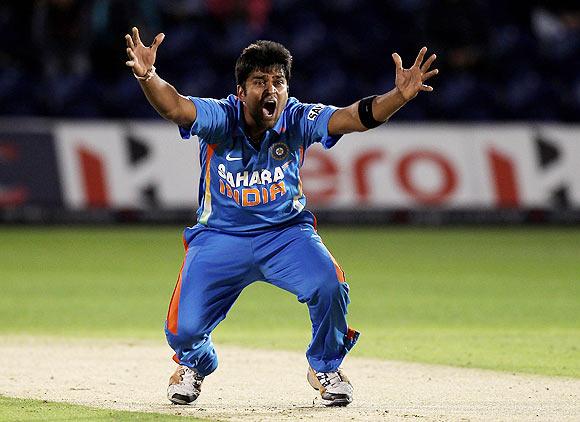 India medium pacer R Vinay Kumar is not on anyone's mind and he would just like it the way it is as long as his skipper Mahendra Singh Dhoni keeps turning to him and batsmen keep nibbling at his swinging deliveries.
February 16, 2012
Sri Lanka chase elusive win against Ponting-led Aus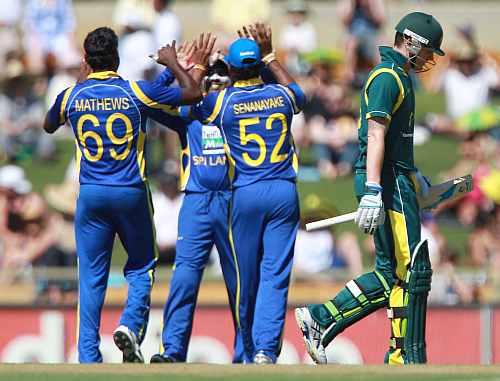 Sri Lanka's sprightly cricketers will look to end their winless streak when they take on an Australia sans talismanic skipper Michael Clarke in the tri-series One-Day International in Sydney on Friday.
Looking after the team for a couple of days: Ponting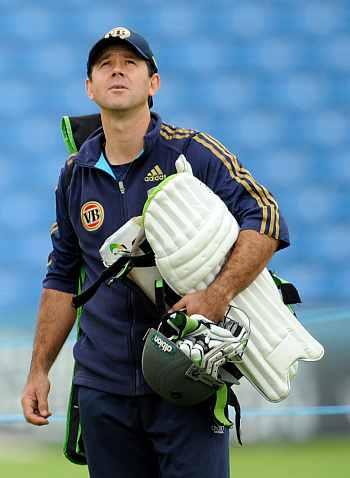 Ricky Ponting, who is all set to lead Australia in Friday's One-dayer against Sri Lanka in the absence of regular skipper Michael Clarke, insisted that he is stepping in only as a caretaker.
February 15, 2012
What makes Dhoni the best finisher in ODIs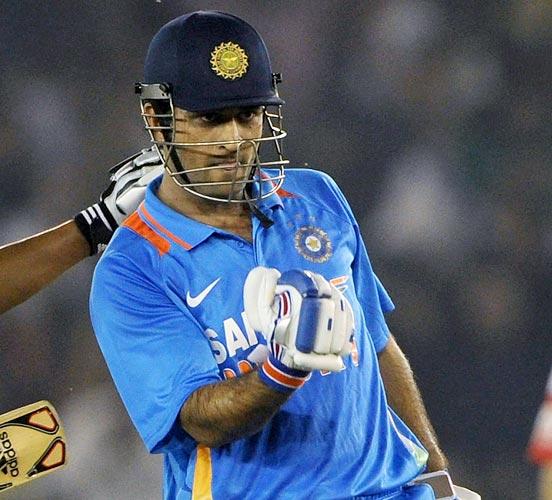 He may be under pressure as a captain, but as finisher, lower down the batting order, India skipper Mahendra Singh Dhoni is considered one of the best in ODI cricket.
IPL woes mount as franchisees have little say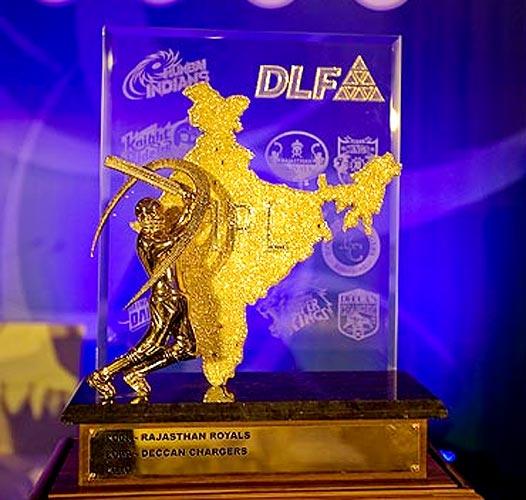 Some franchises, says , are uncertain whether their best interests are addressed in decision-making by the IPL's governing council.
I believe in finishing game be it 47th, 48th or 50th: Dhoni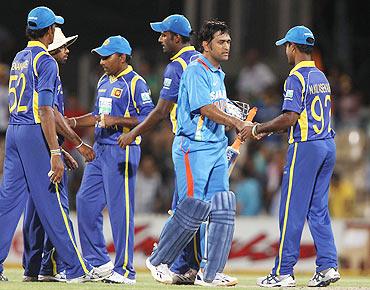 India captain Mahendra Singh Dhoni on Tuesday made it clear that his take on how and when to finish a game is different from Gautam Gambhir but each one is entitled to have their own opinion.
February 14, 2012
Was Over 30 the turning point in the India-SL ODI?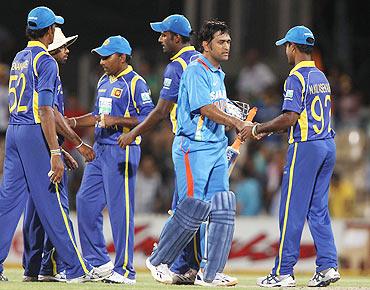 It was the first ever tie between India and Sri Lanka in the history of One-day Internationals.
Go Yuvi!! Livestrong, Armstrong tells Yuvraj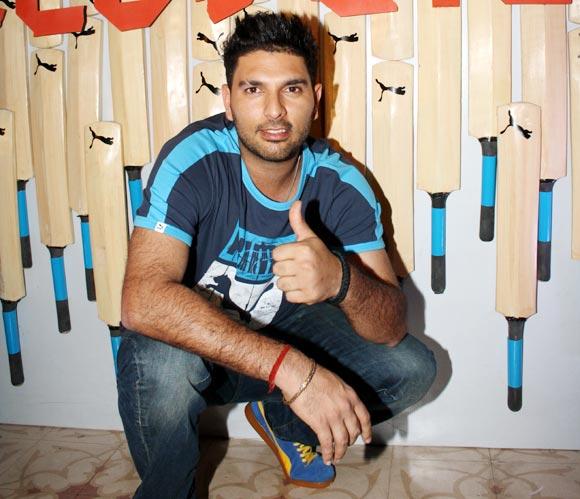 Cycling great Lance Armstrong has sent a message to Yuvraj Singh, wishing him a speedy recovery and offering help in the Indian cricketer's battle against cancer.
PHOTOS: A nerve-wrecking finish to Adelaide ODI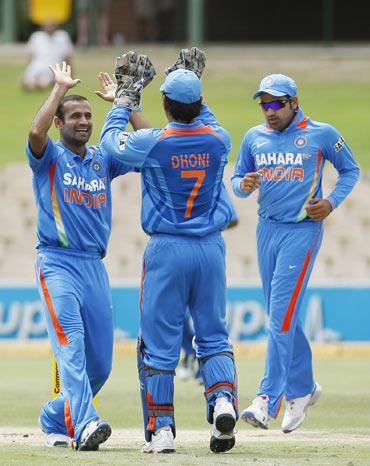 The fifth match of the Commonwealth Bank series between India and Sri Lanka in Adelaide ended in a thrilling tie on Tuesday. While the bowlers helped India stay on course for a third straight win by restricting Sri Lanka to 236 for nine on a placid Adelaide Oval wicket, the batsmen paid the price for leaving too much for the end.
'KKR, Inshallah, will win the IPL this year'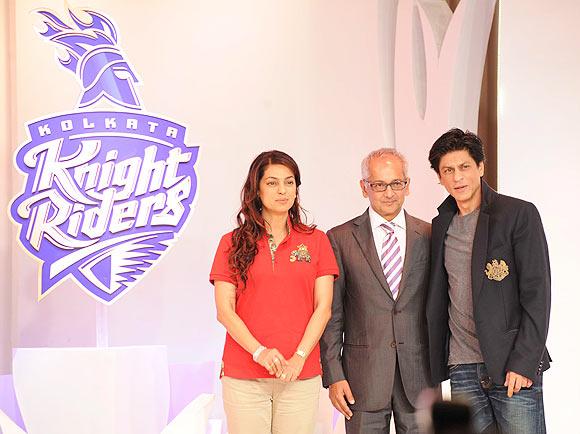 At the launch of Kolkata Knight Riders' new logo in Mumbai on Monday, team owner Shah Rukh Khan spoke of the team underperforming, the acquisition of a new bunch of players and the hope of winning the fifth edition of the IPL.
Ponting named Australia captain for Lanka ODI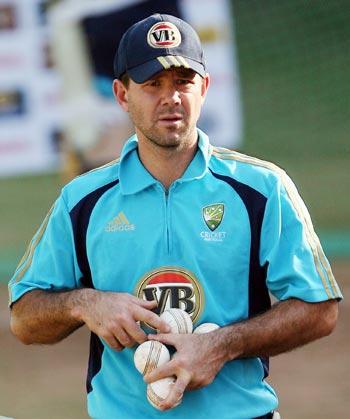 Ricky Ponting has been asked to step back into the role of Australia captain after skipper Michael Clarke was ruled out of their One-day triangular series match against Sri Lanka on Friday, chairman of selectors John Inverarity has said.
Why Sahara is upset with the BCCI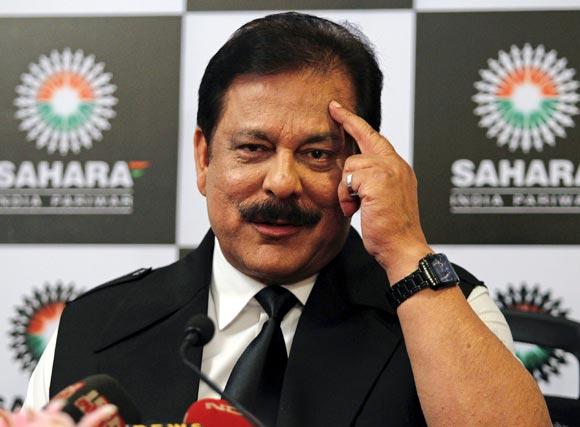 The ongoing stand-off between the Board of Control for Cricket in India and corporate giants Sahara India Pariwar took a new turn on Monday, with the latter accusing the Indian Cricket Board of breaking the rules of their agreement.
February 13, 2012
Dhoni's five best knocks in India's winning chases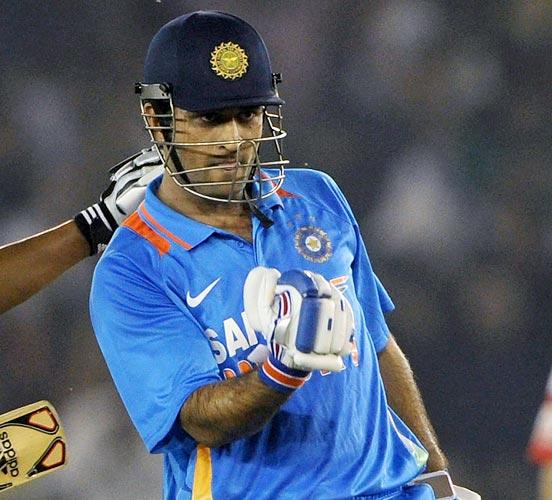 presents India captain Mahendra Singh Dhoni's top five innings in India's successful run chases.
BCCI says it won't make 'an exception' for Sahara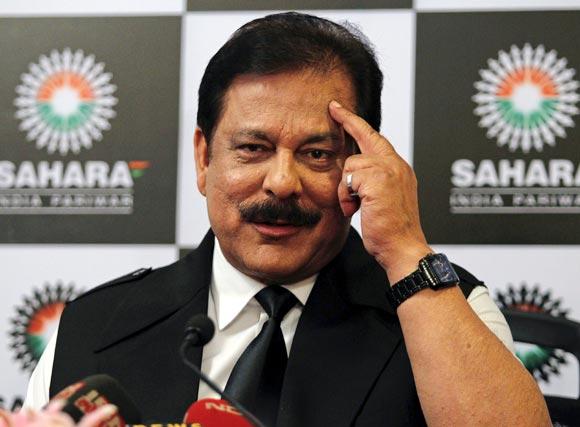 The Board of Control for Cricket in India-Sahara standoff continues following the Board's Working Committee's refusal to make "exceptions" for its long-time sponsor.
Confident India look to continue winning streak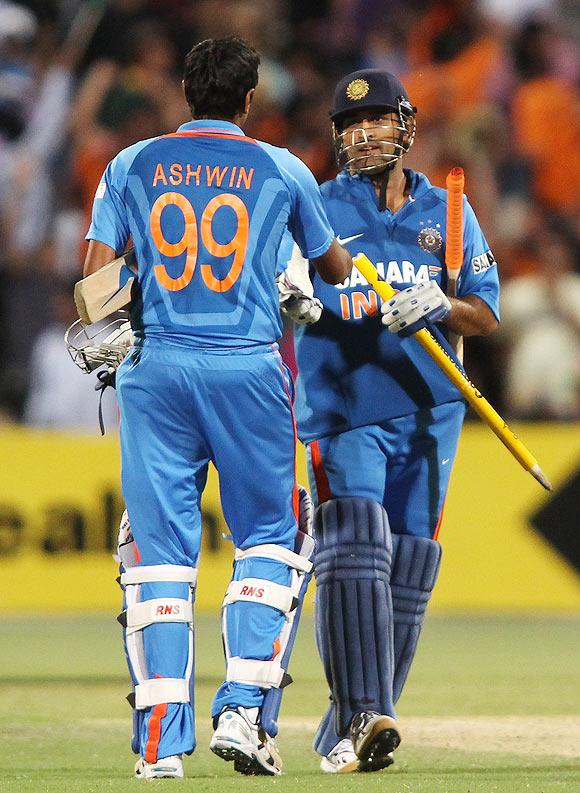 A rejuvenated Indian side will aim to complete a hat-trick of victories when they take on Sri Lanka in the fourth match of the Commonwealth Bank Tri-Series, in Adelaide on Tuesday.
India vs Sri Lanka: Sangakkara starts mindgames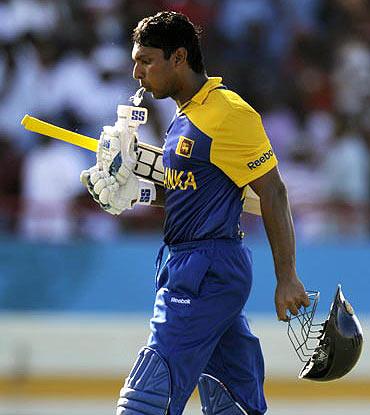 Desperate to win their first match of the tournament, senior Sri Lanka batsman Kumar Sangakkara on Monday put up a brave front ahead of his team's match against India in the ODI tri-series, in Adelaide on Tuesday.
Resting Tendulkar, Hussey is a disgrace: Tony Greig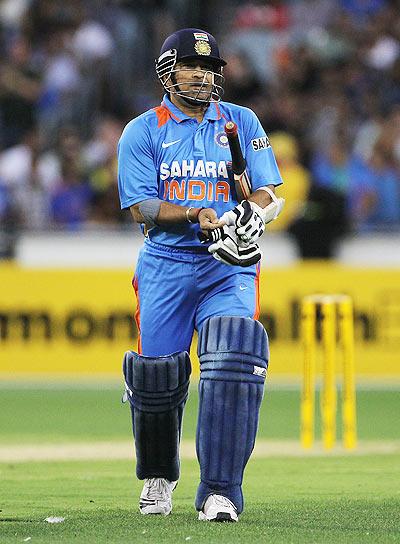 Former England captain Tony Greig has labelled the decision to rest Sachin Tendulkar and Mike Hussey during Sunday's cricket tri-series match between India and Australia as a "disgrace".
February 12, 2012
We should have finished the game in 48th over: Gambhir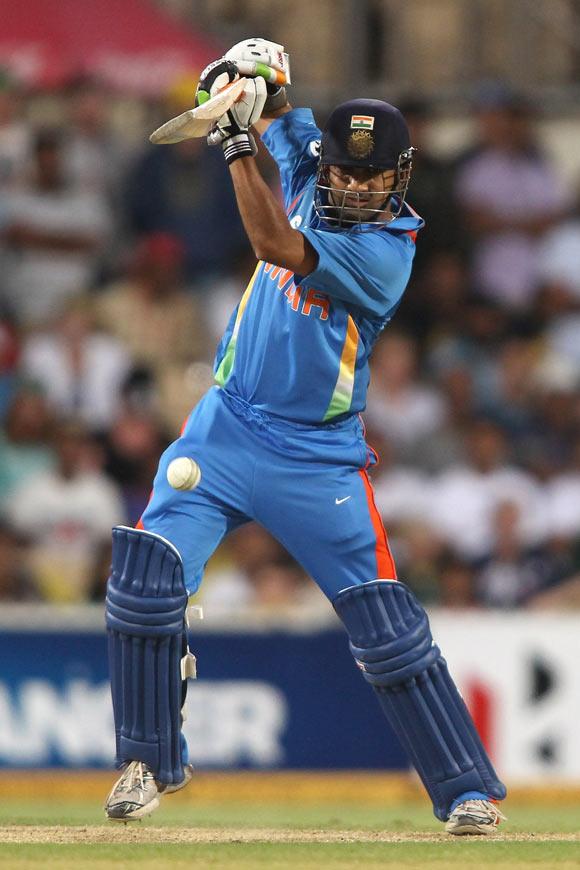 Man-of-match Gautam Gambhir feels that his team should have won the match earlier than scraping through in the final over.
Dhoni, Gambhir bat for Yuvi's quick recovery after win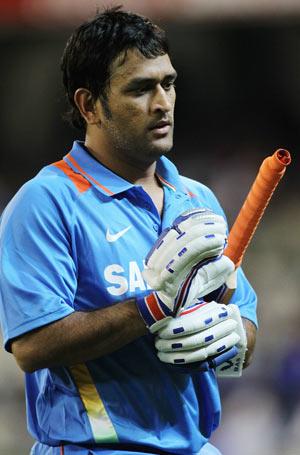 India skipper Mahendra Singh Dhoni and opener Gautam Gambhir on Sunday longed for Yuvraj Singh's quick recovery and hoped the left-hander would overcome health issues and make a strong comeback.
PHOTOS: Dhoni takes India home after Gambhir heroics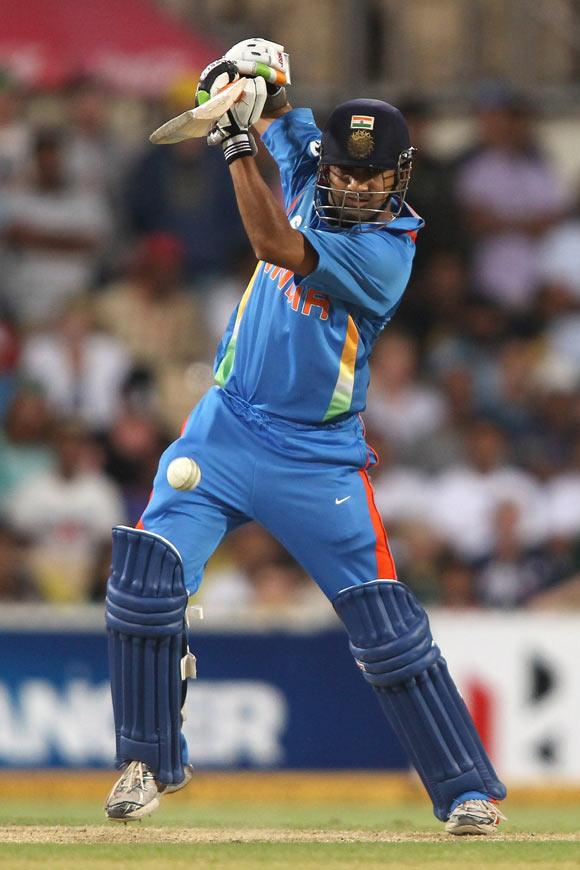 Gautam Gambhir's 92 at the top and some smart batting by captain Mahendra Singh Dhoni at the finish helped India chase down a 270-run target against Australia in Adelaide on Sunday for their second win in the triangular series.
February 11, 2012
India head to Adelaide chasing first win over Aus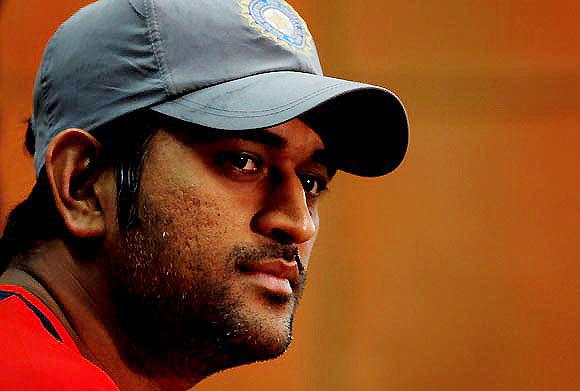 Their morale lifted after a win over Sri Lanka, India will look to break the shackles and come strong against Australia when the two sides clash in the fourth match of the ongoing ODI tri-series in Adelaide on Sunday.
Doherty not ready to take India lightly in Adelaide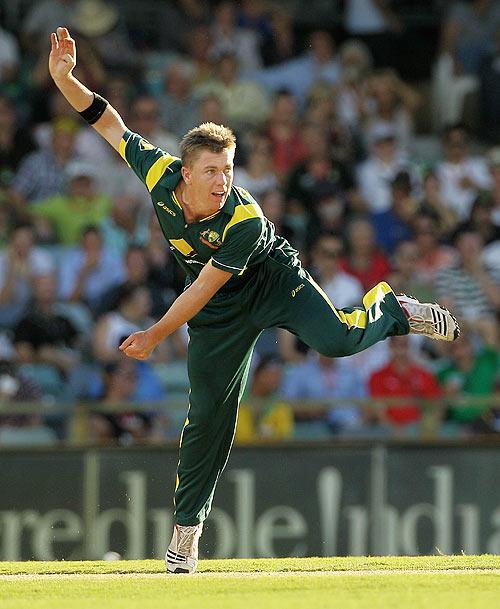 The Australians have dominated India so far but spinner Xavier Doherty has said his team will have to be on guard as the resurgent visitors might hit back strongly when the two teams clash for the second time in the ODI cricket tri-series in Adelaide on Sunday.
'India can't afford to lose seniors in one go'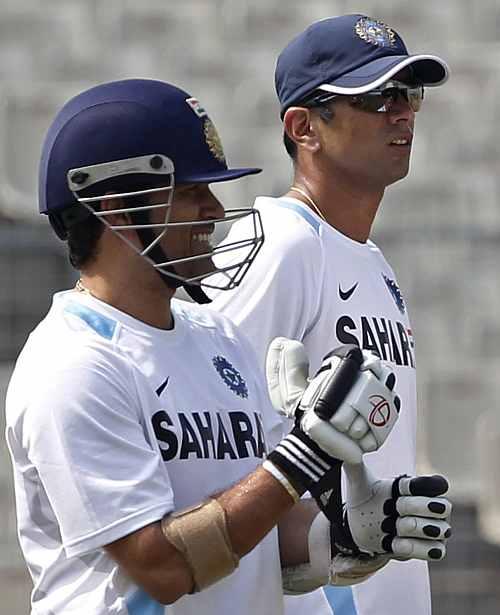 Former New Zealand cricket great Richard Hadlee believes India should persist with the veteran trio of Sachin Tendulkar, Rahul Dravid and V V S Laxman for some more time.
February 10, 2012
PHOTOS: Australia edge past Sri Lanka in Perth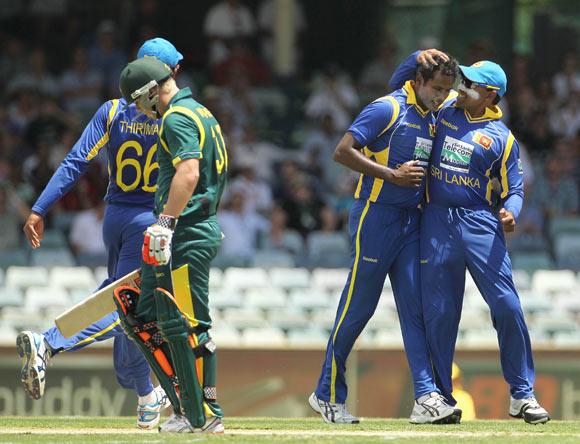 Australia edged Sri Lanka by five runs in an enthralling One Day International of the tri-series in Perth on Friday.
'We've seen so many young guys come in and do well for Australia'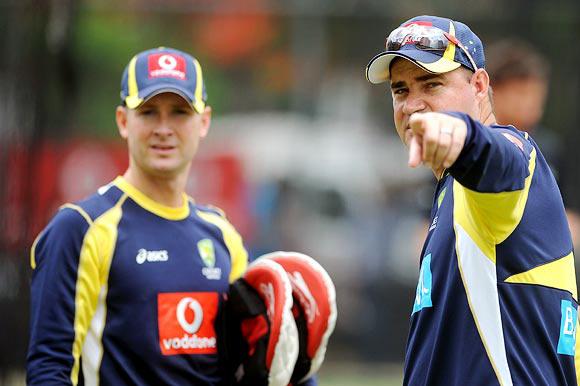 Australian captain Michael Clarke says his team's on-the-rise pace battery, which brought a formidable Indian batting line-up to its knees, will truly be considered intimidating after it performs on foreign pitches.
Sachin might be rested, but will rotation work for India?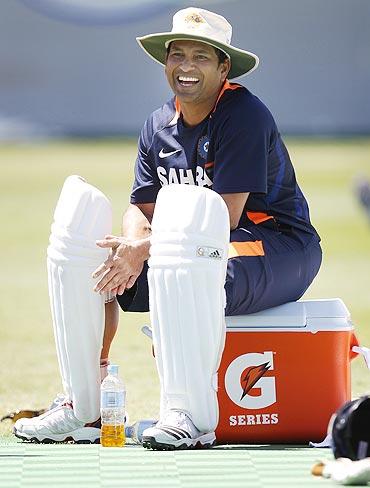 Senior batsman Sachin Tendulkar is set to be rested for India's next ODI tri-series match against Australia in Adelaide on Sunday. But, going by past record, the move could end up hurting the beleagured team.
IPL-5: How the teams weigh after the auction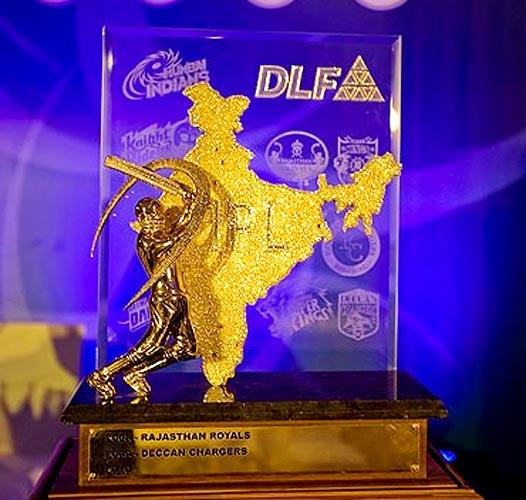 Little-known West Indies spinner Sunil Narine was undoubtedly the deal of the auction; he was bought by Kolkata Knight Riders for a massive $700,000, 14 times his base price of $50,000.
The Expert replies: Kapil was never run-out in Tests!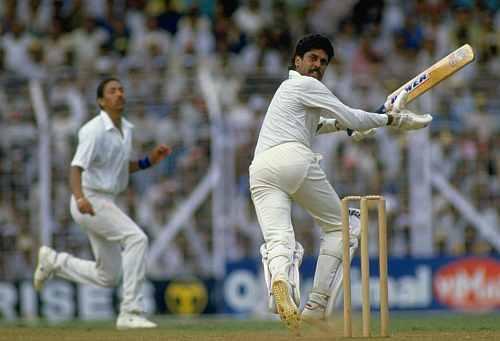 If you have a question relating to cricket and did not know who to ask, bounce them off to . Each week he will pick questions readers send him and provide answers.
February 09, 2012
Sunil Gavaskar inducted into ICC Hall of Fame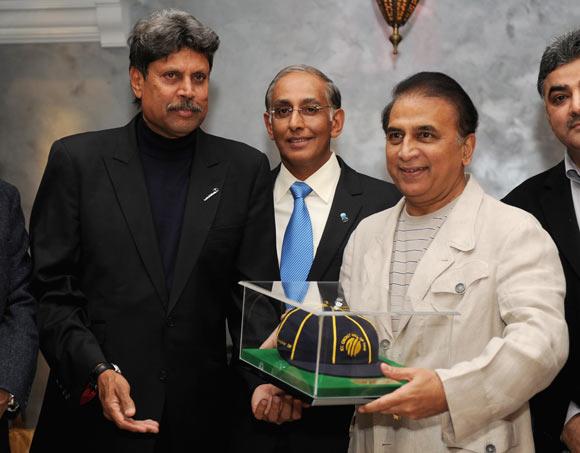 Former India captain Sunil Gavaskar was formally inducted into the ICC Cricket Hall of Fame on Wednesday in Dubai, when he received his commemorative cap from fellow-Hall of Famer and team-mate Kapil Dev.
Is Rohit Sharma being made the fall guy?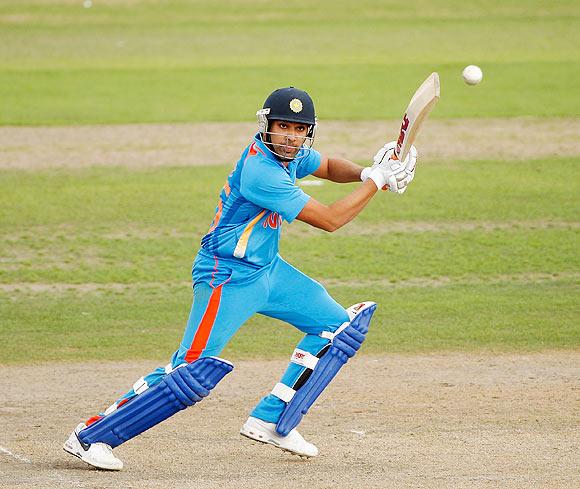 After two successive failures in India's first two matches in the triangular series, talented middle-order batsman Rohit Sharma wears the expression of a man who is waiting to be shown the door any time.
Sri Lanka's big guns need to fire against the Aussies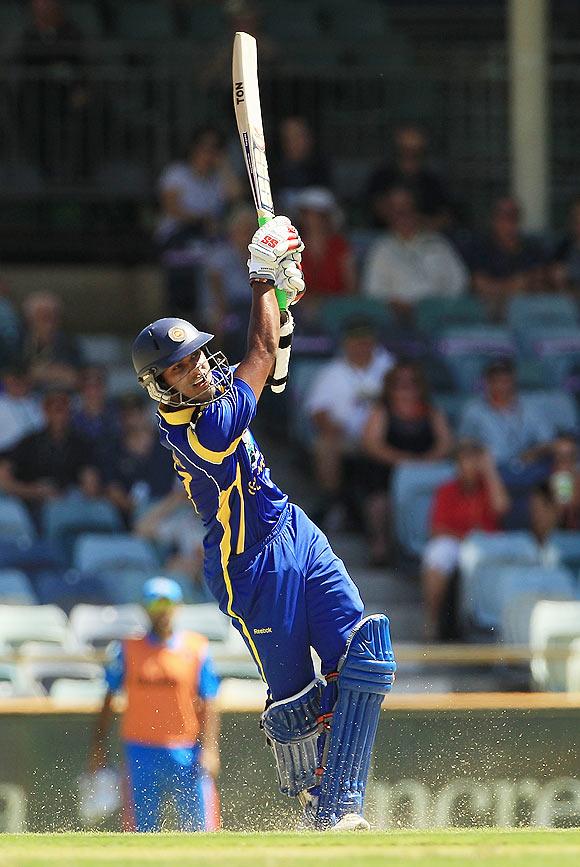 Sri Lanka's top order batsmen will have to deliver when they go into their second tri-series cricket match against formidable Australia in Perth on Friday, hoping to revive their fortunes after a series of indifferent shows of late.
Afghanistan cricket set for next chapter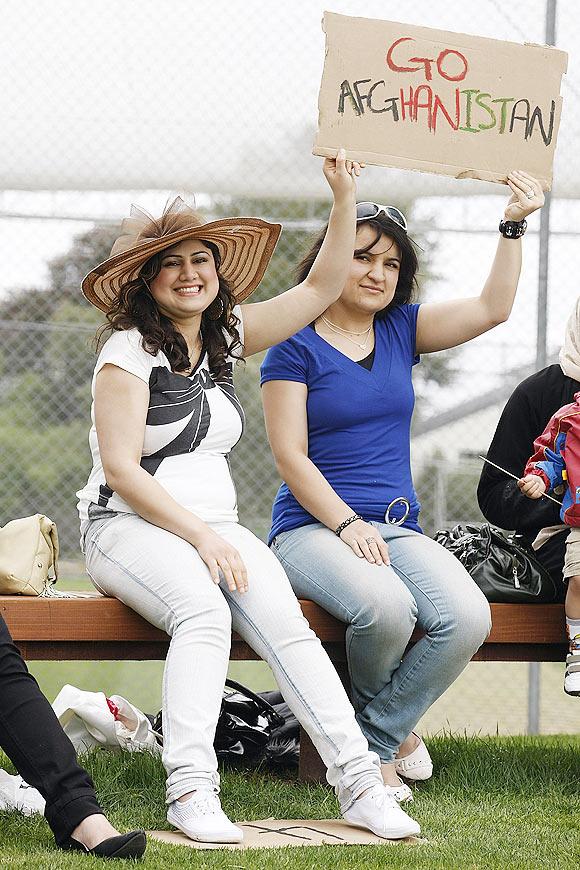 Less than four years after playing their first tournament against teams including Japan and Norway, Afghanistan will write a new chapter in their remarkable rise with a One-day International against Pakistan on Friday.
February 08, 2012
It was difficult to lift morale of the players: Dhoni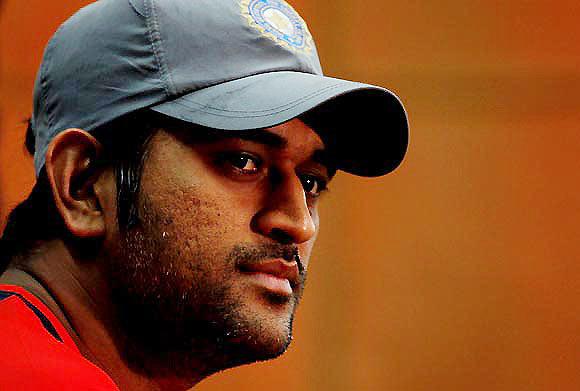 Happy with his team's win over Sri Lanka, Indian skipper Mahendra Singh Dhoni on Wednesday said it was nevertheless difficult to lift the team's morale after a series of defeats but it would help if each player learnt from his mistake.
PHOTOS: Ashwin takes India to victory against SL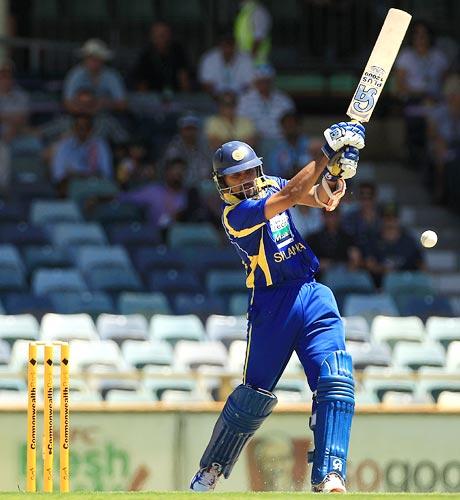 Images from the second ODI of the CB tri-series between India and Sri Lanka in Perth, on Wednesday.
David Hussey harbours hopes of playing Test cricket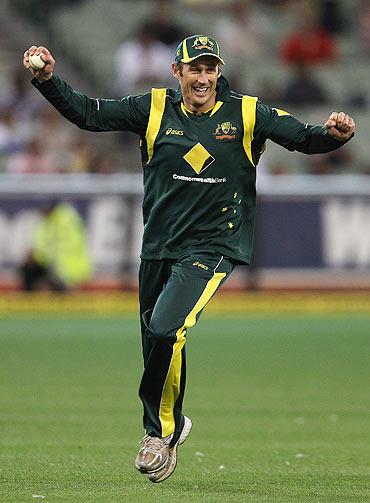 David Hussey will turn 35 in July this year but the veteran batsman has not given up hopes of playing in the next World Cup in 2015 and also making a late Test debut for Australia.
Pattinson could return in latter half of tri-series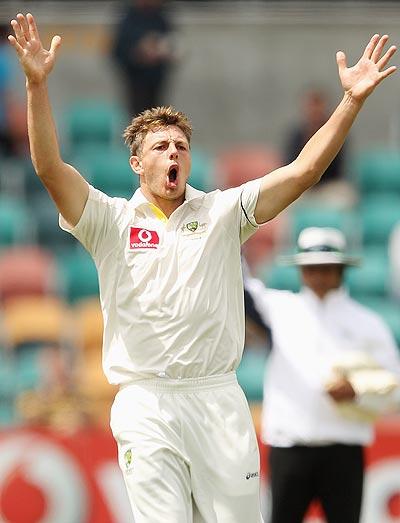 Tearaway fast bowler James Pattinson, who is recuperating from an injury, could be back in the team for the later stages of the ongoing triangular series, Australia coach Mickey Arthur said in Perth on Wednesday.
I wish I could have played Twenty20: Steve Waugh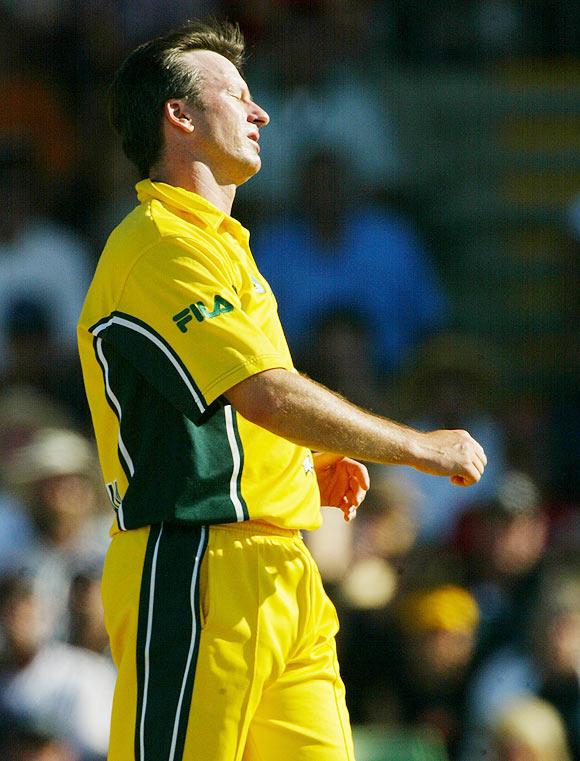 Former Australia captain Steve Waugh, known for his risk-free batting style that brought him nearly 11,000 Test runs, wishes he could have flung the bat in the Twenty20 format.
February 07, 2012
Flintoff's auction in 2009 was rigged, says Modi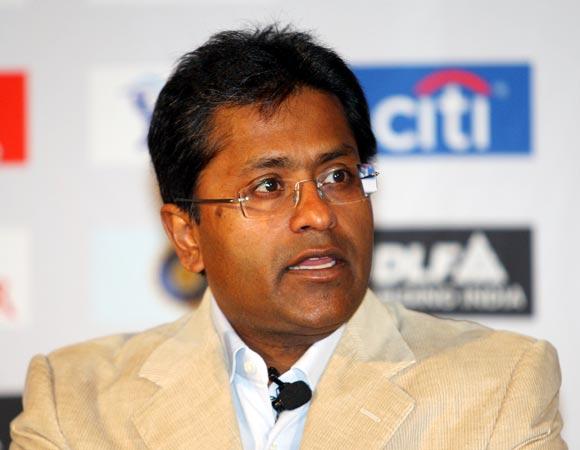 Former Indian Premier League chief Lalit Modi has lashed out at the Board of Control for Cricket in India, claiming that the 2009 auction was rigged in favour of the Chennai Super Kings, whose owner is the current BCCI president N Srinivasan.
Sahara may rejoin IPL, but won't sponsor Team India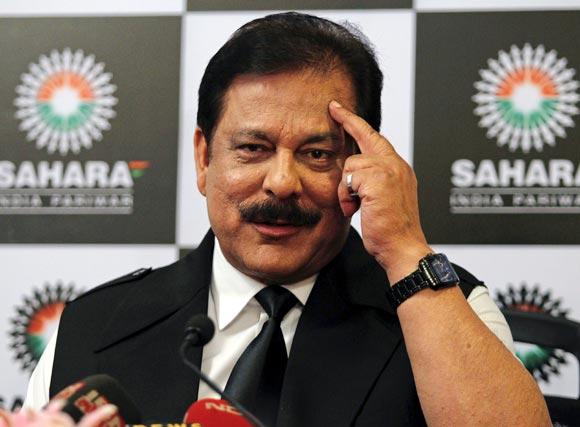 Sahara India chief Subrata Roy says that there is no question of sponsoring the Indian cricket team. However, the group will continue to support the Pune Indian Premier League team.
Sehwag ready to face Sri Lanka in 2nd ODI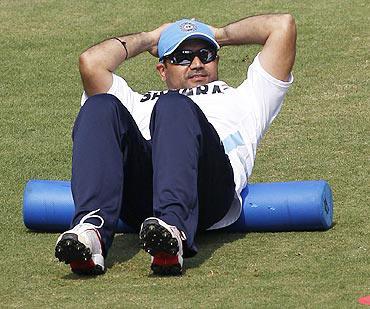 India opener Virender Sehwag, who has failed to make any decent contribution this Australian summer, will return to the team for Wednesday's match against Sri Lanka.
2nd ODI: Jittery India face big test against Sri Lanka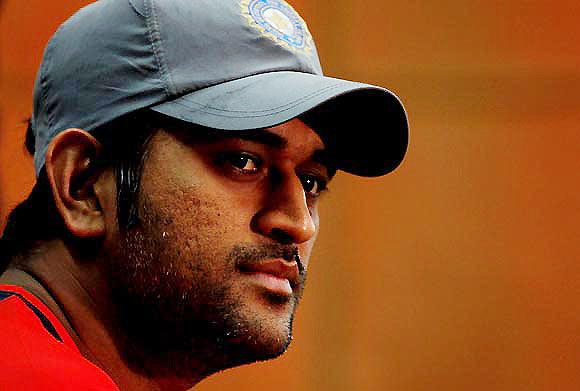 Plagued by poor batting form for long, a jittery India will need to strike the right combination and lift the standard of their game as they strive to bring their ODI tri-series campaign back on track when they take on Sri Lanka at WACA in Perth on Wednesday.
England drop point in Test rankings after whitewash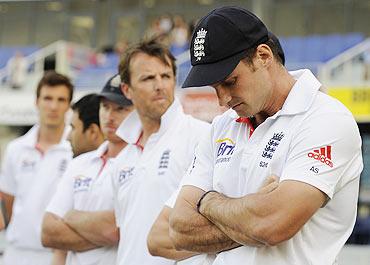 England captain Andrew Strauss said there would be no knee-jerk reaction to the 3-0 series defeat by Pakistan that has seen his team's lead at the top of the Test rankings slashed to one point.
February 06, 2012
We are ready to meet, sort out issues: BCCI to Sahara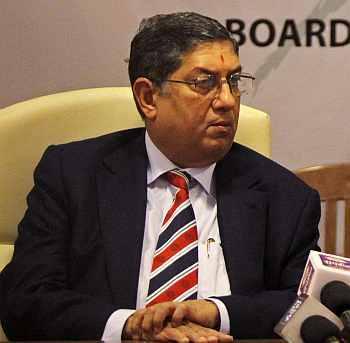 Stung by Sahara's pullout as sponsor of Indian cricket team and owner of IPL franchise Pune Warriors, the BCCI on Monday took a more re-conciliatory stand towards the aggrieved corporate giant, saying it was ready to sit across the table and sort out all the matters.
Lack of Indo-Pak cricket is frustrating: Akhtar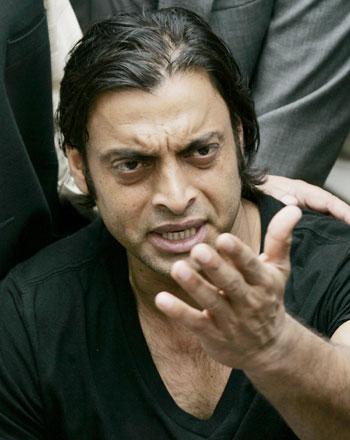 The continuing freeze on Indo-Pak bilateral cricket is "frustrating", says Shoaib Akhtar but the former pacer does not agree with PCB Chairman Zaka Ashraf's "politically incorrect" statement that the Indians are intimidated by the prospect of taking on an in-form Pakistan.
Dean Jones reckons bowling still India's huge weakness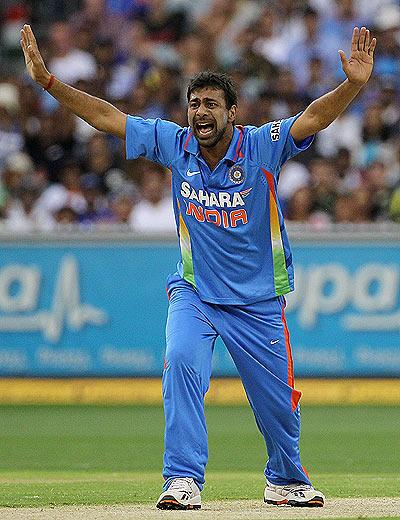 Former Australian batsman Dean Jones believes India's bowling and fielding could be brutally exposed in the ongoing ODI tri-series against Australia and Sri Lanka despite the presence of younger and more agile players in the fold.
Top-10 buys at the IPL V auction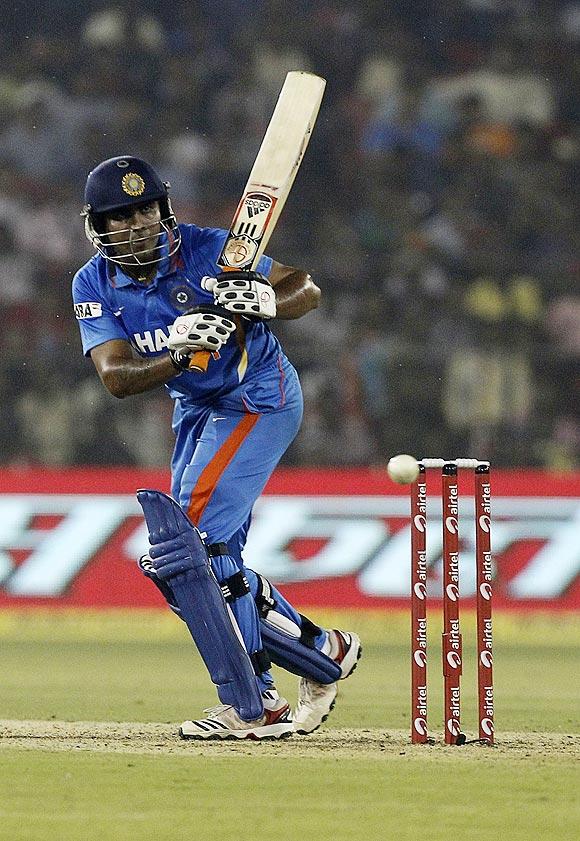 The IPL V auction that was held in Bangalore on Saturday saw very surprises in terms of money spent by franchises to buy players. India's hard-hitting batsman, Ravindra Jadeja, who's batting prowess is now well known, was the top money-spinner at the auction with Chennai Super Kings buying him for a whopping Rs 9.72 crore. He was followed by Lanka skipper Mahela Jayawardene, who went for Rs 6.8 crore. Here are the Top-10 buys at the IPL auction.
Wade 'enjoying the chance to play for Australia'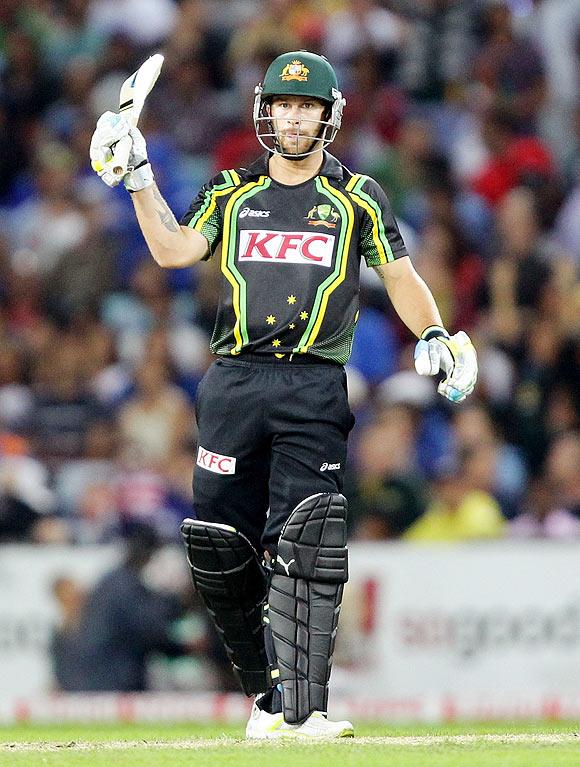 Young Australian opener Matthew Wade has proved his worth with his match-winning performances in a few games he has played, but the young Tasmanian does not want to look too far ahead than the three ODIs for which he has been selected.
Get well soon, Yuvi! Wish the ace player a speedy recovery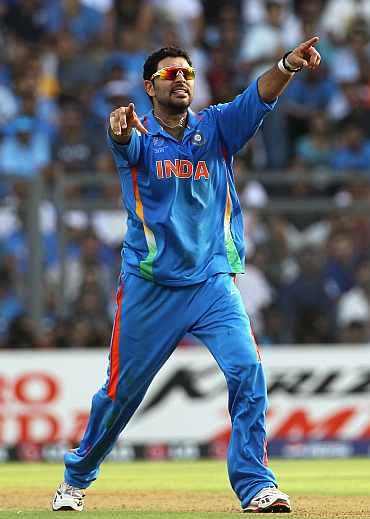 Yuvraj Singh, India's premier batsman in the limited-overs' format, was diagnosed with lung cancer and is undergoing chemotherapy in the United States. Join us in wishing the ace player a speedy recovery.
February 05, 2012
Dhoni pulls up his spinners for loss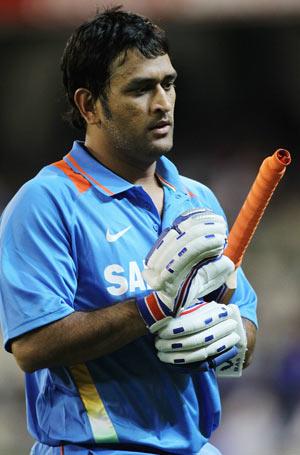 Captain Mahendra Singh Dhoni, on Sunday, pulled up his spinners for bowling too many loose deliveries, which he said was the main reason for India's 65-run thrashing by Australia in the first match of the cricket tri-series in Melbourne.
PHOTOS: Team India mauled by Australia in Melbourne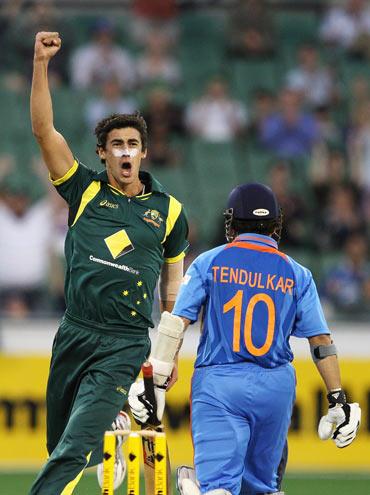 India lost the first One-day international against Australia in the tri-nation series by 65 runs at the Melbourne Cricket ground on Sunday.
BCCI making efforts to pacify Sahara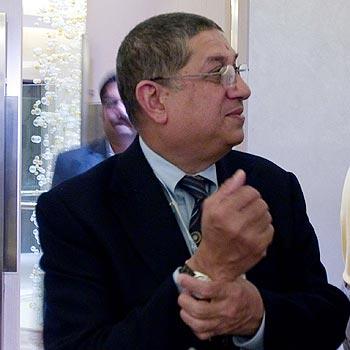 A day after Sahara's shocking decision to pull out as sponsor of the Indian cricket team and owner of the IPL franchise Pune Warriors, the BCCI is making efforts to pacify the corporate giant and retain its financial backing.
February 04, 2012
I am willing to negotiate with the BCCI: Roy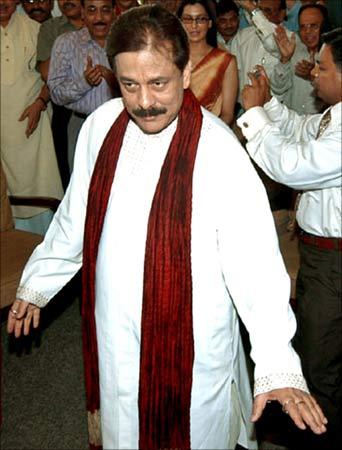 Sahara Group chief Subroto Roy on Saturday defended the decision to snap ties with the BCCI but wants to ensure that the players of his IPL team do not suffer and get to play in the fifth edition of the Twenty20 league.
ICC ODI Rankings: Kohli highest-placed Indian batsman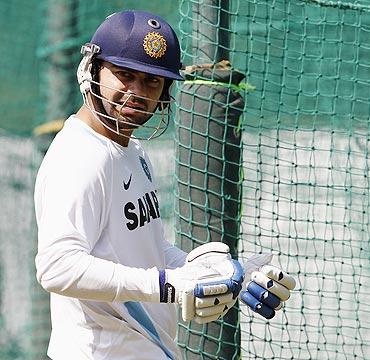 Virat Kohli was the highest-placed batsman at third followed by Mahendra Singh Dhoni at fifth but there was no Indian in the bowling top-10 of the latest ICC One-day rankings issued on Saturday.
India eye tri-series turnaround in 1st ODI vs Aus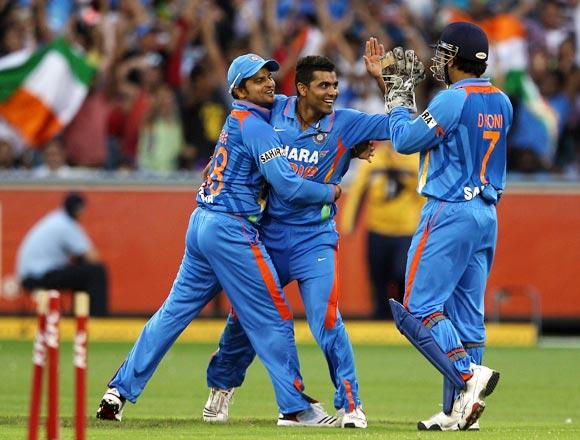 With a win finally under their belt in what has been a highly disappointing tour, India will aim to carry the Twenty20 momentum into the One-dayers when they take on Australia in the first match of the tri-series starting in Melbourne on Saturday.
IPL: Jadeja attracts highest bid, no takers for Laxman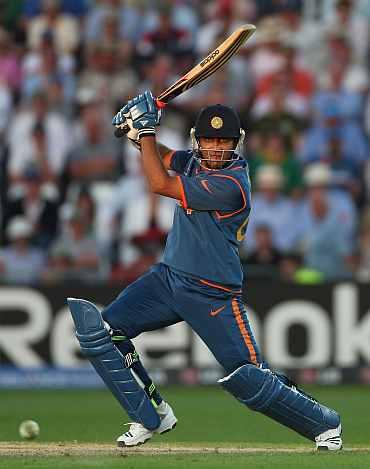 All-rounder Ravindra Jadeja was the biggest draw for the franchises with Chennai Super Kings buying him for a whopping Rs 9.72 crore but struggling veteran VVS Laxman found no takers in the players' auction for the fifth edition of the Indian Premier League held in Bangalore on Saturday.
February 03, 2012
Dhoni hails exceptional fielding for win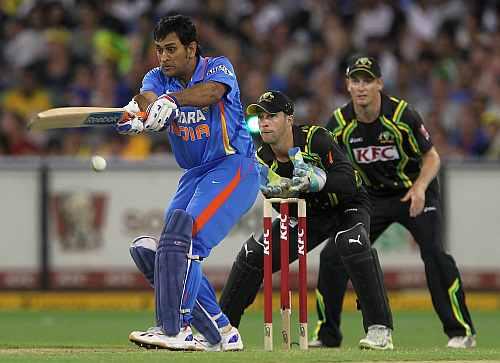 India skipper Mahendra Singh Dhoni was full of praise for his side's "exceptional" work on the field in the second Twenty20 International against Australia in Melbourne, which helped the visitors' register their first win in the ongoing tour.
PHOTOS: India win second T20 to end losing streak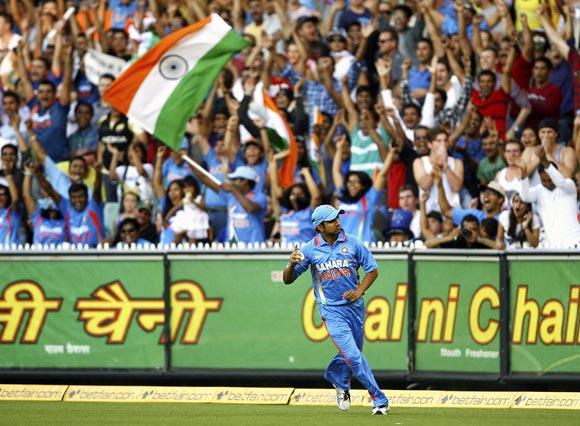 Images from the second and final Twenty20 International between India and Australia in Melbourne, on Friday.
Harbhajan has a lot of cricket left in him: Saqlain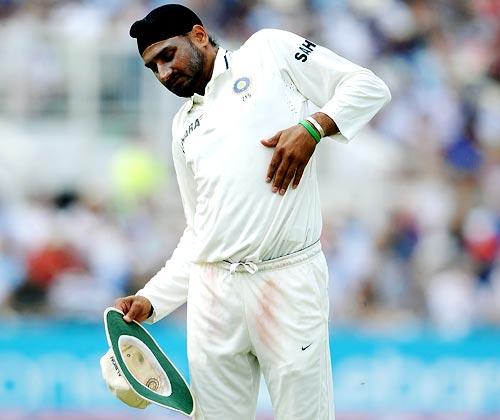 "Too much focus on Twenty20" is harming Harbhajan Singh's international cricket career but the out-of-favour Indian off-spinner needs to be supported instead of being cold shouldered, feels former Pakistan tweaker Saqlain Mushtaq.
IPL auction: Jadeja, McCullum set to garner top bids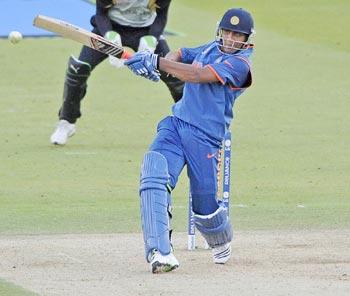 Dashing wicketkeeper-batsman Brendon McCullum, all-rounder Ravindra Jadeja, Sri Lankan master batsman Mahela Jayawardene and R Vinay Kumar will attract top bids when 144 players from eleven countries go under the hammer in the IPL V auction in Bangalore on Saturday.
'Want to ensure India doesn't go on board this summer'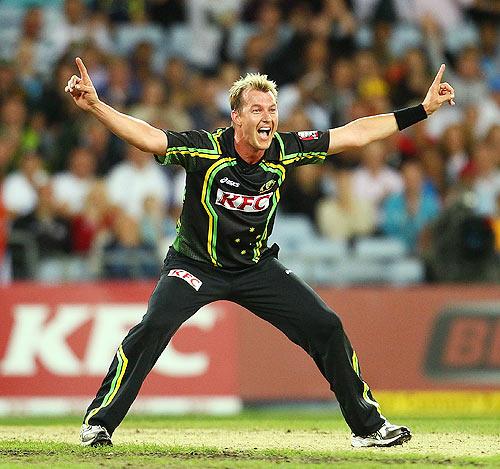 Veteran Australian pacer Brett Lee believes India have lost the mental edge this summer and his team would look to take full advantage of the tourists' slump by preventing them from getting on board in any format.
February 02, 2012
India look to avoid T20 whitewash against Aussies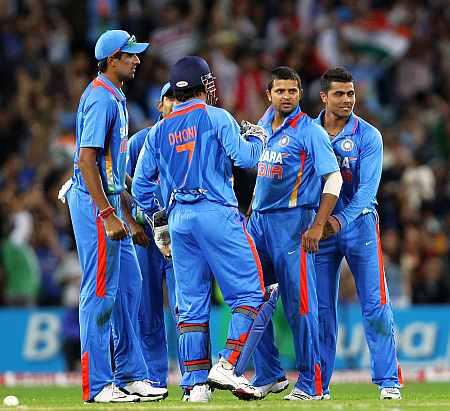 Stung by a prolonged losing streak in what has turned out to be a nightmarish tour, a hapless India will now look to avoid a Twenty20 whitewash when they lock horns with Australia in the second match in Melbourne.
David Hussey backs Warner's switch-hit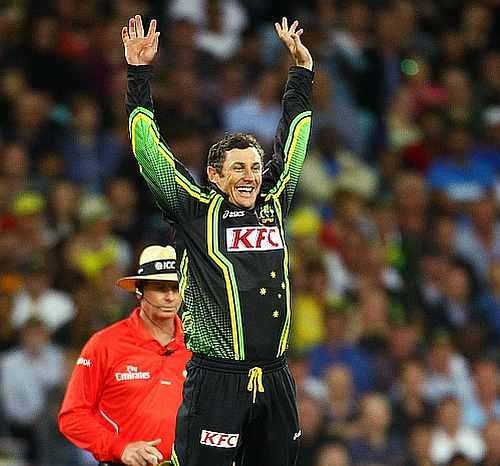 Australia all-rounder David Hussey, who played a big part in his team's 31-run victory over India in Sydney, is looking for a perfect game to make it 2-0 in the second Twenty20 international at the MCG on Friday.
Pathan can come in handy in T20 format: Gavaskar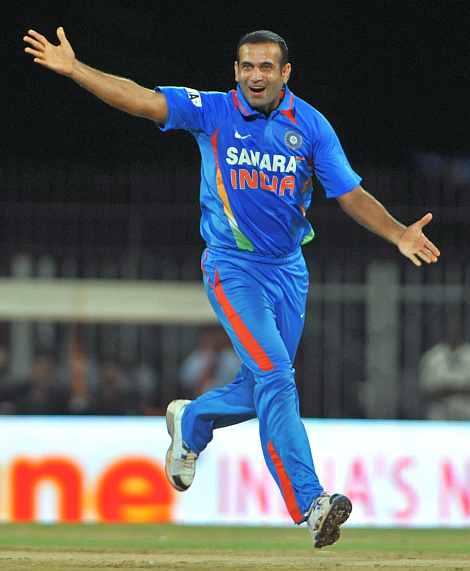 Former India captain Sunil Gavaskar, on Wednesday, said that the Indian team management must think of including all-rounder Irfan Pathan in the team as he may come handy with the bat as well as on the field.
What we know about Indian cricket, but hate to admit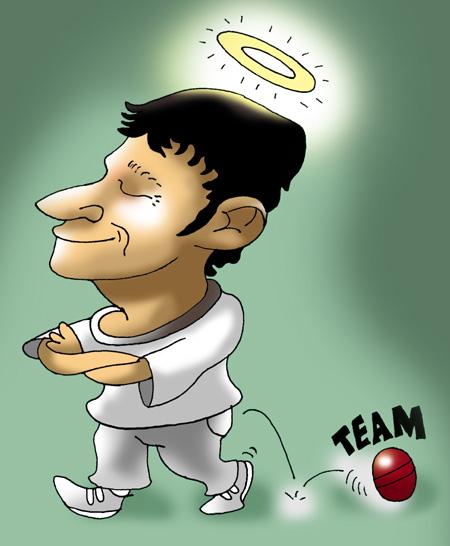 Bikash Mohapatra, in an attempt to diagnose what ails Indian cricket, identifies what we are well aware of, but hate to admit!
Dhoni blames T20 defeat on rain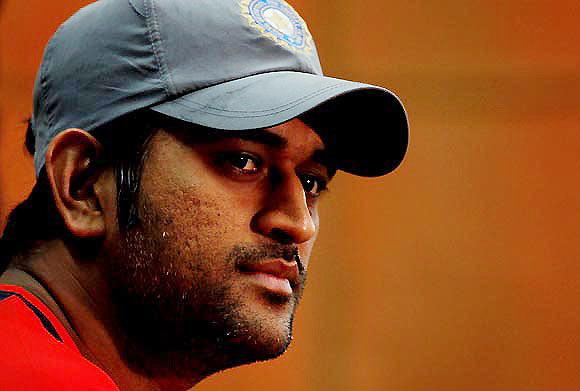 Indian skipper Mahendra Singh Dhoni on Wednesday blamed the rain for the defeat in the first Twenty20 international against Australia, saying the wet conditions made it difficult for bowlers.
February 01, 2012
There is always a tomorrow: Dhoni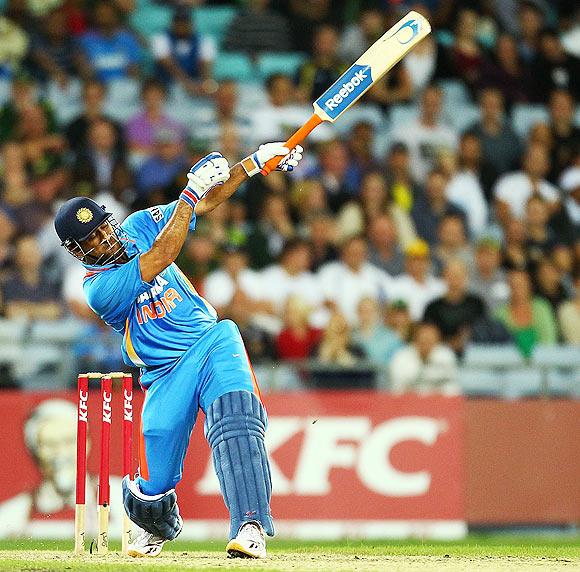 Indian captain Mahendra Singh Dhoni today put up a brave face after his side slumped to yet another defeat with a 31-run thrashing in the Twenty20 International in what is turning out to be a disastrous tour of Australia, saying "there is always a tomorrow".
PHOTOS: Wade, Hussey fire Australia to win over India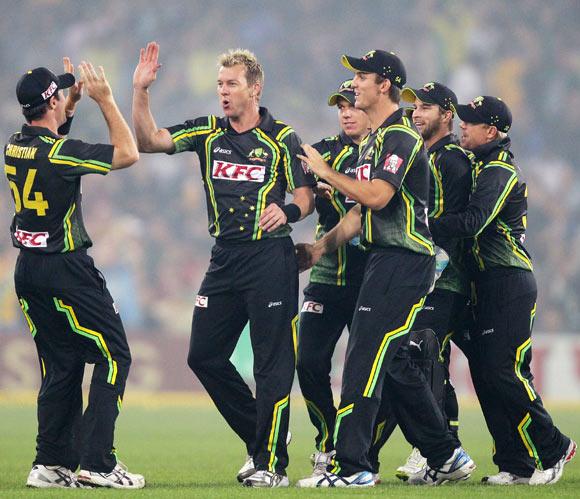 Australia beat India by 31 runs at Sydney's Olympic stadium on Wednesday in the first of two Twenty20 international matches.
'Dhoni still the best man to lead India'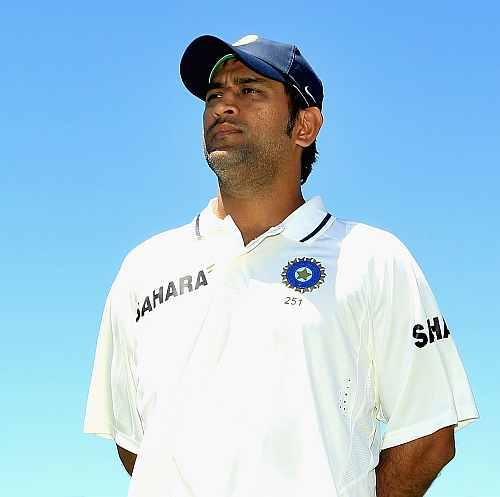 Mahendra Singh Dhoni's offer to step aside as India captain if a "better" candidate can be found is a noble gesture given the team's woeful run of test form, but several former skippers believe the wicketkeeper remains the best man for the job.
A look at Indian players' T20 International career records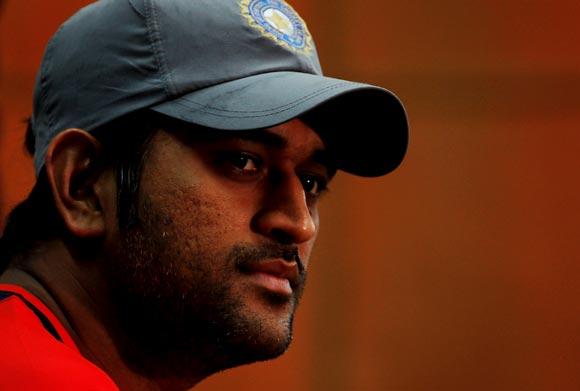 As India readies to battle it out in the first T20 tie against Australia on Wednesday, Rajneesh Gupta records the personal performances of Indian players in the shortest format of the game.
Captain Misbah leads Pakistan revival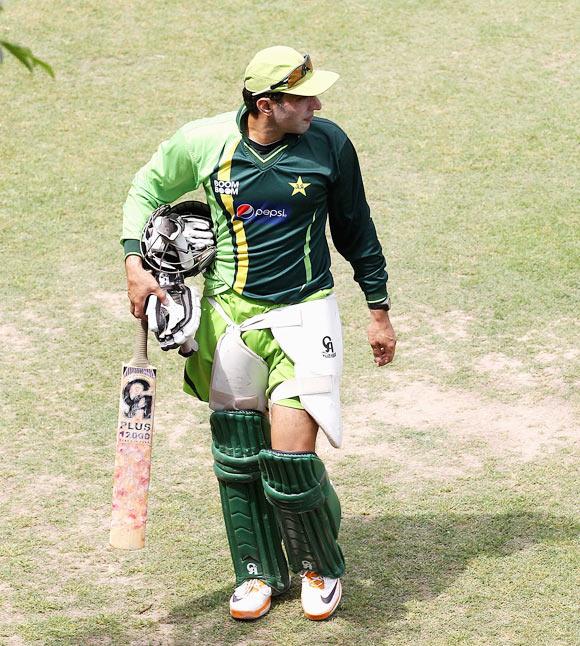 Pakistan have not only survived the spot-fixing crisis but emerged stronger under Misbah-ul-Haq's understated captaincy, revelling in consistency and shrugging off their notorious unpredictability.
Archives
January 2012
|
September - December 2011
|
July 2011
|
May 2011
|
March 2011
|
January 2011
|
November 2010
|
September 2010
|
July 2010
|
May 2010
|
April 2010
|
March 2010
|
February 2010