Home > India > Cricket > First Look


Discuss |
Email |
Print | Get latest news on your desktop


Tendulkar breaks Lara's world record

October 17, 2008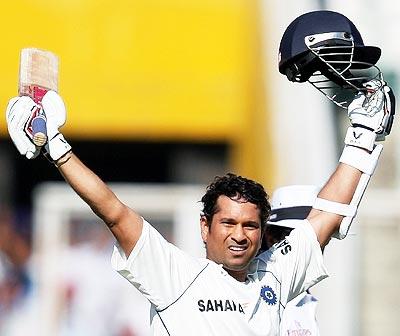 Sachin Tendulkar became the highest Test-run scorer on Friday when he passed his target of 15 runs in the first innings of the second Test match against Australia [Images] in Mohali.
Tendulkar scored three runs after tea to move on to 16, giving him a career record of 11,955 runs to surpass the previous mark of West Indian Brian Lara [Images]. Lara had scored 11,953 runs before he retired from international cricket in 2007.
Tendulkar steered the first ball after the break from paceman Peter Siddle to third man for three runs to achieve the coveted landmark.
The 35-year-old took off his helmet, pumping his fist before raising his bat to acknowledge a standing ovation from the crowd as partner Sourav Ganguly [Images] and the entire Australian team came up to congratulate him.
Crackers were set off outside the stadium, holding up play for a few minutes.
The diminutive Mumbai batsman, playing his 152nd Test, also holds the marks for most Test hundreds (39), one-day runs (16,361) and hundreds (42).
Image: Sachin Tendulkar [Images] celebrates after surpassing Brian Lara's record for most Test runs in Mohali.
Photograph: Manan Vatsyayana/AFP/Getty Images
Email |
Print | Get latest news on your desktop